Hong Kong has a laundry list of top-notch attractions that are guaranteed to keep you entertained for days. But in case your adventure spirit wants to take you further away from the city, no worries — Hong Kong is well located within a short hop from several bucket list destinations that require only a day or two to explore and enjoy.
From relaxing on sandy beaches to discovering ancient temples and exploring offer beaten track destinations like the tiny fishing village of Tai O, there are opportunities to suit every mood and moment.
In this travel guide, we've rounded up 5 amazing Hong Kong day trips that are just a few hours away from the city. Have a look!
The 5 Best Day Trips From Hong Kong Island
Lantau Island
Lantau is the ultimate Hong Kong day trip. The island is gloriously located at the mouth of the Pearl River, not far from the Hong Kong Airport, and captivates visitors with an array of glittering beaches, towering peaks, quaint fishing villages, and alluring monasteries.
One of the top attractions on the island is Sunset Peak, Hong Kong's third highest mountain, and a prime place for watching the sunset.
Another must-see landmark in Lantau Island is the Tian Tan Buddha statue, which rests high up on a hilltop facing the neighboring Po Lin Monastery. The statue is easily reachable by cable car, and thanks to its colossal size — it's 112 ft tall, weighs over 280 short tons, and was constructed from 202 bronze pieces —, the sculpture is also known as "Big Buddha."
For a one-of-a-kind immersion into the local culture, be sure to visit the Tai O Village, which is the oldest fishing village in Hong Kong. While visiting this traditional fishing village, take a boat ride through the waterways to catch a glimpse of the adorable pink dolphins, which can be seen year-round and are famous for their unique color and friendliness.
Are you visiting Lantau Island with your family? Then be sure to spend the day at the Hong Kong Disneyland theme park, which is divided into seven main areas, each with its unique array of attractions, experiences, and exciting rides.
Lamma Island
Lamma Island is the third largest island in Hong Kong. Also known as Y Island or Pok Liu Chau or simply Pok Liu, Lamma is the perfect destination for travelers seeking to escape Hong Kong's bustling streets.
This peaceful and serene island is praised for its alluring natural scenery made up of gorgeous beaches and scenic hiking trails. Inhabited mainly by fishermen, Lamma is not yet very popular among tourists, making it the ideal option for offbeat travelers.
Top experiences include visiting the attractive Hung Shing Yeh Beach, hiking the Lamma Island Family Trail, which runs from Yung Shue Wan to Sok Kwu Wan, and sampling Lamma Island's famous waterfront seafood restaurants in Sok Kwu Wan.
Macau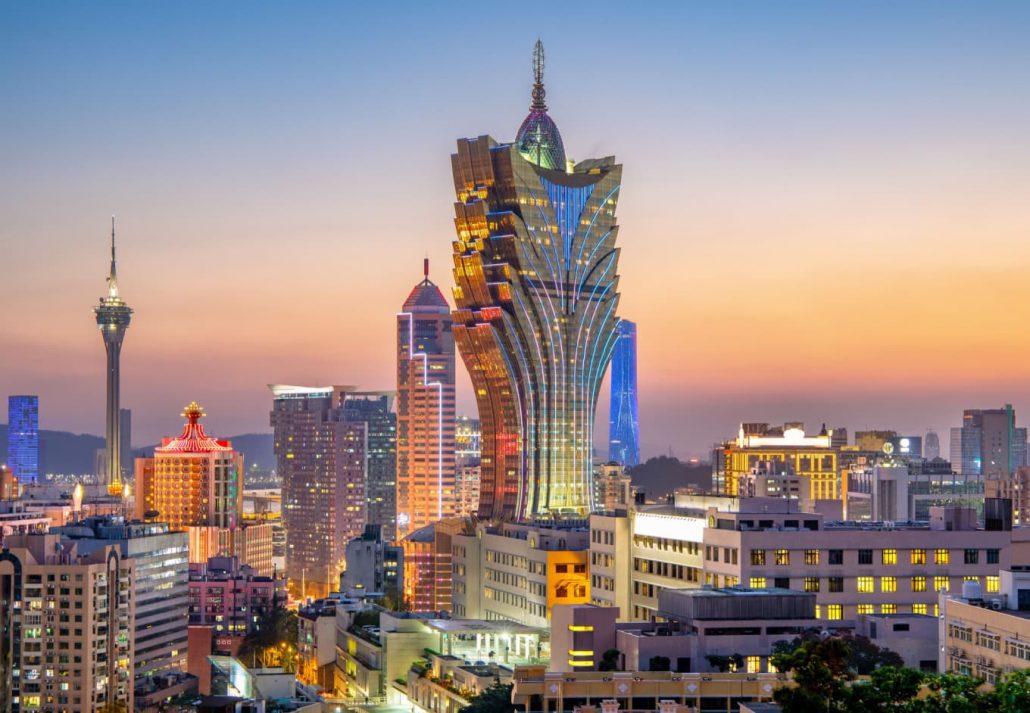 A Portuguese territory until 1999, Macau dazzles visitors with its rich past and cultural heritage, and still today, the city reflects a fascinating mix of cultural influences. This autonomous region is located south coast of China, across the Pearl River Delta from Hong Kong, and it's a must-visit destination for history buffs and culture vultures.
People visit Macau for its casinos, rooftop bars, skyscrapers, and tempting shopping malls. The city also has an impeccably preserved historic center, which reflects a unique blend of Portuguese and Chinese architecture. While navigating this history-filled area, you'll come across an array of treasures, including the ruins of Macau's greatest Jesuit Church.
During your visit to Macau, be sure to also visit Barra Square, where you'll find the Maritime Museum, Mandarin House (a traditional Chinese courtyard-style complex), and the alluring A-Ma Temple.
Did the hunger strike? Then sample Macau's top-notch restaurants like A Vencedora, which are known for their winning mix of Portuguese spices and Cantonese cooking.
Last but not least, be sure to head over to the 1,109 ft-tall Macau Tower, which treats visitors to the most breathtaking views of the city!
Sai Kung
Also known as the "back garden of Hong Kong", Sai Kung town is a popular day trip destination for Hong Kongers seeking a serene time around nature. This charming destination is located on the
Sai Kung Peninsula is famous for its fishing villages, beautiful beaches with inviting sandy shores, hiking trails, and sprawling parks such as the Hong Kong Geopark.
This mountainous area is a fantastic day trip destination especially thanks to its abundance of natural attractions. There, you'll come across enchanting places like Tai Long Wan Bay (Tai Wan), an isolated area dotted with a row of pristine beaches (Sai Wan, Ham Tin Wan, and Tung Wan) where you can swim, sunbathe, or even surf when the conditions are right.
The mix of natural features and fresh air will certainly tantalize your senses when you visit Sai Kung Peninsula!
Last but not least, make sure to find a seafood restaurant by the beach where you can feast on mouthwatering dishes while enjoying amazing views of the peninsula.
Cheung Chau
Located 6.2 miles southwest of Hong Kong Island, Cheung Chau is a small, dumbbell-shaped island sought-after by Hong Kong locals who want to escape the hectic city life. The island is particularly known for its gorgeous sandy beaches, like the picture-perfect Tung Wan Beach and Kwun Yan Beach.
Aside from lounging on the sand and taking in the refreshing sea breeze, visitors can explore Cheung Chau's dazzling historic attractions. Must-sees include the Cheung Chau rock carvings, which were discovered in 1970, and date back to the Bronze Age, and the Cheung Po Tsai Cave, believed to be the place where the 19th-century pirate Cheung Po Tsai stored the loot that he and his men had plundered.
Cheung Chau is also famous for its alluring temples, such as the dreamy Pak Tai Temple, which is dedicated to Pak Tai, a martial deity, and houses a 3 meters Ming Dynasty statue of Pak Tai built in 1603.
FAQ
What is Hong Kong most known for?
Hong Kong is a bustling metropolis known for its luxury shopping spots, majestic skyline, temples, shrines, and monasteries.
What is the best place for viewing the Hong Kong skyline?
Victoria Peak offers the most fantastic views of the Hong Kong skyline and Victoria Harbor.
What are the top attractions on Hong Kong Island?
The top Hong Kong attractions are:
Victoria Peak (Mount Austin);
Victoria Harbour;
Hong Kong Central neighborhood;
Man Mo Temple;
Lantau Island;
Disneyland Hong Kong;
Ocean Park;
Hong Kong Space Museum;
Hong Kong Heritage Museum;
Hong Kong Museum Of History;
Hong Kong Observation Wheel;
Kowloon Walled City Park;
Hong Kong Railway Museum;
Wong Tai Sin Temple;
Chi Lin Nunnery;
Temple Street Night Market;
Hong Kong Park;
Hong Kong Science Museum;
Ten Thousand Buddhas Monastery;
Is Hong Kong located in mainland China?
Hong Kong is a sovereign territory of the People's Republic of China. It maintains a high degree of autonomy, hence it's not considered to be part of mainland China.
What are the best day trips from Hong Kong?
The best trips from Hong Kong island are:
Lantau Island;
Lamma Island;
Macau;
Sai Kung;
Cheung Chau.
Is Sai Kung Town a good day trip from Hong Kong?
Known for its floating seafood market, shops and seafood restaurants, Sai Kung Town is a great day trip from Hong Kong.
Is the Tai O fishing village a good day trip from Hong Kong?
Yes. Also known as "The Venice of Hong Kong", Tai O is a charming fishing village and the only remaining stilt settlement left in Hong Kong, making it a worth-visiting destination.
CuddlyNest provides all accommodations to all travelers at the best price. Find unlimited travel inspiration on our blogs and our social media channels Facebook, Instagram, and Pinterest.
You May Also Like:
The 6 Best Night Clubs In Hong Kong
A Guide To The Best Wineries In Hong Kong
A Guide To The Best Shopping In Hong Kong
The 6 Best Beaches In Hong Kong
The 5 Best Amusement Parks In Hong Kong
The Best 5-Star Hotels In Hong Kong
The Best Time To Visit Hong Kong
10 Best Restaurants In Hong Kong
The 6 Best Night Clubs In Hong Kong