New Orleans is a melting pot of several different European cultures and is the most unique city in the country. Traveling to New Orleans is a must-do for anyone looking to experience something truly out-of-the-ordinary but still close to home. From Mardi Gras celebrations to Halloween and haunted houses, and from beignets to gumbo and Po-Boys, this city is famous for so many diverse festivities and foods. There are several luxury hotels and boutique hotels for you to choose from while staying here, whether you're choosing to stay in a happening New Orleans neighborhood like the Central Business District or the charming French Quarter.
Relaxing on the coast of the Mississippi River and partying on Bourbon Street, this city has so many different experiences to offer. Hotel Monteleone, Windsor Court Hotel, and Higgins Hotel New Orleans are some of the well-known hotels in the city. Here are some other gems.
Top 5 Hotels In New Orleans
Hotel Peter & Paul
A true epitome of New Orleans' history, architecture, and culture, Hotel Peter & Paul is not only a stunning luxury boutique hotel but is a colorful ordeal that is a must-visit destination in the city. It perfectly captures the essence of New Orleans with its artsy interiors, mint-green doors, and heavy European influences. The hotel itself is in a 19th-century renovated church, schoolhouse, and convent. Each room is designed in its own unique way, reflecting these three different sections of the original historic building. This is one of the most iconic New Orleans hotels. The hotel has its own wine bar called the Elysian Bar serving home-grown wines as well as delicious lunch and dinner dishes that highlight the local seasonal ingredients. We especially recommend trying the Crispy Pork Belly and the Oven-Roasted Bone Marrow.
Hotel Saint Vincent
Hotel Saint Vincent is a landmark hotel that was built in 1861 and was then restored in 2021 and sits on the corner of Magazine and Race streets in the Lower Garden District. With a stunning wrought iron fence adorning its front porch and colorful patterned rooms, the hotel has been restored with careful care to keep its bones cemented in New Orleans culture. The hotel also features a stunning outdoor pool that's surrounded by palm trees and is the perfect place to lounge. Guests rave about the hotel's staff being extremely friendly and considerate. San Lorenzo is an amazing restaurant that highlights Coastal Italian cuisine combined with New Orleans' touch and the Paradise Lounge bar is an airy space, perfect for people looking to grab a quick cocktail or coffee.
Maison De La Luz
Located towards the south of the French Quarter in the Warehouse District, Maison De La Luz is another of the several truly unique boutique hotels that adorn the heart of New Orleans' hotel scene. For travelers who are looking to stay in the heart of the city and experience the best of New Orleans, from jazz music to the best restaurants in the city, this is the perfect location to stay in. Wake up to a fresh pot of coffee delivered to your room, enjoy their delicious room service, enjoy breakfast at the Breakfast Room, and delight yourself in some nightly wine and charcuterie. Don't forget to check out Marilou, which is a breathtaking craft cocktail bar to which guests have a private entrance. You can visit the pool and gym at the nearby Ace hotel, and also feel free to get in touch with their concierge to enjoy priority reservations at some of the top restaurants in the city.
Ace Hotel New Orleans
Ace Hotel in New Orleans is located in the Warehouse District and is situated in an art deco building from the 1920s. This is a very chic hotel and provides convenient access to the St. Charles Streetcar line. Unwind at their rooftop bar overlooking their rooftop pool, break a sweat at their 24-hour fitness center, and enjoy complimentary Wi-Fi. The rooms and suites are decorated keeping in mind the art deco style of decor with a lot of French influence. Lovage, their coffee shop, is especially renowned for having delicious coffee and pastries. Josephine Estelle is one of their restaurants that serves up delicious Italian food prepared in a Southern style.
Pontchartrain Hotel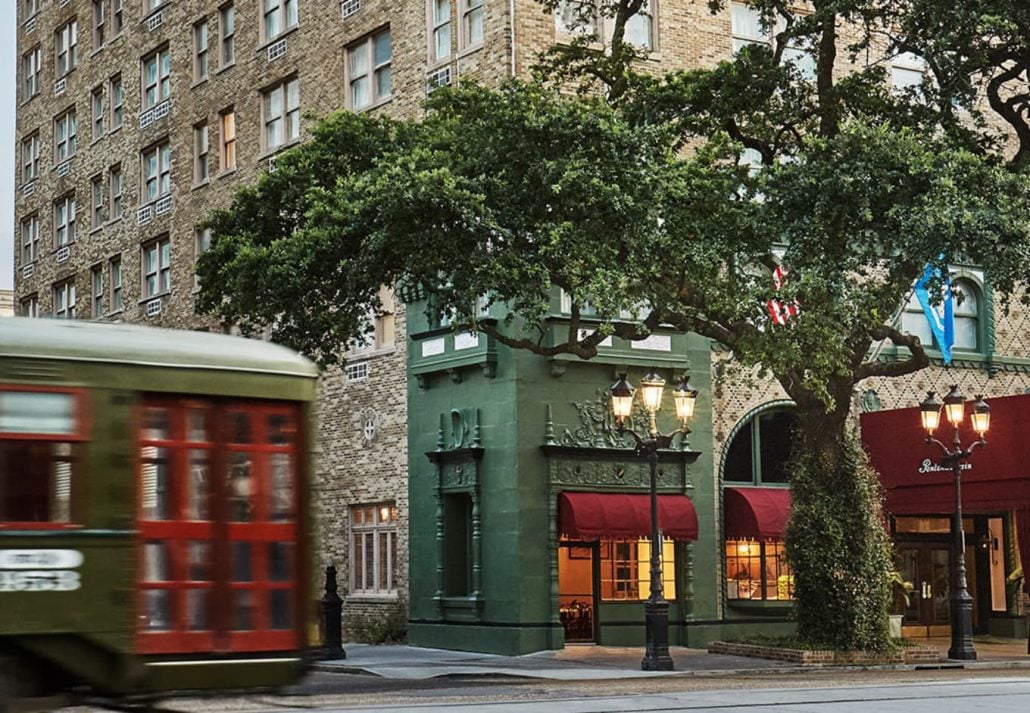 The Pontchartrain Hotel is located in the Lower Garden District and is truly a sight for sore eyes. Its architecture is very reminiscent of the 1930s, which is the time period that the building is from. The hotel overlooks the famous St. Charles Avenue and the interiors match the hotel's facade with the guest rooms and suites being adorned with timeless antiques with iconic gold and red accents throughout the hotel. The hotel has one several awards for being the best in New Orleans. Grab a drink at the Bayou Bar, and admire the stunning views of the New Orleans skyline from their rooftop bar, Hot Tin. The Silver Whistle Cafe on-site serves a delectable breakfast buffet and lunch that you shouldn't miss out on.
FAQ
Which part of New Orleans is best to stay in?
French Quarter, Garden District, and Central Business District are the best parts of New Orleans to stay in.
What hotel do celebrities stay at in New Orleans?
An iconic luxury hotel in New Orleans is The Roosevelt New Orleans and it has been frequented by several famous people including presidents and royals.
What is the safest area of New Orleans for hotels?
The safest neighborhoods in New Orleans are Garden District and French Quarter. These areas have the lowest crime rates and are also the areas that tourists usually choose to stay in.
What area to stay when visiting New Orleans?
French Quarter, Garden District, and Central Business District are the best parts of New Orleans to stay in.
CuddlyNest provides all accommodations to all travelers at the best price. Find unlimited travel inspiration on our blogs and social media channels Facebook, Instagram, and Pinterest.
You May Also Like:
Guide To Vacationing In New Orleans LA
7 Amazing Hotels in Miami, Florida
The Best Time to Visit Miami, Florida
The 5 Best Miami Resorts
The Ultimate Guide To The Miami Design District
The 5 Best Downtown Miami Hotels
Best Dog-Friendly Vacations In The United States
7 Most Instagrammable Places To Eat At In Chicago
The Ultimate California Travel Guide