Praised around the world for its beautiful beaches, lush gardens, and vibrant Cuban influence, Miami is a true gem in southeastern Florida.
Aside from spoiling visitors with an unlimited amount of things to see and do, Miami is considered to be a delightful destination thanks to its pleasant tropical climate.
However, deciding the best time to visit the city can be tricky. During the summer months, for instance, the heat is scorching hot and rainfall is at its highest. This is also the hurricane season in Miami, which might not be ideal if you want to stay outdoors.
From March to May, temperatures are pleasant and rainfall is low, but the city gets crowded with students during spring break. This means you can expect the highest rates for accommodation and more crowds.
In this thoughtful guide, we've broken down the best time to visit Miami based on multiple factors such as weather, prices, and events. Have a look below to learn more!
The Miami Weather
Miami has a tropical monsoon climate, characterized by hot and humid summers; short, warm winters.
The average temperature of the coldest month (January) is 20.3 °C while the temperature of the warmest month (August) is 29 °C.
Rainfall in Miami amounts to about 1,700 millimeters (67 inches) per year. While there is no dry season, the least rainy season is winter, from December to February. During that time of year, rainfall is rare and is brought by cold fronts that can move from the continent to southern Florida.
On the other hand, during the summer, which lasts from May to October, the rains are abundant, occurring in the form of showers and thunderstorms.
In Miami, there is an average of 2943 hours of sunlight per year with an average of 8:03 of sunlight per day.
Miami's Seasons
Spring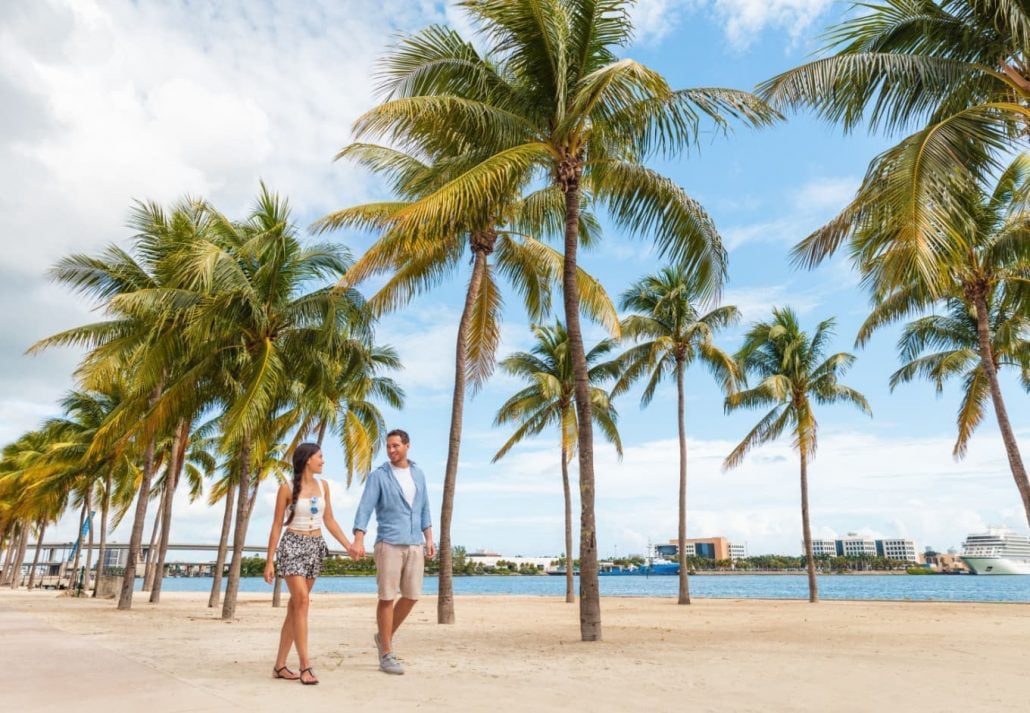 Spring in Miami runs from March to April. This season brings pleasant temperatures that can reach 28ºC during the daytime. Lower temperatures rarely fall below 18ºC during springtime.
Travelers can expect occasional rain, which averages 2.0-4.5 inches, increasing as the season continues.
In April and May, as the summer months approach, temperatures increase as well as the rainfall.
May is the rainiest of the spring months, with an average of 7 rainy days.
Summer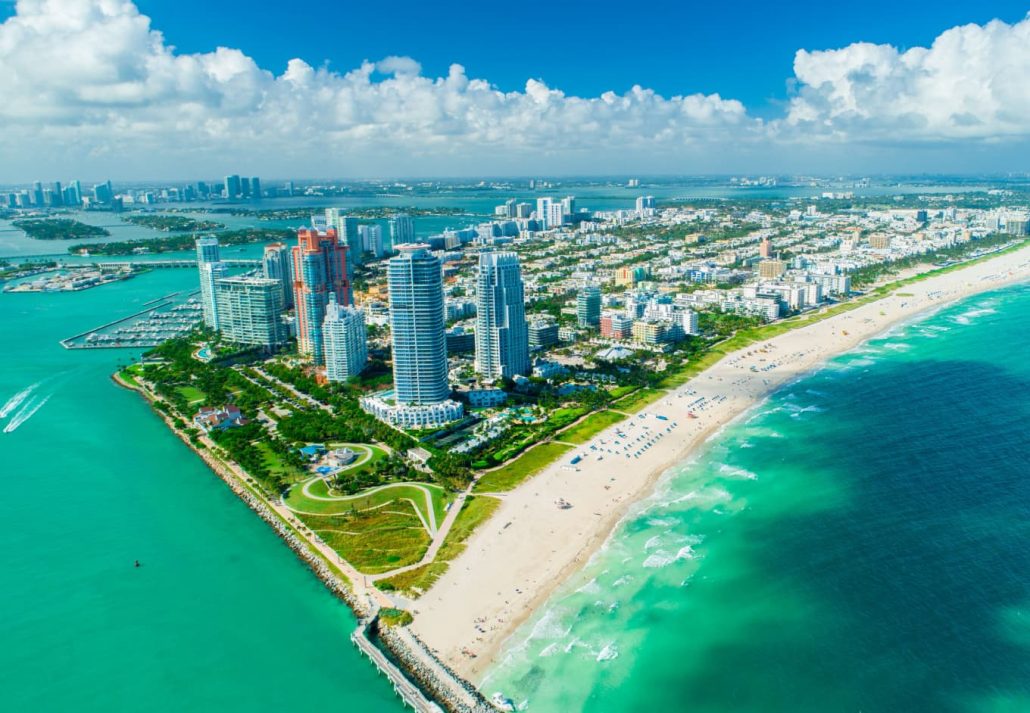 Summer in Miami lasts from May to September, and it brings the highest temperatures of the year. Daytime temperatures usually exceed 30 º C, especially in July and August, which are the hottest months of the year. Nights are also warm with an average temperature of 26 ºC.
The good thing is that the temperature is consistently warm during the days and evenings, so you can go out and about in your summer clothes at any time of the day.
Aside from the sweltering heat, humidity is at its highest during the summertime in Miami. Tropical storms are frequent throughout the entire summer, and the month with the wettest days in Miami is August, with an average of 18.5 days with at least 0.04 inches of precipitation.
Also, June to November is the hurricane season in Miami. The hurricane season officially begins on June 1st and ends on November 30th, and over 97% of tropical activity occurs in these six months.
September is the most common month for hurricanes.
Hurricanes can last for only a few hours or up to a few weeks as they travel across the Atlantic and turn north and dissipate.
Summer is also the "mosquito season" in Miami since mosquito activity is highest when the temperature and humidity are rising. So, if you're planning to spend time outdoors in Miami during the summer, especially in the evenings or after rainfall, be sure to load up on bug spray.
Autumn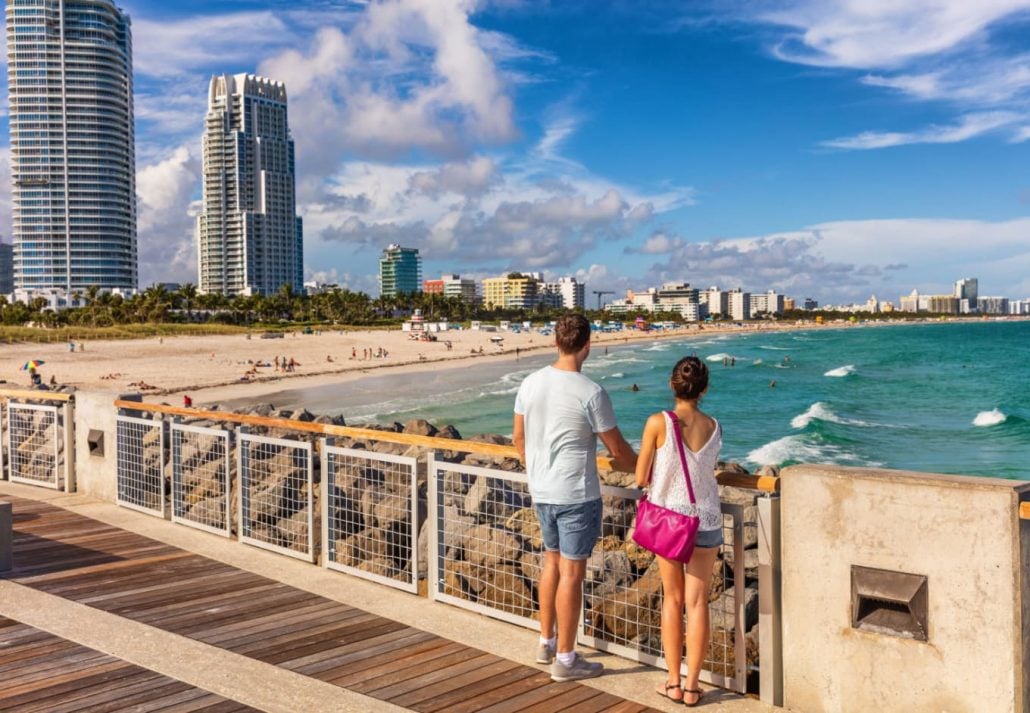 The warm summer temperatures and humidity remain through the beginning of the fall. Throughout September, which is the peak of hurricane season, expect highs around 30ºC and an average of 88mm of rainfall.
In October, temperatures start to decrease. High temperatures can peak at 28ºC, and
This is still an active month for tropical cyclones, with a 40-45% risk for a named tropical storm passing near the east coast of Florida or the Bahamas.
Temperatures gradually fall near the end of October.
In November, the heat and humidity decrease significantly. Temperatures drop down to 26ºC, and rains are almost gone. On average, there's 35mm of rainfall in November.
Winter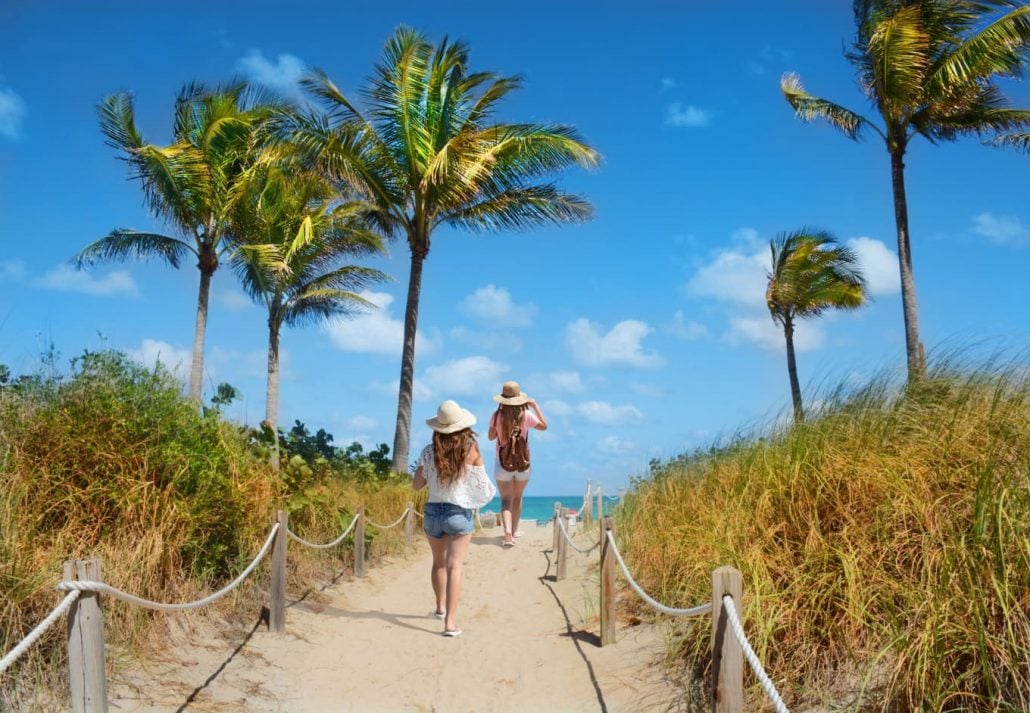 The weather in Miami is at its finest during the winter. From late December to February, temperatures are mild and pleasant, hovering around a comfortable 25ºC. Lows rarely fall below 18ºC.
During the winter months in Miami, rainfall is fairly rare. The driest month in Miami is January with 1.88 inches of precipitation.
Also, Miami has never officially recorded any accumulating snowfall since records have been kept, so don't expect snow during the wintertime.
The Best Time To Visit Miami
For Pleasant Weather
When it comes to great weather, Winter and Spring are often considered the best times to visit Miami. Both of these seasons are characterized by pleasant temperatures and low humidity. This creates the ideal conditions for enjoying a variety of outdoor activities, such as sunbathing in Miami Beach and going on a sightseeing cruise of the Florida Keys.
Reminder: November to March is the high season in Miami, so expect large crowds, higher accommodation prices, and heavier traffic.
If you plan on visiting Miami during the high season, we recommend that you book your flights and accommodation early.
Also, be sure to avoid visiting Miami during spring break this is the time of year the city tends to get crowded with college students and tourists.
For the Lowest Prices & Fewer Crowds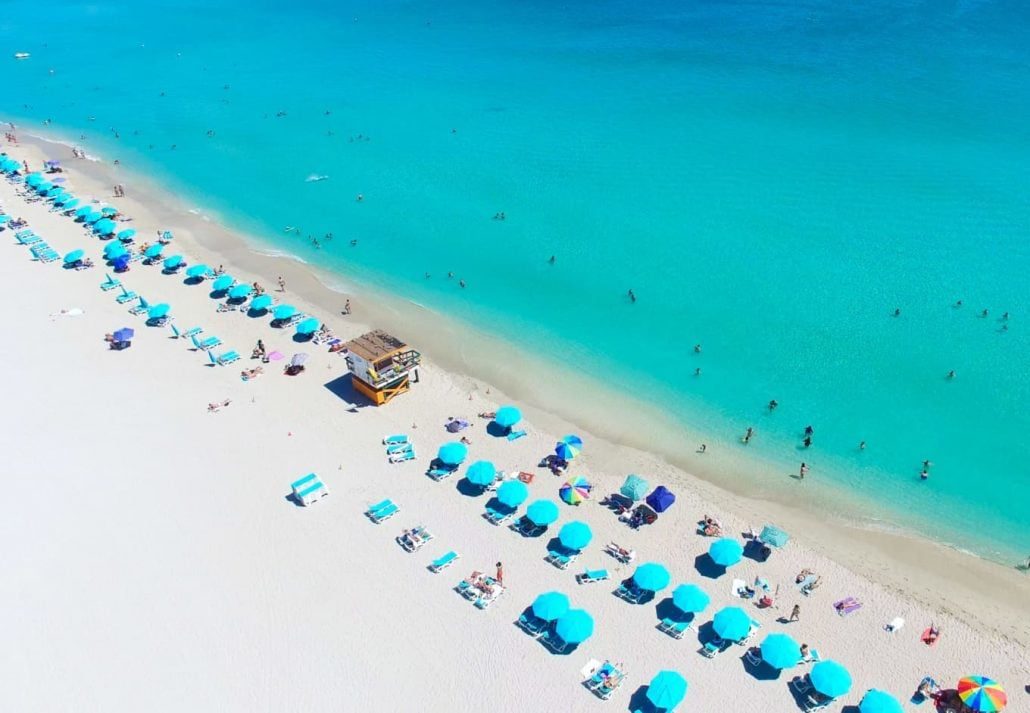 Generally speaking, Miami is a year-round destination that is always in demand. However, if you visit the island in the shoulder season, which falls during the humid summer months, you're likely to find better hotel prices and discounts on flights. Due to the high humidity, and chances of hurricanes, there are also fewer crowds in the city.
Please note that due to the weather conditions, there are fewer cruises and events happening in Miami during this time.
For Bucket-List Activities
The begging of Spring, mid-fall, and the beginning of winter are great times to enjoy a variety of experiences and activities in Miami. Due to the pleasant weather conditions, which bring sunny days and low humidity, these seasons are ideal for soaking up the sun on Miami's beaches, indulging in scenic cruises, and exploring the city's parks.
It's also the perfect time to indulge in outdoor activities such as kayaking, jogging, and paddleboarding.
For Amazing Events
Winter and Spring bring the best events to Miami. In December there's the Art Basel Miami Beach, a worldwide known international art fair that gathers thousands of artists, art dealers, collectors, and enthusiasts. During the holiday season, you'll also get the chance to see the city's towering palm trees beautifully decorated with lights!
January there's the Jazz Festival in South Beach, a bustling festival featuring contemporary, Latin, and New Orleans-style jazz live performances.
Later on, typically in mid-February, the city hosts the famous South Beach Wine & Food Festival, one of the largest food festivals in Miami.
In March, Miami comes alive with a delightful array of festivals. In the Calle Ocho Music Festival, bustling crowds flock to the street of Little Havana to celebrate one of the USA's largest Latin carnivals. There are musical stages, international food stalls, and typical dances.
And don't forget about the Ultra Music Festival, which also happens in March. This is one of the world's top outdoor music festivals and features electronic music performances by high-caliber DJs.
Visiting Miami during the Summer months? Then don't miss Swim Week, an event that happens in July during the Miami Fashion Week. The week includes swimwear fashion shows from top designers, pool parties, cocktail hours, and of pop-up shops.
FAQ
What is the best time for visiting Miami?
The best time to visit Miami is during winter or spring when the temperatures are pleasant and the humidity is low.
What is the hottest month in Miami?
With average highs of 29°C, August is the hottest month in Miami.
What is the cheapest month to visit Miami?
The cheapest time to visit Miami is during the summer or early fall months when heat waves and hurricanes tend to ward off tourists.
When is the peak season in Miami?
The peak season for tourism is the winter high season.
When is the rainy season in Miami?
Summer (June to September) is the rainy season in Miami.
How many days do you need in Miami?
It's recommended that you spend at least 3 days in Miami and Miami Beach area. This will give you enough time to see popular tourist attractions including South Beach, Wynwood Wall, and Vizcaya Museum and Gardens.
When it's hurricane season in Miami?
While hurricanes can happen at any point during hurricane season, mid-August through late October is the most likely time for a hurricane to happen in Florida.
When there are fewer tourists in Miami?
Miami is one of the most popular tourist destinations in the United States, meaning the city attracts tourists all year round. However, if you want to avoid crowds, visit Miami in the summer, when the heat and humidity tend to ward off visitors.
CuddlyNest provides all accommodations to all travelers at the best price. Find unlimited travel inspiration on our blog and social media channels.
You Might Also Like:
The Ultimate Guide To The Miami Design District
The 5 Best Miami Resorts
The 5 Best Downtown Miami Hotels
The 5 Best Beaches In Miami, Florida
The 7 Most Amazing Things To Do In Miami, Florida
9 Incredible Things To Do In Key Largo, Florida
11 Amazing Weekend Getaways in Florida
The Ultimate Guide To Holidays In Orlando, Florida
12 Amazing Day Trips From Orlando, Florida
The 15 Best Beaches In The United States
A Guide To The 8 Best Nude Beaches In The United States
10 Best Day Trips From Naples, Florida
The Ultimate Guide To a Pet-Friendly Holiday in Florida
6 Affordable Gulf Coast Digital Nomad Destination Spots