Crammed with skyscrapers, swanky malls, and luxury hotels, Singapore is every's urbanites dream. But there's more to this lavish city-state than a deeply cosmopolitan atmosphere. While exploring Singapore, travelers are happily surprised to find some of the world's most enchanting temples, dreamy gardens, lively street markets, and history-filled neighborhoods, to name just a few.
The amount of experiences and attractions in Singapore is so gloriously wide, that travelers have no trouble filling up they are itinerary while visiting the city.
Don't know what to gawk at first? No worries, we got you. Here's a well-rounded list of the 18 top things to do when visiting Singapore. From exploring dreamy bird parks to discovering world-class museums, the options are endless!
Find Places To Stay in Singapore
The 18 Best things to do in Singapore
Discover the Exotic Plants At Gardens by the Bay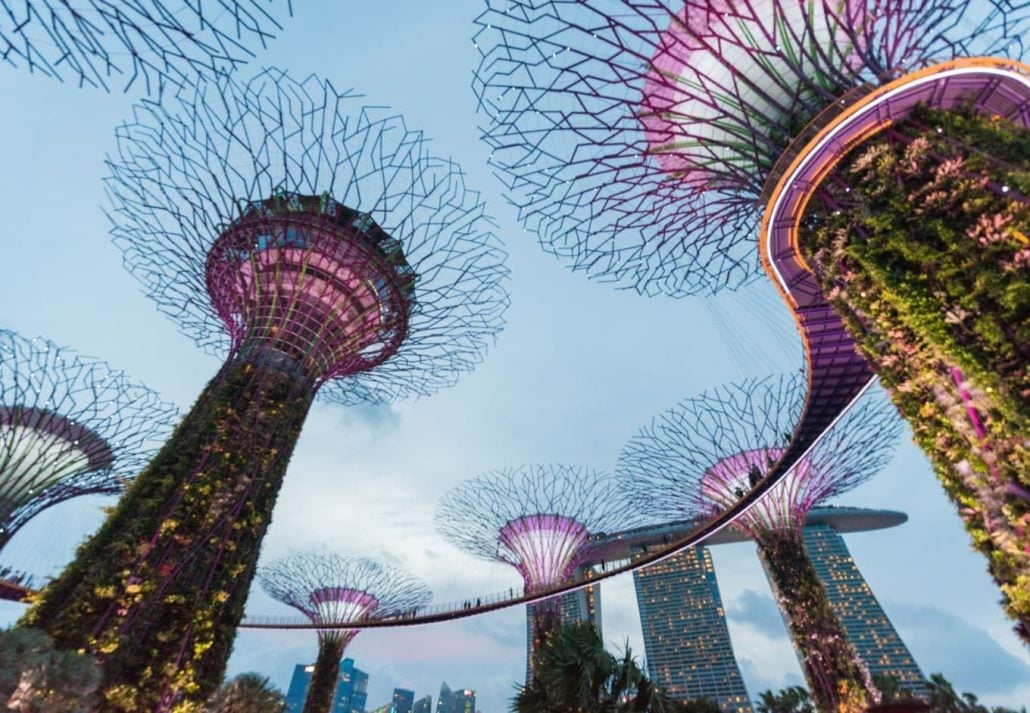 Gardens By The Bay is a scenic wonderland for nature and photography lovers. Spanning 110 hectares, this major tourist attraction comprises three distinct areas — the Bay South Garden, Bay East Garden, and Bay Central Garden —, which are home to over 1.5 million plants from around the world.
Must-see treasures of the Bay Gardens include the Flower Dome, which is dotted with exotic plants and flowers — from thousand-year-old olive trees to magnolias and orchids —, and broke the Guinness World Record as the World's Largest Glass Greenhouse in 2015.
The gardens are also home to a spectacular Cloud Forest, a towering structure veiled in mist and covered in lush vegetation.
As you exit the conservatory, you'll stumble upon the Supertree Grove, which plays host to 12 of the Gardens' 18 iconic Supertrees as well as the OCBC Skyway, an aerial treetop walk offering stunning views of the gardens.
Address: 18 Marina Gardens Dr
Recommended Read: The 15 Best Tourist Attractions in Singapore
Meet Wild Creatures At The Singapore Zoo
Located in Singapore's Central Catchment Area, the Singapore Zoo is home to a dazzling variety of more than 2,400 animals of over 300 species.
The zoo is renowned for its 'open concept' rainforest environment, and it's divided into different zones that replicate diverse animal habitats around the world — from Australasia to Wild Africa.
Aside from getting face-to-face with a range of fascinating animals such as baby kangaroos, African penguins, Aldabra gigantic turtles, and Panther chameleons, visitors will be able to enjoy a range of wildlife experiences like buggy tours and animal feeding.
Address: 80 Mandai Lake Rd
Marvel At Singapore's Skyline From The Marina Bay Sands Resort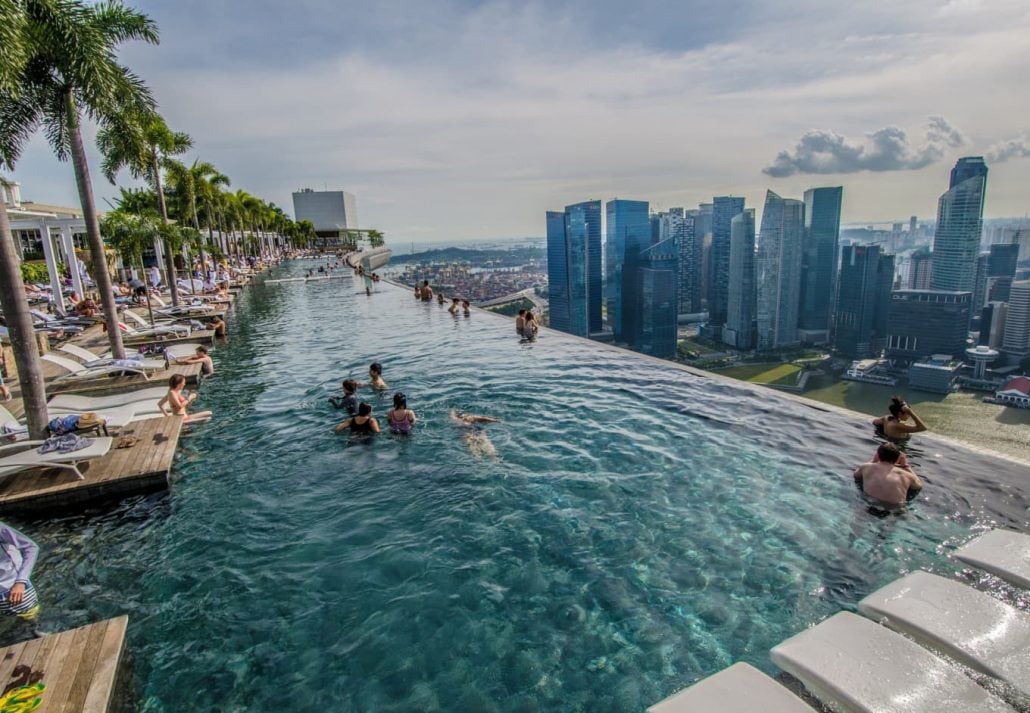 Perfectly situated in front of Singapore's Marina Bay, this award-winning hotel is well-known for harboring the world's largest rooftop infinity pool. And although the pool is available only for hotel guests, several attractions of the Marina Bay Sands Resort are open to the public.
Must-sees in the Marina Bay Sands Hotel include The Shoppes, a luxury shopping mall featuring over 200 high-end stores; and the Marina Bay Sands Skypark Observation Deck, from where visitors can take in the most gorgeous view of the Gardens by the Bay, the Helix Bridge, and the Port of Singapore.
Address: 10 Bayfront Ave
See The Orchid Garden At Singapore Botanic Gardens
The Singapore Botanic Gardens is a veritable lush pocket of greenery in the heart of the city. Designated as a UNESCO World Heritage Site, the garden is home to a spectacular display of tropical flora set in a stunning verdant landscape
Featuring more than 10,000 specials of flora spread over 200 acres, the gardens are divided into four core concepts — Tanglin, Nassim, Bukit Timah, and Tyesall-Gallop. Its most visited section, however, is the lesser-known National Orchid Garden, a dreamy and extensive orchid garden home to over 1000 species and 2000 hybrids on display.
Other must-sees are the boardwalk, which runs through a dense patch of ancient rainforest, and the Bonsai Garden, where visitors will be able to catch a glimpse of 49 specimens ranging from tropical to sub-tropical species and varieties.
Address: 1 Cluny Rd
Indulge In Some Well-Deserve Shopping Therapy
Shopping in Singapore is a real treat. The city is home to a delightful mix of flea markets, mega malls, retail shops, and boutique shops, which cater to every taste and budget.
Orchard Road is Singapore's retail heart, filled with budget-friendly outlets, department stores, and upscale boutiques. There, be sure to stop by ION Orchard, a world-class shopping mall home to a great range of 400 retail outlets that range from luxury stores to mid-range brands.
Seeking a more budget-friendly experience? Then head over to the iconic Mustafa Centre. Located in the vibrant district of Little India, and spread over two buildings and six levels, the mall is home to a wide variety of shopping options. There, you'll find everything from textiles to electronics and jewelry, at affordable prices.
Curious travelers seeking to find unique vintage goodies will have a great time in Singapore's Vintage Market, while the luxury-loving can't miss the lavish The Shoppes at the Marina Bay Sands Resort.
Recommended Read: A Guide To The Best Shopping in Singapore
The 7 Best Shopping Malls in Singapore
Ride The Singapore Flyer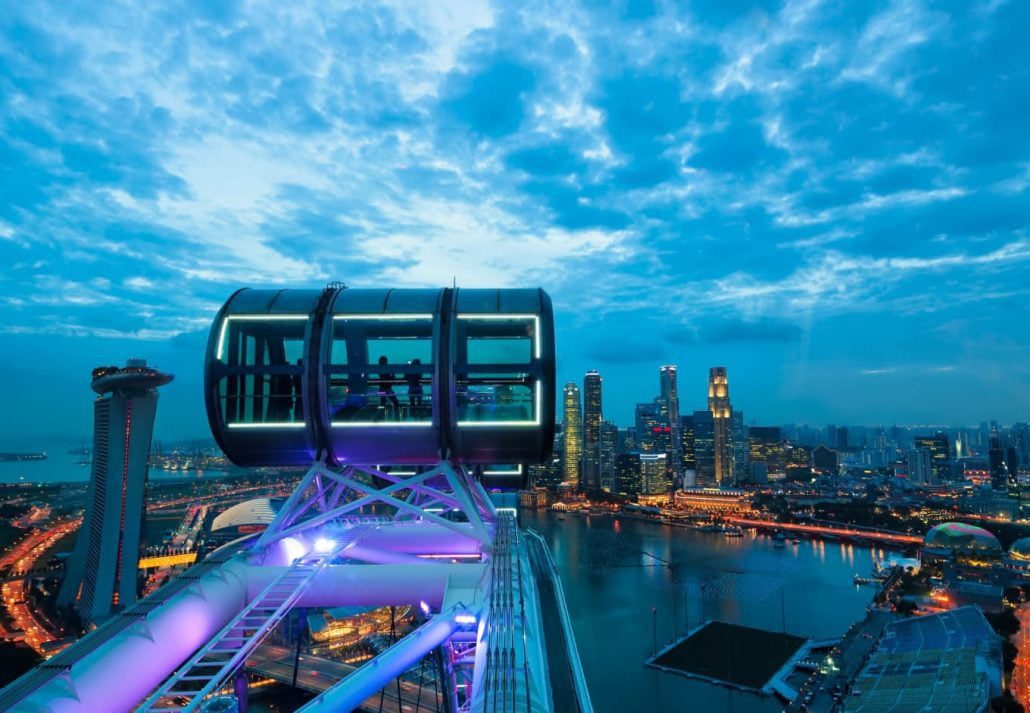 Standing 541 ft above the ground, Singapore Flyer is one of the world's largest observation wheels. It boasts 28 air-conditioned capsules, from where passengers can soak in the most show-stopping views of Singapore's skyline.
Each capsule is equipped with audio guides and interactive screens, which allow passengers to discover the past, present, and future of Singapore during the 30-minute ride.
Address: 30 Raffles Ave
Check The Artworks At The National Gallery Singapore
Visiting the National Gallery Singapore is a bucket-list activity for art lovers. This world-class museum plays host to the largest modern art collection in Southeast Asia, and mostly focuses on the works of local and Asian artists starting in the 19th century.
Located at the birthplace of modern Singapore, in the heart of the Civic District, the museum flaunts 9,000-plus works of art divided between two buildings – City Hall and the former Supreme Court that have been beautifully restored and transformed into this stunning 64,000-square-metre venue.
Address: 1 St Andrew's Rd, #01 – 01
Explore Singapore's Alluring Temples
Singapore is filled with alluring temples that enchant travelers with their spellbinding locations, incredible architectural features, show-stopping views, and rich historical heritage.
A must-visit is the Buddha Tooth Relic Temple famed worldwide for harboring what is supposedly the left canine tooth of Lord Buddha, recovered from his funeral pyre in Kushinagar, India.
The colorful Sri Veeramakaliamman has intricate statues and detailing, making it one of the most spectacular places of worship in Singapore, while the Sri Srinivasa Perumal Temple is known for harboring traditional local festivities.
Read this comprehensive guide to discover the 10 best temples in Singapore every traveler must explore.
Take The Little Ones To The Jurong Bird Park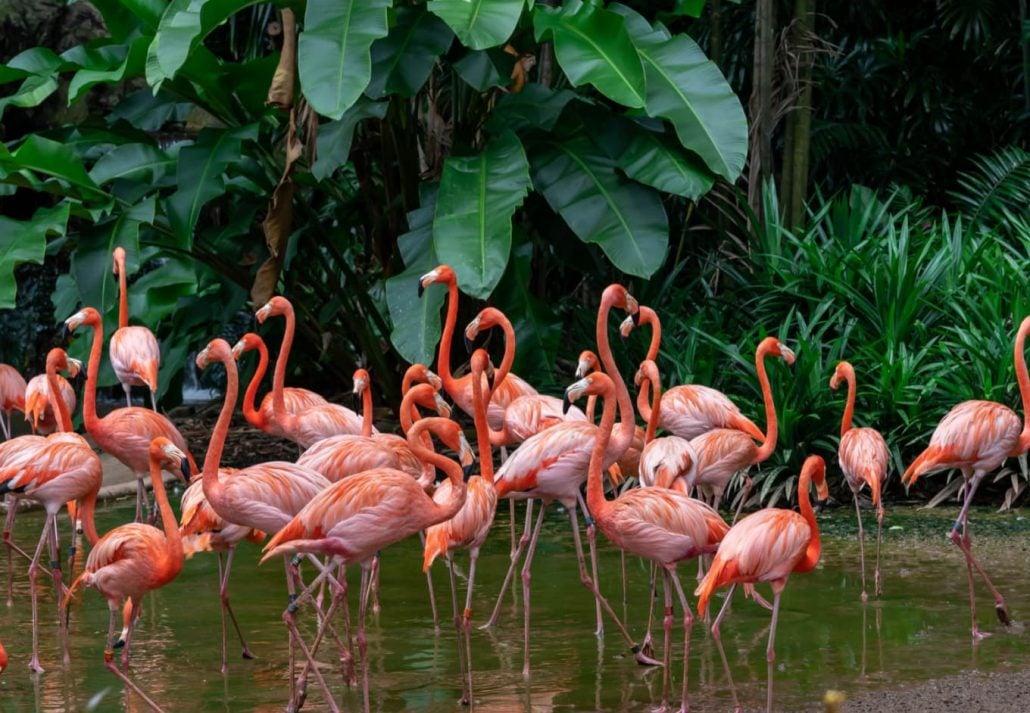 Visiting Singapore with the kids? Then don't pass up the chance to visit Jurong Bird Park. Home to more than 5,000 birds from 400 different species, and covering 20.2 hectares in the western part of Singapore, Jurong is Asia's largest bird paradise.
The birds are divided into 13 thematic zones like the Flamingo Pool, Parrot Paradise, Penguin Coast, and Birds of Prey. A must-see is the African Treetops, which simulates a 360-degree walk through a rainforest canopy, and it's home to elusive bird species from Africa and its neighboring islands like Madagascar and Seychelles.
Some of the feathered creatures you'll see while exploring Jurong Bird Park are the crested guinea fowl, iridescent starling, great blue turaco, and gold-breasted starling.
Address: 2 Jurong Hill
Watch The Light Show At The HSBC Rain Vortex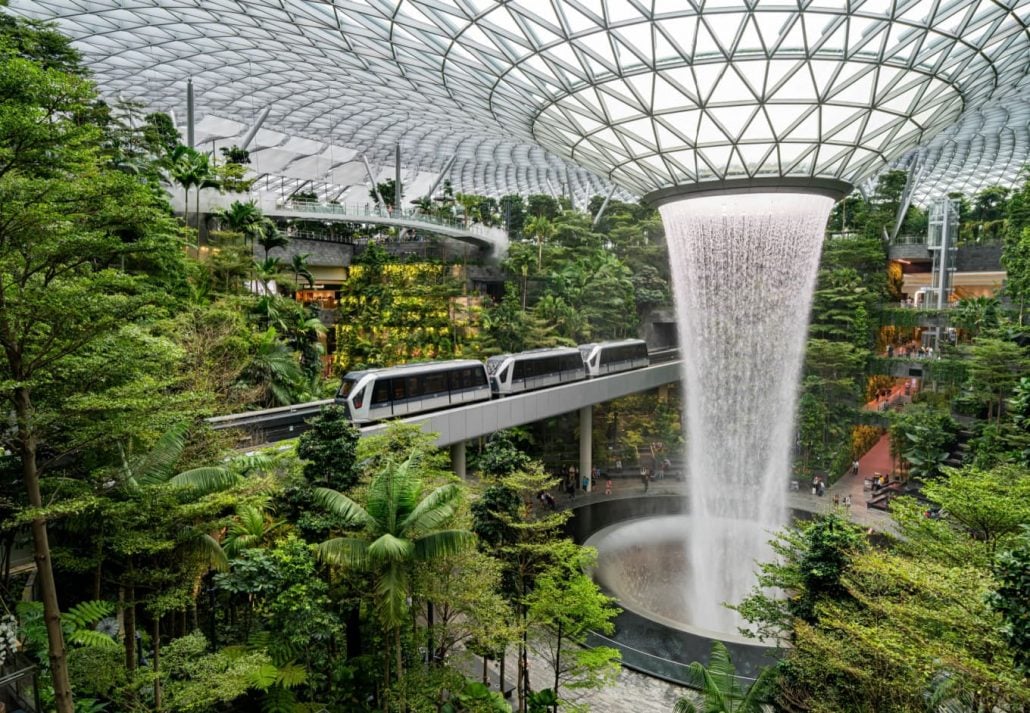 HSBC Rain Vortex is an eye-popping gem located at Jewel Changi Airport. Standing 131 feet tall, with water cascading down from the dome-shaped roof of the airport, this dreamy rain vortex is the world's tallest indoor waterfall. At night, the water becomes a screen on which a spectacular light and sound display is projected.
Address: 78 Airport Blvd
Adventure Cove Waterpark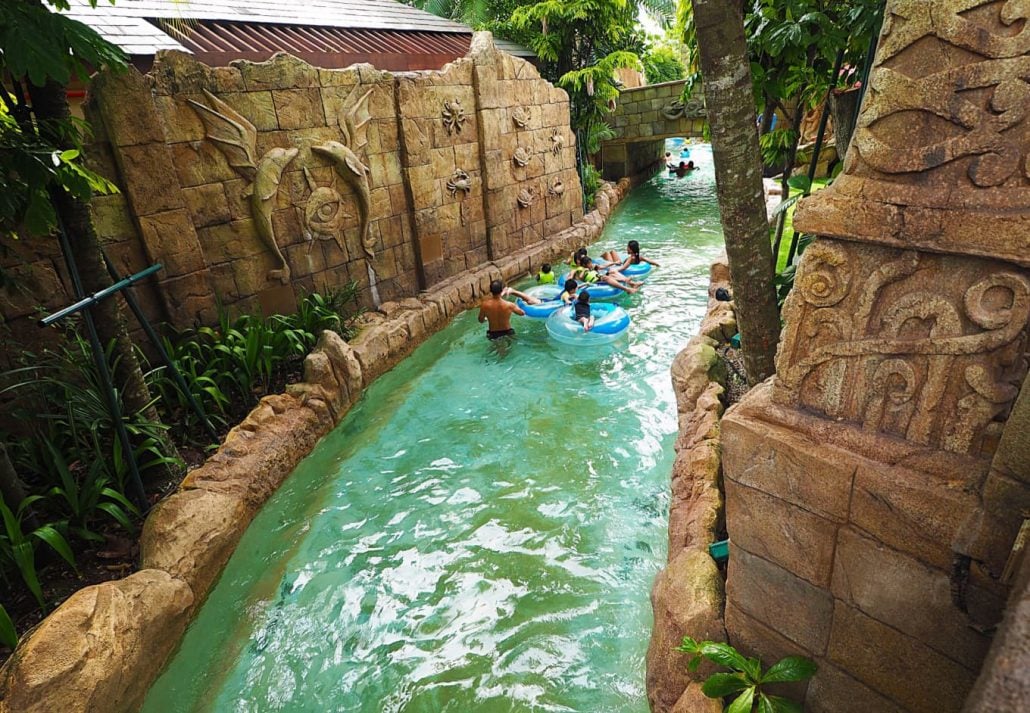 The Adventure Cove Waterpark offers fun and excitement for all ages and adventure levels. Located at the Resorts World Sentosa, on Sentosa Island, this is Southeast Asia's only aquatic and marine life park.
Thrilling rides at the park include the pulse-pounding Spiral Washout, where you'll funnel down a tube into a twisting, turning water flume, and
Riptide Rocket — Southeast Asia's first thrill-creating, gravity-defying hydro-magnetic coaster
In need of some well-deserved relaxation? Then float down the Adventure River. You'll drift past stunning habitats including a lush jungle garden, a mysterious grotto, and an underwater tunnel with a sea of marine life swimming above and around you.
Another well-worth attraction at Adventure Cove Waterpark is the rainbow reef, where you can snorkel with a stunning reed and encounter up to 20,000 fishes and marine animals
Address: 8 Sentosa Gateway, Sentosa Island, Singapore
Go On A Day Trip To Sentosa Island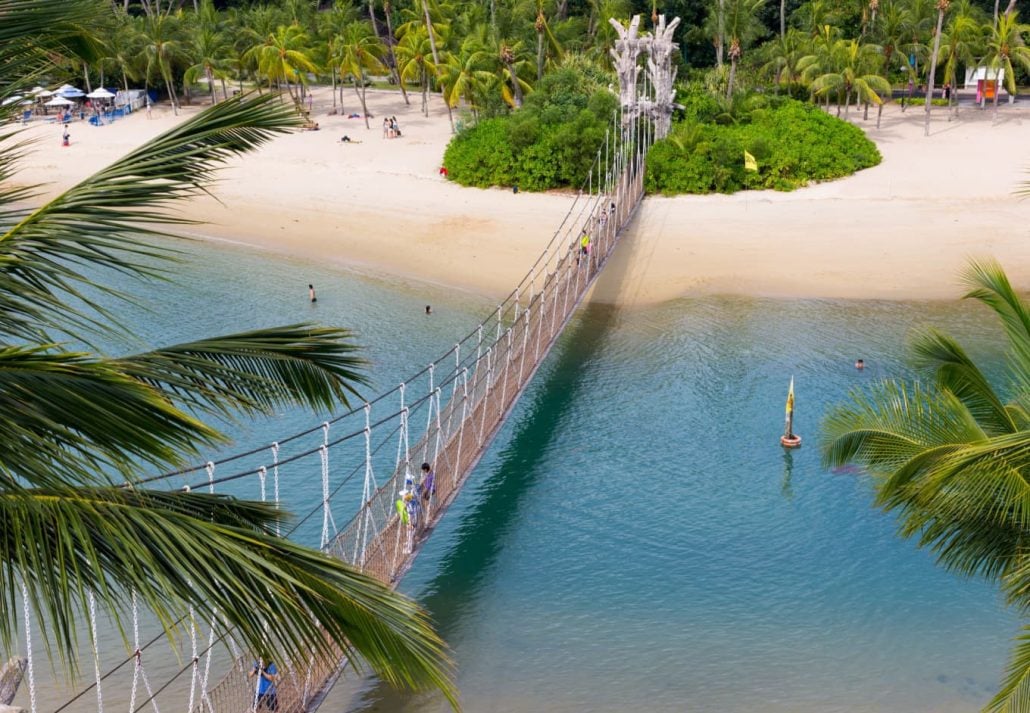 Need a break from Singapore's bustling streets? Then go on a day trip to Sentosa. Located off the city's southern coast, the island is filled with wonderful attractions, including bustling beaches, golf courses, nature trails, and family-friendly theme parks.
The island's 3 alluring beaches — Siloso, Palawan, and Tanjong — provide the perfect setting for pleasant sunbathing, and swimming sessions, while the Sentosa Nature Discover trail allows visitors to explore Sentosa's dreamy flora and fauna.
Stop by the Skyline Luge Sentosa to enjoy the views of the Singapore skyline and the South China Sea, and visit the S.E.A. Aquarium™, one of the world's largest aquariums, to marvel at over 100,000 marine animals.
Want to treat your kids to a thrilling day? Then take the little ones to Singapore Universal Studios, which occupies 49 acres of Resorts World Sentosa. This dazzling park is arranged thematically, with each area paying tribute to a location, film, or television show. Destinations include New York City, Hollywood, Madagascar, and a trip back to Ancient Egypt.
Learn About Singapore's History At The National Museum of Singapore
The National Museum of Singapore is the ultimate destination for those seeking to delve deeper into Singapore's history and culture. Set within a 19-century colonial building, the museum is the nation's oldest museum and seeks to take visitors on a journey of Singapore's history through cutting-edge technology and amazing exhibitions.
There are two main galleries: the Singapore History Gallery, which traces the history of Singapore from its beginnings in the fourteenth century to the present day, and the Singapore Living Galleries, which focus on four lifestyle themes – food, fashion, film, and photography.
Address: 93 Stamford Rd
Meet Endangered Species During A Night Safari
Home to over 2,500 creatures from over 130 species, the Night Safari is the world's first safari park for nocturnal animals. Over 40% of these species that inhabit this open-air zoo are threatened, including many indigenous to the region like the endangered Asian elephant, Malayan tapir, and Malayan tiger.
Experiences available at the zoo include a Guided Tram Ride across the zoo's 6 geographical zones of the world, from the rugged Himalayan Foothills to the jungles of Southeast Asia.
Visitors can also explore the park through 4 trails, which allow glimpses of animals that are not visible from the tram. The Fishing Cat Trail recreates a nighttime trek through the jungles of Singapore, and the Leopard Trail features the largest collection of wildlife indigenous to Southeast Asia.
Address: 80 Mandai Lake Rd
Go On A Food Tour
Singapore is a veritable wonderland for foodies. Known for its captivating flavors, Singaporean cuisine encompasses blends of Malay, Chinese, Indonesian, Indian, and western influences, and is rich in ingredients such as meat, rice, noodles, aromatic herbs, and jet-fresh seafood.
So, when visiting Singapore, be sure to enjoy the city's life-changing gastronomical experiences. Some of the local dishes you should look out for include the Hainanese chicken rice, which is Singapore's national dish, and the delicious fried Hokkien mee, made with fried egg noodles with prawns, sliced pork, and gravy.
During your food tour, be sure to also try the Singapore Sling, a legendary gin-based sling cocktail, at the Long Bar, and the oyster omelet, which is a street-food staple in the city.
To learn exactly what and where to eat during your trip, read this guide to the 13 best foods in Singapore.
See The Iconic Merlion Statue at Merlion Park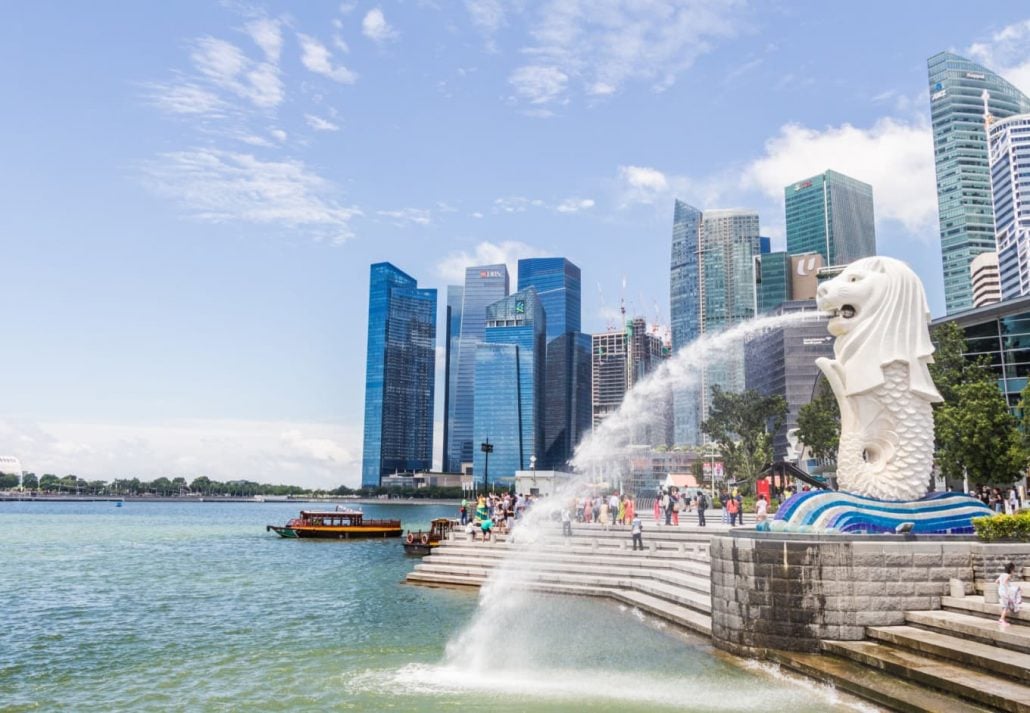 Merlion statue is a true icon of Singapore. This well-known statue located right by Merlion Park, near the Central Business District, depicts a mythical creature with the head of a lion and the body of a mermaid. The lion head represents Singapore's original name, "Singapura", which means lion city, and the fish-like body symbolizes the city's origins as a fishing village.
Address: 1 Fullerton Rd, Singapore
Hike The Southern Ridges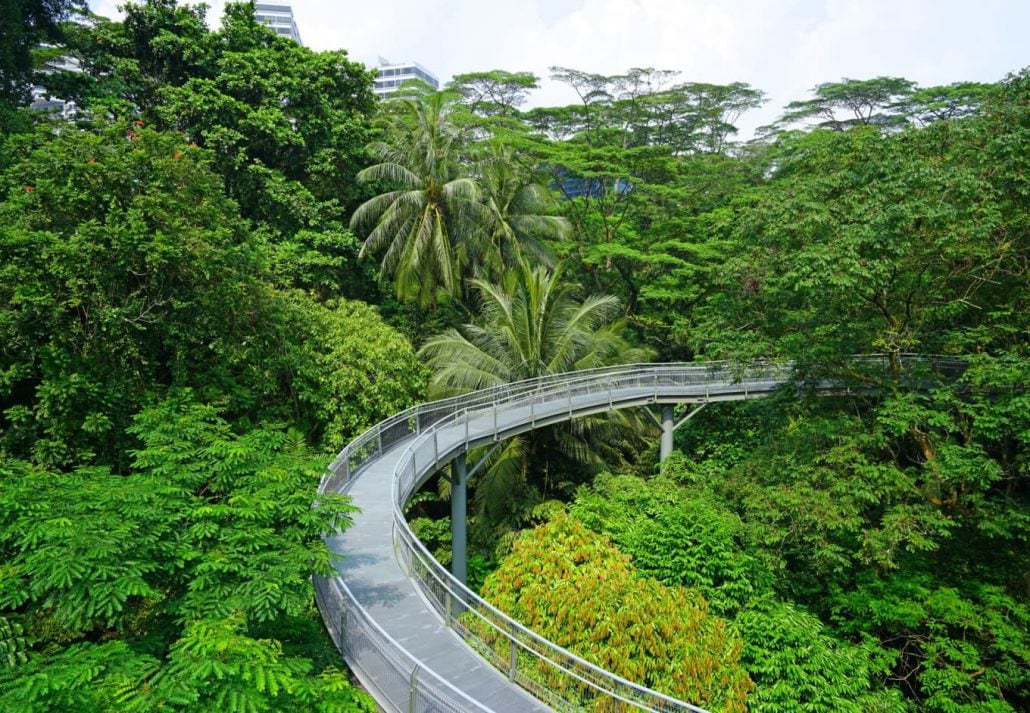 Nature lovers seeking to breathe some fresh air can't pass the chance to explore Singapore's Southern Ridges. This 7-mile long stretch of green spaces comprises the city's most popular parks and gardens — Mount Faber Park, Telok Blangah Hill Park, HortPark, Kent Ridge park, and Labrador Nature Reserve — connected by gorgeous ridges and pathways.
Southern Ridges is a prime hiking destination in Singapore. Along the way, you'll come across a rich variety of flora and fauna, including a dazzling array of bird species, and wildflowers.
Another highlight of this scenic hike is Henderson Waves a massive structure that connects Mount Faber Park to Telok Blangah Hill Park. Standing 36 meters above Henderson Road, it is the highest pedestrian bridge in Singapore and offers breathtaking views of the lush forest below.
Travel Back In Time While Visiting The Chinatown Heritage Centre
Set within 3 beautifully-restored shophouses, on Pagoda Street, the Chinatown Heritage Centre offers visitors a rare glimpse into the lives of Chinatown's early residents.
This stellar heritage center features 15 galleries spread over 3 levels, filled with exhibits that cover several aspects of the Chinese immigrants who left their villages in China to find a better life in Singapore.
The journeys and lives of the Chinese immigrants in Singapore can be experienced through multisensory exhibits that include olfactory displays of opium and fragrant spices, and larger-than-life photography props that provide explorers with a fully immersive experience.
Address: 48 Pagoda St, Singapore 059207
FAQ
Are 3 days enough to visit Singapore?
Yes. Three days in Singapore is enough time to experience all the attractions and activities the city has to offer.
Are 5 days enough to visit Singapore?
Yes, 5 days are more than enough to explore the highlights and offbeat attractions in Singapore.
What is Singapore known for best?
Singapore is famous for being a global financial hub and a cosmopolitan destination filled with luxury resorts, lush parks, alluring temples, and tempting shopping malls.
What are the top attractions in Singapore?
The 15 best Singapore attractions:
Marina Bay Sands Hotel;
Gardens by the Bay;
Singapore Zoo;
Singapore Botanic Gardens;
Jurong Bird Park;
Singapore Flyer;
Adventure Cove Water Park;
Buddha Tooth Relic Temple;
Sentosa Island;
Merlion Statue at Merlion Park;
National Gallery Singapore;
HSBC Rain Vortex;
National Museum of Singapore;
Night Safari;
Bugis Street.
Does Singapore have a lot of tourist attractions?
Yes, Singapore is filled with amazing attractions that cater to every age, taste, and budget. From world-class botanic gardens to fun-filled theme parks, the attractions in Singapore are endless.
What is the best time to visit Singapore?
February to April, which is the dry season, is the best time to visit Singapore and enjoy a variety of activities.
CuddlyNest provides all accommodations to all travelers at the best price. Find unlimited travel inspiration on our blog and social media channels.
You Might Also Like:
The 9 Best Thai Food Dishes
The Best Time to Visit Bangkok, Thailand
6 Top-Rated Things To Do In Antalya, Turkey
20 Countries Where You Can See the Japanese Cherry Blossoms
The Ultimate Asia Travel Guide
50 Fun & Interesting Facts About India You Should Know About
11 Sacred Attractions Around the World
The Best Ways To Travel From Bangkok To Phuket
The Best Time to Visit Cambodia
3 Ways To Travel From Bangkok To Chiang Mai