Atlanta is an iconic gem of the South and encompasses an ever-growing culture of promoting the finest arts in several different forms of theatre, painting, music, and more, embodies an important position in the history of the country and the Civil Rights Movement, while also featuring Southern culinary delights like no other city can. Admire the intricate sculptures, art, and architecture of Oakland Cemetery, admire the art at the High Museum Of Art, experience the World Of Coca-Cola, spend a day in the wine country, and walk around the newly built Atlanta BeltLine through which you can really explore the city on foot. There are so many fun things to do in Atlanta. Here's our list of the top ten things to do when you're visiting Atlanta!
The Top 10 Atlanta Attractions
Atlanta Botanical Garden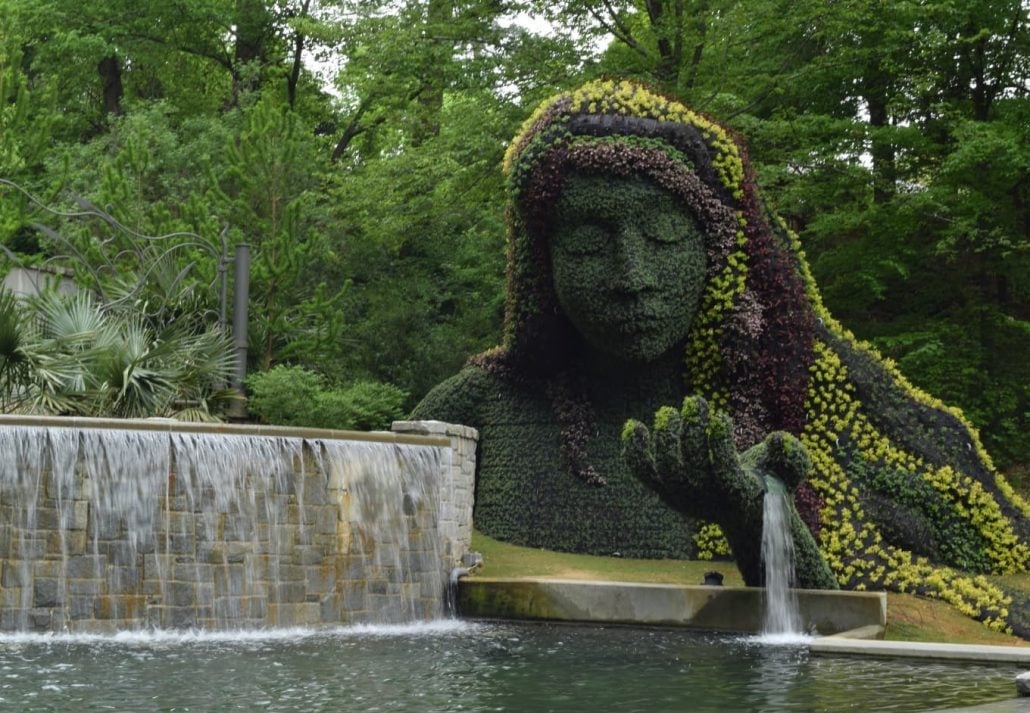 Located within Piedmont Park, the Atlanta Botanical Gardens are a sight for sore eyes. It spans over 30 acres and features thousands of different flora species along with extravagant plant sculptures such as the Earth Goddess sculpture, glass sculptures, stunning light displays, a special Children's Garden, an Edible Garden, a rainforest area, exhibitions, and so much more. They also have a restaurant where you can grab a bite to eat, but considering that it's a bit pricey, we recommend eating either before or after visiting the botanical garden.
Atlanta History Center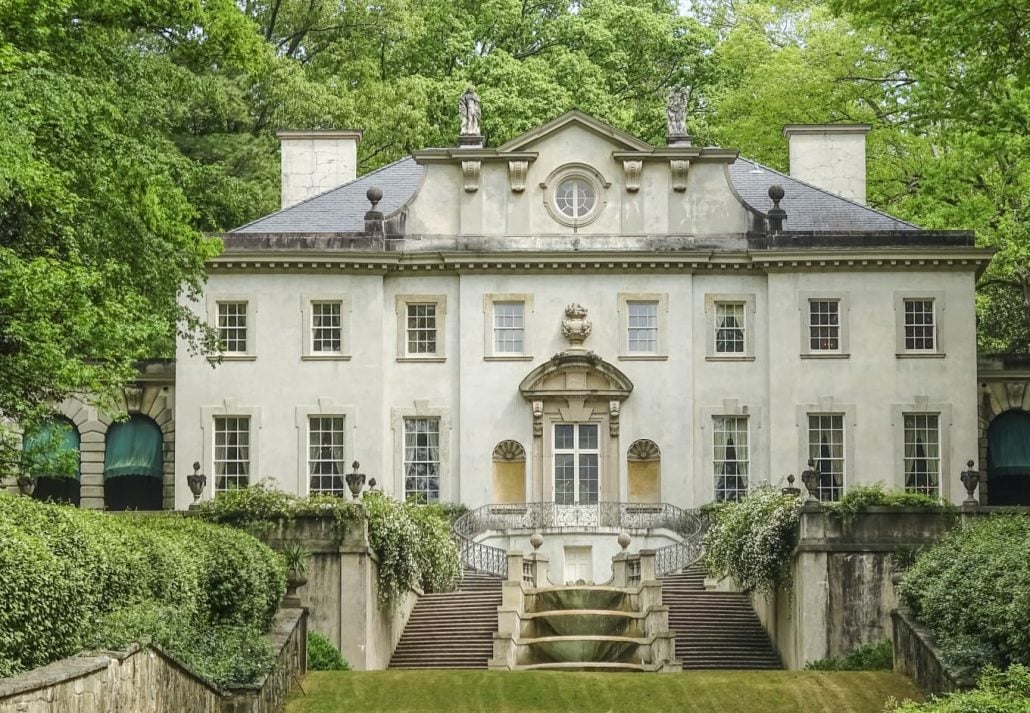 The Atlanta Historical Society was formed in 1926 and this group of researchers and historians founded the Atlanta History Center, which now serves as the place where you can learn all about the rich history of this city. The center is located on 33 acres of land with sprawling gardens and the best exhibitions. The Atlanta History Museum dives into the history of the Native American tribes that once lived here. You can also visit Smith Farm and Swan House here.
Zoo Atlanta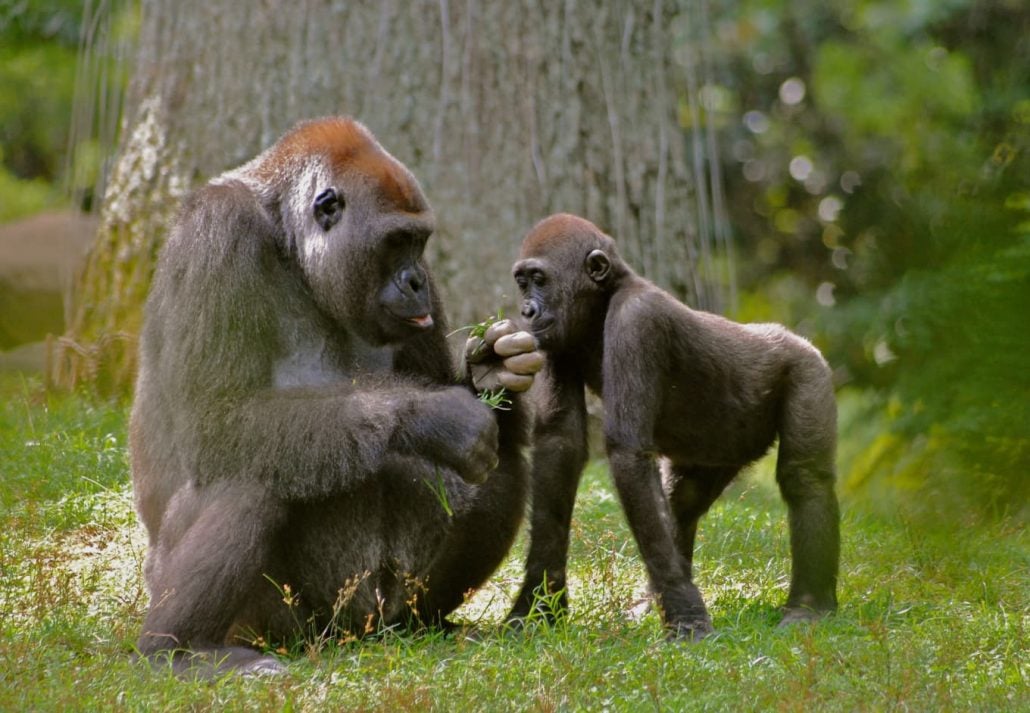 Zoo Atlanta is renowned across the country for being home to one of our favorite animals – the Panda! It's one of only three zoos in the USA to be home to giant Pandas. You'll also be able to see 1300 other animals including zebras, giraffes, and lions. The zoo is located within Grant Park, and we recommend arriving early as it can get crowded during the summer. Zoo Atlanta is a must-visit with kids!
Centennial Olympic Park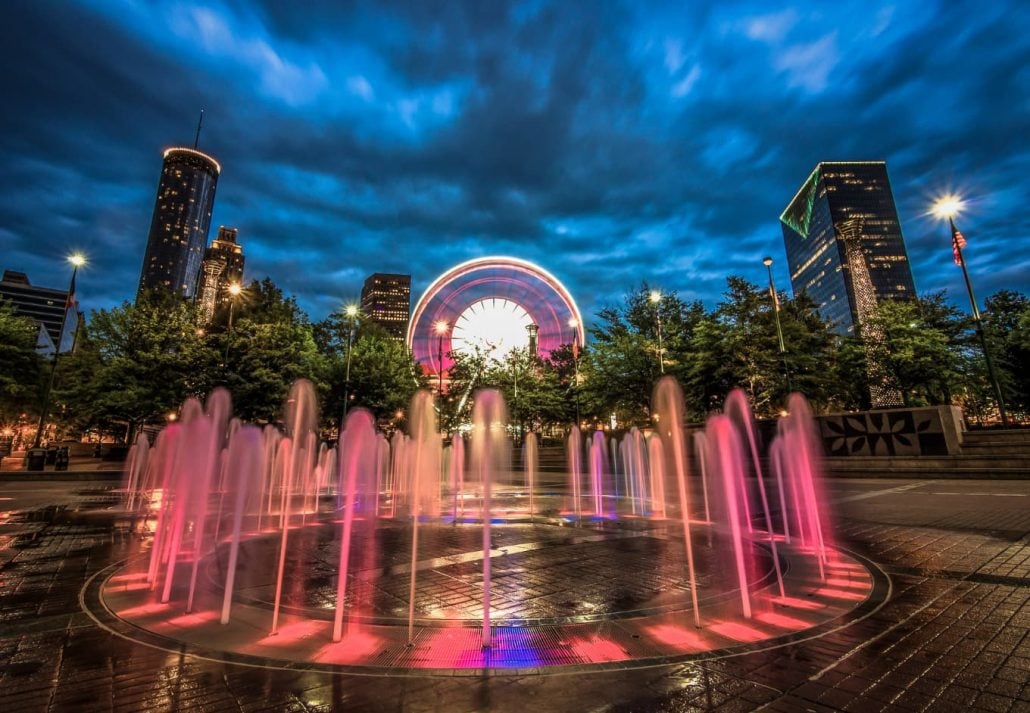 Centennial Olympic Park, true to its name, was first constructed for the 1996 Olympic Games and is now a place where visitors go to take a stroll and relax, attend events, admire the artwork, and play around in the famous Fountain Of Rings. The park is located in the heart of downtown Atlanta conveniently close to the Georgia Aquarium, the SkyView Atlanta Ferris Wheel, and the World of Coca-Cola.
Georgia Aquarium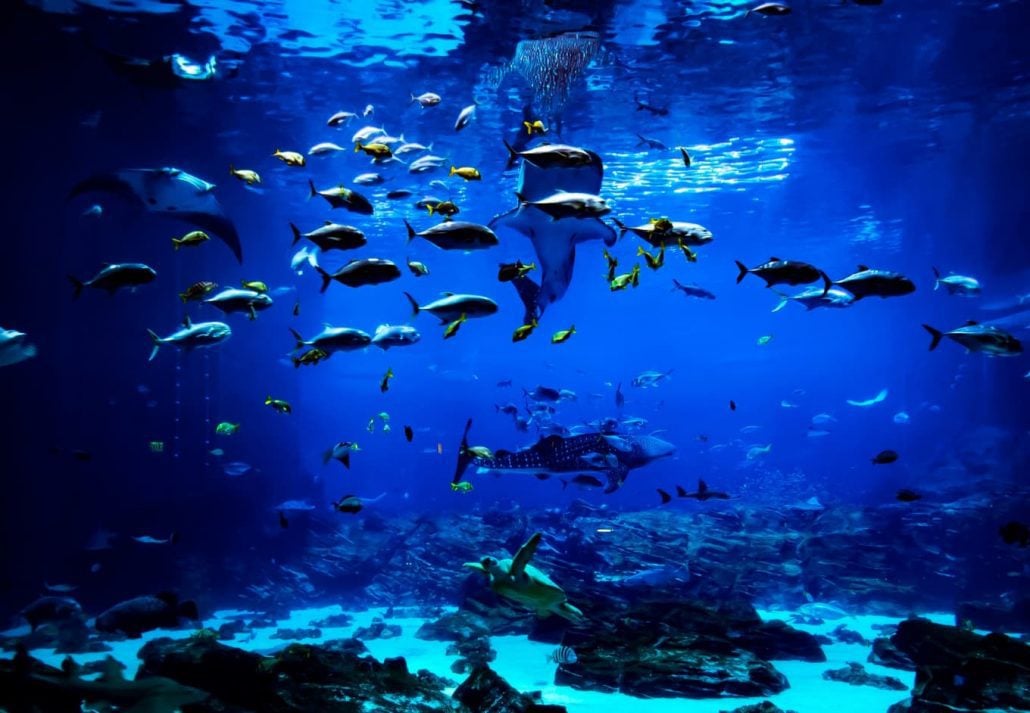 Georgia Aquarium is the largest aquarium in the country, and the third-largest in the world, being home to thousands of sea creatures housed in over 10 million gallons of water. From freshwater animals to whale shark tanks housing sharks like Hammerhead Sharks, Tiger Sharks, and Silvertip Sharks. Tickets range between $42 to $47 depending on when you book them, and we highly recommend getting an early admission ticket online a few days in advance to beat the crowds and get a lower price.
Martin Luther King Jr National Historical Park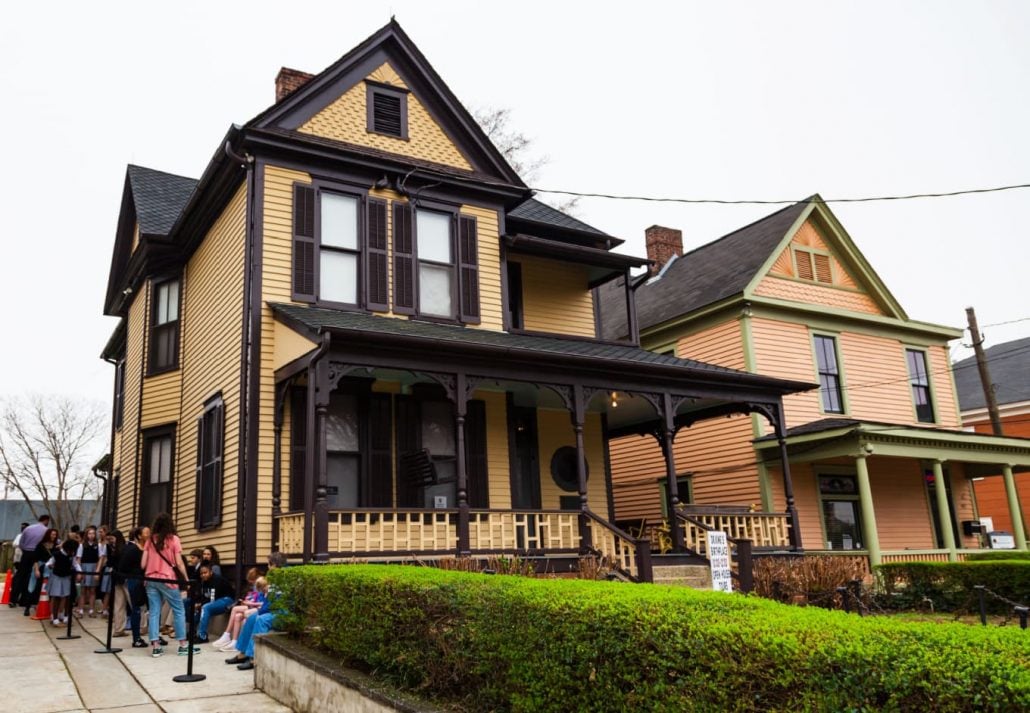 Martin Luther King Jr is a civil and human rights activist and leader in honor of whom this National Historical Park was built. The home that he grew up in is located here as well. You'll find several exhibits that walk you through his life, his achievements, and the discrimination he endured. You can visit the Ebenezer Baptist Church where he was a pastor and you can also see the tombs of his wife and him. You can take a walking tour where a guide would take you to all of these places and explain their historical significance with regard to King's life.
Ponce City Market
What used to be a Sears building is now a place that houses a lot of different establishments including offices, restaurants, cafes, boutique stores, and even a fun-packed rooftop park. Called Skyline Park, this park features mini golf courses, several old-school games, and a slide. The park has amazing views of the city, hence its name. It's the perfect place to enjoy family fun time after a scrumptious Brazilian or Japanese meal at the market.
Atlanta BeltLine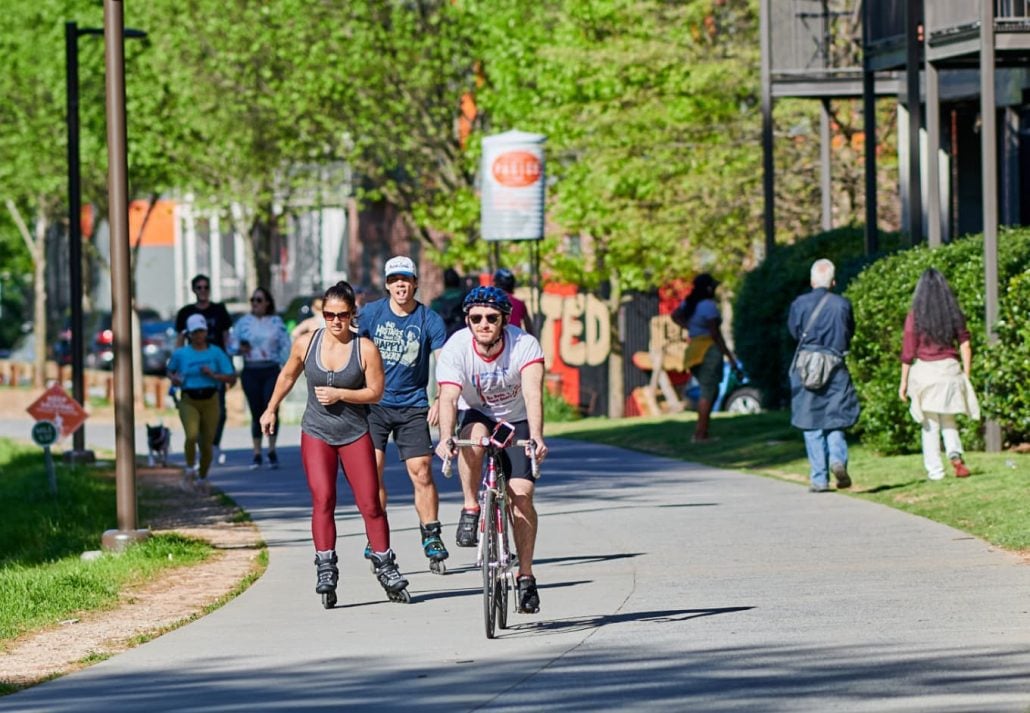 The Atlanta BeltLine is similar to NYC's High Line and is a project that aims to build streetcar rails, over 33 miles of walking and biking trails, affordable housing units, and around 1000 acres of developed and cleaned-up greenspace. 10 parks and 8 trails of these are expected to be completed by the end of 2023 for residents and visitors to enjoy. It's the perfect way to explore the city and make stops at the several parks and eateries located along the trails.
Fox Theatre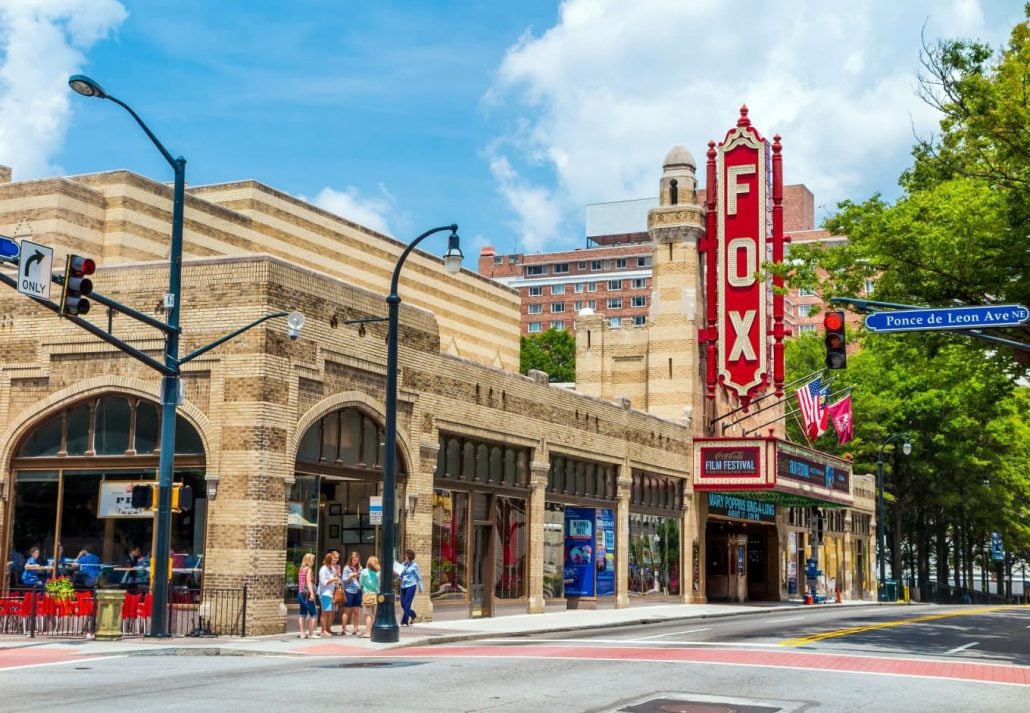 The Fox Theatre can seat over 4600 people and play some iconic shows including musicals, concerts, and movie screenings. It would be an amazing experience to catch a show here, but this entertainment venue is so iconic in itself even without a show that we highly recommend taking a tour of it.
FAQ
What is Atlanta mostly known for?
Home to the busiest airport in the world, Atlanta is also known for its rich art scene, its natural spaces, and its important role in the history of the fight for civil rights in the country.
Is Atlanta good for partying?
Atlanta has an amazing nightlife scene with the best rooftop bars that offer stunning views.
Can you tour Tyler Perry Studios?
No, unfortunately, Tyler Perry Studios does not offer tours.
Is Atlanta a walkable city?
Many parts of Atlanta are perfect to walk in, especially downtown Atlanta.
What is Atlanta popular for?
Atlanta is an iconic gem of the South and encompasses an ever-growing culture of promoting the finest arts in several different forms of theatre, painting, and music.
CuddlyNest provides all accommodations to all travelers at the best price. Find unlimited travel inspiration on our blogs and social media channels Facebook, Instagram, and Pinterest.
You May Also Like:
The Ultimate Guide To Yosemite National Park
7 Amazing Hotels in Miami, Florida
The Best Guide To Downtown Nashville
The 5 Best Miami Resorts
The Ultimate Guide To The Miami Design District
The 5 Best Downtown Miami Hotels
Best Dog-Friendly Vacations In The United States
7 Most Instagrammable Places To Eat At In Chicago
The Ultimate California Travel Guide