Berlin has an LGBT community unlike any other city in Europe, and the German capital itself has a very progressive, liberal population and a hip underground vibe. In fact, when the Berlin Wall fell in 1989, the famous movie Coming Out got released and in 2001 the city got an openly gay mayor, Klaus Wowereit.
Gay neighborhoods have existed for a long time in the Schöneberg and Kreuzberg (both in West Berlin), as well as Prenzlauer Berg (East Berlin). So, getting into Berlin's gay scene is simple, but figuring out where the best party is can be a bit difficult. To get the most out of the gay Berlin culture we suggest you visit Berlin when the city is flooded with gay events during their Pride, which is known by the name Christopher Street Day.
Whether you prefer dark rooms and heavy techno beats or fun-themed nights and drag shows – this guide has it all. Are you ready for your next party?
Find The Best Kreuzberg And Schöneberg Area Guide
Berlin – Gay Party Scene
SchwuZ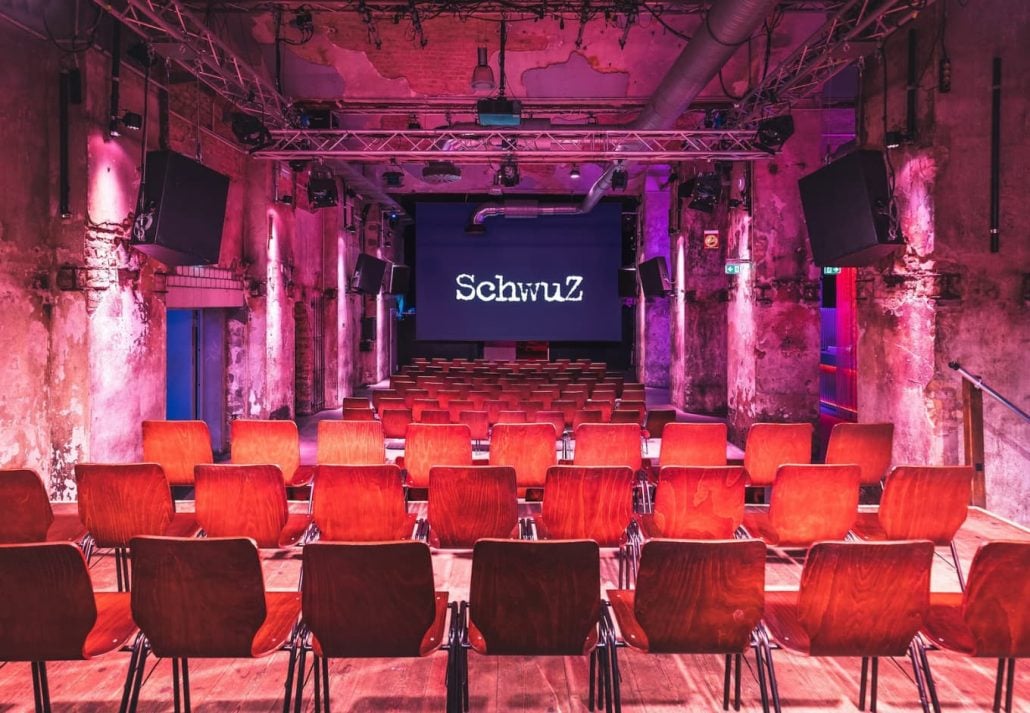 Photo Credit: SchwuZ Berlin
The best gay scene is not just in Schoeneberg but also in the bustling Neukolln. The name SchwuZ or SchwulenZentrum means Gay Center and was founded in 1977. In the past, it was located in the beloved Schoeneberg gay district but eventually found its new home in former Neukolln's Kindl Brewery.
This gay bar and club attracts a worldwide audience and offers three dance floors with the 80s, modern pop, and techno music. However, SchwuZ isn't just a place for good beats – it hosts LGBTQ+ talks, best gay parties, live music, and art installations.
Address: Rollbergstraße 26, 12053 Berlin, Germany
Monster Ronson's Ichiban Karaoke
Photo Credit: Monster Ronson's Ichiban Karaoke
If karaoke is your thing, this gay bar dedicated to queer culture is the place to go. The place has 14 karaoke booths, a large karaoke stage, and lively dance floors with lounge areas. There are also special parties held every day of the week with Tuesdays reserved for House of Presents drag nights.
Some booths can be used for celebrations like birthdays and bachelor parties. To sing your heart out, Monster Ronson has a huge selection of songs – almost any you can think of. The perfect setting to dance the night away and enjoy some delicious cocktails!
Address: Warschauer Str. 34, 10243 Berlin, Germany
Tom's Bar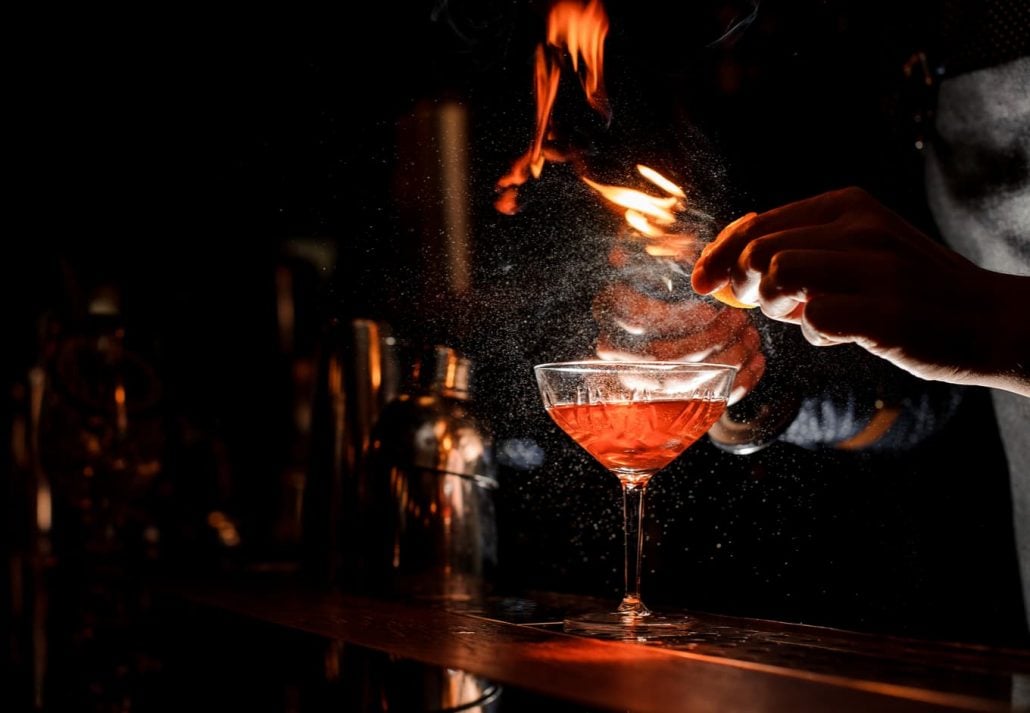 This world-famous bar is nestled in the heart of the Schoeneberg area and is continuously the main meeting point for gay men from around the globe.
Once exclusively known as a leather bar, today it operates with a less restrictive dress code. The ambiance is dark and manly with videos playing in the background and access to a football table. It opens at 10 pm and often hosts popular DJs, so be prepared for a long night of dancing.
Address: Motzstraße 19, 10777 Berlin, Germany
Recommended Read The Best Secret Bars In Berlin, Germany
Bar Zum Schmutzigen Hobby
This unique gay bar is situated in a building that was once a fire station and is the center of queer culture. It boasts occasional celebrity guests like Tara Reid and Rupert Everett. The cozy bar hosts a 90s party every Thursday and presents great DJ sets s on the weekends.
As one of the most popular gay bars in Berlin, it offers a safe and friendly space for the LGBT community, local hipsters, and wandering tourists. Make sure to get in early, as the place gets very busy!
Address: Revaler Str. 99, 10245 Berlin, Germany
Connection Club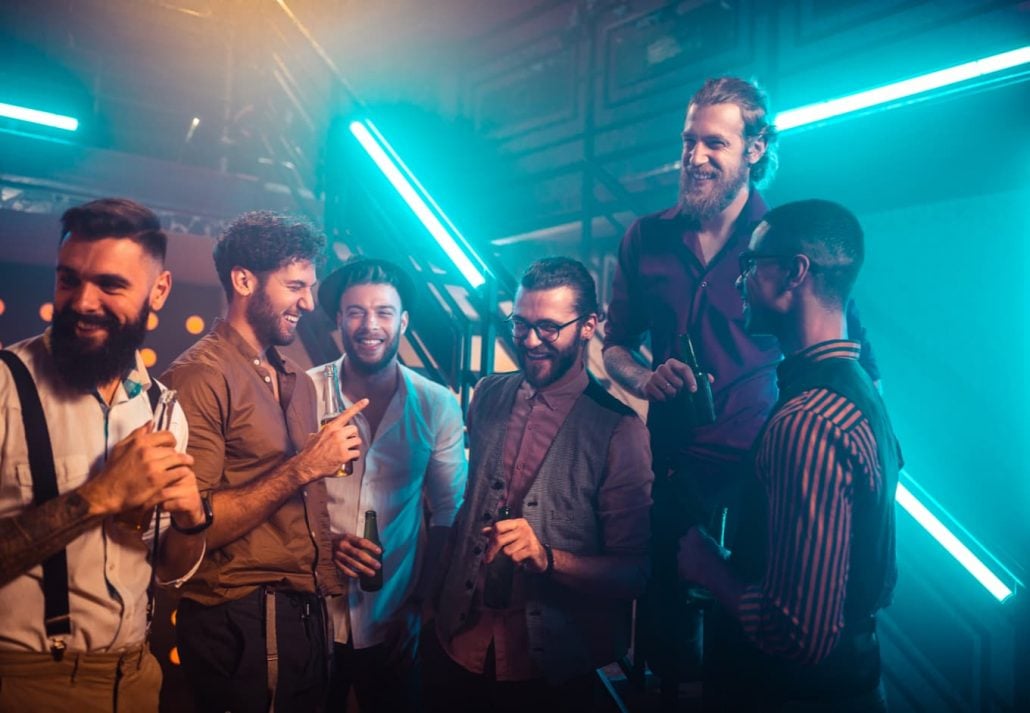 Heavy techno beats and a dark atmosphere truly represent the clubbing scene in Connection Club. This trendy spot provides you with lively dance floors, three bars with a large range of drinks and cocktails, and a relaxing lounge area. It's mostly known for the basement level called The Twilight Zone.
Opened in 1989 after the fall of the Berlin Wall, it's been run by Karl-Heinz 'Kalle' Klatt whose empire consists of cinema and shop Connection, leather dress code bar Mutschmann's, and closeby Prinzknecht bar.
Address: Fuggerstraße 33, 10777 Berlin, Germany
Recommended Read 6 Clubs In Berlin For A Memorable Night Out
FAQ
Is Berlin a gay-friendly city?
Yes. Berlin is one of the most tolerant cities in Europe and in the world. You should feel safe there as a part of the LGBT community. Besides, it offers plenty of gay bars, gay clubs, a gay museum, and gay hotels. Schöneberg is considered to be the main gay district and is definitely with a visit.
What are the best gay clubs in Berlin?
Prinzknecht
Schwuz
Die Busche
Connection Club
What are the best gay bars in Berlin?
Tom's Bar
Zum Schmutzigen Hobby
Monster Ronson's Ichiban Karaoke
Möbel Olfe
Are there any gay saunas in Berlin?
Yes. The most popular gay sauna in Berlin and maybe in the whole world is the Boiler Sauna. Other previously famous saunas have closed.
CuddlyNest provides all accommodations to all travelers at the best price. Find unlimited travel inspiration on our blog and social media channels.
You Might Also Like:
The Ultimate Guide To Berlin's Wedding District
The Ultimate Mitte Area Guide — Berlin
The 9 Best Lakes in Berlin, Germany
9 Unique Things To Do in Berlin, Germany
The 5 Best Spas In Berlin, Germany
The 7 Best Restaurants In Berlin, Germany
Berlin Wall Tour: Everything You Need To Know
The Best 6 Events And Festivals To Experience In Berlin
Best Brunch In Berlin: The Top 5 Places