Along with embodying a significant role in American history and the Civil Rights Movement, Atlanta is a well-known treasure of the South that comprises an ever-expanding culture of promoting the best arts in a variety of forms, including theatre, painting, music, and more. Additionally, Atlanta offers a unique selection of Southern culinary delights. Explore Oakland Cemetery's unique sculptures, artwork, and architecture, as well as the High Museum of Art.
Atlanta, GA has some of the best hotels in the country and you can find a variety of stays right from cheap hotels to luxury hotels here. If you are vigilant in planning your travel, you can also find some really good Atlanta hotel deals on our website. Here's our list of the five best hotels in Atlanta.
Also Read: The 10 Best Things To Do In Atlanta
The Top 5 Hotels In Atlanta, GA
Omni Atlanta Hotel CNN Center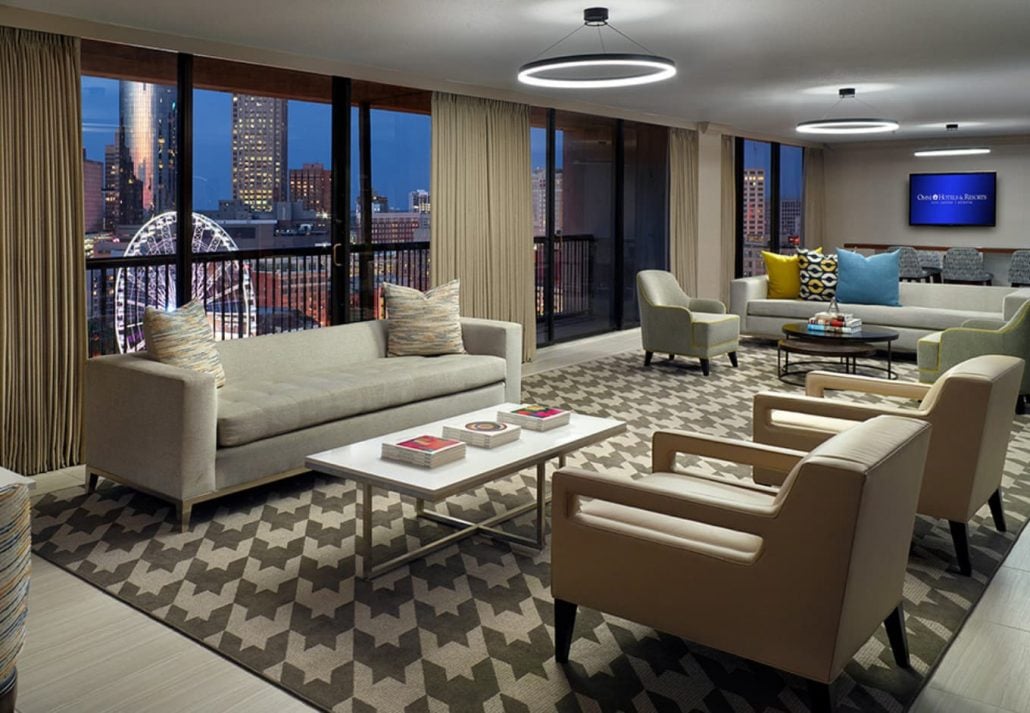 Located in the heart of downtown Atlanta, close to the famed Centennial Olympic Park, the Omni Atlanta Hotel at CNN Center is probably the first hotel name that would come to mind when any local is asked for recommendations. Being one of the most popular Atlanta hotels, it offers residents stunning views of the Atlanta skyline, a state-of-the-art fitness center featuring Peleton bikes, a seasonal outdoor pool, and several on-site dining options including Top Draft, which is a sports bar, and New South Kitchen, which serves the best Southern comfort food. You can enjoy a lovely warm coffee at the lobby coffee bar called Centennial Grounds, and don't miss the gorgeous views of Centennial Olympic Park from the Vues Lobby Bar.
Courtyard By Marriott Atlanta Downtown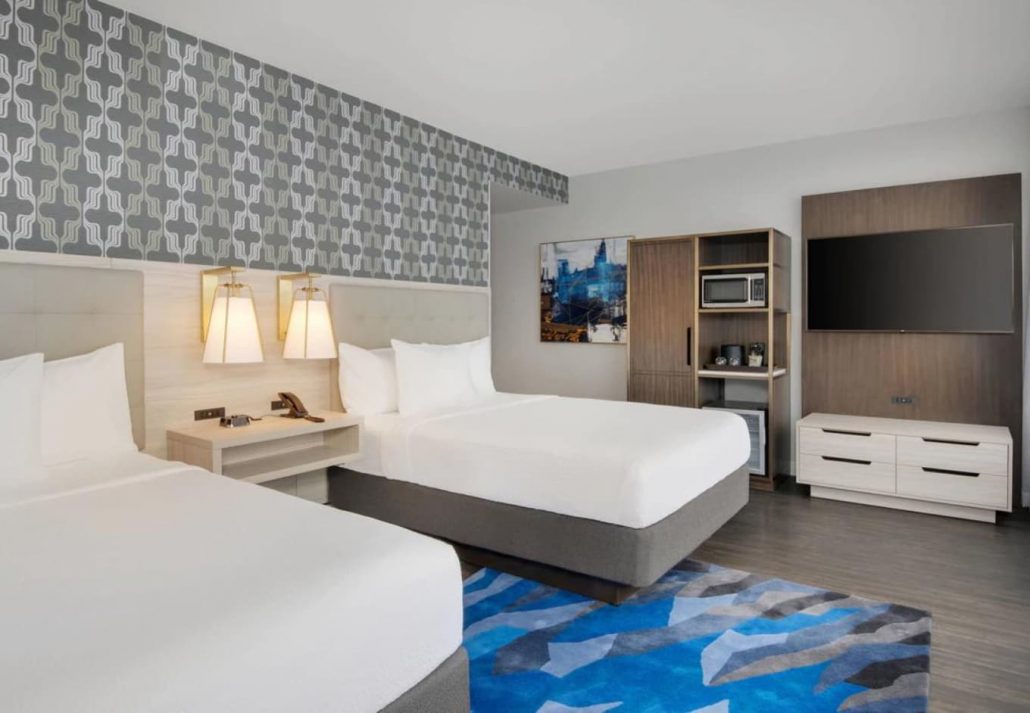 Courtyard by Marriott Atlanta Downtown is located within the Carnegie Building and brings an air of charm to downtown Atlanta. This boutique hotel is located in the Atlanta city center and is the perfect area for people who want to sightsee in Atlanta as most downtown attractions are close to it. The Georgia Aquarium, the World of Coca-Cola Museum, and the Martin Luther King Jr. National Historical Park are all very close to the hotel. The rooms are equipped with flat-screen TVs, plush luxury bedding, and a workstation. You can also enjoy Starbucks coffee, breakfast, and even cocktails with dinner at The Bistro, the on-site restaurant. They also provide free WiFi and have a convenience store on the property.
Holiday Inn & Suites Atlanta Airport North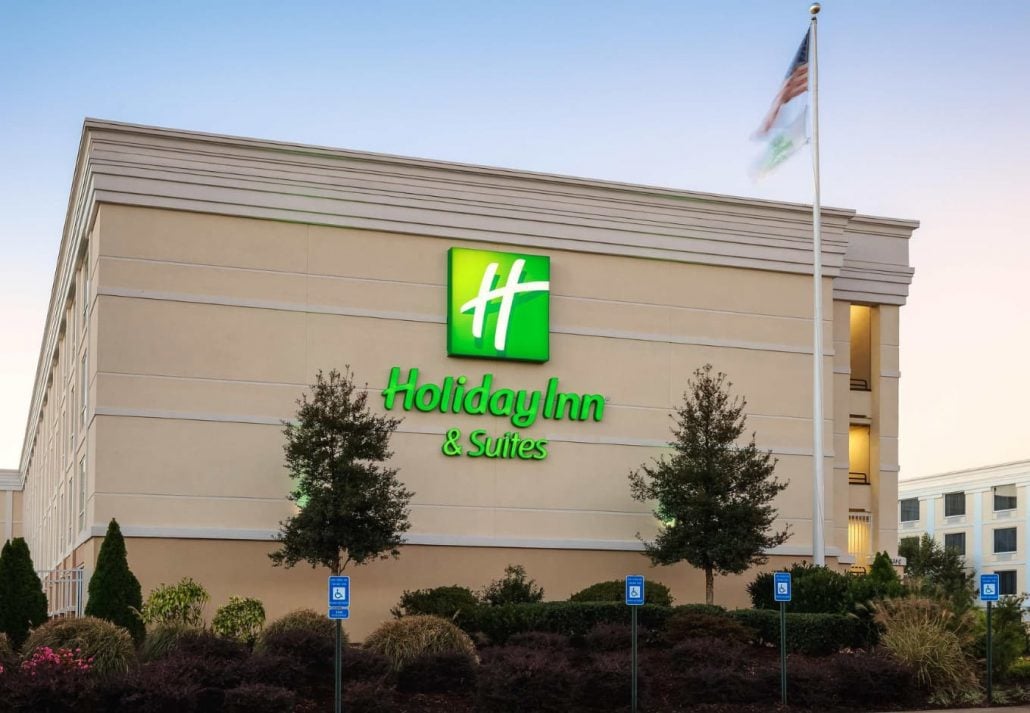 Located just 2 miles away from Atlanta Hartfield Jackson International Airport, the Holiday Inn & Suites Atlanta Airport – North Hotel is the most convenient stay to choose for those having a layover or an early flight. Expect all the hotel amenities that you would want in a comfortable business hotel, including large meeting spaces, the HUB which is a collaborative space that you can hang out in and grab a bite to eat or a cocktail at The Hanger. Enjoy close proximity to the Georgia World Congress Center, and State Farm Arena. The property also features an outdoor pool, a 24-hour fitness center, a business center, and a free airport shuttle to ensure easy travel to and from the airport.
Georgian Terrace Hotel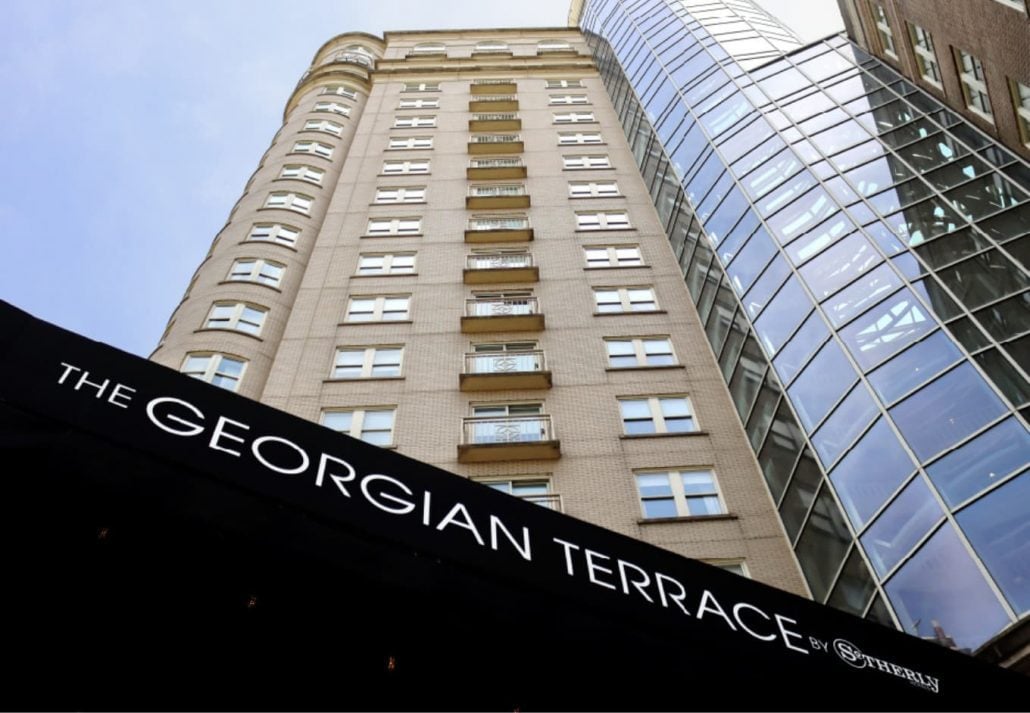 The Georgian Terrace Hotel in Atlanta is an integral cog in the history of the city. Established in 1911 as a luxury hotel, this stunning gem has been a host to some of the most noteworthy names in American history and has been renowned throughout Atlanta, GA. The architecture of this hotel has been updated and modernized, while still preserving its original old-world charm. The rooms are carefully designed to offer the best relaxation on your trip. Enjoy their rooftop pool and their penthouse-level fitness center, both of which have stunning views of the city. Located a 15-minute drive away from the Atlanta History Center, this hotel is also located near the city center, making it easy for you to get around. The hotel is a popular name amongst culinary enthusiasts in Atlanta. Experience Southern flavors paired with European influences at the Livingston Restaurant & Bar on site, sip whisky at Edgar's Proof & Provision, and sip on hot handcrafted coffee at the Buffalo Bayou Café.
Also Read: The Ultimate Guide To Downtown Atlanta
Hyatt Regency Atlanta Downtown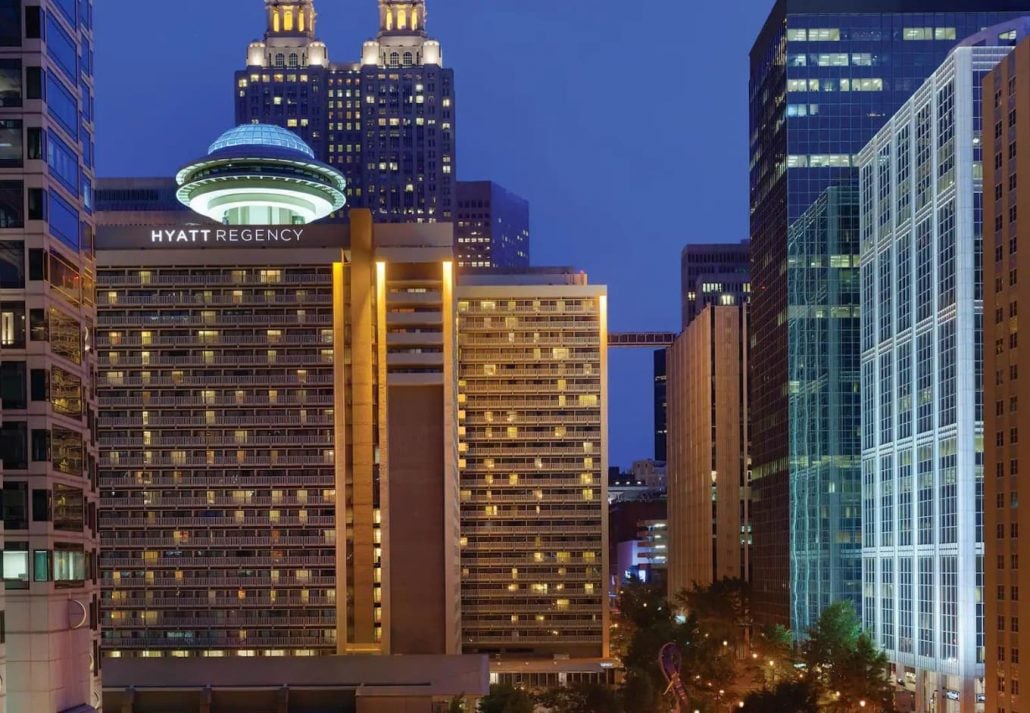 The Hyatt Regency Atlanta Downtown hotel is located a mere 7-minute walk away from Georgia Aquarium. Each room features an iPod docking station, a flat-screen TV, and organic bath products. The hotel offers concierge services and also free WiFi. They have a StayFit gym that's open 24 hours. The dining options at this hotel have been thoughtfully curated, as the hotel has partnered with over 70 farmers directly to be able to provide products of the highest quality. They also have a beekeeping facility on the hotel's roof where they cultivate hundreds of pounds of honey every year. You can buy jars of freshly cultivated honey in the Lobby Market, where you can also grab coffee and to-go meals. The Polaris restaurant on-site is a chic rotating restaurant, perfect for date night. Sway Restaurant is focused on highlighting local produce, and the Twenty-Two Storys Lobby Bar is an American restaurant that serves drinks, including Georgian beer, and dinner.
FAQ
What part of Atlanta to stay in?
Midtown Atlanta and Downtown Atlanta are the best parts of Atlanta to stay in.
What is the largest hotel in downtown Atlanta?
The Atlanta Marriott Marquis Hotel is the largest hotel in downtown Atlanta, offering 1663 rooms.
What hotel do most celebrities stay in Atlanta?
The Atlanta Marriott Marquis Hotel is where most celebrities in Atlanta stay.
What are the best Atlanta hotels?
Some of the best hotels in Atlanta are:
Hilton Atlanta Downtown Hotel
Sheraton Atlanta Hotel
Hard Rock Atlanta Downtown
Hyatt Regency Atlanta Downtown
Georgian Terrace Hotel
Omni Hotel Atlanta CNN Center
CuddlyNest provides all accommodations to all travelers at the best price. Find unlimited travel inspiration on our blogs and social media channels Facebook, Instagram, and Pinterest.
You May Also Like:
The 10 Best Things To Do In Atlanta
7 Amazing Hotels in Miami, Florida
The Best Guide To Downtown Nashville
The 5 Best Miami Resorts
The Ultimate Guide To The Miami Design District
The 5 Best Downtown Miami Hotels
Best Dog-Friendly Vacations In The United States
7 Most Instagrammable Places To Eat At In Chicago
The Ultimate California Travel Guide