Known for its bustling streets and cosmopolitan offerings, Hong Kong happens to be an amazing destination for those who love staying outdoors. The city is home to an array of majestic peaks, scenic hiking trails, lush gardens, idyllic sunset spots, and glittering beaches that provide the perfect backdrop for adventurers seeking to get out in the open air.
Outdoor adventure activities in Hong Kong range from going on a day trip to the city's outlying islands — each with its charm —, to taking in the views from Victoria Peak and spending a fun-filled day at Disneyland and Ocean Park. As you can see, the options are endless!
Read on to discover the best outdoor activities in Hong Kong!
Find Places To Stay In Hong Kong
10 Best Outdoor Attractions in Hong Kong
Hong Kong Geopark
Need to escape Hong Kong's busy streets? Then head over to the Hong Kong UNESCO Global Geopark, in Sai Kung. Known for its immense natural beauty, this eye-popping location features a dramatic landscape filled with scenic geological formations such as acidic volcanic hexagonal rock columns and sedimentary rocks formed about 400 to 55 million years ago. Intertwined with these geo-attractions, there are lush mangroves, fung shui woods, and coral communities, as well as man-made marvels such as a well-preserved fishing village and ancient temples.
Outdoor activities on offer in the park include scenic boat tours to see the park's majestic basalt columns and hiking along part of the MacLehose trail.
Address: Sai Kung, Hong Kong
Lantau Island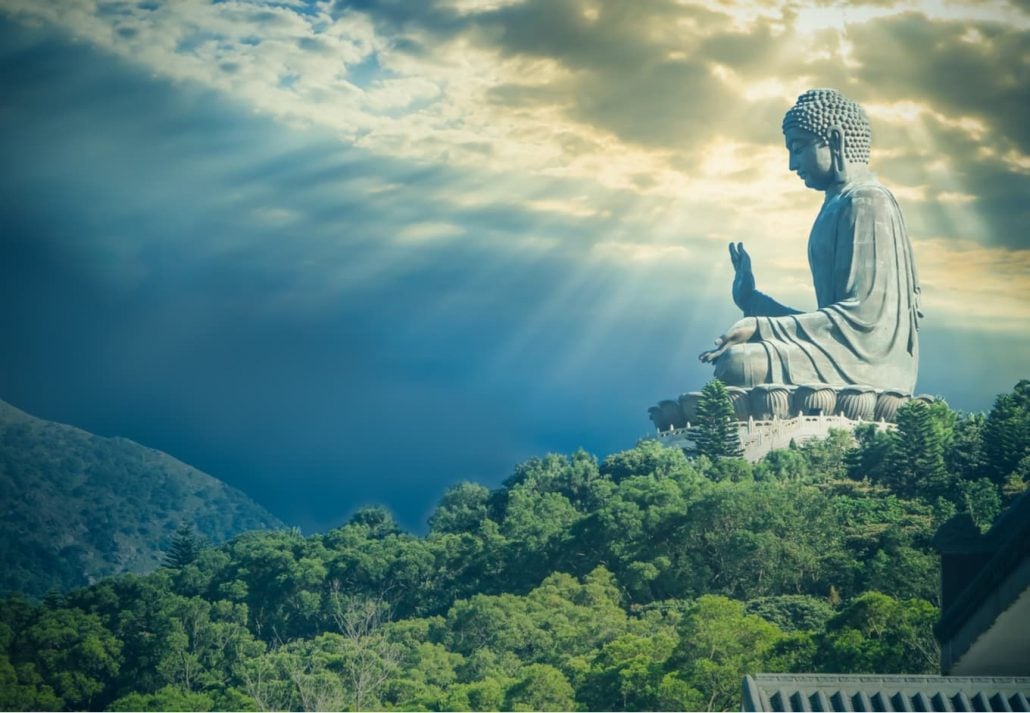 Also known as the "lungs of Hong Kong," Lantau is the largest of Hong Kong's islands, thanks to its indigenous untouched forests. It lies glorious at the mouth of the Pearl River, not far from the Hong Kong Airport, and dazzles visitors with its glittering beaches, towering peaks, and quaint fishing villages.
One of the top attractions of Lantau Island is Sunset Peak, Hong Kong's third-highest mountain. Very accessible to hikers, the peak provides daring adventurers with a gorgeous sunset over the peninsula below. The hike, however, is challenging and lasts about 4.5 hours.
Another must-see landmark in Lantau Island is the Tian Tan Buddha, a colossal statue known as "Big Buddha," which rests high up on a hilltop facing the dreamy Po Lin Monastery.
Hong Kong Park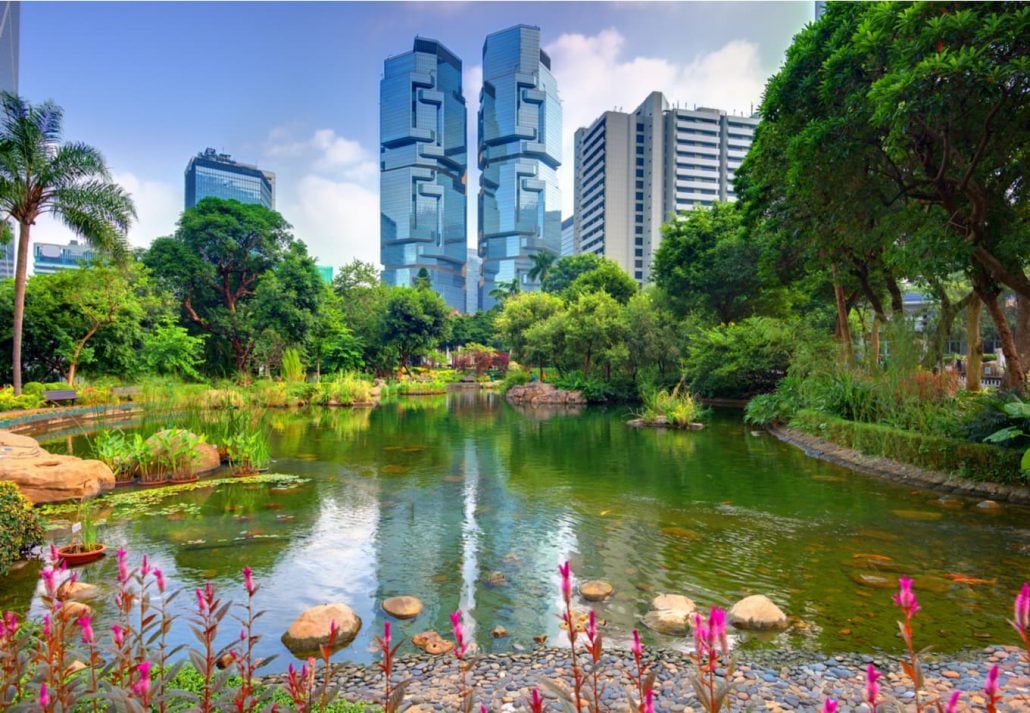 Hong Kong Park is a quiet pocket of untouched greenery in central Hong Kong. Located just a 3-min walk from the Peak Tram, the park covers an area of eight hectares dotted with century-old trees and colorful blooming flowers, including the famous bombax ceiba, also known as the red cotton tree.
The park, which boasts a glittering artificial lake and a waterfall, is also visited by an array of bird species, such as the blue-winged leafbird, the golden pheasant, and the white-crested hornbill.
Filled with lush grounds and bountiful wildlife, the park is the perfect place for a breezy afternoon walk in the city.
Address: 19 Cotton Tree Drive
Victoria Harbour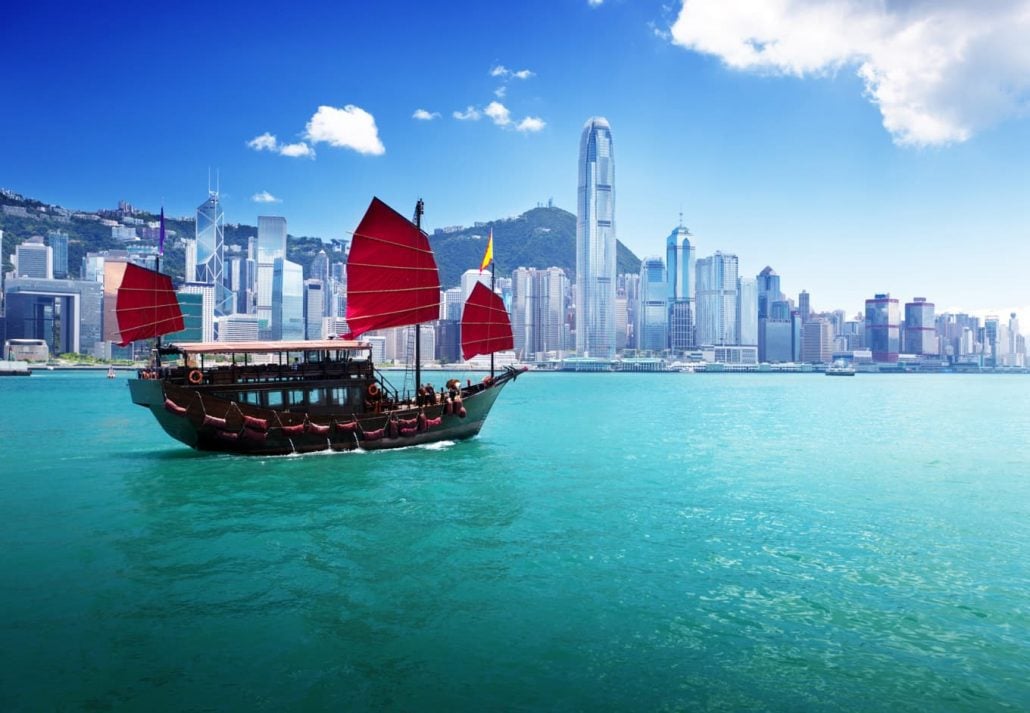 Victoria Harbour is a natural channel separating Hong Kong Island in the south from the Kowloon Peninsula to the north. With a strategic location in the South China Sea, the harbor is one of Hong Kong's top tourist attractions thanks to its historical significance (it was one of the British Empire's most significant military and trading ports) and its gorgeous panoramic views of Hong Kong.
You can marvel at this alluring harbor from several places, including the Tsim Sha Tsui waterfront and the Peak Tower atop Victoria Peak. The waterfront is home to Avenue of Stars, famous for harboring a bronze statue of legendary martial artist Bruce Lee.
Another great way of experiencing the harbor's beauty is by riding the award-winning Star Ferry, which carries passengers between Tsim Sha Tsui on the Kowloon side and Central and Wan Chai on Hong Kong island.
The harbor also hosts a multimedia light show every night at 8 pm. During this magical spectacle, the iconic buildings from both sides become a canvas for a whimsical display of lightwork and lasers. A breathtaking show that lightens up Hong Kong's night sky!
Address: Admiralty, Hong Kong
Victoria Peak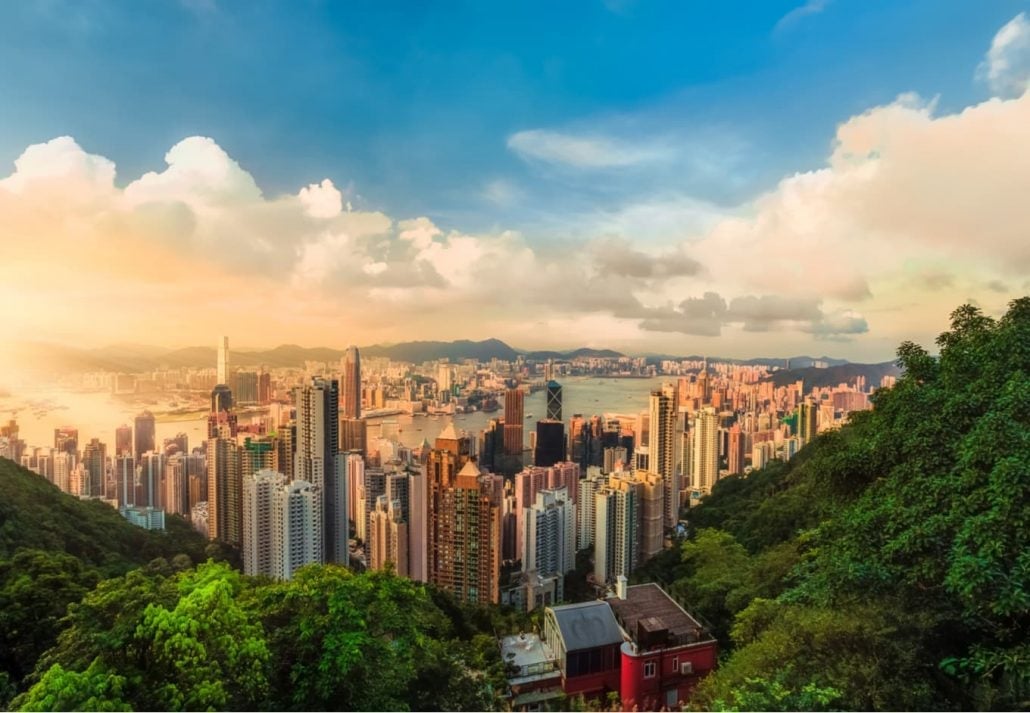 Perfectly nestled in the western half of Hong Kong, Victoria Peak (aka Mount Austin) is the highest hill on the island. The mountain has an elevation of 1,811 ft and rewards visitors with the most show-stopping views of the Hong Kong skyline, Victoria Harbour, Lamma Island, and the surrounding islands.
To reach the peak, visitors can hike uphill from Central or Aberdeen, or even better, take the historic funicular railway called the Peak Tram. The tram, which rises about 1,300 feet above sea level, provides passengers with a one-of-a-kind ride — it is so steep that the buildings you pass look like they are leaning on a gradient of between 4 to 25.7 degrees.
It's also possible to get to the peak by bus (Number 15/15X from Central Pier 5/Star Ferry Terminal).
Address: Central and Western District, Hong Kong Island
Ocean Park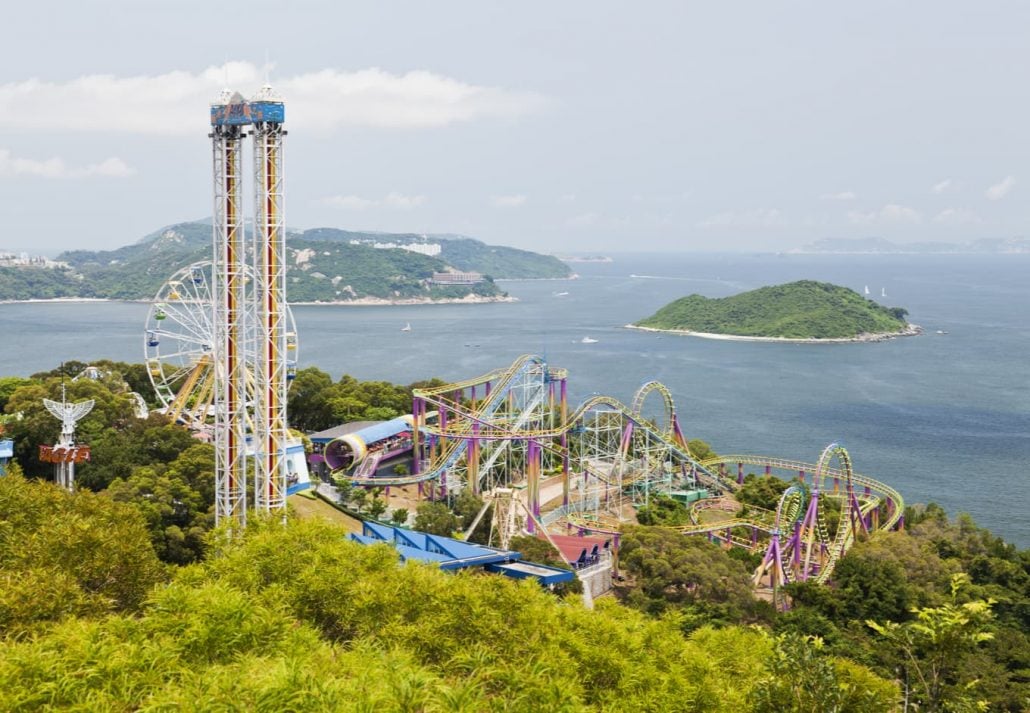 If you're visiting Hong Kong with the kids, don't miss the chance to spend a fun-filled day in Ocean Park. Built around several hills near the South China Sea, the 780,000-square-meter park is filled with exciting rides that excite your heart. One of the most exciting attractions in Ocean Park is Hair Raiser, a daring coaster that features loops and plunges while suspending riders above the South China Sea. Ocean Park also displays an oceanarium, a panda village, and a "Gator Marsh," where visitors can catch the critically endangered Chinese alligator face-to-face.
Address: 180 Wong Chuk Hang Road
Recommended Read:
The Complete Guide To Visiting Disneyland In Hong Kong
The 5 Best Amusement Parks In Hong Kong

Lion Rock Country Park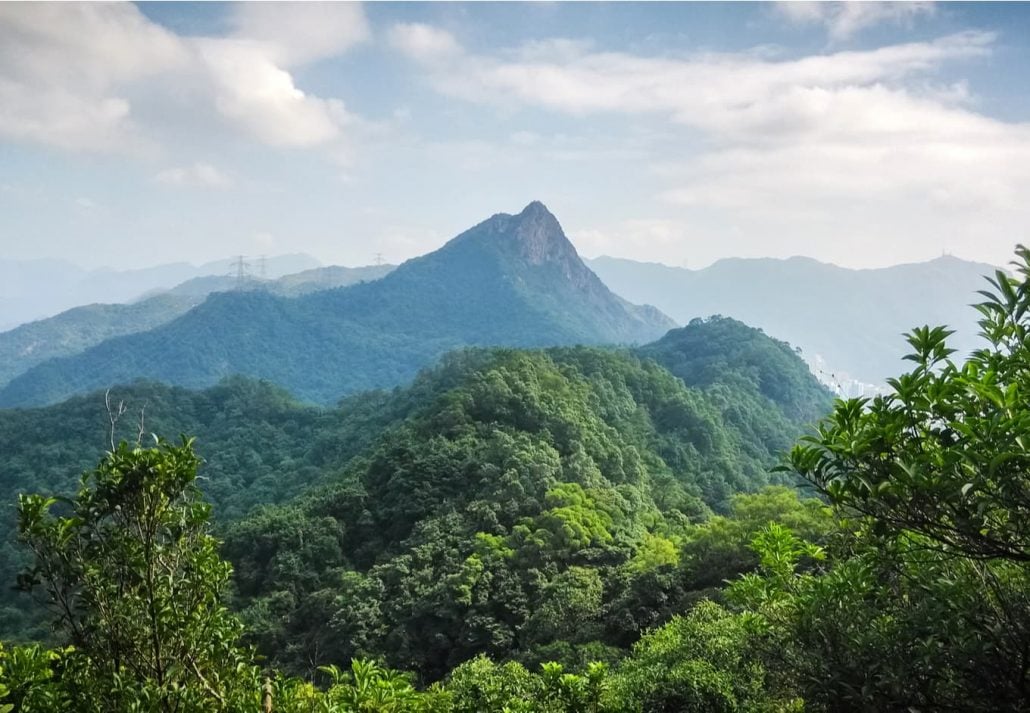 Lion Rock Country Park is one of the three earliest country parks in Hong Kong and covers a broad upland region between North Kowloon and Shatin. Its main topographical feature is the mighty Lion Rock, a 1624 ft mountain known for its rugged escarpments and resemblance to a lion perching on a hill ridge.
The Lion Rock trail is considered one of the best hiking trails on the island, as it provides adventurers with gorgeous vistas of Kowloon and Hong Kong on one side and New Territories on the other.
During the hike, expect to find a variety of wildlife species, including the black-eared kite and the long-tailed macaque.
Address: 23號 Chuk Yuen Rd, Sha Tin
Dragon's Back Hike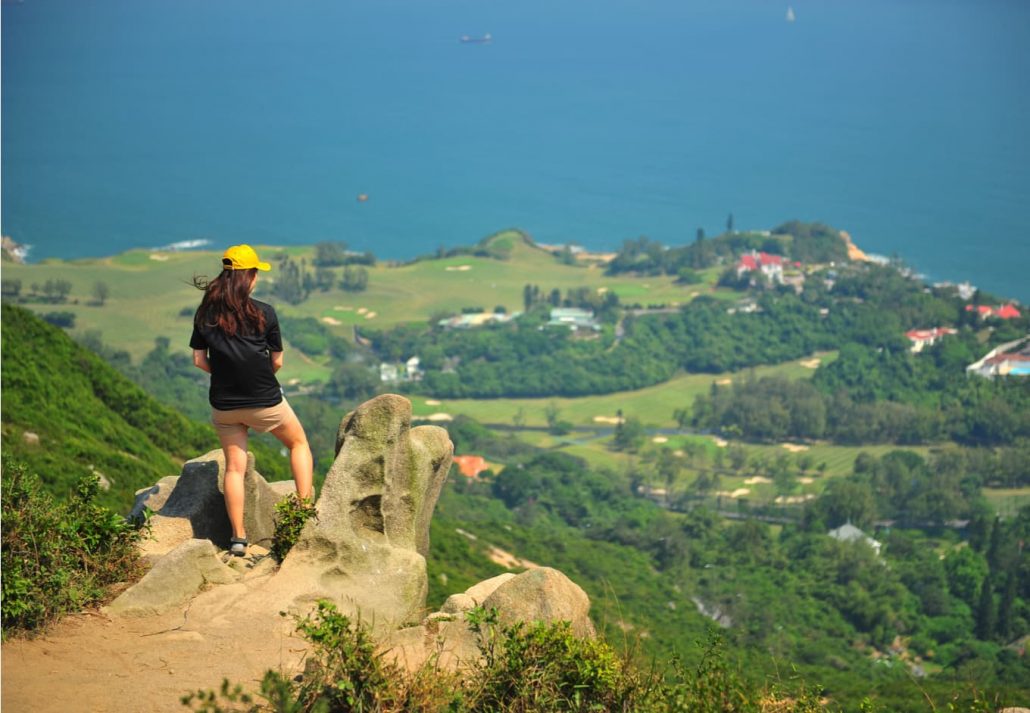 Another bucket-list outdoor activity in Hong Kong is hitting Dragon's Back, often regarded as one of the best hiking trails in the world. The hiking trail is a meandering path on a mountain ridge that passes through Shek O Peak in southeastern Hong Kong.
Featuring spectacular views of southern Hong Kong Island and its shoreline, the hike lasts 2-3 hours to get completed and ends at Big Wave Bay, where you can take a refreshing dip, lounge in the sand, or enjoy a variety of water sports.
Sai Kung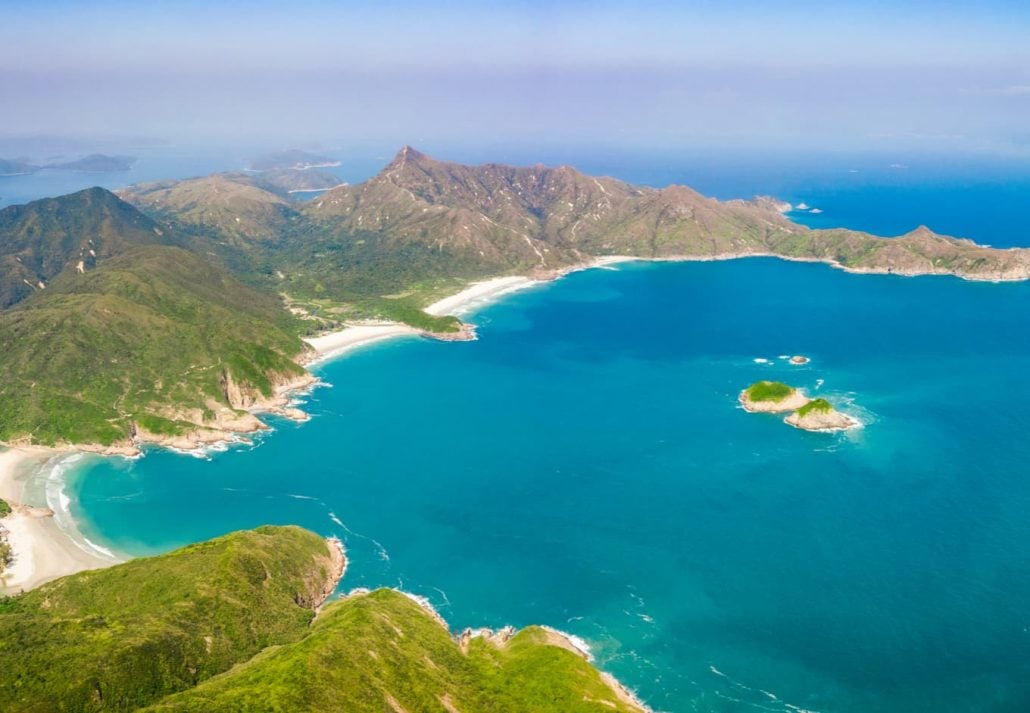 Also known as the "back garden of Hong Kong," Sai Kung is a town on the Sai Kung Peninsula famous for its fishing villages, beautiful scenery, hiking trails, and sprawling parks such as the Hong Kong Geopark. This mountainous area is also home to Tai Long Wan Bay (Tai Wan), an isolated area dotted with a row of pristine white-sand beaches (Sai Wan, Ham Tin Wan, and Tung Wan) where you can swim, sunbathe, or even surf when the conditions are right.
To get to Sai Kung, take the MTR to Diamond Hill and change, then take bus 92 to Sai Kung bus station. Change to bus 94 to Pak Tam Chung Station and walk 5 minutes to the start of the trail.
Tung Lung Chau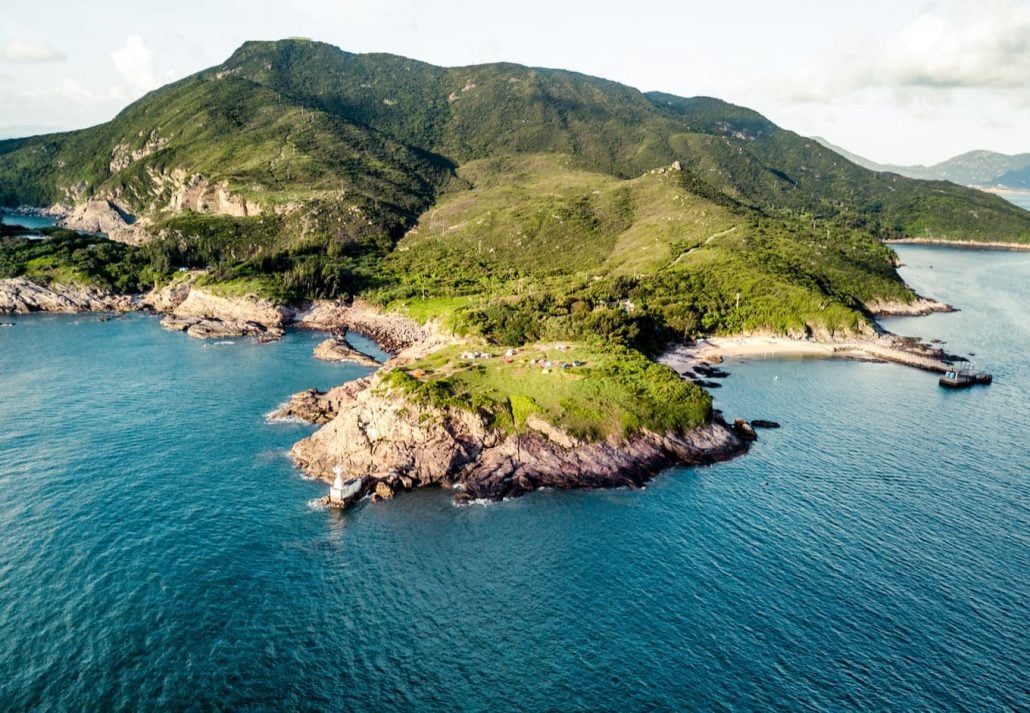 Outdoor enthusiasts will have the best time while visiting Tung Lung Island. This largely inhabited island is home to the largest ancient rock carving in Hong Kong, and it's known for being the best place for rock climbing on the island. Another exhilarating activity adventurers can try on Tung Lung Chau island is ziplining from a high cliff and sailing through the length while gazing at majestic cliffs and blue waters.
FAQ
What are the best outdoor activities on Hong Kong Island?
The best outdoor attractions on Hong Kong Island are:
Hong Kong Geopark;
Lantau Island;
Hong Kong Park;
Victoria Harbour;
Victoria Peak;
Ocean Park;
Lion Rock Country Park;
Big Wave Bay;
Sai Kung Peninsula;
Tung Lung Chau Island.
What is Hong Kong most known for?
Hong Kong is a bustling metropolis known for its luxury shopping spots, majestic skyline, temples, shrines, and monasteries.
What is the best place to view the Hong Kong skyline?
Victoria Peak offers the most fantastic views of the Hong Kong skyline and Victoria Harbor.
Are there outdoor attractions in central Hong Kong?
Yes. The Hong Kong Zoological and Botanical Gardens, Hong Kong Park, Hong Kong Trail, and Victoria Harbour are some of the best outdoor attractions in central Hong Kong.
What is the best time to visit Hong Kong?
Hong Kong Island is a year-round destination thanks to its subtropical location. Summers, though, can be sweltering and humid, and during the Spring (in September), it's typhoon season in the city. So the best time to visit Hong Kong is from October to early December.
What are Hong Kong's top attractions?
The top attractions in Hong Kong are:
Victoria Peak (Mount Austin);
Victoria Harbour;
Hong Kong Central neighborhood;
Man Mo Temple;
Lantau Island;
The Star Ferry;
Disneyland Hong Kong;
Ocean Park.
Is Hong Kong located in mainland China?
Hong Kong is a sovereign territory of the People's Republic of China. It maintains a high degree of autonomy. Hence it's not considered to be part of mainland China.
CuddlyNest provides all accommodations to all travelers at the best price. Find unlimited travel inspiration on our blogs and our social media channels Facebook, Instagram, and Pinterest.
You May Also Like:
The 6 Best Night Clubs In Hong Kong
A Guide To The Best Wineries In Hong Kong
A Guide To The Best Shopping In Hong Kong
The 6 Best Beaches In Hong Kong
The 5 Best Amusement Parks In Hong Kong
The Best 5-Star Hotels In Hong Kong
The Best Time To Visit Hong Kong
10 Best Restaurants In Hong Kong
The 6 Best Night Clubs In Hong Kong