Fort Lauderdale, known for its sun-drenched shores and laid-back vibe, offers a plethora of beautiful beaches just waiting to be explored. From spending a relaxing day by the water, engaging in thrilling water sports, or enjoying stunning ocean views, the beaches near Fort Lauderdale have it all.
Fort Lauderdale and its neighboring beach areas are renowned all over the country for their beaches, each with its unique charm. From the sun-drenched, warm shores of Fort Lauderdale Beach Park to the more calming and peaceful Hugh Taylor Birch State Park and the retro charm of Hollywood Beach.
So pack your beach bag, slather on some sunscreen, and get ready to immerse yourself in the sun, sand, and sea of Fort Lauderdale's finest beaches.
Explore the top beaches in and around Fort Lauderdale. Get ready to soak up the sun and experience the best of Florida's coastal paradise.
15 Best Beaches In Fort Lauderdale
Fort Lauderdale Beach Park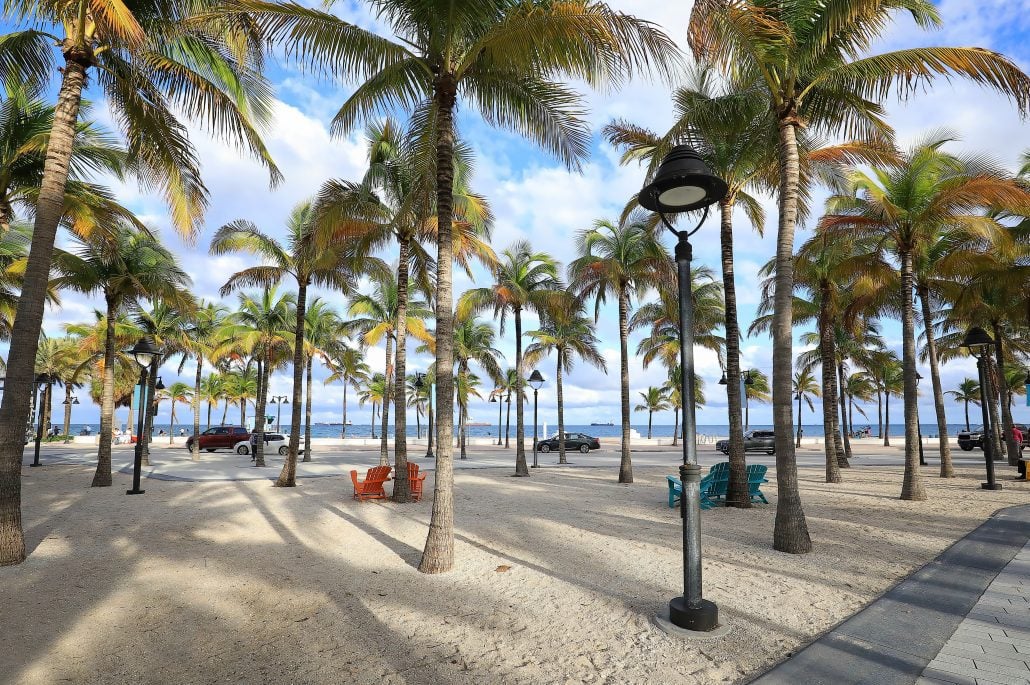 The iconic Fort Lauderdale Beach Park features powdery white sands, crystal-clear waters, and a vibrant atmosphere, making it the perfect place for beach lovers to unwind.
Dive into the refreshing waves, build sandcastles with your kids, or relax under the shade of swaying palm trees. Beachgoers can enjoy an array of amenities, from beach volleyball courts to picnic areas and water sports rentals.
South City Beach Park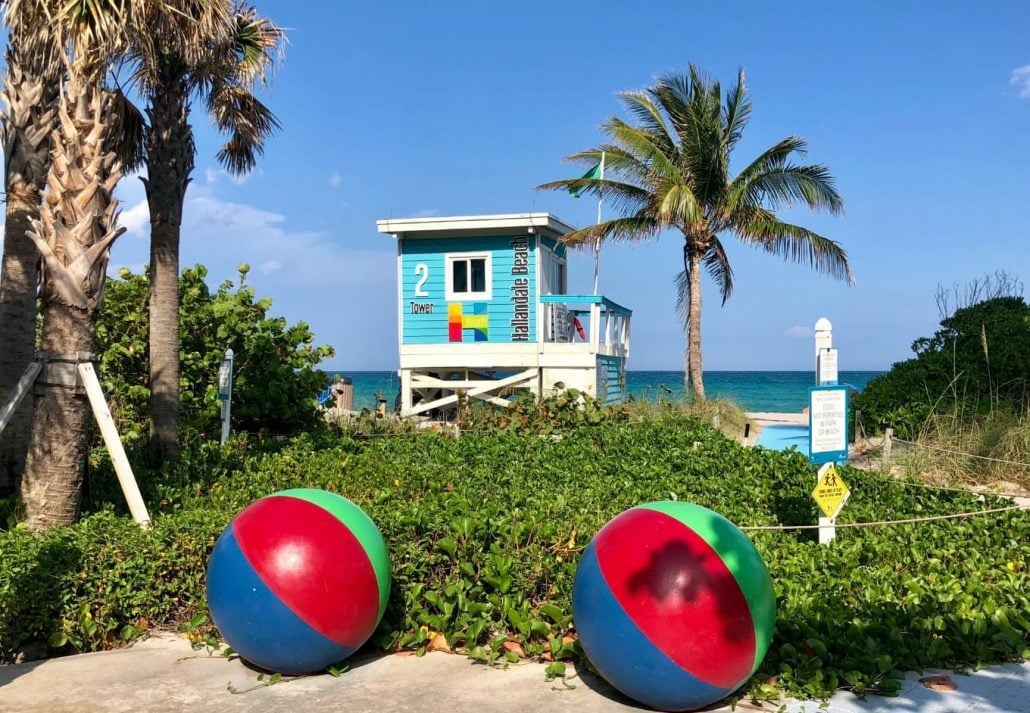 Head south to discover the hidden gem of South City Beach Park. This local favorite offers a quieter, more secluded beach experience, making it ideal for those seeking a peaceful escape. Take relaxing strolls along the coast, enjoy a beachfront picnic, or grab your snorkel gear to explore the underwater sea life just off the coast.
This local favorite offers a private beach experience like no other, making it perfect to escape the city's bustle, making this beach quieter, calmer, and more secluded than most other beaches in and around Fort Lauderdale.
North Ocean Park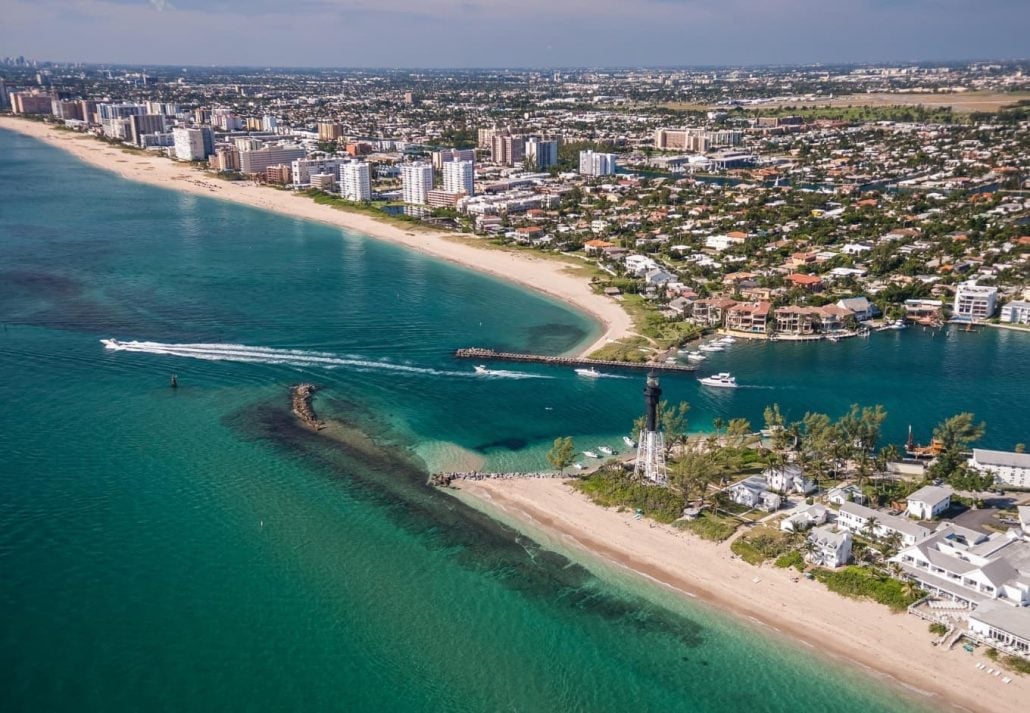 North Ocean Park is a charming beach framed by lush golden dunes, creating the perfect atmosphere for sunbathing and beachcombing.
North Ocean Park is a nesting ground for sea turtles, making it a must-visit spot for wildlife enthusiasts to witness these magnificent creatures during the nesting season.
Hillsboro Beach
Venture a short drive north of Fort Lauderdale to discover Hillsboro Beach. Known for its uncrowded beaches and laid-back vibe, this coastal retreat is perfect for a relaxing day by the water.
Stroll along the scenic Hillsboro Mile, also known as "Millionaire's Mile," where you can admire opulent oceanfront estates. Hillsboro Beach offers a perfect blend of natural beauty and exclusive charm, making it a favorite among locals and visitors alike.
Fort Lauderdale Jetties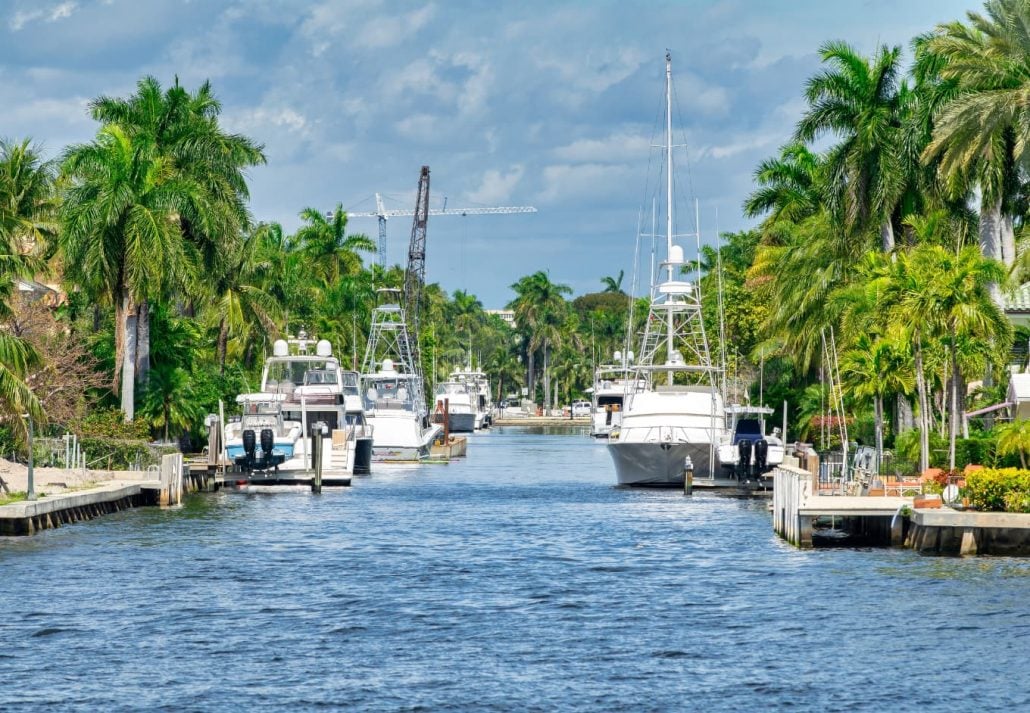 For a unique beach experience like no other in the area, head to the Fort Lauderdale Jetties, which are further differentiated as the South Jetty and the North Jetty. These rocky formations flank the entrance to Port Everglades, creating a breathtaking atmosphere for the perfect beach day.
Watch massive cruise ships sail by as you sunbathe on the sandy stretches near the jetties. The rocks also attract snorkelers and divers, offering a chance to explore vibrant marine life and underwater ecosystems.
The Fort Lauderdale Jetties is an intriguing spot for beachgoers looking to combine beach relaxation with a touch of maritime excitement.
Sebastian Street Beach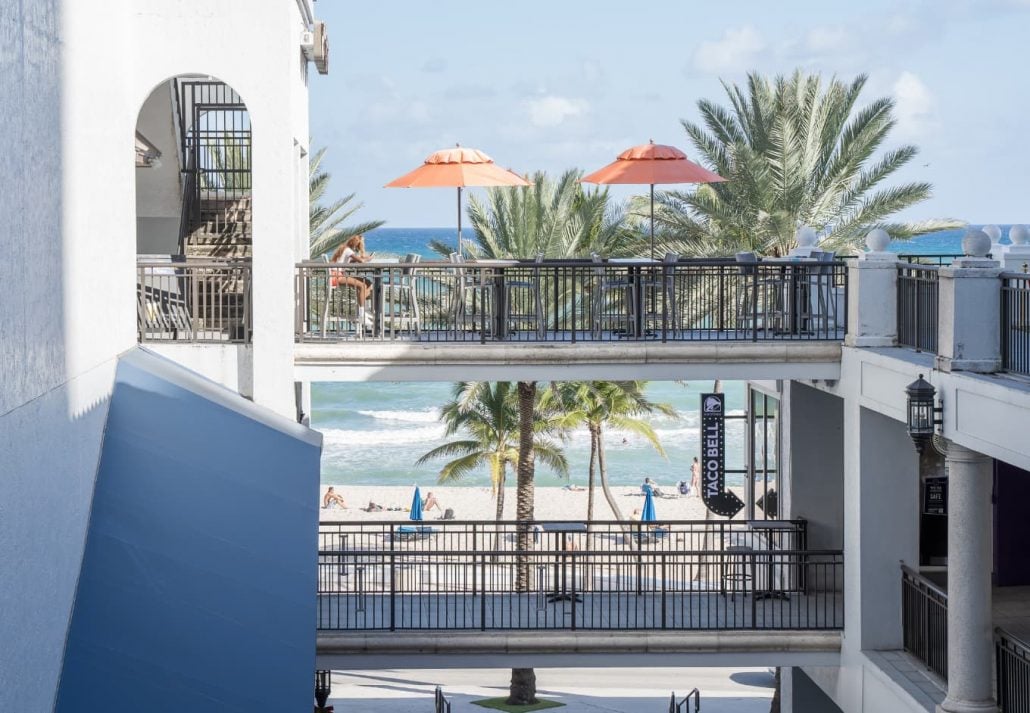 Venture to Sebastian Street Beach, a vibrant and LGBTQ+ friendly destination, and experience the lively spirit of Fort Lauderdale. This beach offers a lively atmosphere with beach bars, live music, and frequent events and festivals.
Feel the sand between your toes as you dance to the rhythm of the ocean waves and enjoy the warm hospitality of the local crowd. Sebastian Street Beach is a dynamic spot where beach lovers come together to celebrate the Florida lifestyle.
Miami Beach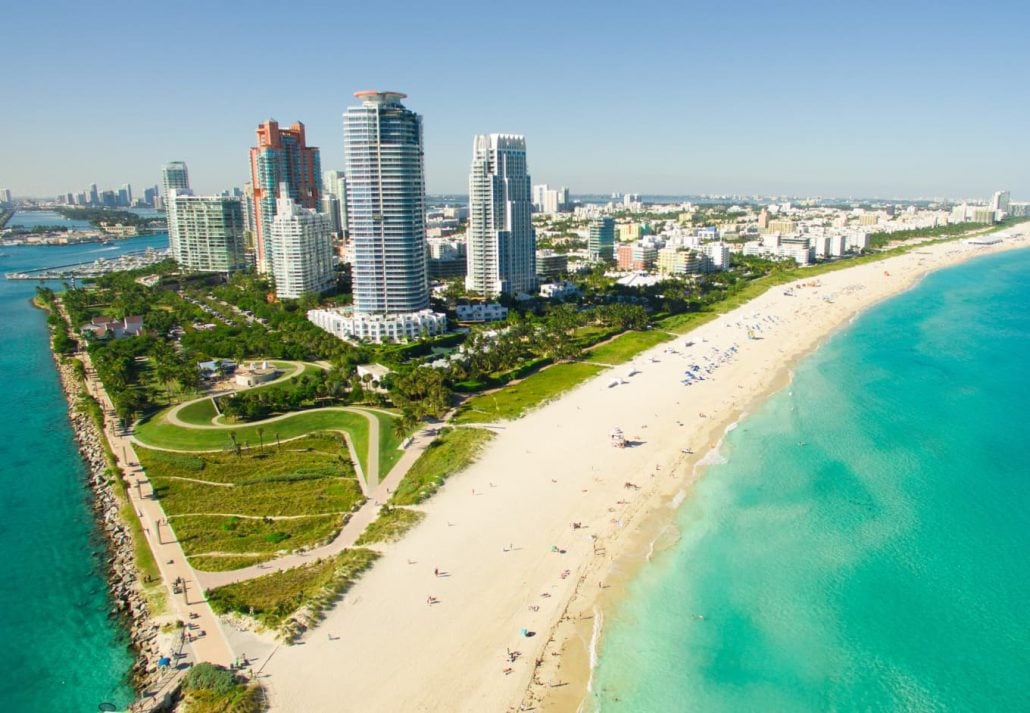 For an exciting day trip, make your way to the world-famous Miami Beach, just a short drive south of Fort Lauderdale. This iconic stretch of sand is synonymous with glamour, luxury, and celebrity sightings.
Miami Beach's Art Deco architecture, trendy beach clubs, and bustling boardwalk, Ocean Drive, provide a vibrant backdrop for a day of beachfront bliss.
Soak up the glamorous atmosphere, indulge in fine dining, and enjoy the city's vibrant nightlife. Miami Beach is a playground for the rich and famous, offering a taste of the high life on Florida's southeastern coast.
Hollywood Beach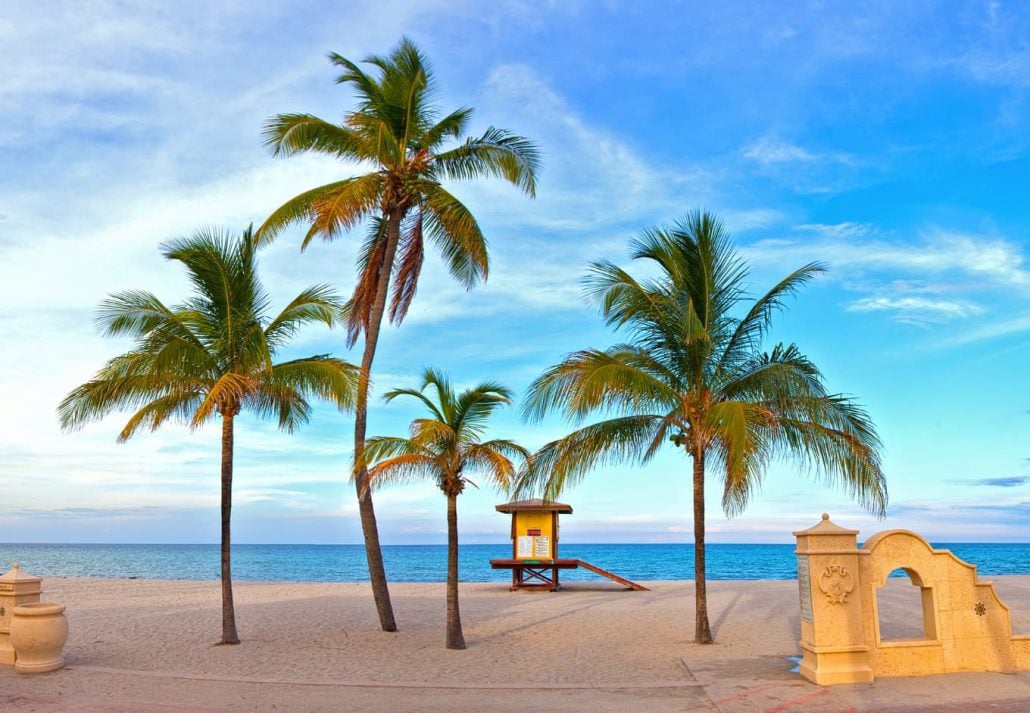 Savor the charm of Hollywood Beach, an idyllic seaside community with a laid-back retro vibe. This family-friendly beach boasts a scenic boardwalk, perfect for cycling, rollerblading, or leisurely walks with ocean views.
Grab a beach cruiser and explore the 2.5-mile-long Broadwalk, lined with shops, cafes, and ice cream parlors. Hollywood Beach offers a relaxed and welcoming atmosphere, making it a delightful spot for a day of fun with family and friends.
Pompano Beach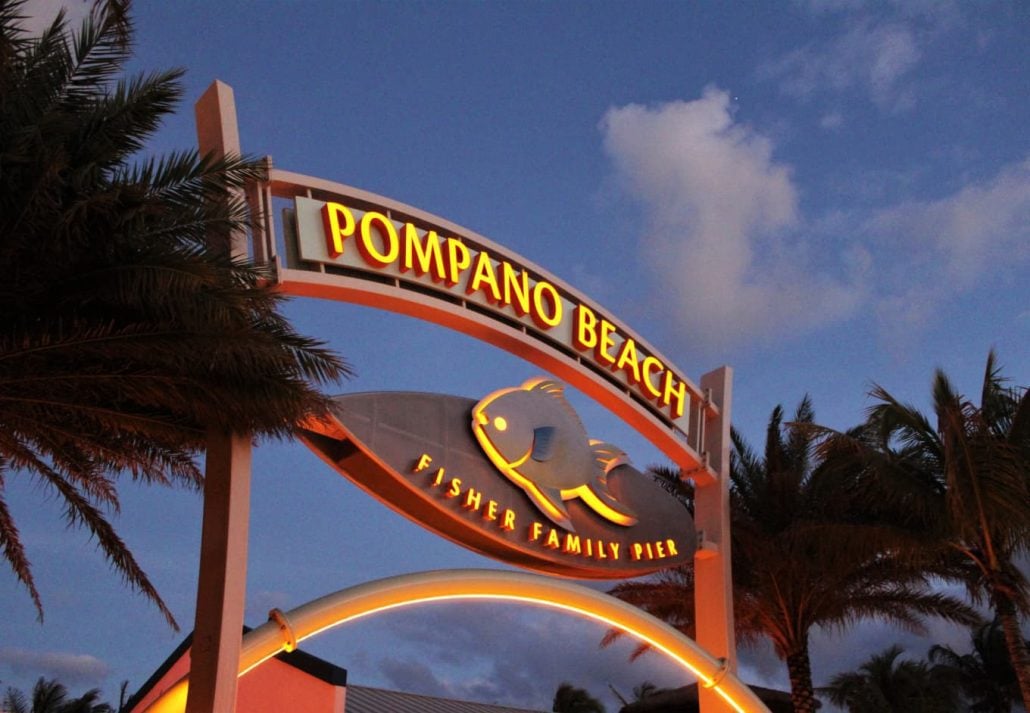 Named after the pompano fish found in its waters, Pompano Beach is a hidden gem with crisp, clear blue waters. It has a wide range of water sports to engage in such as scuba diving, snorkeling, and fishing.
Cast your line off the pier or embark on a thrilling deep-sea fishing excursion. Pompano Beach is an outdoor lover's paradise, with ample spaces to enjoy a game of beach volleyball, beachcombing, and picnicking with your family amidst the natural beauty of the area.
Hugh Taylor Birch State Park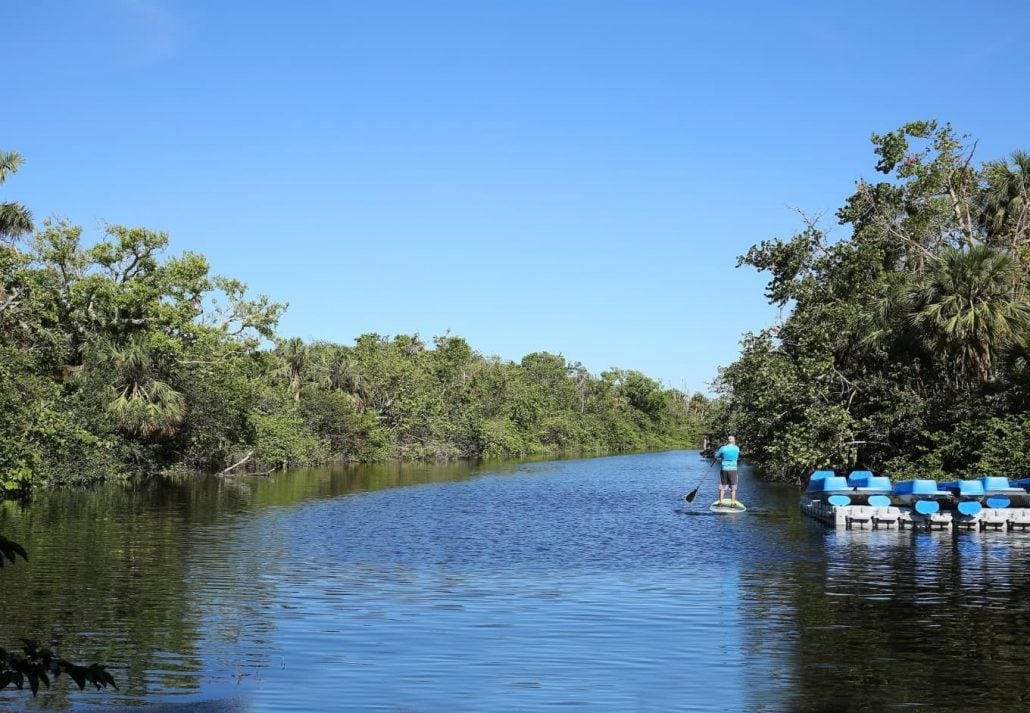 Escape the bustling beaches and explore the serene escape that is the Hugh Taylor Birch State Park. Nestled between the Intracoastal Waterway and the Atlantic Ocean, this park offers a tranquil retreat for nature enthusiasts.
Stroll through the scenic trails that weave between mangrove forests, spot wildlife along the freshwater lagoons, or enjoy a relaxing kayak excursion on the park's waterways. Don't miss the chance to visit the park's hidden gem, the Birch House Museum, which provides insight into the area's history.
Las Olas Boulevard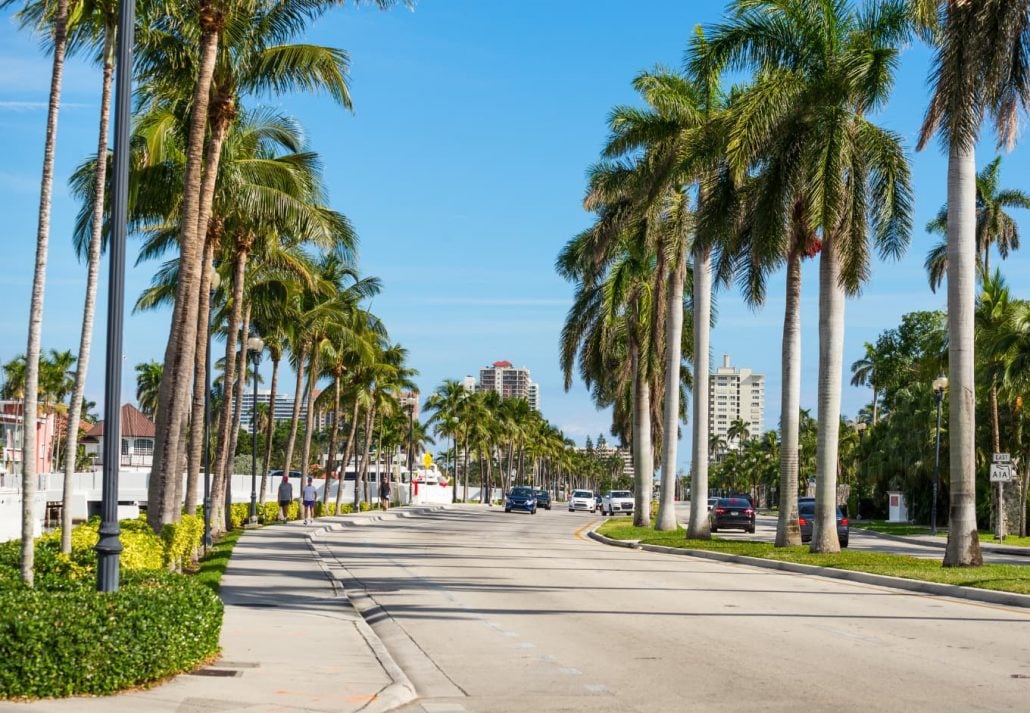 While not a beach in itself, Las Olas Boulevard is a must-visit spot for those looking to combine beach activities with retail therapy and a day of feasting on delicious food. The boulevard is lined with boutique shops, art galleries, and a variety of restaurants and cafes.
Take a calming walk here, stopping to shop for unique souvenirs or indulge in a gourmet meal. Las Olas Boulevard is the perfect addition to your beach itinerary, offering a delightful blend of coastal charm and urban excitement.
Deerfield Beach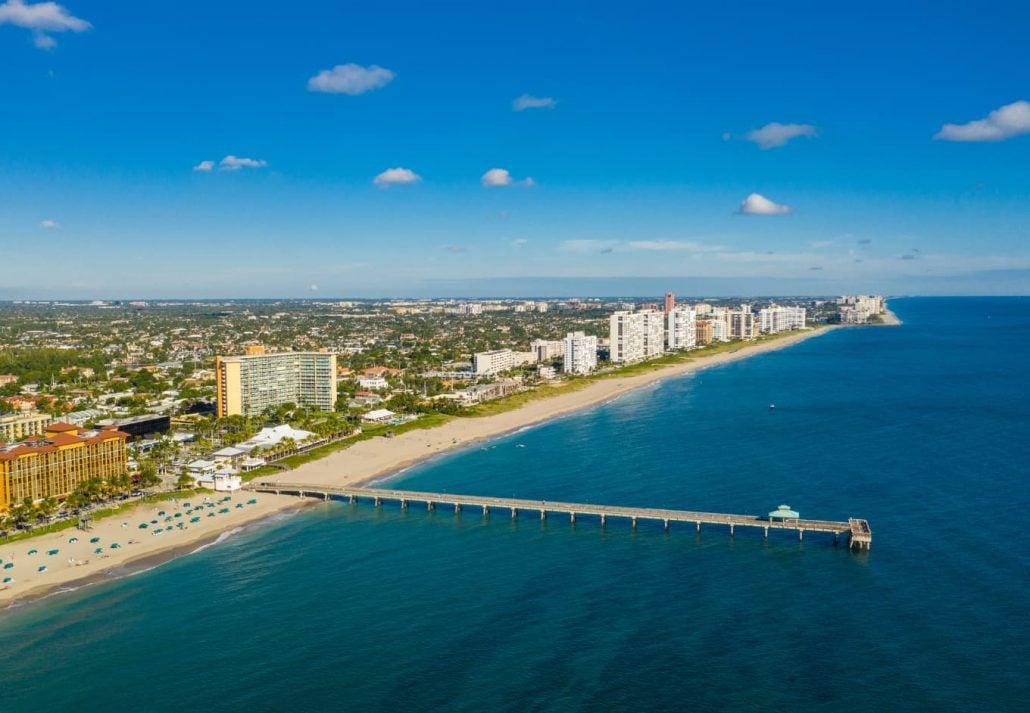 Venture north to Deerfield Beach, a serene and family-friendly destination boasting a beautiful pier and wide sandy shores. You would be able to spot some surfers catching waves here.
The beach offers a range of amenities, including volleyball courts, playgrounds, and picnic areas. With its friendly ambiance and laid-back atmosphere, Deerfield Beach is a top choice for a relaxing beach day.
Hallandale Beach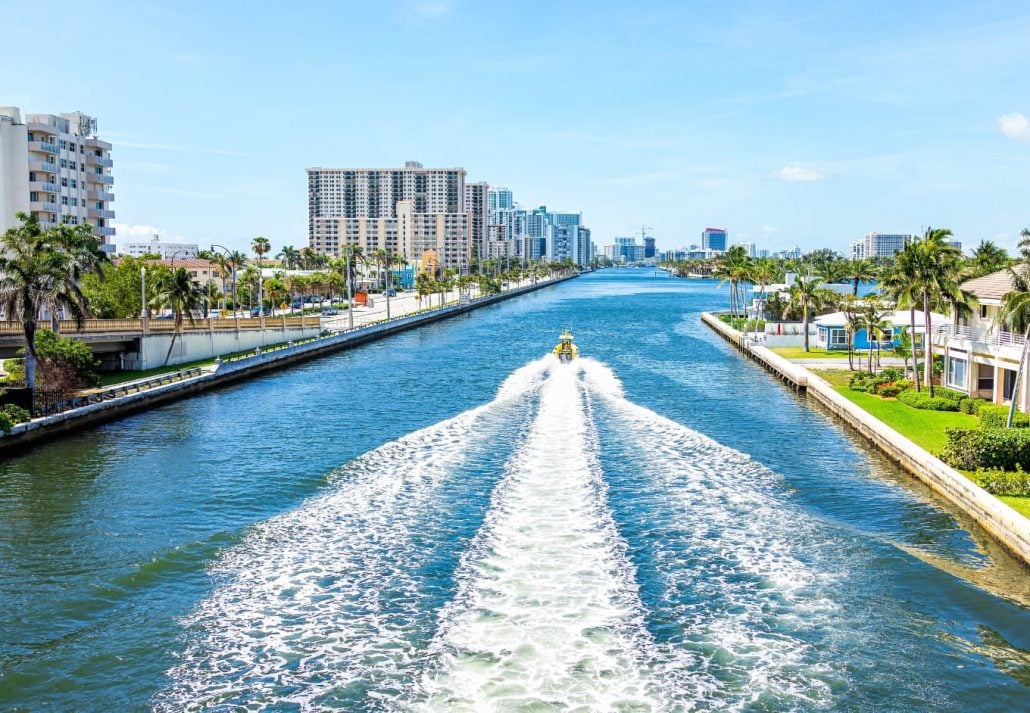 Experience the stretch of Hallandale Beach, known for its sparkling waters and tranquil surroundings. This beach offers a more secluded experience, making it ideal for those seeking solitude and serenity. Unwind under the warm Florida sun or take a refreshing swim in the ocean.
The beach is also adjacent to the popular Gulfstream Park, where you can try your luck at the casino, enjoy live horse racing, or savor a gourmet meal at one of the upscale restaurants.
Dania Beach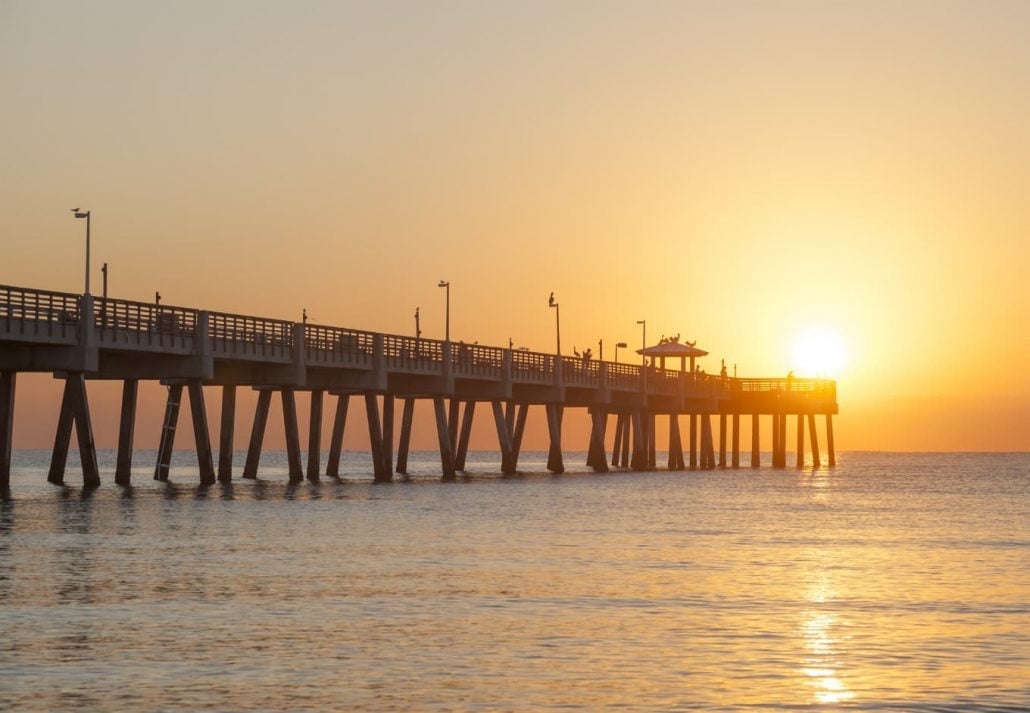 Discover the quaint charm of Dania Beach, a coastal gem that exudes a nostalgic Florida vibe. This beach features a fishing pier, making it a favorite spot for anglers seeking a good catch.
The Dania Beach Vintage Motorcycle Museum is a hidden gem that showcases a collection of classic motorcycles, perfect for motorcycle enthusiasts. Dania Beach offers a slice of old Florida charm, making it an appealing choice for those seeking a more authentic and tranquil beach experience.
Lauderdale-By-The-Sea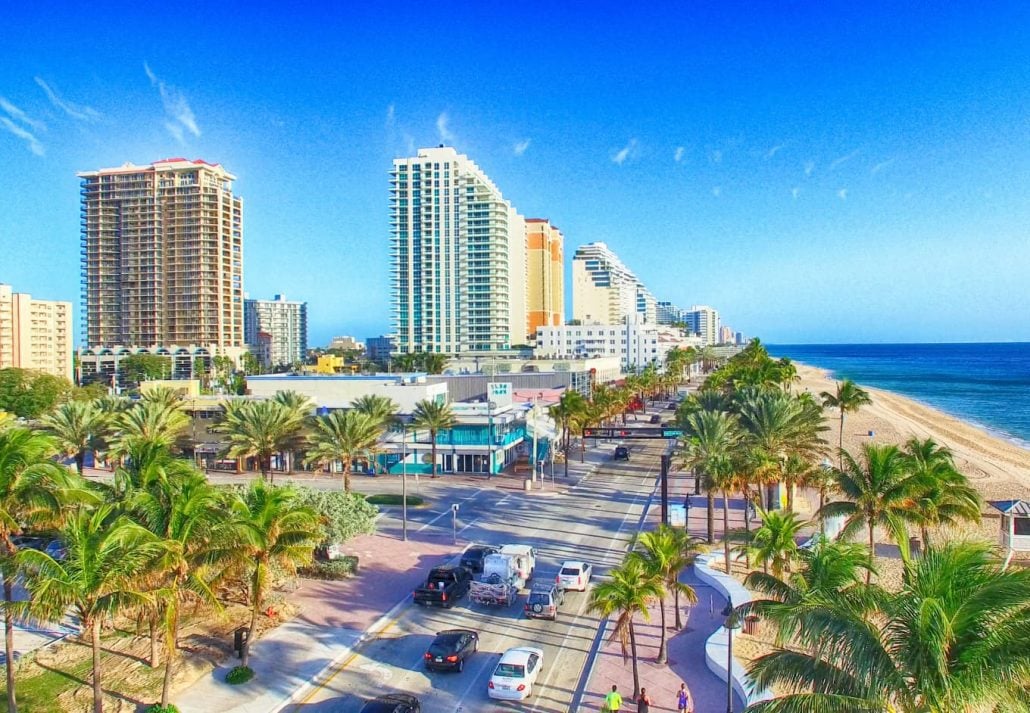 This charming beach town offers a laid-back vibe and stunning ocean views. Picture yourself strolling along the picturesque Anglin's Fishing Pier or lounging on the soft sands of Blue Wave Beach.
With its vibrant coral reefs just offshore, snorkeling and diving opportunities are abundant. Enjoy delicious seafood at beachside restaurants and explore unique shops in the town's lively downtown area. Lauderdale-By-The-Sea is a perfect destination for a relaxing and memorable beach getaway.
FAQ
Are there nice beaches near Fort Lauderdale?
There are several nice beaches in Fort Lauderdale including Pompano Beach, Hugh Taylor Birch State Park, Hollywood Beach, Fort Lauderdale Beach Park, etc.
Which beach has the clearest water in Fort Lauderdale?
Pompano Beach has the clearest water in Fort Lauderdale.
What beach towns are near Fort Lauderdale?
Hillsboro, Deerfield, and Lauderdale-By-The-Sea are some of the small beach towns near Fort Lauderdale.
Does Fort Lauderdale have a good beach?
Fort Lauderdale has great beaches. Some of them are Pompano Beach, Hugh Taylor Birch State Park, Hollywood Beach, Fort Lauderdale Beach Park, etc.
CuddlyNest provides all accommodations to all travelers at the best price. Find unlimited travel inspiration on our blogs and social media channels Facebook, Instagram, and Pinterest.
You May Also Like:
The 10 Best Things To Do In Atlanta
7 Amazing Hotels in Miami, Florida
The 5 Best Hotels In Atlanta
The 5 Best Miami Resorts
The Ultimate Guide To The Miami Design District
The 5 Best Downtown Miami Hotels
Best Dog-Friendly Vacations In The United States
7 Most Instagrammable Places To Eat At In Chicago
The Ultimate California Travel Guide