Madrid's transportation is famous in Spain thanks to its amazing and well-connected network of metros, trains and buses. It's affordable, fast, reliable, and quick. In a city this big, where distances can be grueling, the Spanish capital' transports are the best option for anyone that wants to go anywhere in record time, and without breaking the bank. It makes navigating the city extra easy.
So read on if you're planning on going to Madrid and you want to easily move around.
Find Places To Stay In Madrid, Spain
Transportation in Madrid
Madrid Tourist Travel Pass
First, you should know that Madrid has tourist travel passes, which give you unlimited usage of zone A and T between 1-7 days. This is the option that we recommend you use if you plan on staying in Madrid for less than a week. It's the best and most affordable way to get around Madrid, especially because the majority of Madrid's most popular locations for visitors and tourists are located within zone A. Additionally, zone T is perfect for those planning to make day trips to some of the small cities located outside of Madrid!
Prices are determined by the number of days you plan on using it, and by desired zones, you plan on visiting. To buy the Madrid tourist pass you simply visit any metro station and use the ticket machines located there. It also comes with the Multi-Card included, which allows you to use any type of transportation. And once your tourist pass expires, you can top up the Multi-Card with a single or ten trips tickets and keep using it.
It cannot be shared, though, so if you're group-traveling or with someone else, you would need to each have one.
Recommended Read: Best Things To Do in Madrid, Spain
The Different Transportations in Madrid
Metro
After you've got yourself your public transport card, the next step is learning all the kinds of transport the city has to offer. The Metro is one of the most convenient ones, boasting over 300 stations all around the city, with twelve metro lines and three Metro Ligero tram lines, that connect the peripheral parts of the city.
Madrid Metro is approximately 293KM long, making it the seventh longest metro system in the world, after London, New York, Shanghai, Tokyo, Moscow, and Seoul.
You can get all over the city center by using just the Madrid metro, the fastest and most efficient means of transport to get around the city. And it also has a direct line to the airport, which has an additional charge.
Running times: The metro runs every day from 6 am until 2 am (The last train leaves the first metro station at 1:30 am).
Fares:
To use the metro, you must get a Multi-card, a top-up card which costs € 2.50.
If several of you are traveling together you don't need more than one card: several people can use the same one.
Once you have the card you can top it up with whichever kind of ticket you want to use.
Metro Ligero
The Metro Ligero is Madrid's Light Rail system. It connects Madrid through 4 lines and over 50 stations, and it's an above-ground metro system. It is mostly used to go to nearby towns or areas of the city that are further outside of the center, and connects travelers and tourists to the less central areas of the city. It's easier to find them more in the suburban areas of Madrid, connecting Zone A with zone B1, B2, and B3.
They are a perfect option, also, to explore the city from above ground, unlike the metro!
Running times: Metro Ligero lines ML1-ML3 share the same hours as the Madrid Metro day hours (6:00 – 01:30. And line ML4 runs from 5:00 – 00:45.)
Buses
EMT is Madrid's local bus company. With 2,000 blue buses, they serve more than 200 lines between the downtown area and residential neighborhoods.
And, no worries, with the bus you can just purchase your single-journey ticket there itself, how convenient! The buses are also air-conditioned and wheelchair-equipped, which makes them pretty easy to fit everyone and to fight off the hotter weather during the summer months.
And Madrid also has another service that excites night owls: their night buses known as búhos ("owls"), which runs from 11:45 p.m. until 6 a.m. the next morning, every 15–30 minutes. This is the ideal option for public transportation in Madrid if you'll be out and about until the late hours of the morning.
There are also bus connections to the airport, the Airport Express, which works 24 hours and offers service in 15 to 20 minutes intervals.
Running times: buses run daily from 6 a.m. until 11:30 p.m., every five to 15 minutes depending on the line and time of day.
Tariffs:
One-way ticket: € 1.50
Express Airport ticket: € 5
10 Trips with transfer: € 18.30
Commuter trains
The Cercanías (operated by Renfe) is Madrid's commuter train system, and it connects the entire Madrid autonomous community. They're the perfect option for day trips if you feel like visiting other cities that are close by!
Cercanías stations are marked with their logo, which is a red-and-white upside-down letter C, and conveniently most of its stations in downtown Madrid also have metro connections. So commuting has never been easier.
Running times:
Monday to Friday between 5 am – 5:30 am and midnight, although the times can vary depending on each line.
The frequency also depends on the areas of Madrid. For example, the closer to the city centre the more frequent the trains are (every 5 minutes approximately), while trains pass the peripheral areas every 15 minutes or so.
Apps: bikes and scooters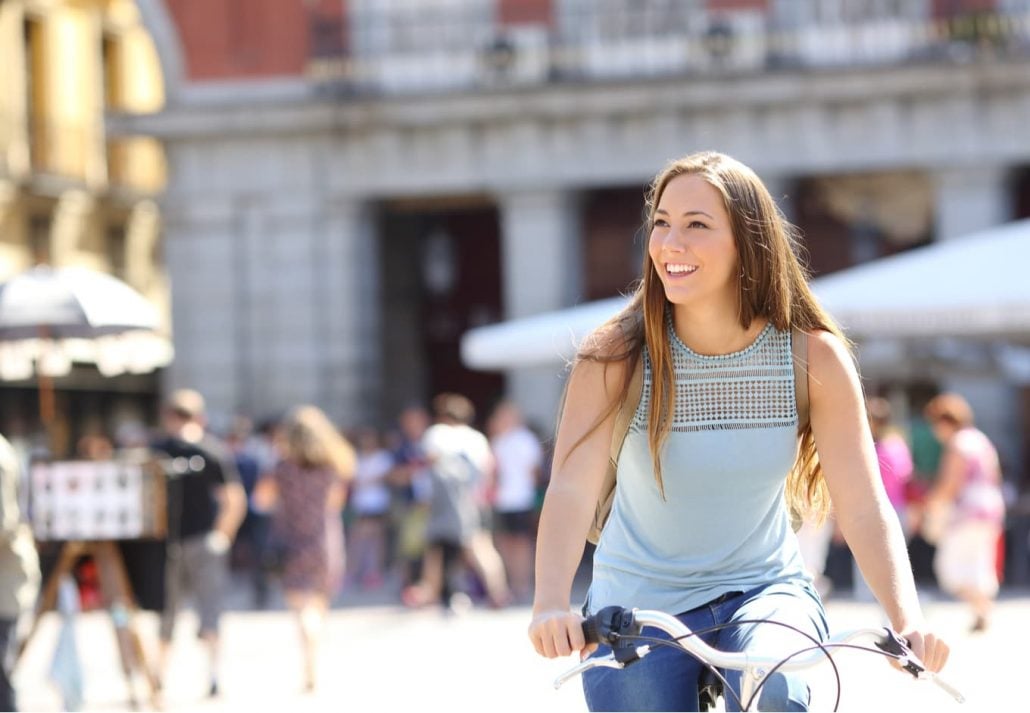 And if every option above isn't your cup of tea, don't worry: Madrid's public transport system has more to offer. If you're looking for more eco-friendly options or to simply get around differently and explore the city by bike, for example, you're in luck: Madrid is home to some great alternative transport options that suit everyone's preferred lifestyle.
Electric transportation is on the rise worldwide, so if you're looking for unique options, we recommend using apps such as e-Scooters (kick scooters), e-Bikes, and Motor Scooters. These are parked in the streets just waiting to be used, and all you need to do is download the corresponding app, hire one of them, and off you go.
Private transport
But if at the end of the day all you need is a means of transportation that is waiting for you, there are many car rentals, car-sharing, and ridesharing options. You can either catch an Uber, Taxi, or Cabify to go to a different part of town, or drive an electric car yourself from one point of the city to another, like Free2Move, or even rent a car for several days to explore beyond Madrid city limits.
Whatever it is, Madrid has something for you!
CuddlyNest provides all accommodations to all travelers at the best price. Find unlimited travel inspiration on our blog and social media channels.
You Might Also Like:
Spain Travel Apps
Best Museums In Madrid, Spain
Tourist Attractions in Barcelona
Best Cities to visit in Spain
La Tomatina Festival, Spain
Eating Tapas In Granada, Spain
Vegan Restaurants in Alicante, Spain
A Complete Guide To The 15 Best Festivals In Spain
The 10 Best Spanish Cheese You Should Try
The Ultimate Guide to Lobos Island, Spain
7 Must-Visit Museums In Orlando, Florida