The array of picture-perfect spots throughout Hong Kong is never-ending. And while the city is best known for its towering skyscrapers and cosmopolitan aesthetics, it also harbors a myriad of charming little nooks, idyllic beaches, dreamy temples, and colorful street art murals that are a sight to behold.
Ready to level up your social media game? Then here's the lowdown on Hong Kong's 12 most beautiful places that will fill your Instagram feed with the most alluring sights!
Find Places To Stay In Hong Kong
The Top 12 Instagrammable Places On Hong Kong Island
Man Mo Temple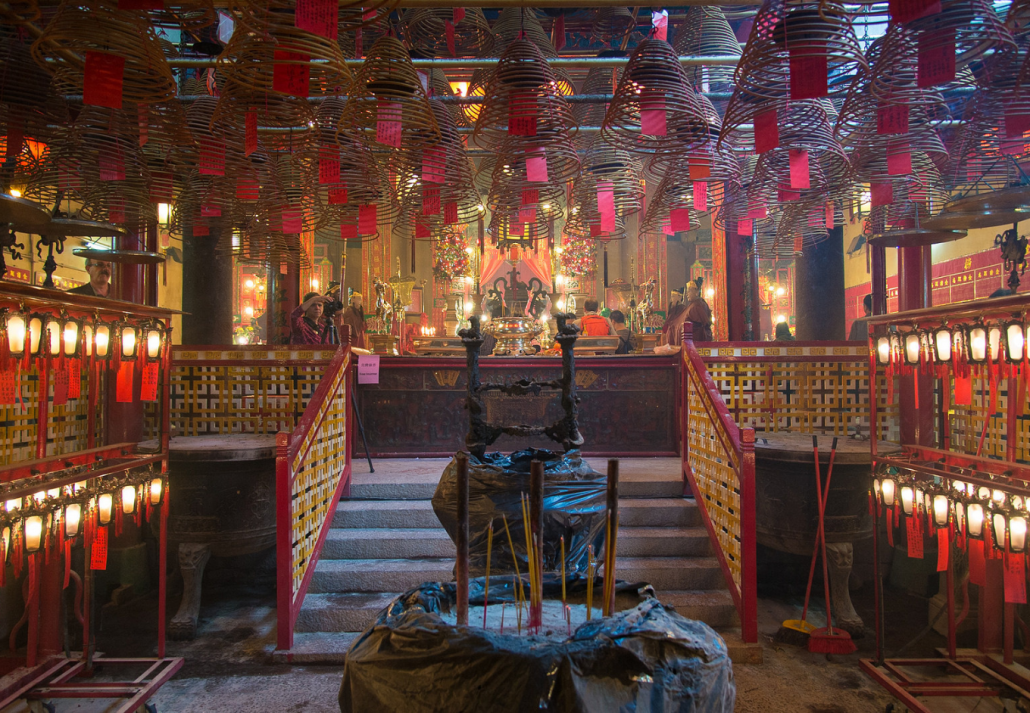 Located on Hollywood Road in Sheung Wan, Man Mo Temple is one of the oldest temples in Hong Kong. It is dedicated to the King Emperor Man and Holy King Emperor Kwan, two deities that were popularly patronized by scholars and students seeking progress in their study or ranking in the civil examinations in the Ming and Qing dynasties.
Built between 1847 and 1862, this dreamy temple is part of a complex that comprises three adjacent blocks: Man Mo Temple, Lit Shing Temple, and Kung So. Man Mo is considered a fine example of Qing dynasty architecture.
Aside from being a refuge of peace and serenity for those seeking to escape the busy city life, the temple is one of the most Instagrammable places in Hong Kong thanks to its double-eave, green tiled rooftop, and courtyard layout.
Address: Man Mo Temple, Hollywood Rd, Sheung Wan, Hong Kong
Victoria Harbour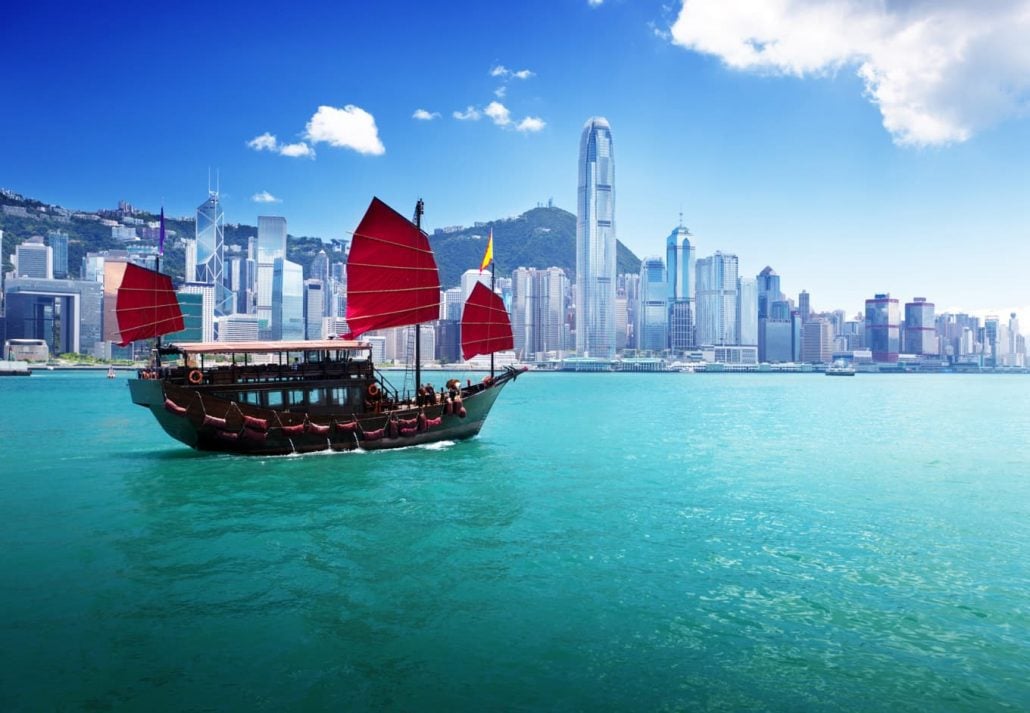 The majestic Victoria Harbour is a natural channel separating Hong Kong in the south from the Kowloon Peninsula to the north. With a strategic location in the South China Sea, the harbor is one of Hong Kong's top tourist attractions thanks to its historic significance (it was one of the British Empire's biggest military and trading ports) and the fact it offers gorgeous panoramic views of Hong Kong.
If you want to take awesome photos of Victoria Harbor, be sure to ride the award-winning Star Ferry, which carries passengers between Tsim Sha Tsui on the Kowloon side, and Central and Wan Chai on Hong Kong island. The 20-min journey will provide you with the most spectacular views of Hong Kong!
You can also experience the allure of Victoria Harbor from the Tsim Sha Tsui Promenade. This alluring promenade starts at the Star Ferry Terminal, where the historic Star Ferry departs from, linking Tsim Sha Tsui with Central Hong Kong. From there, you'll be able to snap incredible photos of Hong Kong's skyline.
Another picture-worthy attraction on the Tsim Sha Tsui Waterfront is the Avenue of Stars, famous for harboring a bronze statue of legendary martial artist Bruce Lee.
The Victoria Harbour also hosts a multimedia light show, the "Symphony of Lights", every night at 8 pm. During this magical spectacle, the iconic buildings from both sides become a canvas for a whimsical display of lightwork and lasers. A breathtaking show that lightens up Hong Kong's night sky and provides visitors with an array of Insta-worthy pics!
Address: Admiralty, Hong Kong
Victoria Peak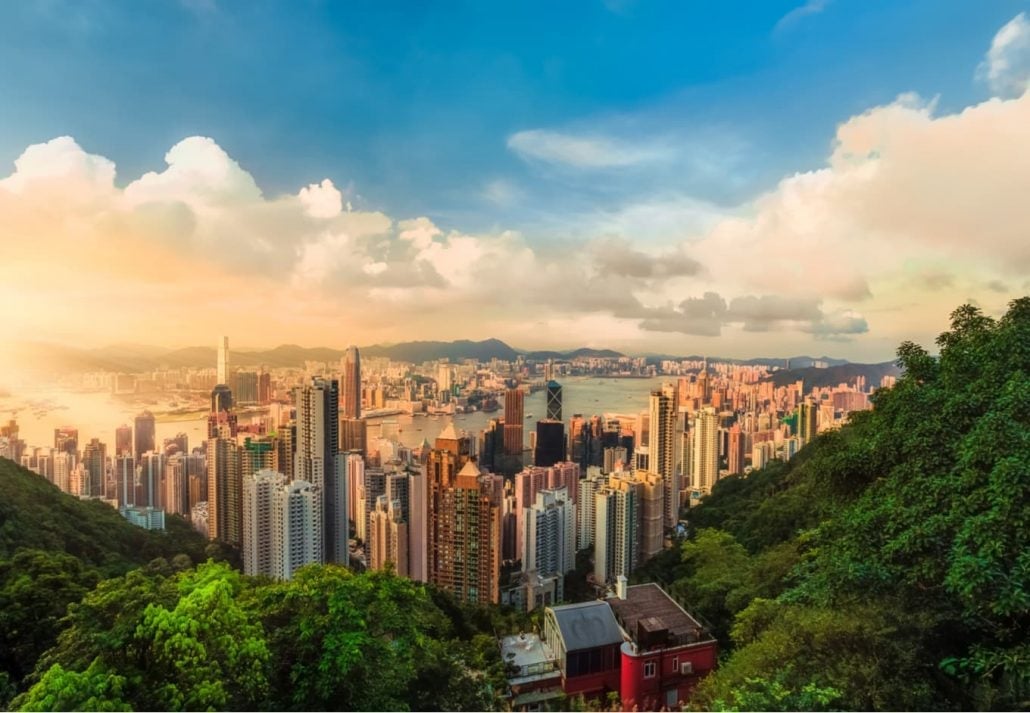 Located in the western half of Hong Kong, Victoria Peak (aka Mount Austin) will provide you with the most amazing photos of the city's skyscrapers. At an elevation of 1,811 ft, this is the highest hill on the island, and from up high you'll be able to snap pictures of Hong Kong's urban jungle featuring landmarks like the Victoria Harbour, Lamma Island, and the surrounding islands.
To visit Victoria Peak, visitors can hike uphill from Central or From Aberdeen, or even better, take the historic funicular railway known as the Peak Tram. The tram, which rises about 1,300 feet above sea level, provides passengers with a one-of-a-kind ride — it is so steep that the buildings you pass look like they are leaning on a gradient of between 4 to 25.7 degrees. Once you arrive at the peak, make your way to the Sky Terrace 428 (located in the Peak Tower), for panoramic views of Hong Kong.
Most of the hill is covered by a large park with lush greenery, and nature trails, making it one of the top outdoor attractions in Hong Kong.
Address: Central and Western District, Hong Kong Island
Kowloon Walled City Park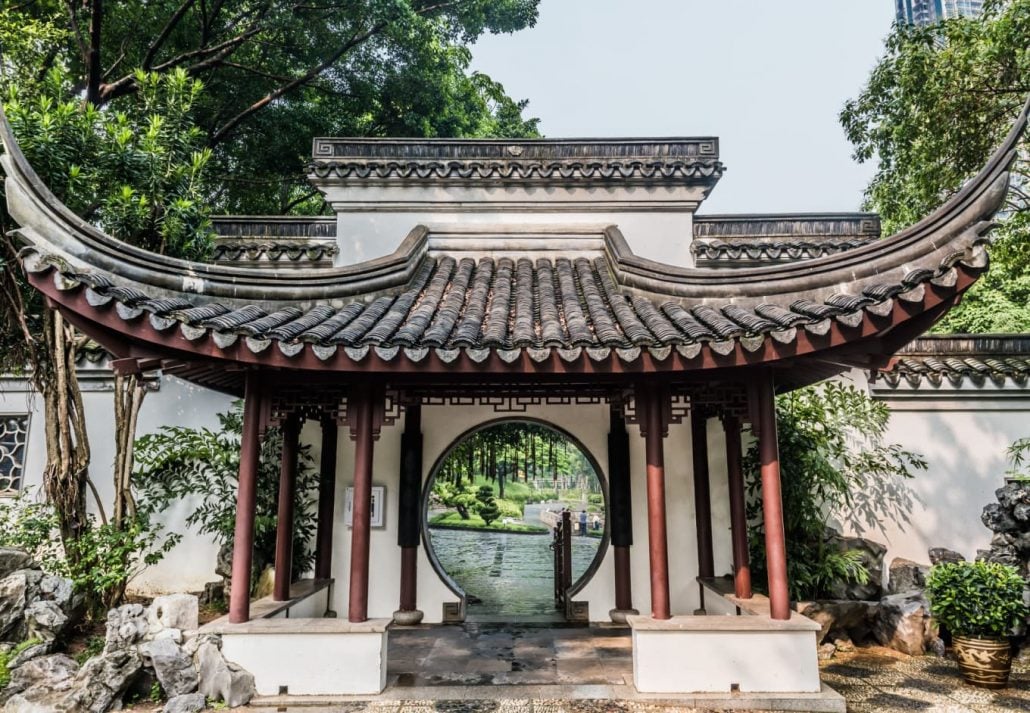 Located in Hong Kong's Kowloon City, the Kowloon Walled City was a military stronghold in the 15th century and a Chinese garrison that became an enclave for fugitives and criminal gangs through the 20th century.
In the 1990s, the Kowloon Walled City was transformed into a lush park for nearby residents. Visit this idyllic location to escape the city's bustling streets and enjoy a cool breezy while taking pictures of alluring bamboo groves, pavilions, flower gardens, and dreamy ponds.
The park still preserves interesting artifacts from the former Kowloon Walled City, including a Qing Dynasty building, making it a prime spot for snapping pictures.
Address: Kowloon City, Hong Kong
Recommended Read: 9 Must-Visit Historical Attractions in Hong Kong
Tian Tan Buddha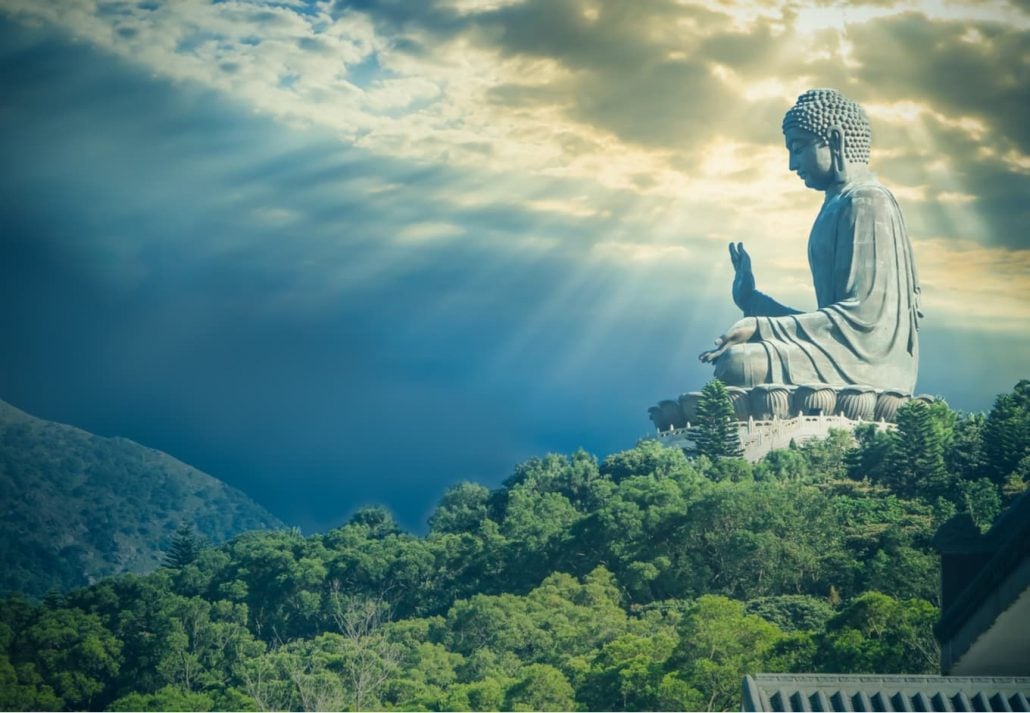 When visiting Hong Kong, be sure to snap a few photos of the Tian Tan Buddha a gem located on Lantau Island. This colossal statue sits majestically high up on a hilltop facing the dreamy Po Lin Monastery, and thanks to its massive size — the statue is 112 ft tall, weighs over 280 short tons, and was constructed from 202 bronze pieces —, it's also known as "Big Buddha".
The Buddha is sat atop a lotus flower surrounded by six smaller statues of gods offering flowers, incense, lamp, ointment, fruit, and music, and symbolizes the harmonious relationship between man and nature, people and faith.
Address: Ngong Ping Rd, Lantau Island, Hong Kong
Lok Wah South Estate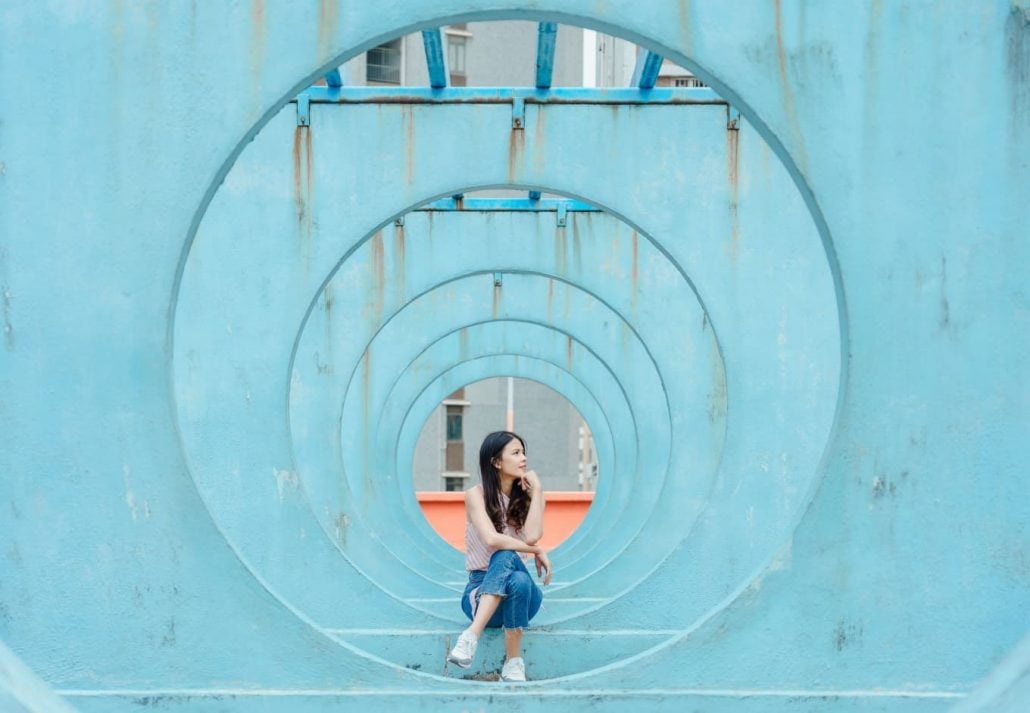 Lok Wah South Estate is a public housing estate located in Ngau Tau Kok, Hong Kong. You can photograph the buildings themselves, which are dotted with thousands of windows, or even better head over to the rooftop of the Lok Wah South Car Park. There, you'll come across a blue tunnel consisting of a series of concentric circles. This picturesque structure, also known as the "Time Tunnel" was made famous after it was featured in popular Korean boyband Got7's "You Are" music video. Visiting the place on a sunny day will guarantee the best pictures!
Address: 70 Chun Wah Road Ngau Tau Kwok, Kwun Tong Kowloon
Sai Wan Swimming Shed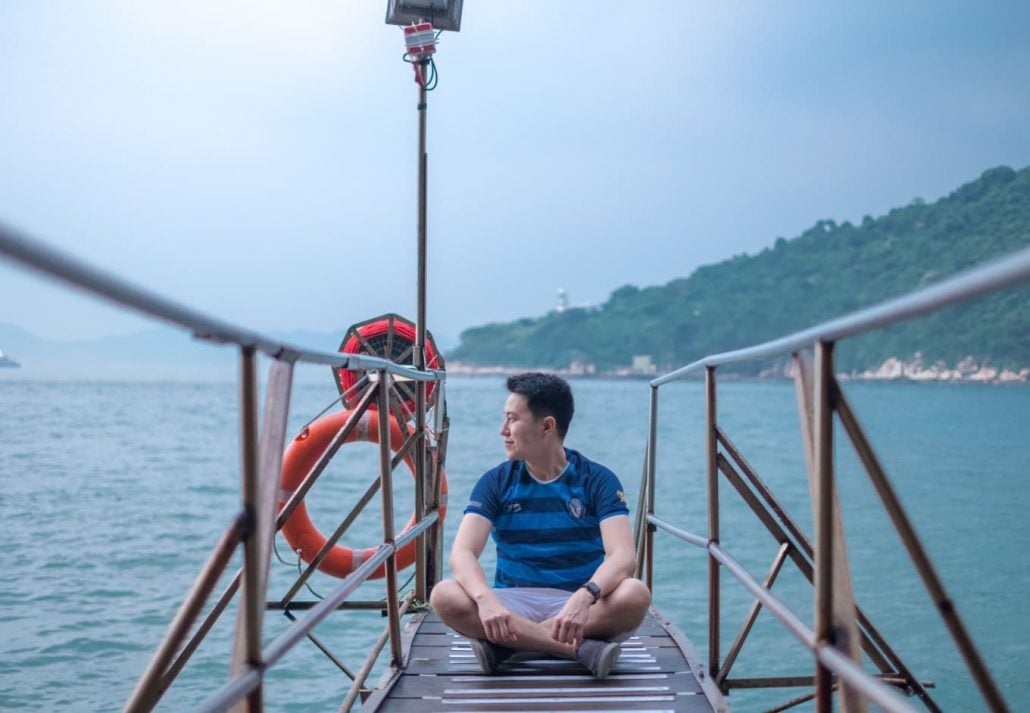 Sai Wan Swimming Shed is believed to be Hong Kong's last swimming shed. Dating back to the 1950s, it was used for swimmers to change into bathing costumes before taking a dip in the sea. Now, it's a prime spot for watching the sunset in the western part of Hong Kong, and the scenic view of the strong waves crashing in provides visitors with dazzling photo opportunities.
Address: Victoria Rd, Mount Davis, Hong Kong
Choi Hung Estate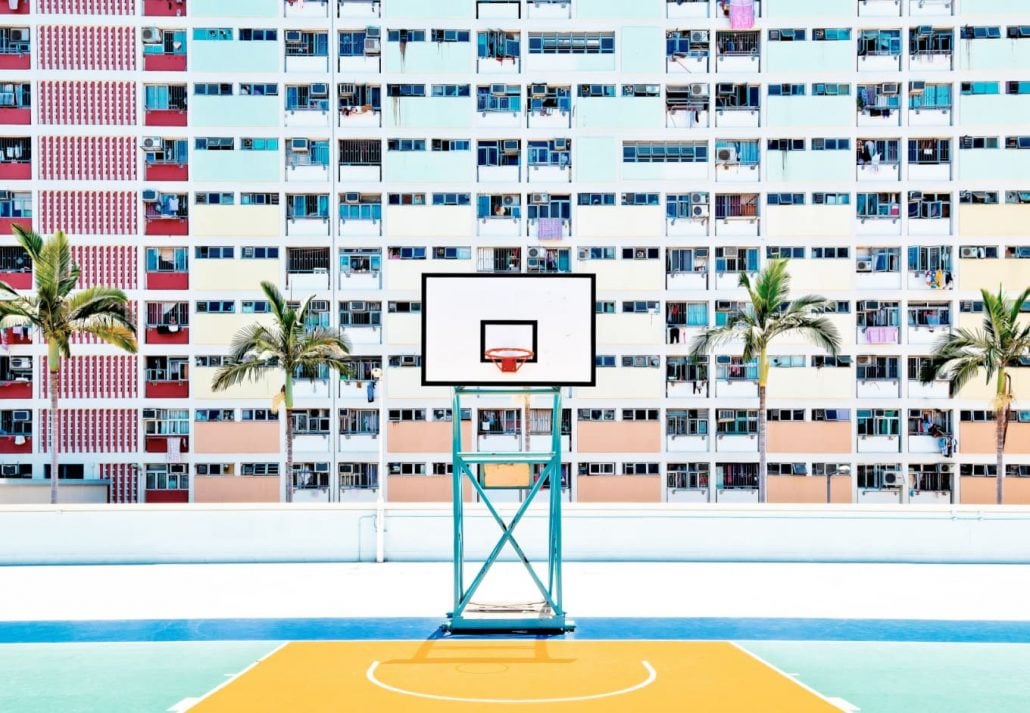 The colorful Choi Hung Estate in Kowloon was built in 1964, and it's one of the oldest public housing estates in Hong Kong. Comprising 11 blocks of residential buildings, 5 schools, 2 markets, one car park, and one basketball court, it became one of the most Insta-worthy destinations in Hong Kong thanks to its colorful basketball court with a rainbow-colored building behind it.
For the ultimate picture of Choi Hung Estate's basketball court, visit it early in the morning, at around 9 am when the place is relatively empty.
Address: 2 Tse Wai Ave, Ngau Chi Wan, Hong Kong
Monster Building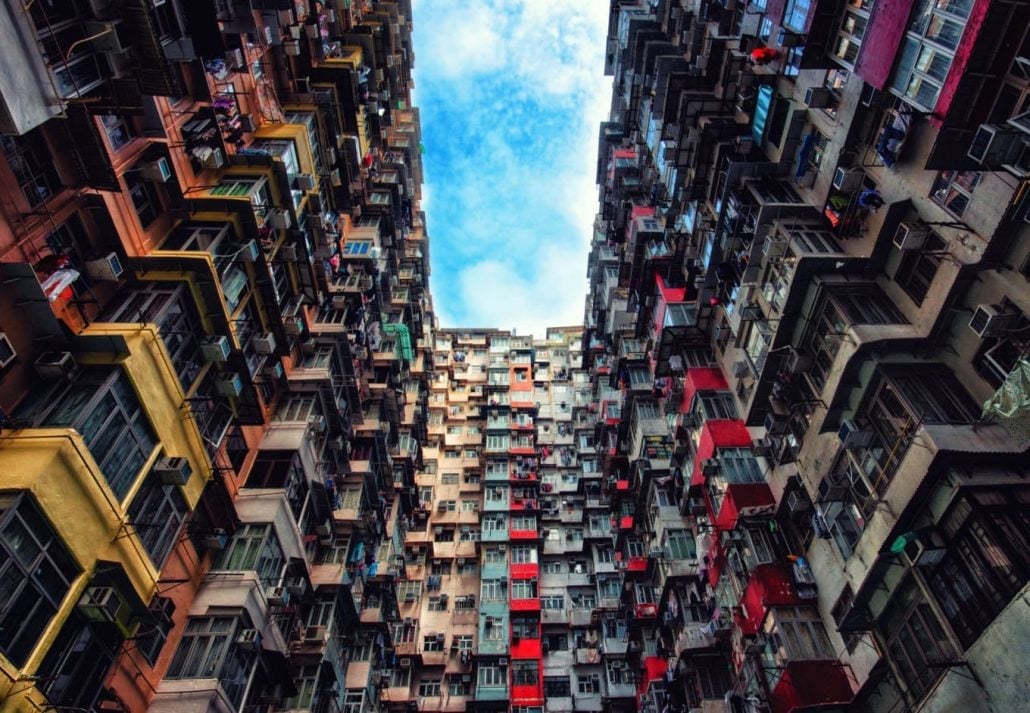 The Monster Building is a cluster of five tightly packed, residential estates in Quarry Bay. Built in the 1960s, these interconnected 18-story tenements leave visitors in awe with their impressive tapestry of homes, symmetry, and aesthetically striking architecture, making it a popular location among Instagrammers.
Address: Yick Cheong Building, King's Rd, Quarry Bay, Hong Kong
Chi Lin Nunnery & Nan Lian Garden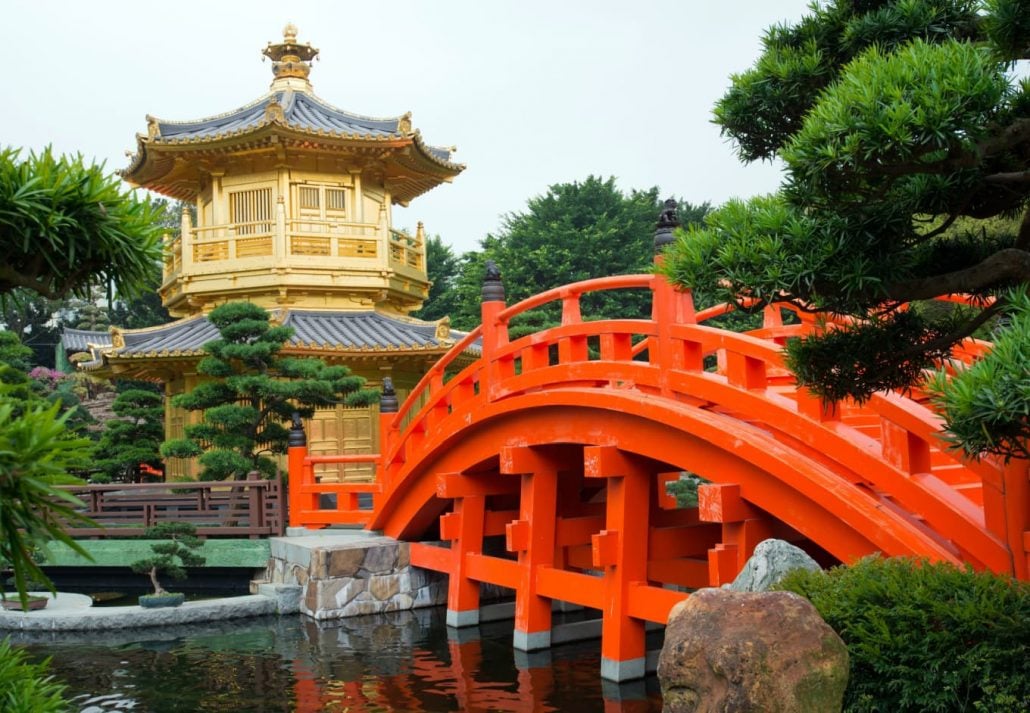 The Chi Lin Nunnery is a dreamy Buddhist temple located in Diamond Hill, in east Kowloon. This alluring temple dates to the 1930s as a retreat for Buddhist nuns but was rebuilt in the 1990s in the traditional Tang Dynasty style.
Aside from its spiritual atmosphere that oozes serenity, the temple is also known for its dazzling beauty. It's the world's largest hand-made wooden building and is beautifully decorated with whimsical statues of the Sakyamuni Buddha, the goddess of mercy Guanyin, and other bodhisattvas, all made from gold, clay, wood, and stone. Adjacent to the temple lies the otherworldly Nan Lian Garden, which was built in the Tang Dynasty style, and it's dotted with rocks and ancient trees.
Address: Chi Lin Nunnery, 5 Chi Lin Dr, Sheung Yuen Leng, Hong Kong
Sai Ying Pun's ARTLANE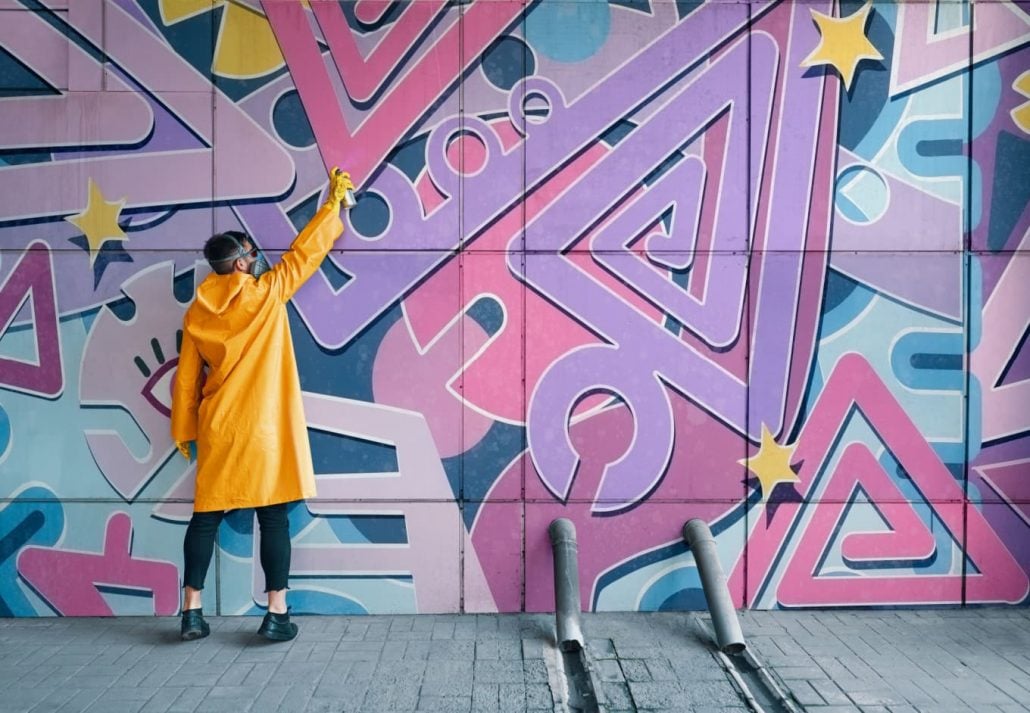 The Art Lane, in Sai Ying Pun, is one of the most colorful and picture-perfect spots in Hong Kong. After an urban project initiated by Henderson Land, the building façades of Ki Ling Lane and Chung Ching Street were covered in eye-popping wall murals designed by talented local and international artists.
A visit to Art Lane is a must for street art lovers and those seeking to improve their Insta game with an array of colorful pictures!
Address: Hong Kong, Sai Ying Pun, Chung Ching St, 奇靈里石棧
Blue House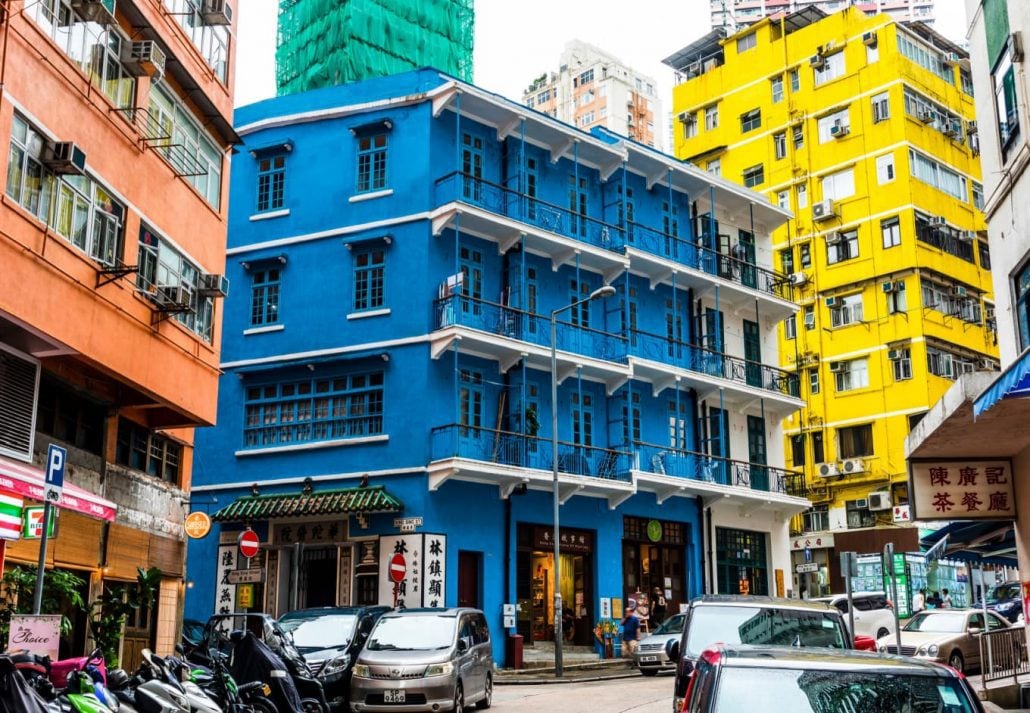 Want to snap photos of Hong Kong's traditional areas? Then be sure to visit the Wan Chai Blue House. Named for the vibrant blue shade of its external walls, the construction is one of the few remaining examples of the "tong lau" balcony type in Hong Kong, a style of residential building notable for balconies that were built in the late 19th century in southern China.
The vibrant blue façade of this picturesque house will certainly level up your Instagram game!
Address: Hong Kong, Wan Chai, Stone Nullah Ln, 72A 號街 4 號地舖地舖及慶雲
FAQ
What are the best Hong Kong Instagram spots?
The 12 most famous Instagram spots in Hong Kong are:
Man Mo Temple;
Victoria Harbour;
Victoria Peak;
Kowloon Walled City Park;
Tian Tan Buddha;
Lok Wah South Estate;
Sai Wan Swimming Shed;
Choi Hung Estate;
Monster Building;
Chi Lin Nunnery & Nan Lian Garden;
Sai Ying Pun's ARTLANE;
Blue House.
What is the best place for viewing Hong Kong's skyline?
Victoria Peak offers the most fantastic views of the Hong Kong skyline and Victoria Harbor.
What is Hong Kong most known for?
Hong Kong is a bustling metropolis known for its luxury shopping spots, majestic skyline, temples, shrines, and monasteries.
What are Hong Kong's top attractions?
The top attractions in Hong Kong are:
Victoria Peak (Mount Austin);
Victoria Harbour;
Hong Kong Central neighborhood;
Man Mo Temple;
Lantau Island;
The Star Ferry;
Disneyland Hong Kong;
Ocean Park.
CuddlyNest provides all accommodations to all travelers at the best price. Find unlimited travel inspiration on our blogs and our social media channels Facebook, Instagram, and Pinterest.
You May Also Like:
The 6 Best Night Clubs In Hong Kong
A Guide To The Best Wineries In Hong Kong
A Guide To The Best Shopping In Hong Kong
The 6 Best Beaches In Hong Kong
The 5 Best Amusement Parks In Hong Kong
The Best 5-Star Hotels In Hong Kong
The Best Time To Visit Hong Kong
10 Best Restaurants In Hong Kong
The 6 Best Night Clubs In Hong Kong
Top 14 Kid-Friendly Attractions in Hong Kong