A little fact unknown: Hong Hong island is a wonderful place for a family vacation. Throughout the city, visitors are happily surprised to find an array of interesting places that are guaranteed to hold their child's interest for hours on end.
There, expect to come across a plethora of museums filled with interactive experiences, big-name theme parks — including Disneyland Hong Kong —, sprawling country parks, idyllic beaches, and world-class zoos featuring wild animal encounters.
Want to take your Hong Kong family vacation to the next level? We've got you covered. Here's a thoughtful guide featuring the 14 top kid-friendly attractions in Hong Kong. These activities are suitable for children of all ages and are guaranteed to please the entire family — not just the little ones.
Keep reading to learn more!
Find Places To Stay In Hong Kong
The 14 Best Kid-friendly Attractions in Hong Kong
Victoria Peak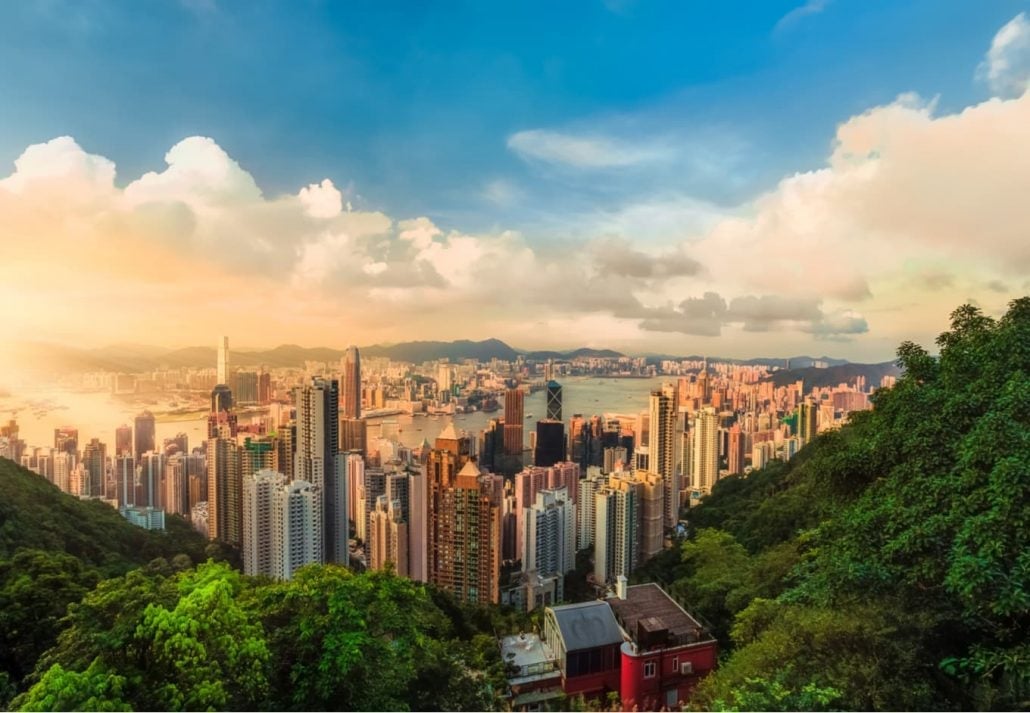 Perfectly nestled in the western half of the island, Victoria Peak (aka Mount Austin) is one of the most popular Hong Kong attractions. With an elevation of 1,811 ft, it is the highest hill in the city and rewards visitors with the most show-stopping views of the Hong Kong skyline, Victoria Harbour, Lamma Island, and the surrounding islands.
To reach the peak, visitors can hike uphill from Central or From Aberdeen. However, if you're visiting Victoria Peak, don't pass up the chance to ride the historic funicular railway, which is also known as the Peak Tram and rises about 1,300 feet above sea level. This fun-filled ride will provide the little ones with a one-of-a-kind experience — the climb is so steep that the buildings you pass look like they are leaning on a gradient of between 4 to 25.7 degrees. Simply mindblowing!
Address: Central and Western District, Hong Kong Island
Recommended Read: The 10 Best Outdoor Attractions in Hong Kong
Victoria Harbour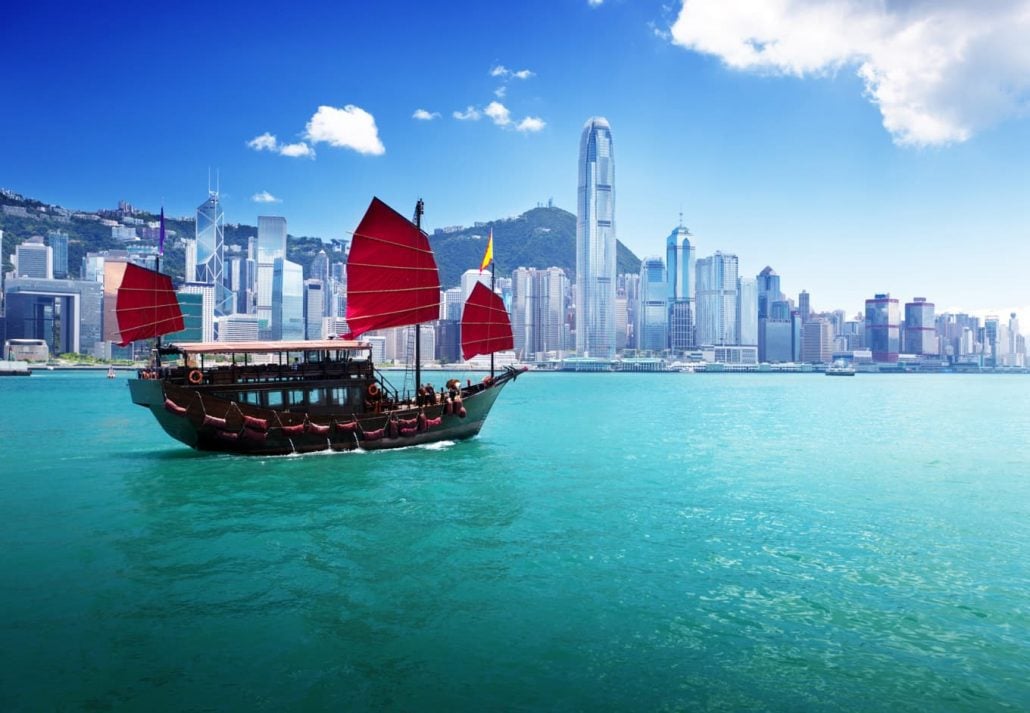 Victoria Harbour is a natural channel that separates Hong Kong Island in the south from the Kowloon Peninsula to the north. With a strategic location in the South China Sea, the harbor is one of Hong Kong's top tourist attractions thanks to its historic significance (it was one of the British Empire's biggest military and trading ports) and the fact it offers gorgeous panoramic views of Hong Kong. Not by chance, it's often regarded as one of the most beautiful harbors in the world!
One of the best ways to see Victoria Harbor in all of its glory is by taking the Star Ferry Hong Kong. This 115-year-old service shuttles between Tsim Sha Tsui on the Kowloon side, and Central and Wan Chai on Hong Kong island, rewarding passengers with an eye-popping journey.
Other kid-friendly sights available at the Victoria Harbour include the Avenue of Stars, famous for harboring a bronze statue of legendary martial artist Bruce Lee, and a multimedia light show that happens every night at 8 pm. During this magical spectacle, the iconic buildings from both sides become a canvas for a whimsical display of lightwork and lasers. A breathtaking show that lightens up Hong Kong's night sky!
Address: Admiralty, Hong Kong
Hong Kong Park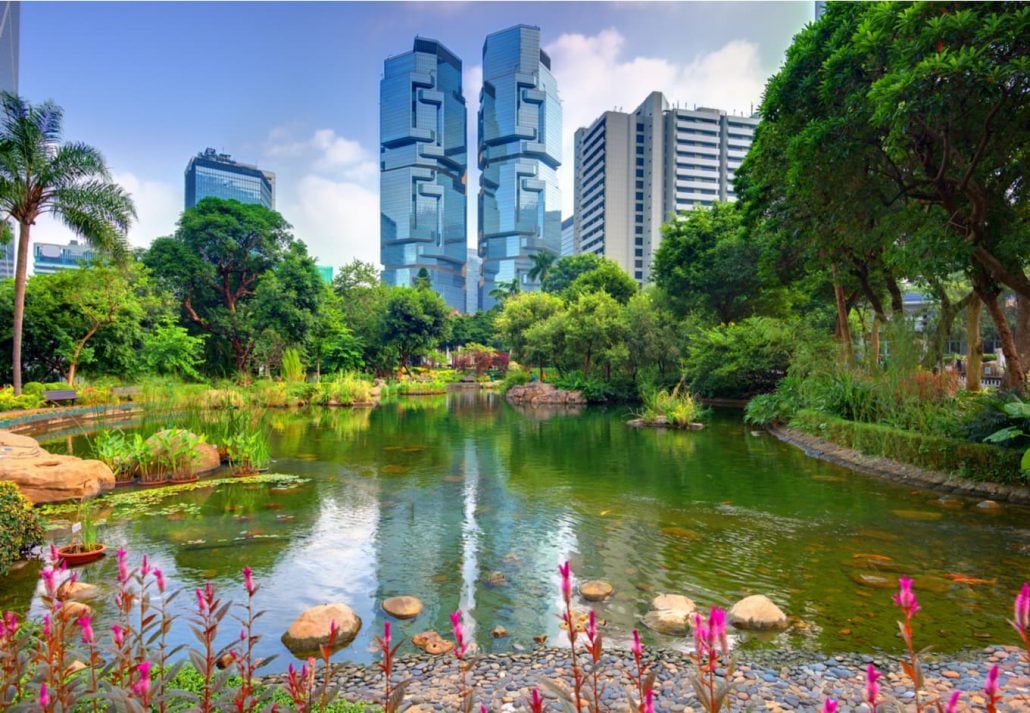 Escape the heated city life and take the family to explore Hong Kong Park, a quiet pocket of untouched greenery in central Hong Kong. Located just a 3-min walk from the Peak Tram, the park encompasses an area of eight hectares filled with century-old trees and colorful blooming flowers, including the famous bombax ceiba, also known as the red cotton tree.
Boasting a glittering artificial lake and a waterfall, the park is also visited by an array of bird species, such as the blue-winged leafbird, the golden pheasant, and the white-crested hornbill.
This scenic lush park, which also boasts a playground, provides a gorgeous backdrop for the kids to play and run freely.
Address: 19, Cotton Tree Drive
Lantau Island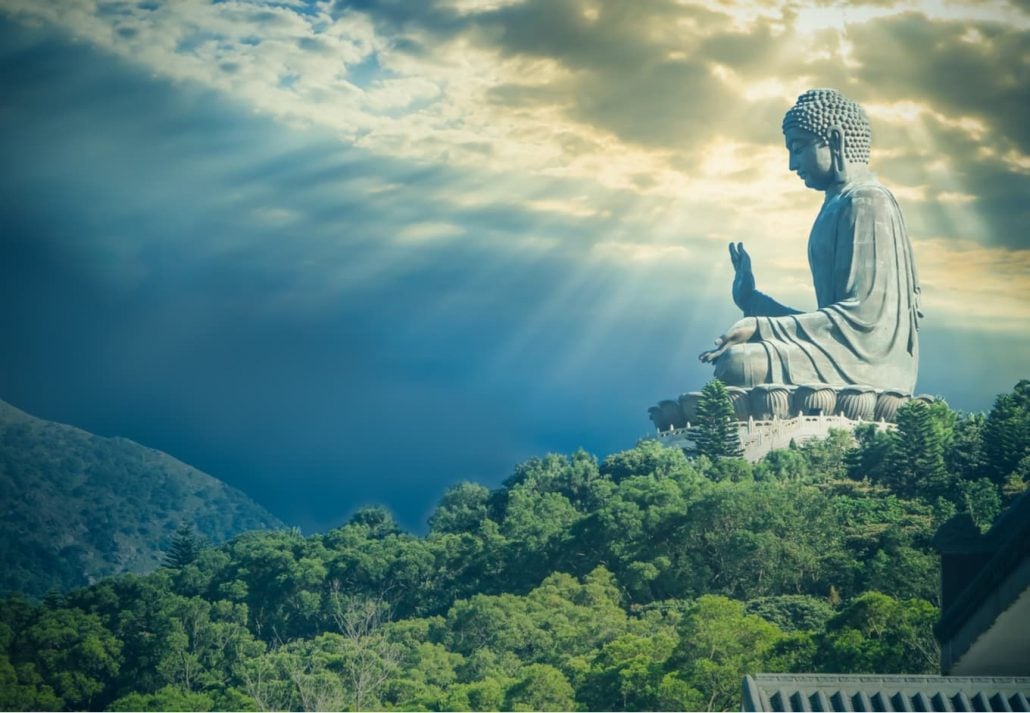 Regarded as the "lungs of Hong Kong" thanks to its emerald-green forests, Lantau is the largest of Hong Kong's islands. It is located at the mouth of the Pearl River, not far from the Hong Kong Airport, and dazzles visitors with an array of glittering beaches, towering peaks, and quaint fishing villages.
If you're planning to visit Hong Kong with kids, Lantau Island is an absolute must-see. One of the top attractions on the island is Sunset Peak, Hong Kong's third highest mountain, and a prime place for watching the sunset.
Another must-see landmark in Lantau Island is the Tian Tan Buddha, a colossal statue also known as "Big Buddha", which rests high up on a hilltop facing the dreamy Po Lin Monastery.
Looking for an immersive experience in the local culture? Then take the little ones to explore the Tai O Village, which is the oldest fishing village in Hong Kong. There, be sure to take a boat ride through the waterways to catch a glimpse of the adorable pink dolphins, which can be seen year-round and are famous for their unique color and friendliness.
Recommended Read: The 8 Most Famous Art And Culture Attractions In Hong Kong
Ocean Park Hong Kong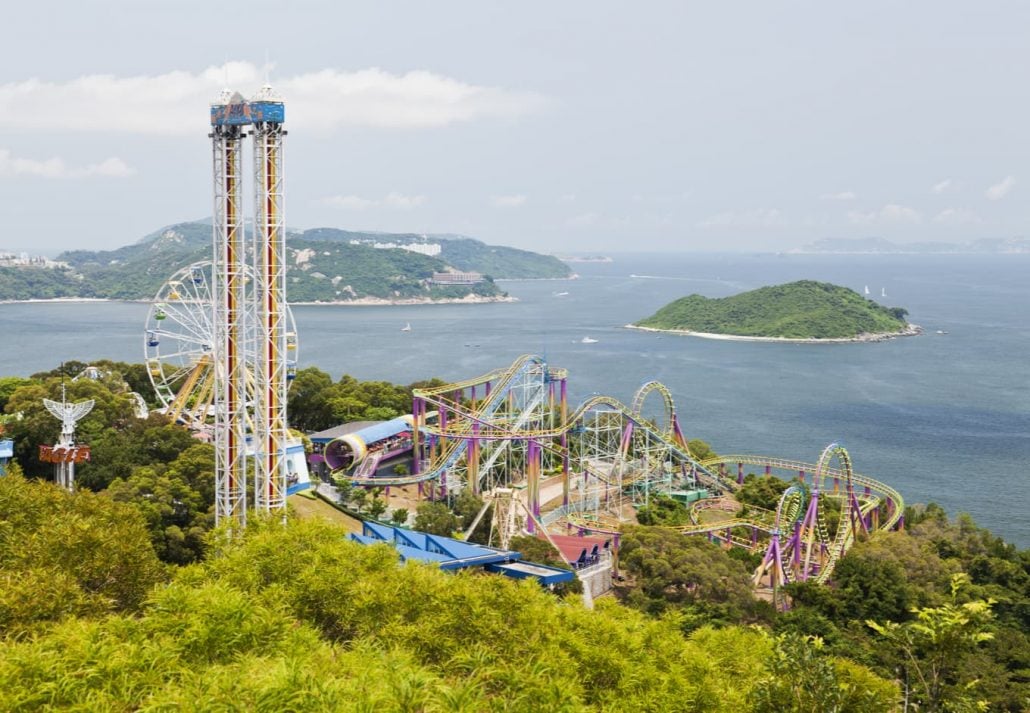 If you're visiting Hong Kong with the kids, be sure to spend a thrilling day in Ocean Park. Built around several hills near the South China Sea, the 780,000-square-meter amusement park is filled with exciting rides that'll get your hearts racing. One of the most exciting attractions in Ocean Park is Hair Raiser, a daring coaster that features loops, and plunges while suspending riders above the South China Sea. The park is also home to an oceanarium, a panda village, and a "Gator Marsh", where visitors can catch get face to face with the critically endangered Chinese alligator.
Address: 180 Wong Chuk Hang Road
Recommended Read: The 5 Best Amusement Parks In Hong Kong
Hong Kong Disneyland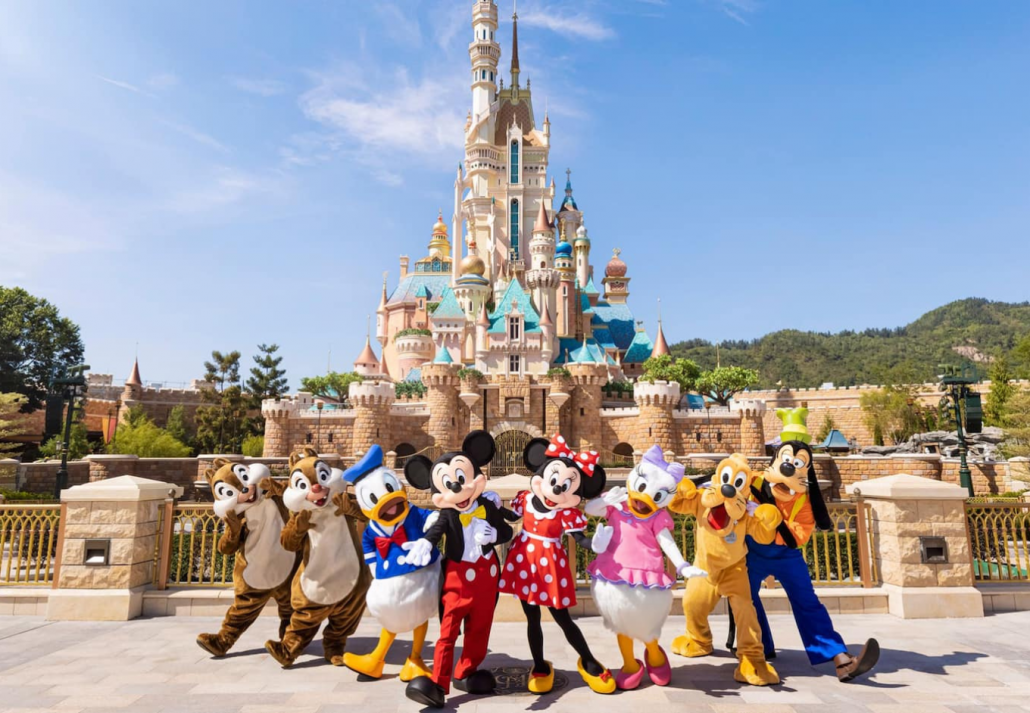 When it comes to amusement parks filled with exciting rides, Hong Kong does not disappoint. Another bucket list theme park to visit with the kids is Hong Kong Disneyland, located in Penny's Bay, Lantau Island.
The Disney park is divided into seven main areas: Main Street, U.S.A., Fantasyland, Adventureland, Tomorrowland, Grizzly Gulch, Mystic Point, and Toy Story Land. Each has its unique set of attractions and exciting rides.
Whatever your plans are, make sure to take the little ones to ride the Big Grizzly Mountain Runaway Mine Cars, a steel roller coaster in the Grizzly Gulch section, the Hyperspace Mountain, which is a space-themed indoor roller coaster, or swirl in the legendary Mad Hatter Tea Cups.
With all the Disney characters to meet, a Lion King show, and a jungle river cruise, Hong Kong Disneyland is the ultimate wonderland for kids!
Address: Disneyland Hong Kong, Penny's Bay, Lantau Island
Recommended Read: The Complete Guide To Visiting Disneyland In Hong Kong
Hong Kong Space Museum
Catering to all interests and ages, the Hong Kong museums are great places for kids to get inspired, have fun, and learn about a wide range of topics — from history to science. One of the best is, unarguably, the Hong Kong Space Museum, home to a hundred exhibits of which about 70 percent are of interactive design.
Set within a unique egg-shaped dome, this 8000-square-meter museum has two thematic exhibition halls: the Hall of the Cosmos and the Hall of Space Exploration. The "Hall of the Cosmos", on the ground floor, allows visitors to discover the Universe from near to far, as well as participate in unique hands-on activities like creating comets with dry ice, and creating an aurora on an Earth model.
Located on the first floor, the "Hall of Space Exploration" depicts the development of space exploration and space technology. You and the little ones will get the one-of-a-kind chance to enter an upside-down virtual space station to experience the disorientation feeling in the weightless environment and drive yourself by turning a fixed steering wheel to understand the reaction principle in rocket propulsion.
The museum is also home to the "Space Theatre", a planetarium that features the first OMNIMAX film projector in the eastern hemisphere. Each year, the Museum hosts a Sky Show, which is displayed using the planetarium's state-of-the-art projection system to create eye-popping spectacles.
Address: 10 Salisbury Road, Tsim Sha Tsui
Recommended Read: The 9 Best Museums in Hong Kong
Hong Kong Science Museum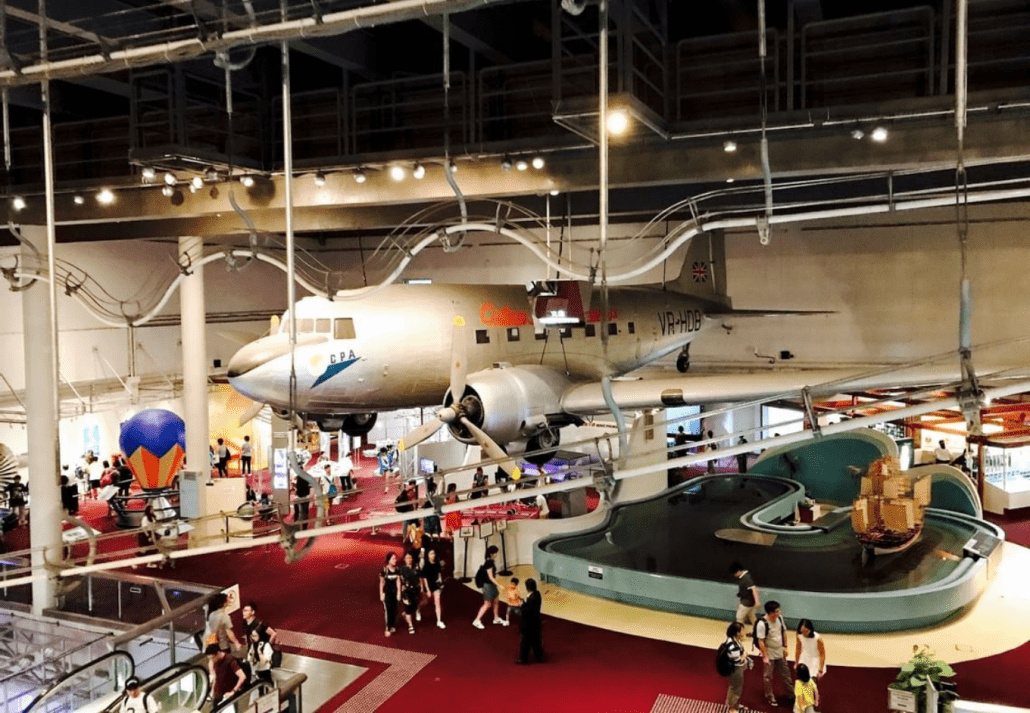 A favorite among Hong Kong Children and tourists as well, the Hong Kong Science museum harbors state-of-the-art interactive exhibits that cover diverse areas of science: electricity and magnetism, biodiversity, and earth science, to name a few.
Some of the fun activities kids will get to experience in the museum include creating their own hills and rivers in a sandbox, closely admiring beautiful minerals, exploring forests and mangroves, and visualizing the wave pattern of sound inside a long transparent tube.
The centerpiece of the museum? The 22-meter-high Energy Machine, which is the largest machine of its kind in the world and occupies four stories of space. This mighty exhibit demonstrates energy conversion through the movement of balls down the towers, producing dramatic sounds and visual effects.

Address: 2 Science Museum Rd, Tsim Sha Tsui East
Sai Kung Country Park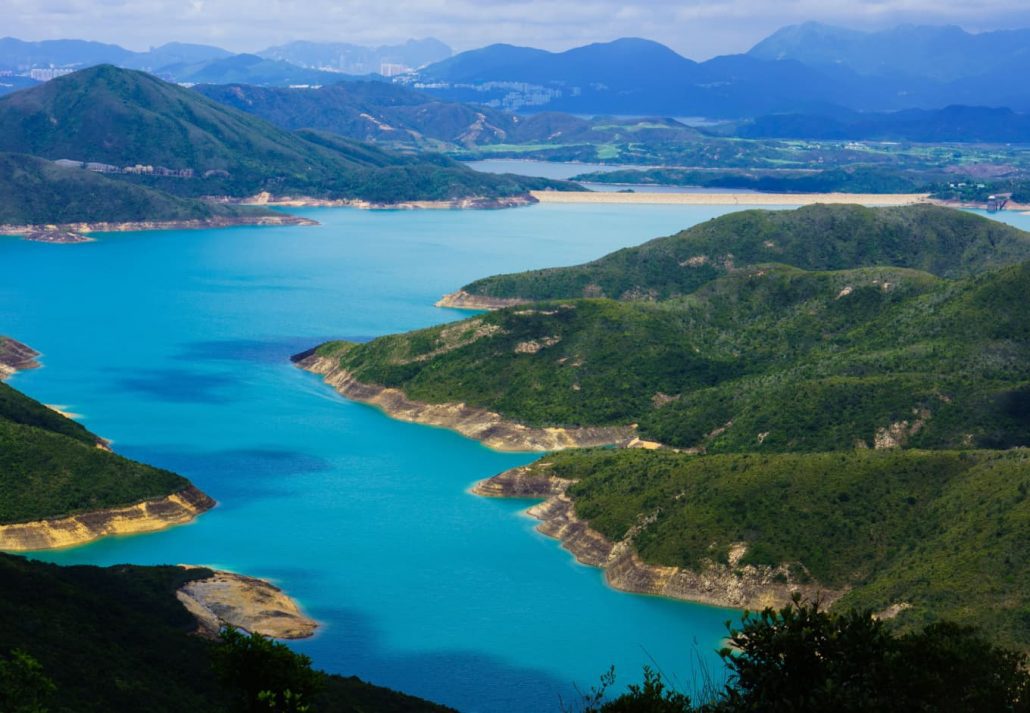 Hong Kong is not only about skyscrapers and hectic city life. Families seeking an adventurous time away from the island's bustling streets can head out of the city center and explore some awesome nature marvels throughout Hong Kong's country parks.
Covering 4,494 hectares of uplands and coasts, Sai Kung is one of the most sought-after country parks on the Island. It has the largest number of bays and coves among all country parks, as well as scenic hiking trails, and idyllic beaches like Sai Wan, Ham Tin Wan, Tai Wan, and Tung Wan. These powdery white sand beaches set against rugged green hills are the park's major attractions and provide a glorious setting for restoring family time around nature.
Hong Kong Maritime Museum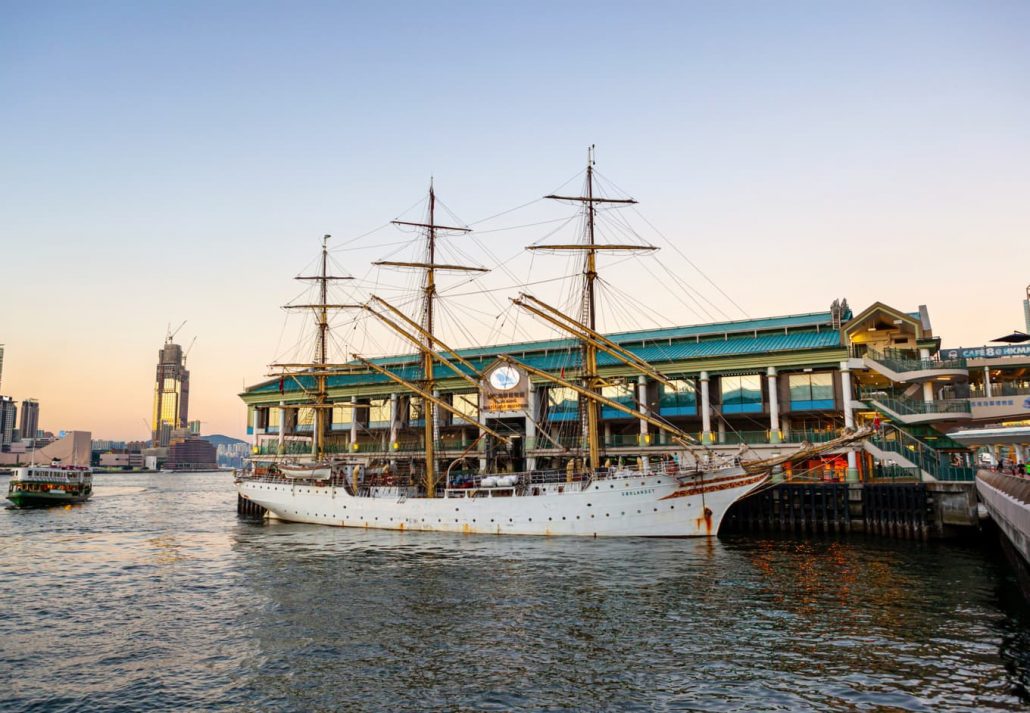 While snooping around the Hong Kong Maritime Museum, kids will get the chance to learn about China's rich maritime history. Located on Pier 8, in the heart of the Central Harbour Waterfront, this vibrant museum draws a staggering number of 100,000 visitors annually thanks to its precious collection of more than 1,200 objects.
The museum overlooks Victoria Harbour and has 13 galleries. Highlights include weapons once used by pirates, a huge cannon that the Qing Dynasty used in coastal defenses, and an extraordinary ink painting scroll that depicts the nine-day Battle of Lantau.
Address: Central Pier No. 8, Hong Kong
Hong Kong Observation Wheel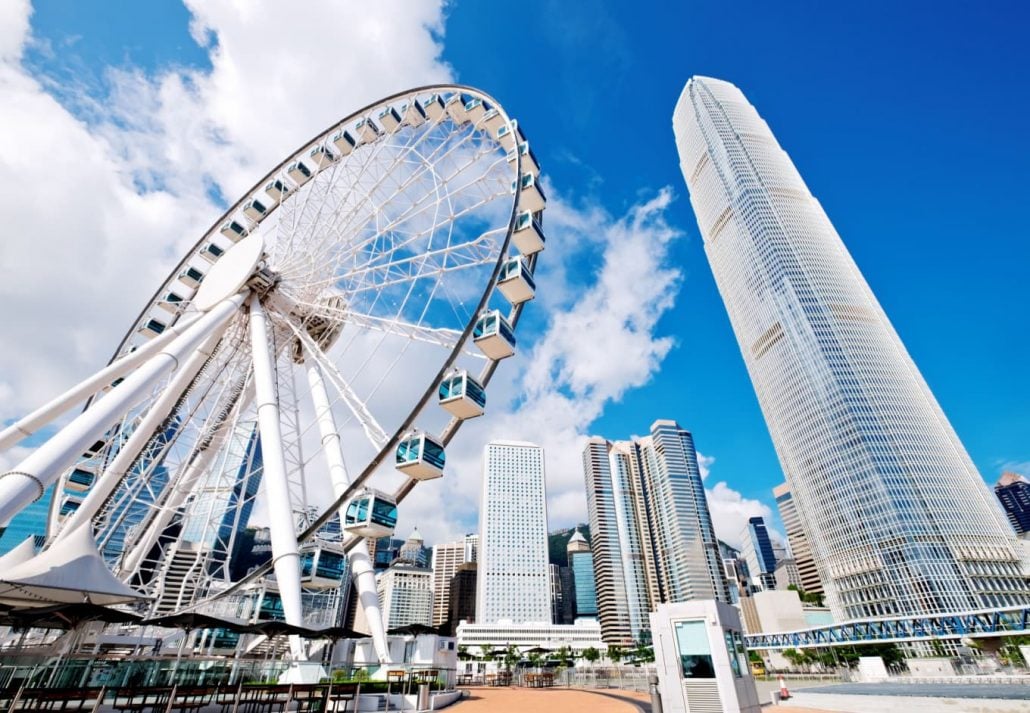 Little adventurers will have the best time while riding the Hong Kong Observation Wheel. Located at the Central Harbourfront, at the AIA Vitality park, this 197-foot tall Ferris wheel offers the most jaw-dropping views of both Hong Kong Island and Tsim Sha Tsui.
Curious fact: the Hong Kong Observation Wheel made an appearance in the 2021 monster film Godzilla vs. Kong.
Address: 33 Man Kwong St, Central, Hong Kong
Hong Kong Museum of History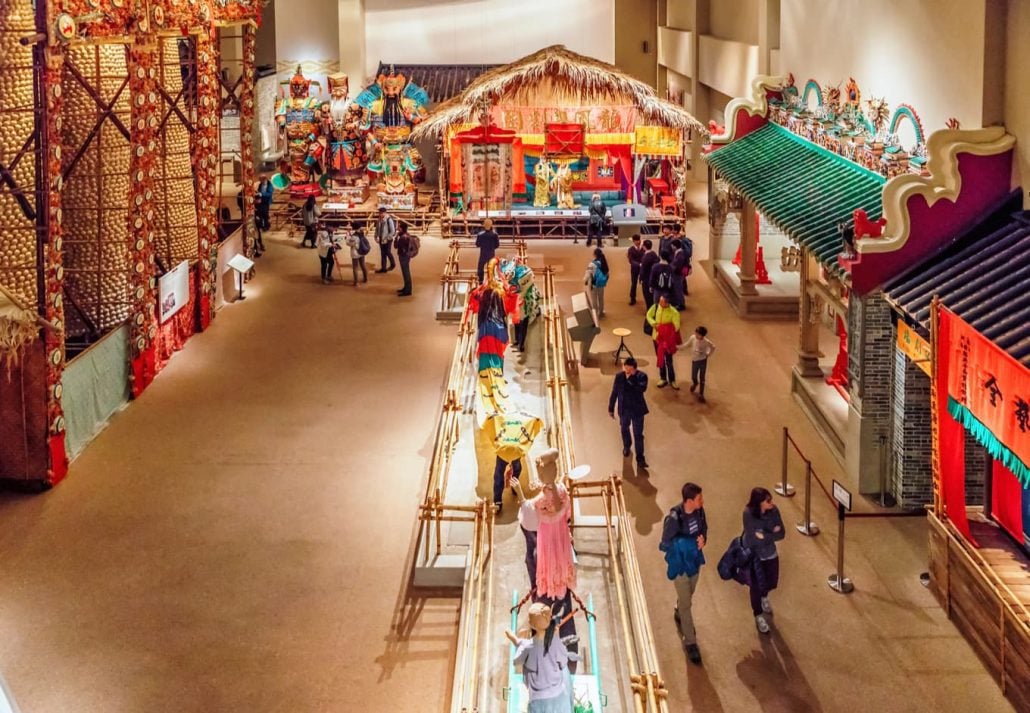 The Hong Kong Museum of History provides children with the chance to learn about Hong Kong's history through a variety of fascinating relics and objects. Divided into three major areas of interest — natural history, ethnography, and local history —, the museum preserves Hong Kong's historical and cultural heritage through a collection of over 140,000 precious items.
While discovering the museum's dazzling collection, little ones will come across a variety of treasures such as ancient coins, 2,800 rock and mineral specimens, and commercial letters rescued from dustbins, which will take them on a journey back in time. Must-see items in the museum include the timetable of the Kowloon-Canton railway, dating from 1912, an ancient Cantonese opera performer's dressing table, and beaded bands worn by a woman boat dweller.
Address: 100 Chatham Rd S, Tsim Sha Tsui
Hong Kong Heritage Museum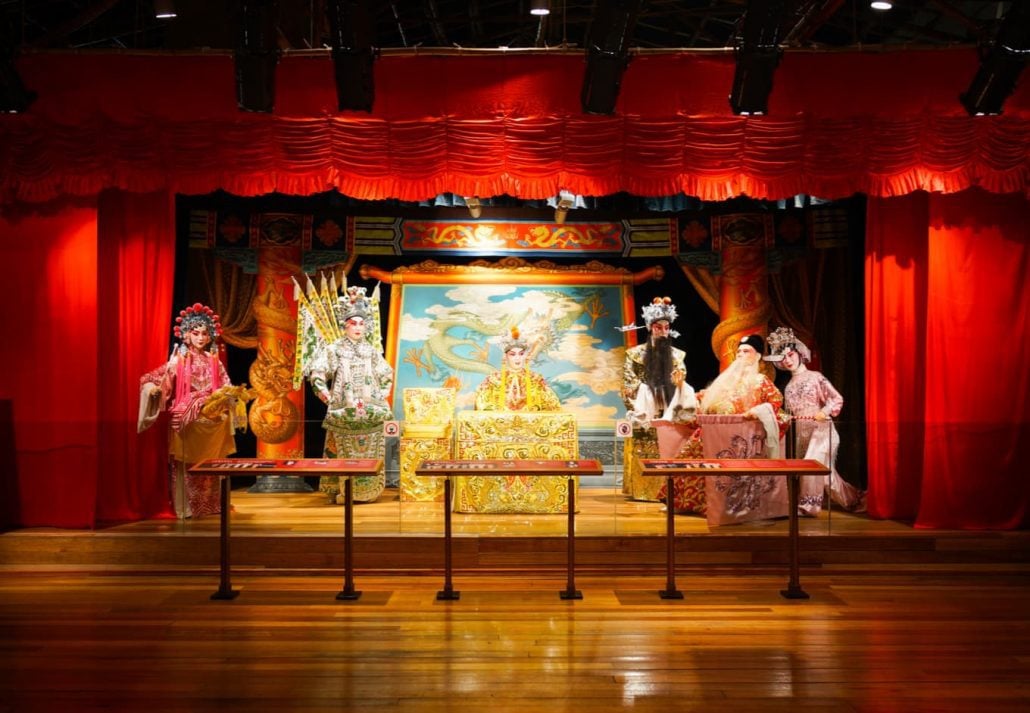 Nestled beside the Shing Mun River, the Hong Kong Heritage is a museum of history, art, and culture. It boasts an ample exhibition area that features 5 permanent galleries — the Jin Yong Gallery, the Cantonese Opera Heritage Hall, the T.T. Tsui Gallery of Chinese Art, the Chao Shao-an Gallery, and the Children's Discovery Gallery. There are also six thematic galleries that host temporary exhibitions showcasing the diverse treasures of Chinese heritage.
While browsing through the museum's galleries, expect to come across a variety of relics, including Tin Hau's Palanquin, made in 1906, a woman's embroidered ceremonial robe, and a gilt-copper statue of the Chinese goddess Guanyin.
Address: 1 Man Lam Road, Sha Tin, Hong Kong
Hong Kong Zoological and Botanical Gardens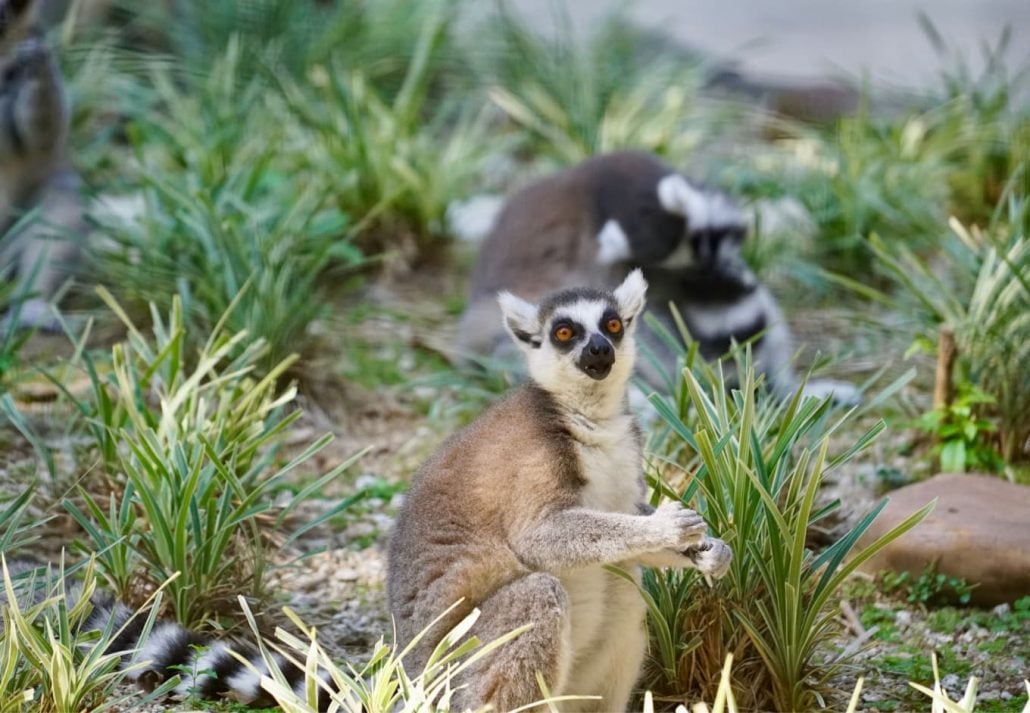 The Hong Kong Zoological and Botanical Garden is an oasis of peace and tranquility in the middle of the city. One of the oldest zoological and botanical centers in the world, and the oldest park in Hong Kong, the zoo is home to over 400 birds, 70 mammals, and 30 reptiles. Some of the dazzling creatures kids will find in the zoo include the small and agile Common Squirrel Monkeys, Golden Lion Tamarins, a two-toed sloth, 5 species of tortoise, and lemurs, to name a few.
Aside from harboring a myriad of wild creatures, the zoo also plays host to Asia's largest greenhouse with over 2,000 species of rare plants. The garden is often filled with the fragrance of roses, mock lime, orange-jessamine, and white jade orchid tree, and it's a prime place for viewing the fall foliage in Hong Kong.
Address: Albany Rd, Central, Hong Kong
FAQ
What can you do in Hong Kong island with kids?
Where to go in Hong Kong with Kids:
Victoria Peak;
Victoria Harbour;
Hong Kong Park;
Lantau Island;
Ocean Park Hong Kong;
Hong Kong Disneyland;
Hong Kong Space Museum;
Hong Kong Science Museum;
Sai Kung Country Park;
Hong Kong Maritime Museum;
Hong Kong Observation Wheel;
Hong Kong Museum of History;
Hong Kong Heritage Museum;
Hong Kong Zoological and Botanical Gardens.

Is Hong Kong family-friendly?
Yes. When visiting Hong Kong with kids, travelers are happily surprised to find a variety of attractions — from state-of-the-art interactive exhibits to theme parks — that are suitable for the little ones to enjoy.
What should I not miss in Hong Kong?
The top attractions in Hong Kong are:
Victoria Peak (Mount Austin);
Victoria Harbour;
Hong Kong Central neighborhood;
Man Mo Temple;
Lantau Island;
The Star Ferry;
Disneyland Hong Kong;
Ocean Park.
What is the best time for visiting Hong Kong?
Hong Kong Island is a year-round destination thanks to its subtropical location. Summers, though, can be extremely hot and humid, and during the Spring (in September), it's typhoon season in the city. So the best time to visit Hong Kong is from October to early December.
What are the best kid-friendly museums in Hong Kong?
Hong Kong Space Museum;
Hong Kong Science Museum;
Madame Tussauds Hong Kong;
Hong Kong Maritime Museum;
Hong Kong Museum of History;
Hong Kong Heritage Museum.
CuddlyNest provides all accommodations to all travelers at the best price. Find unlimited travel inspiration on our blogs and our social media channels Facebook, Instagram, and Pinterest.
You May Also Like:
The 6 Best Night Clubs In Hong Kong
A Guide To The Best Wineries In Hong Kong
A Guide To The Best Shopping In Hong Kong
The 6 Best Beaches In Hong Kong
The 5 Best Amusement Parks In Hong Kong
The Best 5-Star Hotels In Hong Kong
The Best Time To Visit Hong Kong
10 Best Restaurants In Hong Kong
The 6 Best Night Clubs In Hong Kong