Miami is the ultimate destination for families with kids who are looking for a fun-filled vacation. Boasting sunny weather, beautiful beaches, and endless attractions, it's no wonder that the city is a big hit for adults and kids alike.
One of the biggest draws for families in Miami is its stunning coastline. There's Miami Beach, perfect for building sandcastles and splashing around in the turquoise waters, and the 2-mile-long Crandon Park, home to a playground, a nature center, and even a carousel.
Not to mention that Miami has numerous parks that offer a variety of outdoor activities for the whole family. Jungle Island is a must-visit, as it offers adorable animal encounters and heart-racing zip line rides. For those interested in marine life, the Miami Seaquarium is the perfect destination.
We handpicked the 25 most fun things to do in Miami with the kids. These top-notch attractions will undoubtedly wow everyone on your crew! Have a look below to learn more.
The Top 25 Things to Do in Miami With Kids
Miami Children's Museum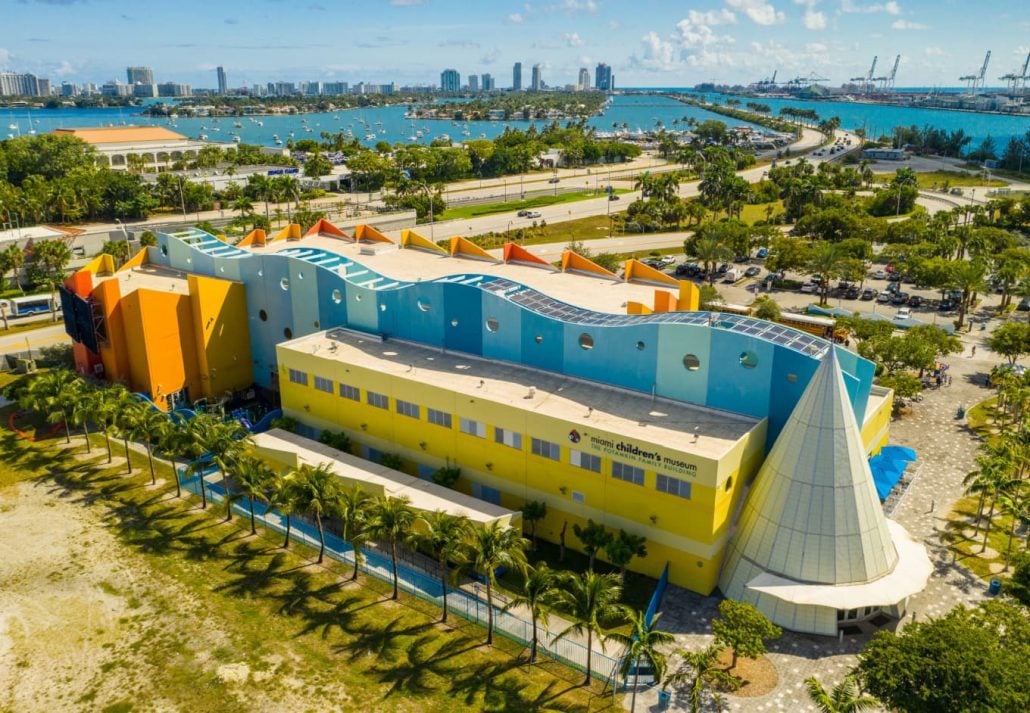 At the Miami Children's Museum, toddlers can experience hands-on playful exhibitions that will spark their natural curiosity in a fun, exciting way. Located on Watson Island, this family-friendly museum has more than 14 interactive and bilingual exhibits, including a cruise Ship exhibit, which allows children to experience what it's like to be on a cruise ship, complete with a virtual ocean and a ship's bridge.
Another must-see in the Children's Museum is the "Health and Wellness Center" where toddlers can measure their long jump and explore an obstacle course
In addition, the museum harbors marine tanks showcasing Florida wildlife, an outdoor playground, and a splash pad, perfect for the little ones to cool off on a hot Miami day!
Address: 980 MacArthur Causeway, Miami, FL
Fairchild Tropical Botanic Garden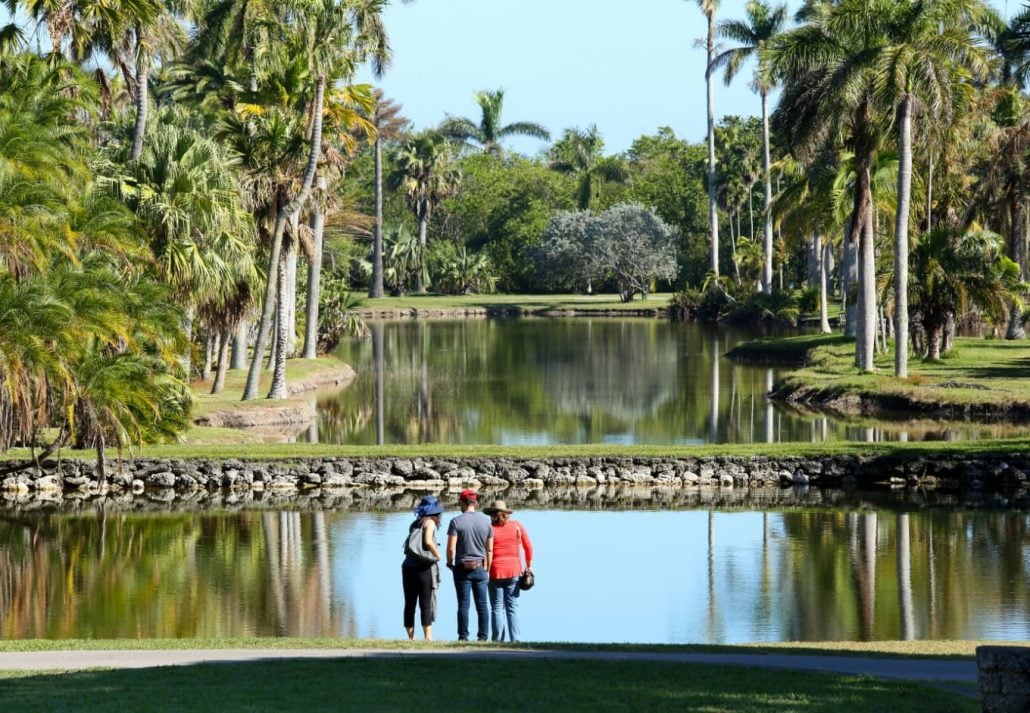 Located in the Coral Gables area, the Fairchild Tropical Botanic Garden is a tropical oasis where pure magic awaits. The garden covers 83 acres of land and is home to an incredible collection of rare and exotic plants from around the world.
While snooping around the gardens, the little ones will experience an explosion of colors and smells, and get the chance to see everything from huge Victoria water lilies to 7,000 Caribbean-native species.
One of the highlights of the garden is the Wings of the Tropics exhibit, where children can observe hundreds of butterflies and moths from around the world in a tropical environment.
The garden also features a rainforest exhibit, a tropical fruit pavilion, and a conservatory filled with orchids, bromeliads, and other exotic plants.
Address: Coral Gables, FL
Crandon Park
Crandon Park is an 808-acre urban oasis nestled in the heart of Key Biscayne, just a 15-minute drive from Miami. Offering endless fun and relaxation for both parents and children, the park is home to a scenic waterfront promenade, and a stunning two-mile beach where the little ones can swim and build sand castles.
There's also an amusement center with a carousel and roller rink, a nature center offering educational and entertaining activities for kids, a golf course, and a breezy picnic area.
Address: 6747 Crandon Blvd, Key Biscayne, FL
Everglades National Park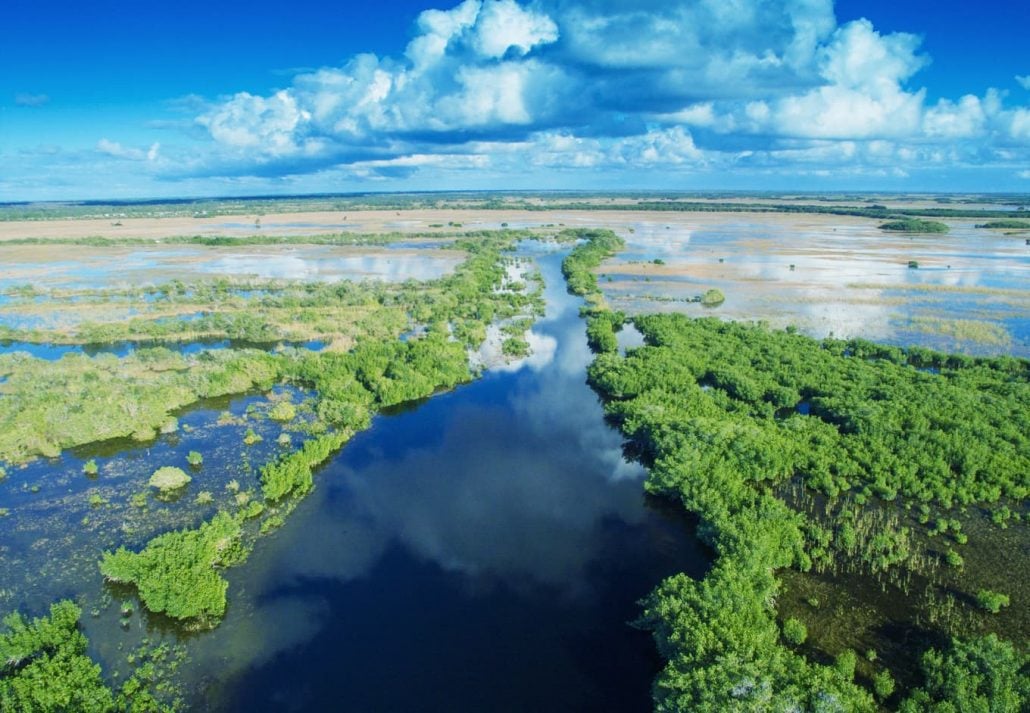 The Everglades National Park offers both adults and children the chance to experience nature in an exciting way. Regarded as one of the best places to visit in Florida, this sprawling preserve protects the southern 20% of the Florida Everglades, a region comprising tropical wetlands and a rich ecosystem not found anywhere else on Earth.
One of the best ways to explore this 1.5 million-acre wetland preserve is on an airboat ride. While winding through coastal mangroves, sawgrass marshes, and pine Flatwoods, kids will come across a dazzling wealth of Florida wildlife, including alligators, crocodiles, turtles, several bird species, and endangered species like the Florida panther.
Address: There are various park entrances and visitor centers that border the 1.5 million acres of Everglades National Park
Zoo Miami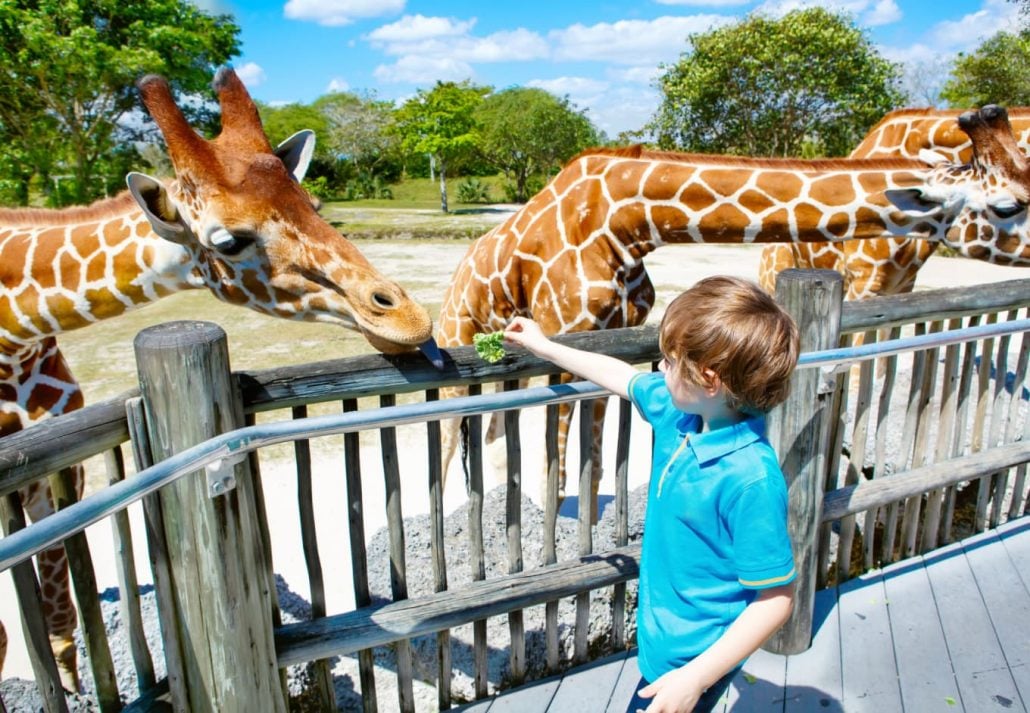 Zoo Miami is a go-to destination for families looking to have an unforgettable animal adventure. With almost 750 acres and 4 miles of walkways, the zoo is home to over 2,500 animals of almost 400 different species
From the African savanna to the Amazon rainforest, Zoo Miami is home to a diverse range of animal species, including lions, tigers, elephants, crocodiles, and other wild creatures.
One of the highlights of Zoo Miami is the animal interaction experiences, such as feeding giraffes, riding camels, and petting farm animals.
Families can ride the monorail, which provides an aerial view of the animals and the zoo, or take a leisurely stroll along the shaded pathways and explore the different animal exhibits.
Address: 12400 SW 152nd St, Miami, FL
Phillip and Patricia Frost Museum of Science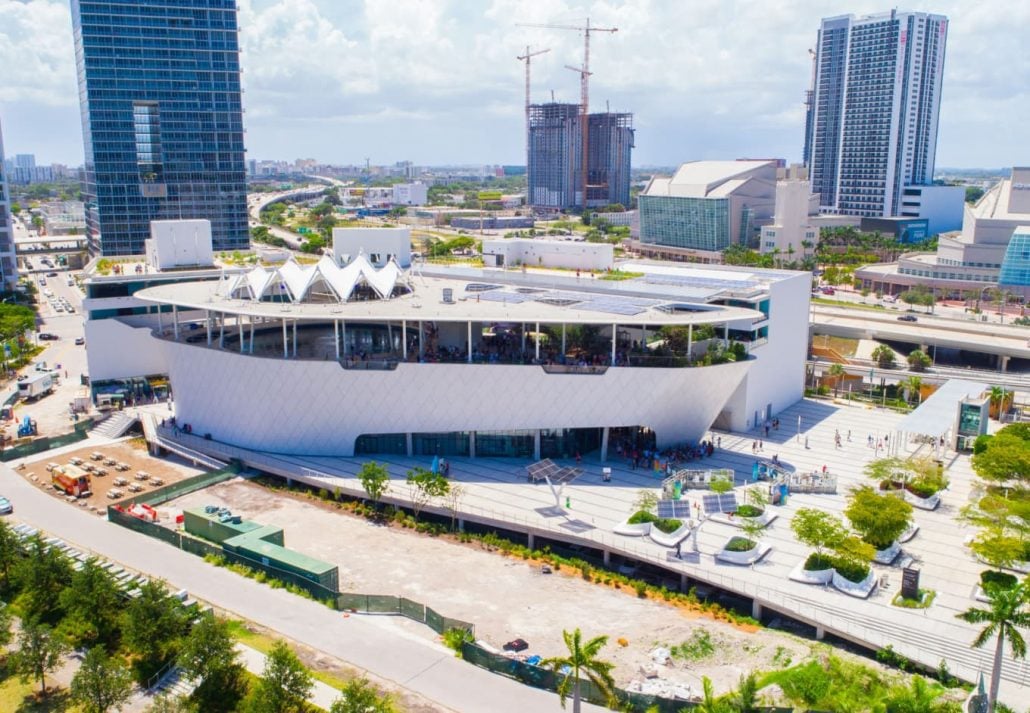 The Phillip and Patricia Frost Museum of Science is the perfect place for children to learn about the mysteries of the world. There are six floors of interactive exhibits, which allow kids to learn about the human body, the physics of light and sound, and the properties of water and weather.
Exhibits in the North and West Wings include an immersive laser show, an Everglades exhibit, and a biology exhibit
Other museum highlights are the state-of-the-art planetarium, where families can learn about the universe and watch breathtaking shows on a 67-foot dome, and the 3-level aquarium, which features a 500,000-gallon tank that houses a diverse range of marine life, including sharks and stingrays.
Address: 1101 Biscayne Blvd, Miami, FL
Venetian Pool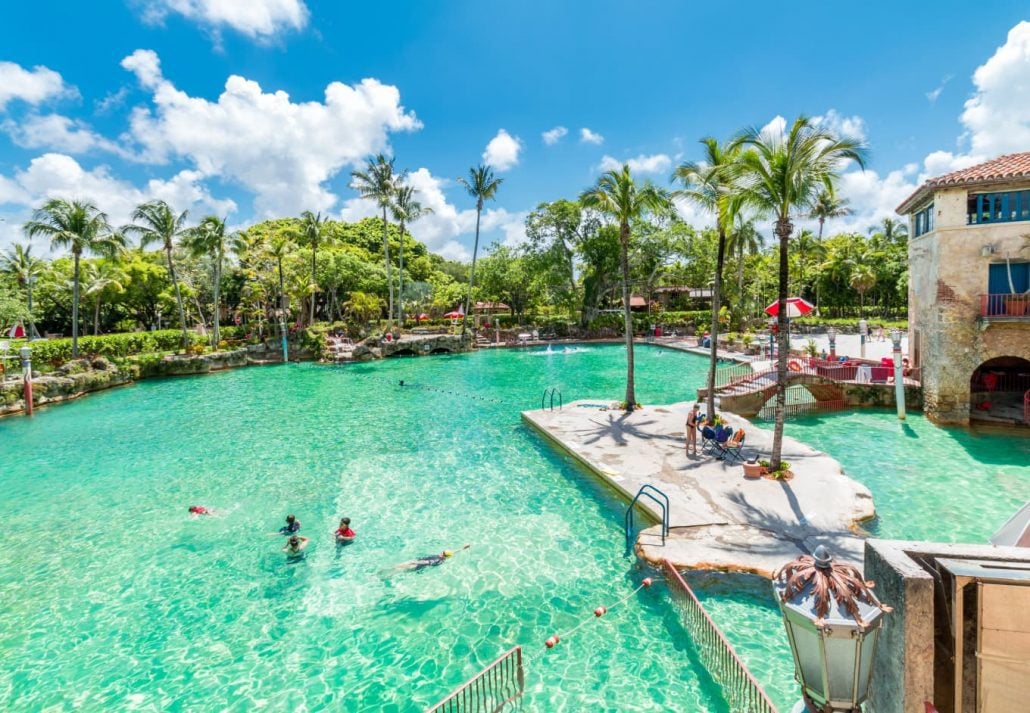 If you stick around for the summer, drive to Coral Gables and dive deep into the city's spectacular Venetian Pool. Located in Coral Gables, this historic pool was built in the 1920s and features stunning Venetian-style architecture and crystal-clear spring water.
The Venetian Pool is open to the public and is fed with spring water from an underground aquifer. Children can splash around in the shallow areas of the pool, while adults can relax on the sandy beach or lounge chairs.
The pool also features waterfalls, grottos, and caves, providing plenty of opportunities for exploration and adventure.
Curious Fact: the Venetian Pool is the only swimming pool on the National Register of Historic Places.
Address: 2701 De Soto Blvd, Coral Gables, FL
Wynwood Walls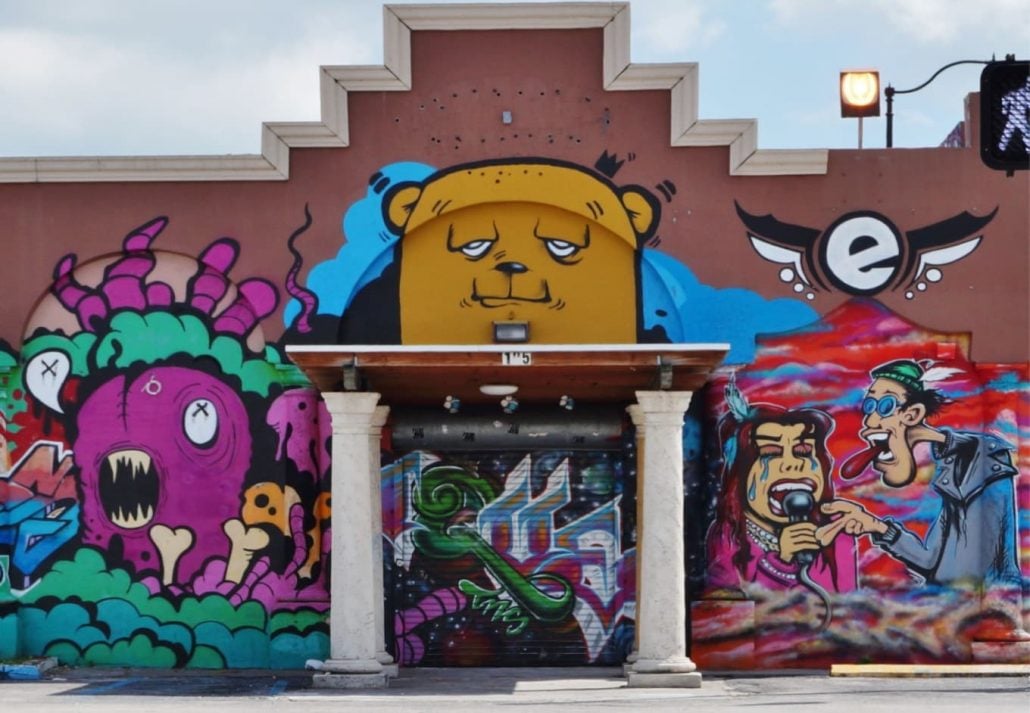 Searching for a culture-filled activity to enjoy with the kids? Then a visit to the Wynwood Walls is a must. Located in the Miami Design District, this vibrant outdoor museum is home to an array of huge colorful murals and street art, making it the perfect place to immerse your kids in art and creativity.
They'll get the chance to see everything from eye-popping pieces to provoking murals by renowned artists and playful and whimsical works.
Beyond the walls themselves, there's a lot to explore in the surrounding area, from quirky shops and galleries to trendy cafes and restaurants.
Address: 2516 NW 2nd Ave, Miami, FL
Lummus Park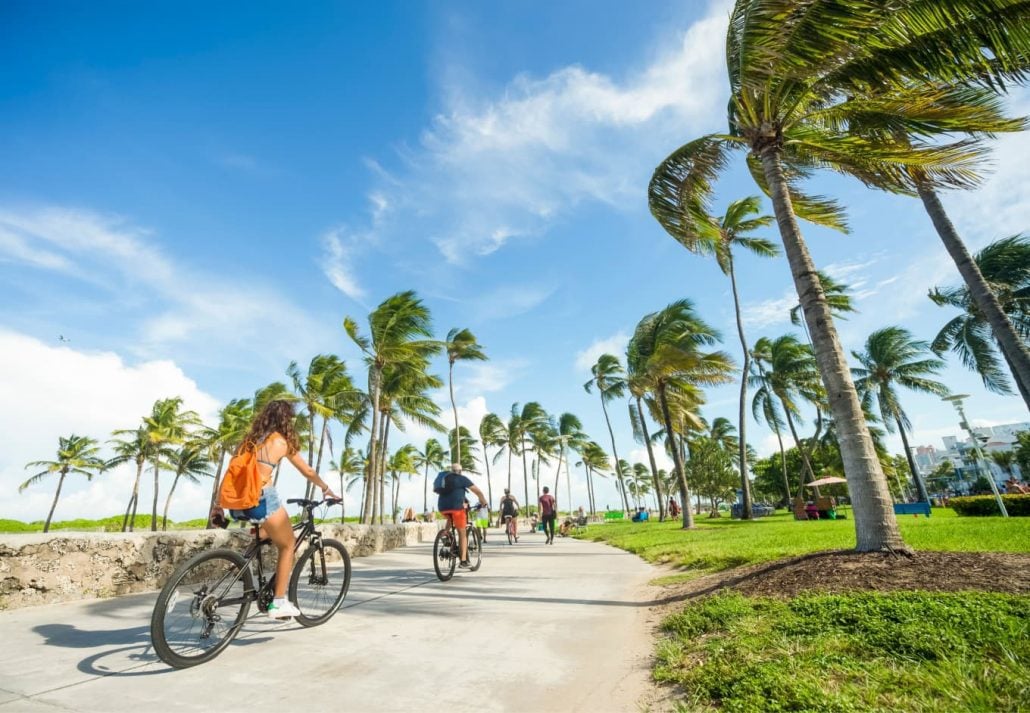 Lummus Park is a great place for families to enjoy Miami's irresistible sunshine. Located on South Beach, this popular park is bordered by the Atlantic Ocean on one side and the iconic Ocean Drive on the other, and offers visitors easy access to the beach.
Families can enjoy playing on the sand, swimming in the ocean, and soaking up the sun while relaxing on the beach chairs. Besides the beach itself, Lummus Park has a playground area where kids can climb, swing, and slide.
Lummus Park is also home to the Art Deco Welcome Center, where families can learn about Miami's history and culture. The center offers free guided tours of the Art Deco Historic District, which is a great way to explore the colorful buildings and architecture of South Beach
Address: 1130 Ocean Dr, Miami Beach, FL
Tidal Cove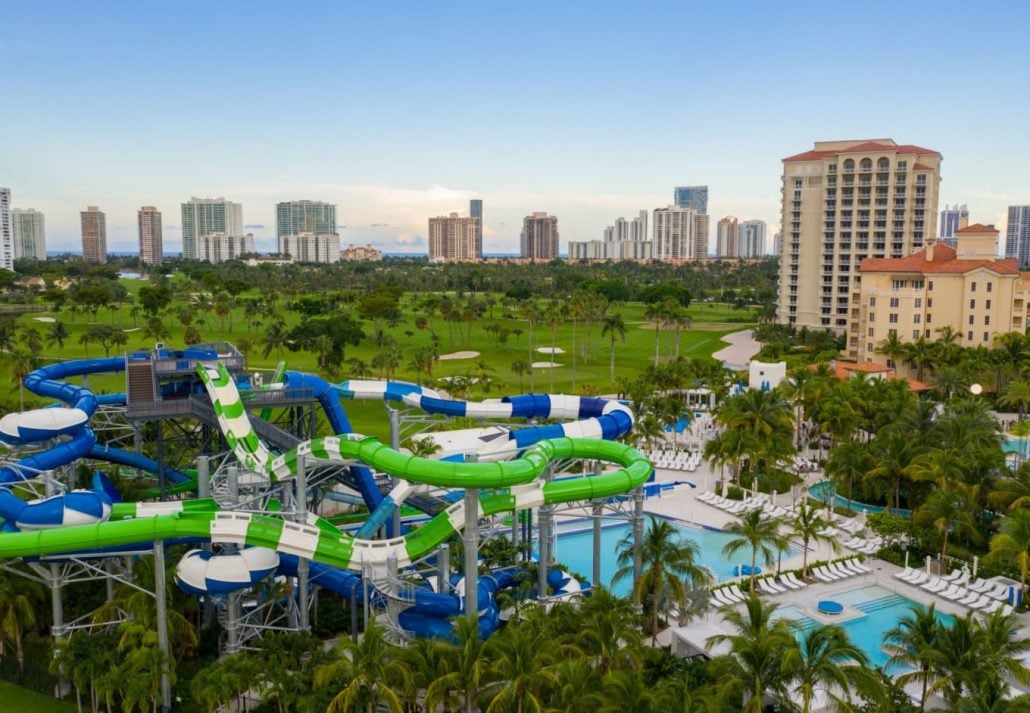 Tidal Cove Aventura is the perfect place to cool off from the intense Florida heat. The water park is home to several water slides, including the heart-stopping MasterBlaster, the world's first uphill waterslide, and the "FlowRider," which simulates surfing waves.
Gentler options for toddlers include a lazy river, and the Kids Cove, a 4,000-square-foot kids' swimming pool and emoji-inspired aquatic playscape.
Address: 19999 W Country Club Dr, Aventura, FL
Oleta River State Park
Oleta River State Park is a wonderland for families seeking to spend some time in nature. With 1043 acres of green space set against Biscayne Bay, Florida's largest urban park offers visitors the opportunity to enjoy a maze of outdoor activities like hiking, kayaking, biking, and swimming.
Visitors can also snorkel off Biscayne Bay in the parks's saltwater lagoon, and canoe through Oleta's stunning mangrove forest, which is home to a diverse array of wildlife, including manatees, ospreys, and herons.
There are also several picnic areas where you can enjoy a family meal while taking in the beautiful surroundings.
Address: 3400 NE 163rd St, North Miami Beach, FL
Jungle Island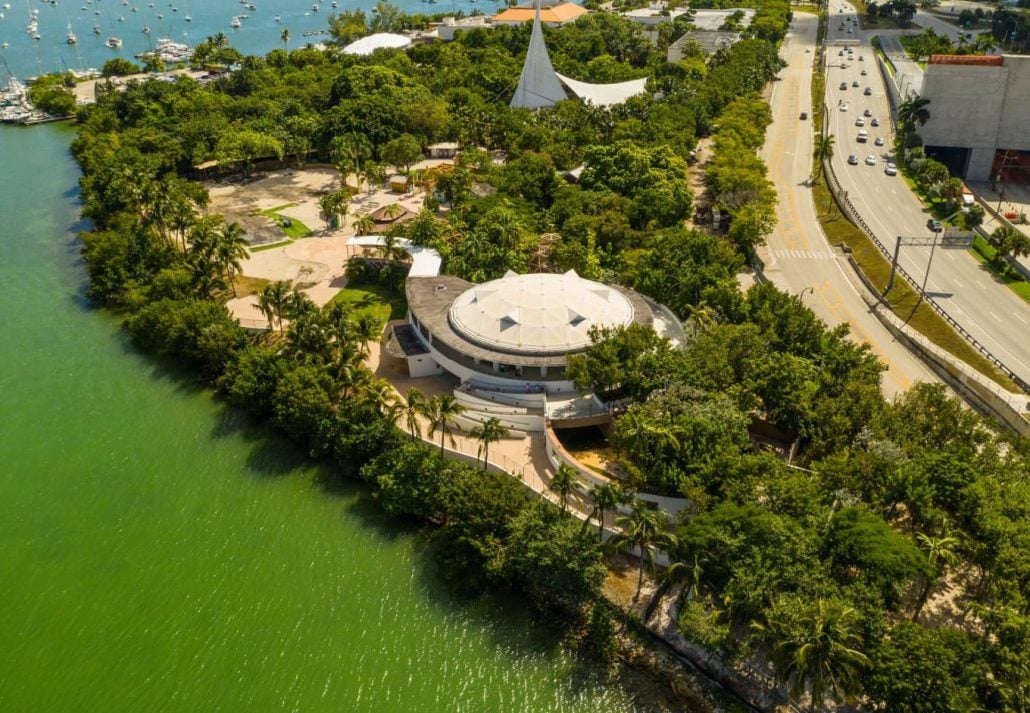 Jungle Island is a fantastic family attraction located in the heart of Miami. The park sits on Watson Island harboring a petting zoo where visitors can have wild encounters with capybaras, giant tortoises, kangaroos, and sloths, among other creatures.
Families can also stroll through the park's tropical lush gardens, go rock climbing, and zipline.
For toddlers, the Treewalk Village is definitely worth visiting. Here, children can become explorers and climb from tree house to tree house through 8 ft tall hammocks, nets, and wood bridges!
South Pointe Park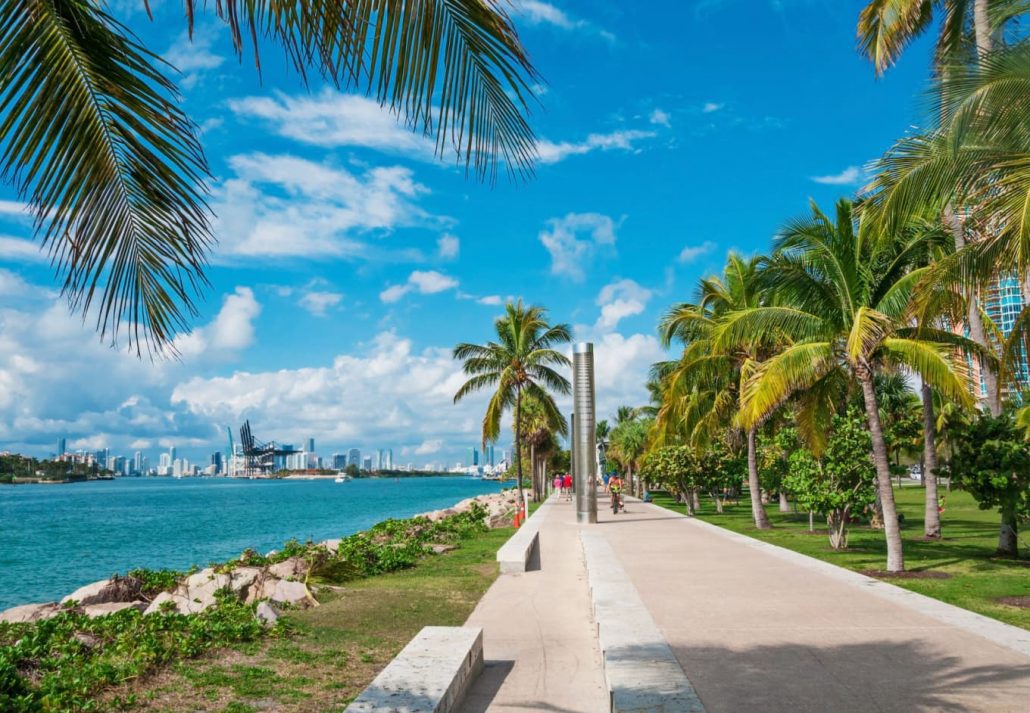 South Pointe Park is a beautiful urban park located at the southernmost tip of Miami Beach. The park boasts stunning views of the South Beach shoreline and the city skyline, as well as plenty of green space for picnics and relaxation.
One of the park's main attractions is the beach, which has crystal-clear water and soft sand perfect for swimming and sunbathing. There's also a playground area, a fishing pier, and a water playground where kids can cool off on hot days.
This is a great place to take the kids and enjoy some outdoor time in Miami.
Address: 1 Washington Avenue, Miami Beach, FL
Bill Baggs Cape Florida State Park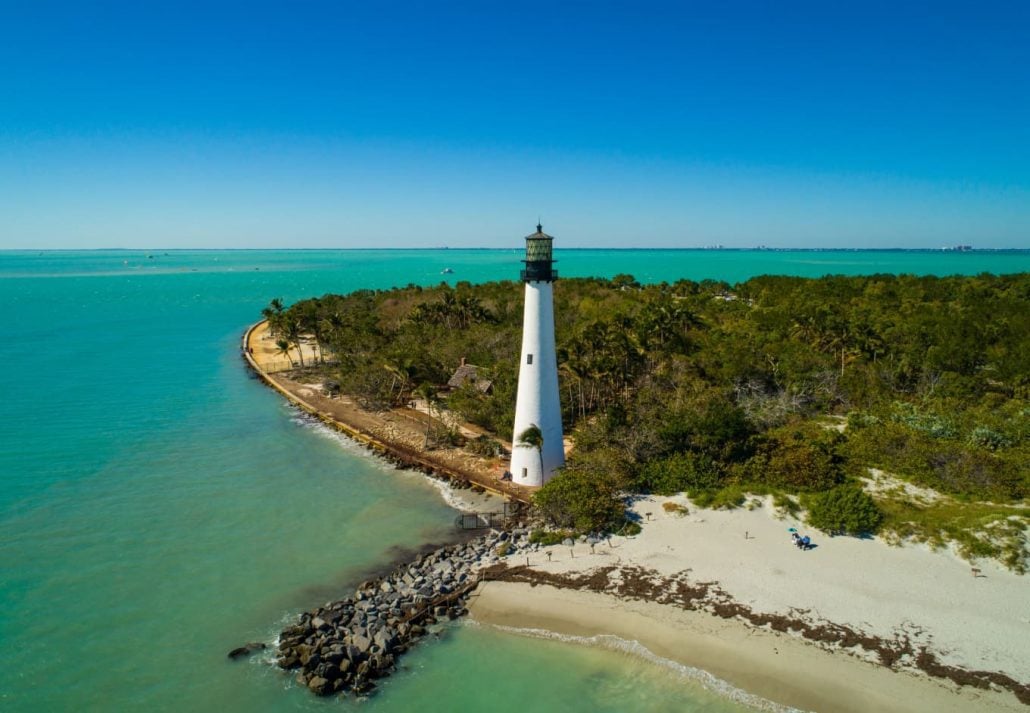 Situated just minutes from downtown Miami, on the tip of Key Biscayne, Bill Baggs Cape Florida State Park encompasses an array of pristine beaches ideal for swimming and sunbathing.
The park also has a 1.5-mile-long paved bike path and unpaved service roads, some of which will take you beneath the trees, and others offer views of Biscayne Bay.
In the park, families can also visit the historic Cape Florida Lighthouse, which was built in 1825 and is the oldest standing structure in Miami-Dade County. The lighthouse offers a breathtaking view of the Atlantic Ocean and Biscayne Bay.
Address: Cape Florida Lighthouse, 1200 Crandon Blvd, Key Biscayne, FL
Bayfront Park
Bayfront Park is a 32-acre green oasis in the heart of Miami that is perfect for families. This waterfront park is located along Biscayne Bay and is home to a plethora of attractions, including a children's playground, a splash fountain, and a great amphitheater that hosts many concerts and events throughout the year.
Families can also take a stroll through the park's lush gardens and winding walkways, and relax in the sandy beach area. There are bikes, paddle boats, or kayaks available for those seeking to explore the bay.
Another feature that the kids will love in the park is the Lee & Tina Hills Playground, which has a pirate ship, bouncers, slides, climbing areas, and a play sculpture with waves.
Matheson Hammock Park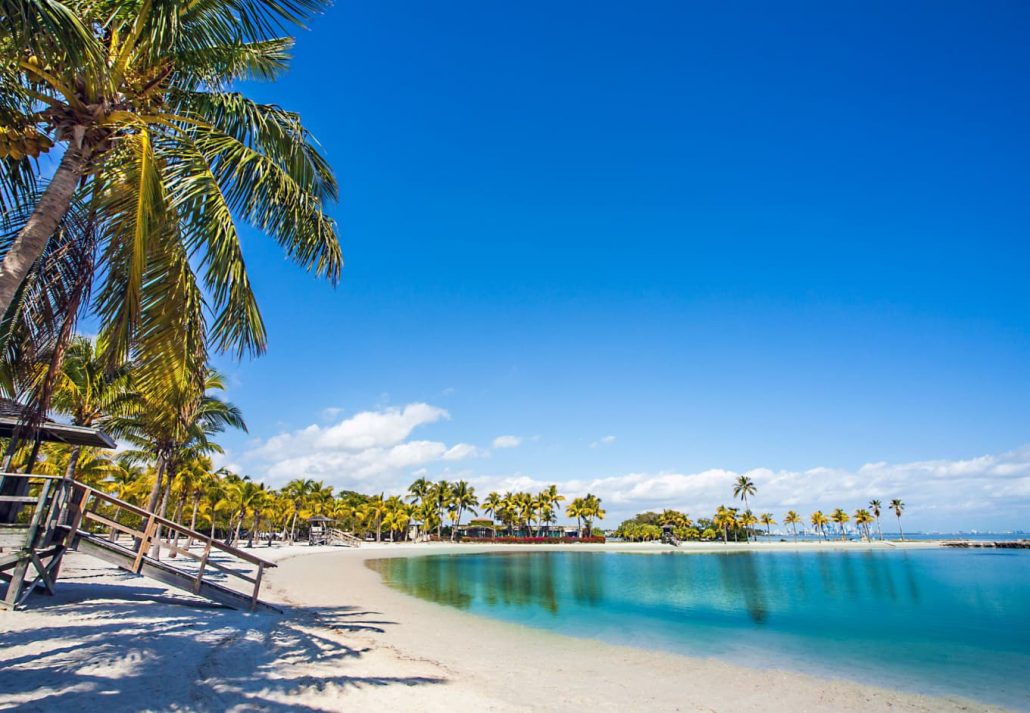 Matheson Hammock Park is a beautiful, picturesque park filled with fun-filled attractions. This 630 acres urban park has a man-made atoll pool that is filled with seawater, making it safe and enjoyable for kids of all ages to swim in.
The park is also home to a lovely marina, where families can rent kayaks, stand-up paddleboards, and other watercraft to explore the park's mangroves and bay.
In addition, Matheson Hammock Park has plenty of scenic hiking and bike trails and picnic areas, making it easy for families to enjoy a day out in nature.
One of the park's top attractions is the Matheson Hammock Park Beach, a circular sandy beach that offers stunning views of the ocean and is a great spot for swimming, sunbathing, and relaxing.
Address: 9610 Old Cutler Road, Coral Gables, FL
Biscayne National Park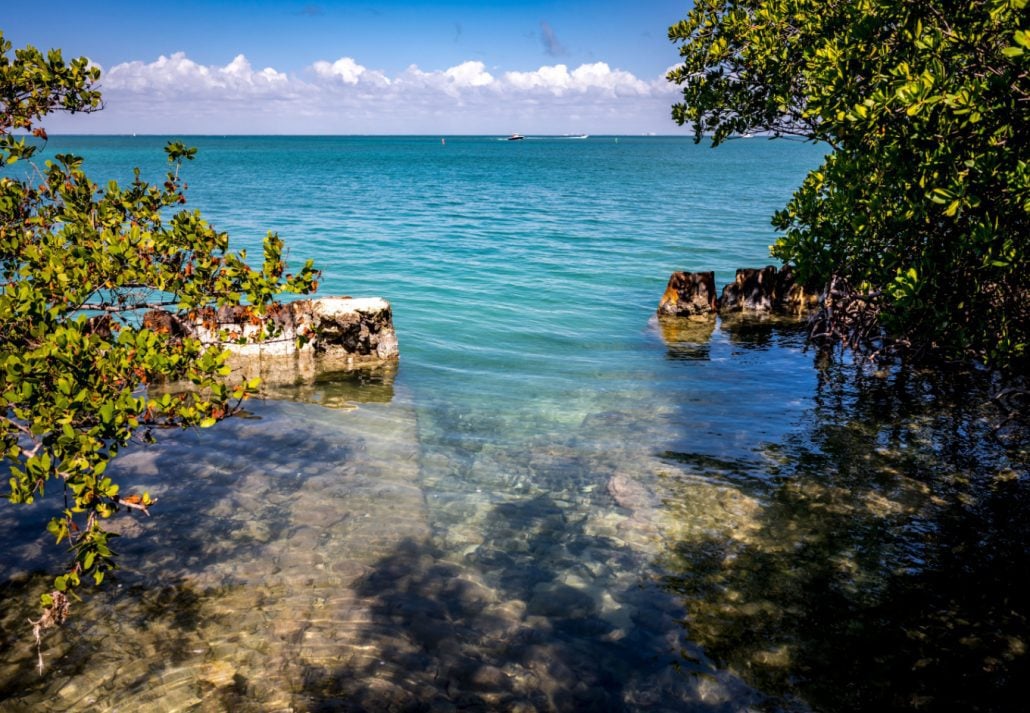 The Biscayne National Park is a wonderland for families seeking an outdoor adventure in Miami. This achingly beautiful park encompasses more than 170,000 acres of marine and coastal environments, including mangrove forests, coral reefs, and seagrass beds.
One of the top experiences available in the Biscayne National Park is snorkeling or scuba diving in crystal-clear waters, where the little ones will spot a variety of marine life, including colorful fish, sea turtles, and even dolphins.
Families can also go on a boat tour to explore the park's waterways. Kids will gaze wide-eyed at manatees, sea turtles, and other creatures.
Address: 9700 SW 328th Street, Sir Lancelot Jones Way, Homestead, FL
Kaseya Center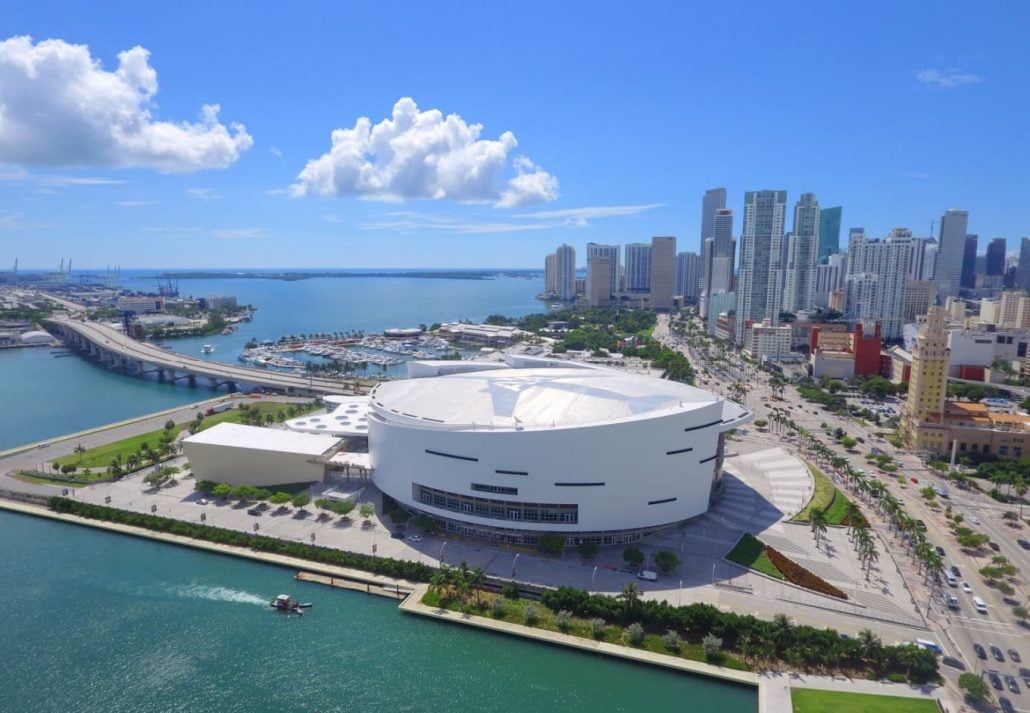 Kaseya Center is a multi-purpose arena located along Biscayne Bay. Formerly FTX Arena and the American Airlines Arena, Kaseya serves as the home to the Miami Heat basketball team.
With almost 20,000 seats, Kaseya Center is a popular and fun spot to watch an NBA game while in Miami. The excitement of the crowd, the cheers, and the energy of the game create a fantastic atmosphere that children are guaranteed to love!
Address: 601 Biscayne Blvd, Miami, FL 33132
FunDimension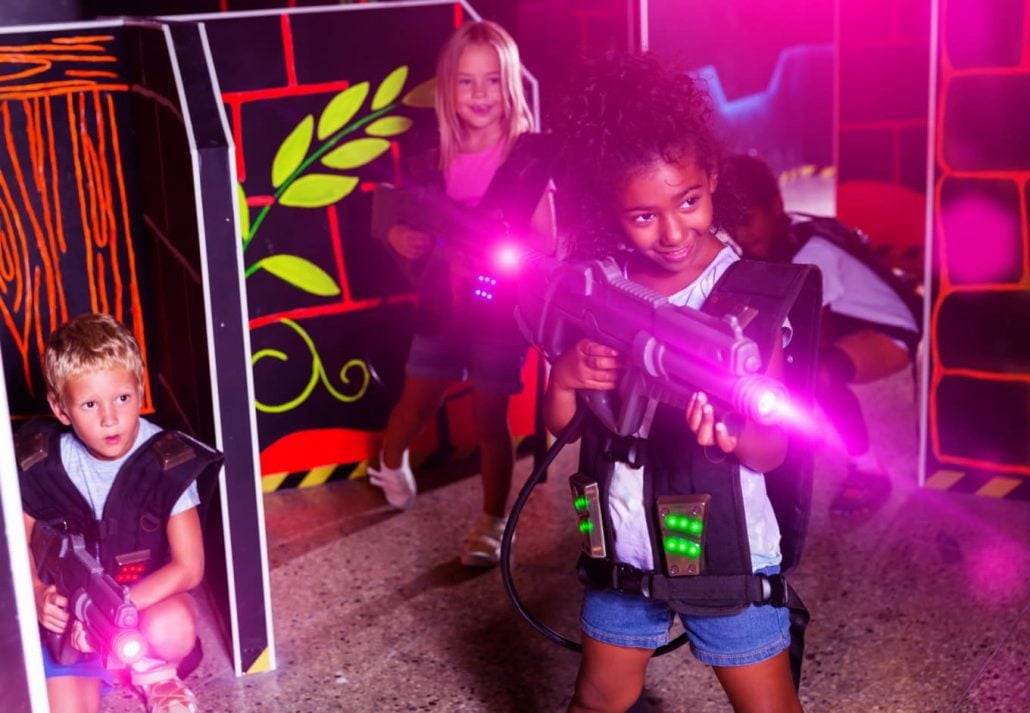 FunDimension is a warehouse-turned-indoor-arcade in the heart of Wynwood. It's a fun-filled destination for kids of all ages, including adults who are still kids at heart.
At this family amusement center, kids will find not just video games, but also laser tag bumper cars, arcade games, and a state-of-the-art 7-D theater.
Children can enjoy exploring the indoor playground and climbing up the obstacle courses!
Address: 2129 NW 1st Ct, Miami, FL 33127
Flamingo Gardens
Flamingo Gardens is a 60-acre botanical garden and wildlife sanctuary, located north of Miami. Containing some of the last jungle growth in South Florida, the park is a wonderland for nature lovers.
While exploring this lush wildlife sanctuary, kids will see over 80 kinds of animals, including the majestic Florida panther, black bears, and of course, flamingos. They'll also come across 3000 species of plants from around the world, some of which are extremely rare.
Address: 3750 S Flamingo Rd, Davie, FL
Miami Seaquarium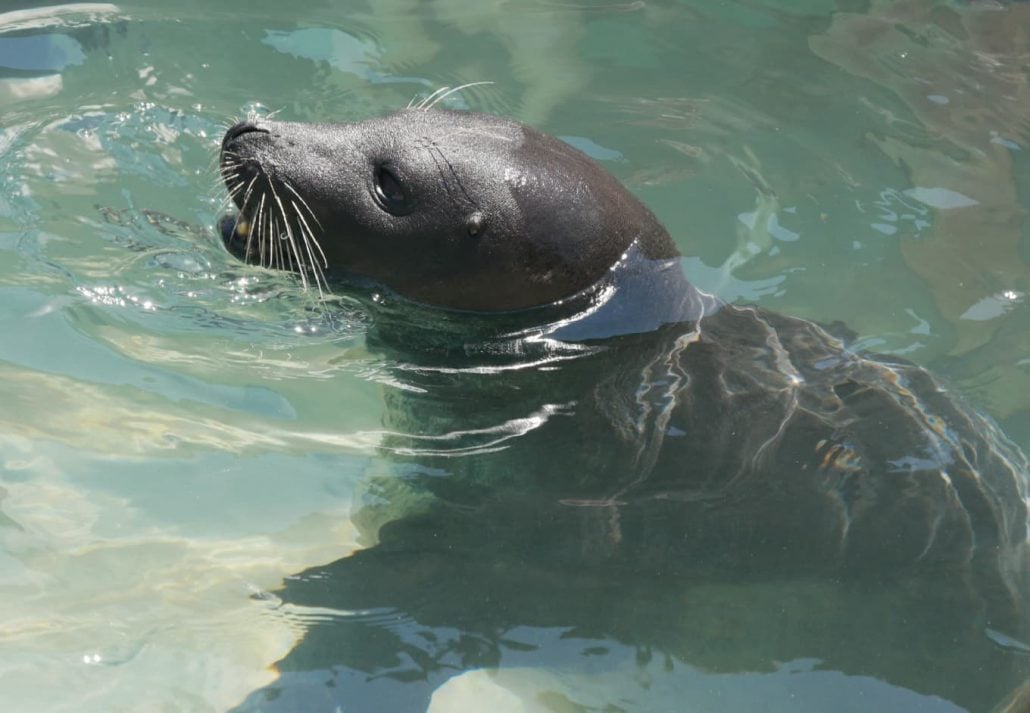 The Miami Seaquarium is a 38-acre oceanarium located on the island of Virginia Key in Biscayne Bay. This marine park has been entertaining families since 1955, making it one of the oldest oceanariums in the United States.
Here, kids can spend a fun-filled day exploring and learning about the underwater world. The aquarium is home to one of the world's largest collections of marine animals, composed of some 10,000 specimens such as dolphins, sea lions, sharks, manatees, and turtles.
The Miami Seaquarium has a Conservation Outpost, where the little ones can learn about wildlife rescue and the importance of marine animal care.
Address: 4400 Rickenbacker Causeway, Key Biscayne, FL
Miami Zoological Wildlife Foundation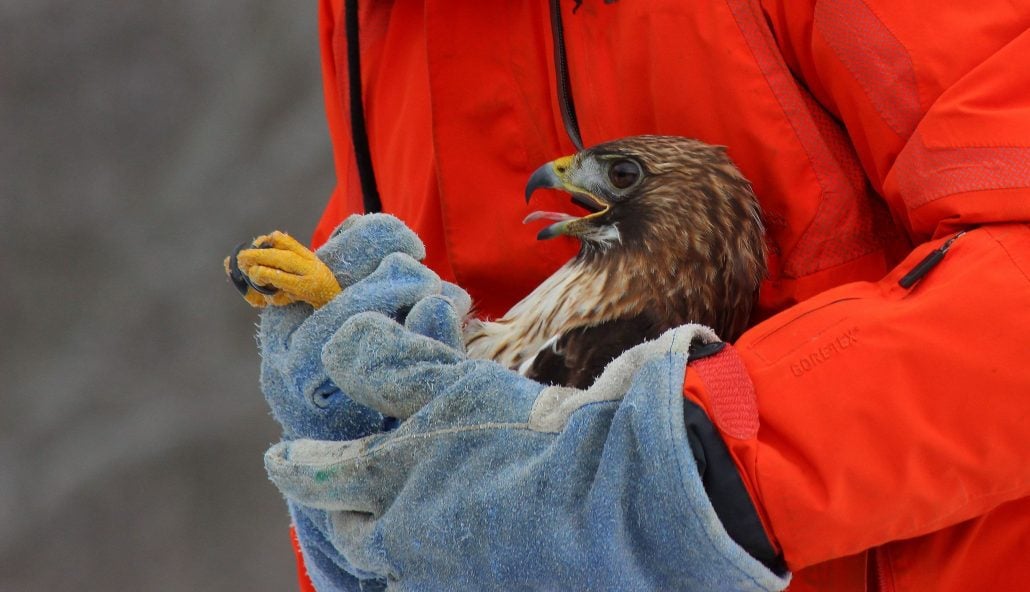 The Miami Zoological Wildlife Foundation is a nonprofit organization dedicated to conserving rare and endangered species. It provides kids the one-of-a-kind opportunity to learn about animal conservation and to see a variety of creatures up close.
ZWF Miami is home to a wide variety of animals such as tigers, lions, monkeys, reptiles, and birds. Visitors can take a guided tour of the facility and get a close look at the animals and learn about their habitats, behaviors, and the threats they face in the wild. This is also the only zoo in Miami that allows children to hold primates and interact with other wildlife.
Address: 16225 SW 172nd Ave, Miami, FL
Peacock Park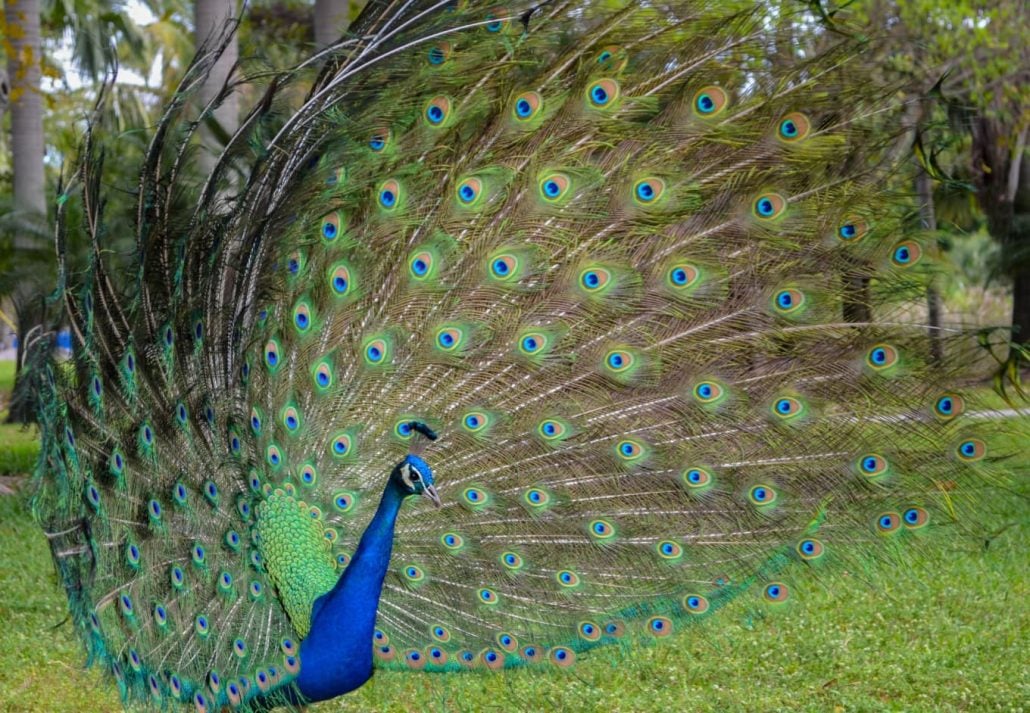 Peacock Park is a beautiful 9.4-acre public park located in the charming Coconut Grove neighborhood. This lush park features an expansive green area perfect for picnics, playing frisbee, or simply lounging in the sun. You'll also be able to spot lovely Indian peacocks roaming around the grass.
Additionally, the park offers a beautiful waterfront view, with Biscayne Bay as the backdrop. Visitors can rent bikes, kayaks, or paddleboards to explore the Bay or simply take a stroll along the promenade to admire the boats passing by.
Address: 2820 McFarlane Rd, Miami, FL
Perez Art Museum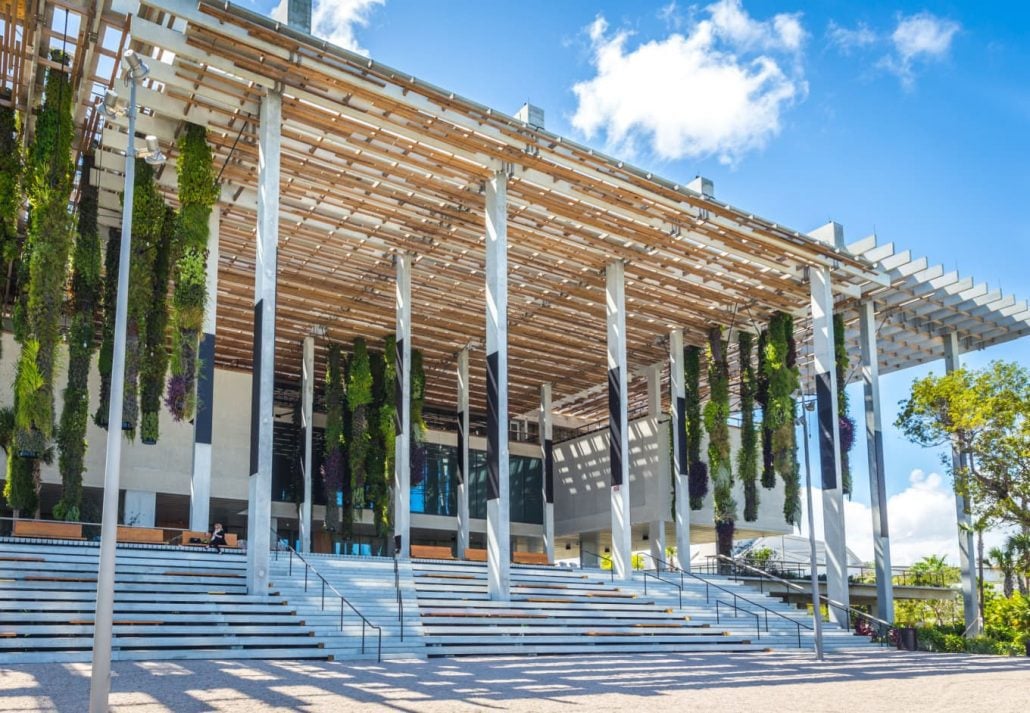 Miami is also home to a handful of museums that children are guaranteed to love. The Perez Art Museum, for instance, is a great option for older kids to visit, as it features thought-provoking artworks and immersive exhibitions that will spark their curiosity and creativity.
The museum's collection includes paintings, sculptures, videos, photographs, and installations, such as the impressive vertical gardens suspended from the building's large overhanging roof.
Families will certainly enjoy seeing eye-catching works by renowned artists like Kehinde Wiley, Yayoi Kusama, and Olafur Eliasson, as well as discovering emerging artists from Latin America and the Caribbean.
The Perez Art Museum's location on Biscayne Bay also provides stunning views of the waterfront, adding to the museum's unique atmosphere.
Address: 1103 Biscayne Blvd, Miami, FL
Little Havana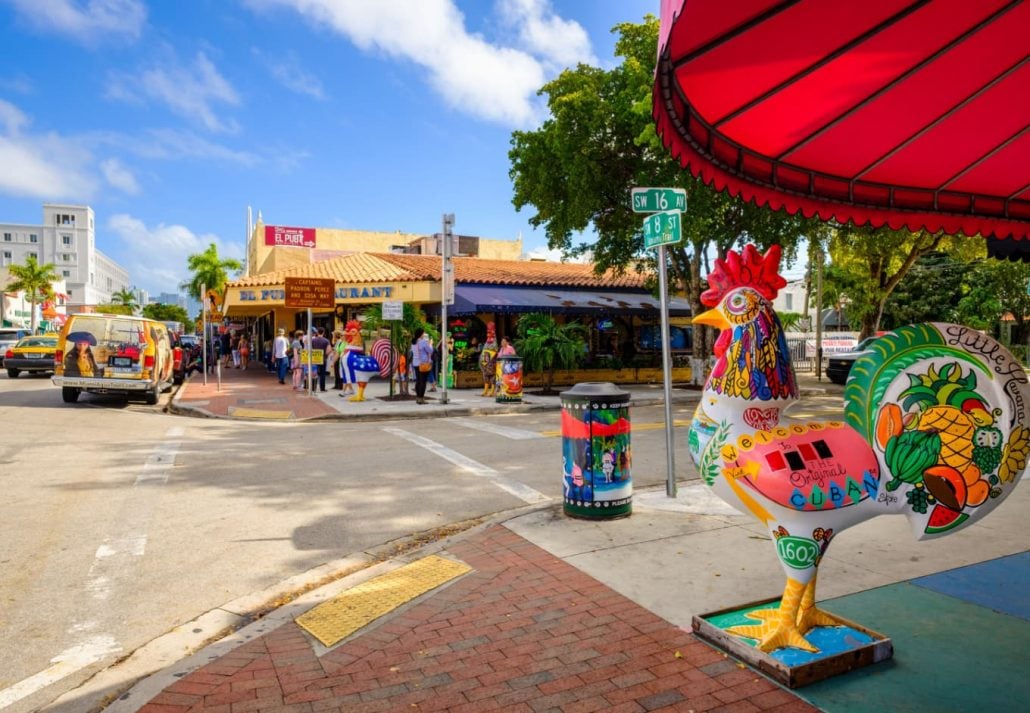 When visiting Miami with kids, make sure to spend some time strolling around Little Havana. This colorful neighborhood located just west of downtown Miami is known for its rich Cuban culture and history.
Visitors can take a stroll down Calle Ocho, the main street of Little Havana, and enjoy the area's colorful murals, lively music, and authentic cuisine.
Don't forget to stop by the iconic Domino Park, where locals gather to play dominoes and enjoy the warm Florida weather.
Kids will also love the Azucar Ice Cream shop, famous for its Cuban-inspired ice cream made with seasonal tropical fruits.
FAQ
Is Miami worth visiting with kids?
Yes. Boasting sunny weather, beautiful beaches, and family-friendly attractions, Miami is a great place to visit with the kids.
Which part of Miami is kid friendly?
You can find kid-friendly places all over Miami. But Surfside and Sunny Isles Beach are specifically known for their pristine beaches and relaxed atmosphere, perfect for families with younger kids.
Where can I take my baby for fun in Miami?
The best places to visit in Miami with kids are:
Miami Children's Museum
Fairchild Tropical Botanic Garden
Crandon Park
Everglades National Park
Zoo Miami
Phillip and Patricia Frost Museum of Science
Venetian Pool
Wynwood Walls
Lummus Park
Tidal Cove
Oleta River State Park
Jungle Island
South Pointe Park
Bill Baggs Cape Florida State Park
Bayfront Park
Matheson Hammock Park
Biscayne National Park
Kaseya Center
FunDimension
Flamingo Gardens
Miami Seaquarium
Miami Zoological Wildlife Foundation
Peacock Park
Perez Art Museum
Little Havana
What is fun for kids in Florida?
The best places to visit in Florida with kids are:
Walt Disney World, Orlando;
Universal Studios, Orlando;
Gatorland, South Orange Blossom Trail;
Everglades National Park;
The Florida Aquarium, Tampa;
NASA'S Kennedy Space Center, Merritt Island;
Rapids Water Park, Riviera Beach;
Discovery Cove, Orlando;
Miami Children's Museum;
Zoo Miami, Miami.
CuddlyNest provides all accommodations to all travelers at the best price. Find unlimited travel inspiration on our blog and social media channels.
You Might Also Like:
10 Best Weekend Getaways in New York State
The 8 Best Natural Springs Near Orlando
Next Long Weekends 2022: Plan a Short Vacation
12 Amazing Day Trips From Orlando, Florida
The Ultimate Guide To Holidays In Orlando, Florida
Valentine's Weekend – Places To Go For Valentine's Day in 2022
18 Romantic Weekend Getaways in Arizona
7 Amazing Hotels in Miami, Florida
The Best Long Weekend Getaways In The US
9 Incredible Things To Do In Key Largo, Florida
A Guide To The 7 Best Pensacola Florida Beaches
Best Things To Do In Lauderdale-By-The-Sea, Florida
The 6 Best Beach Hotels In Orlando, Florida
The 10 Best Beaches Near Orlando, Florida
11 Amazing Weekend Getaways in Florida
A Guide To The Most Romantic Places In Florida