Year-round luminous weather, vibrant culture, immense natural beauty, and plush oceanfront resorts make Florida a truly special destination.
With the Atlantic Ocean on one side and the Gulf of Mexico on the other, Florida boasts hundreds of miles of glittering coastline, making it a veritable wonderland for beach lovers.
But beyond welcoming white sand beaches, Florida has plenty of other getaways to offer. There are famous tourist destinations like the vibrant Miami and the family-friendly Orlando, with its magical theme parks, as well as hidden gems like the history-filled St. Augustine.
For adventure seekers, sprawling national parks like the Florida Everglades and its unique ecosystem not found anywhere else on Earth, are the best bet.
The Sunshine State never fails to captivate its visitors. In this guide, we've rounded up the 25 best places to visit in Florida, covering everything from world-famous destinations to hidden gems waiting to be discovered.
The 24 Best Places to Visit in Florida
Miami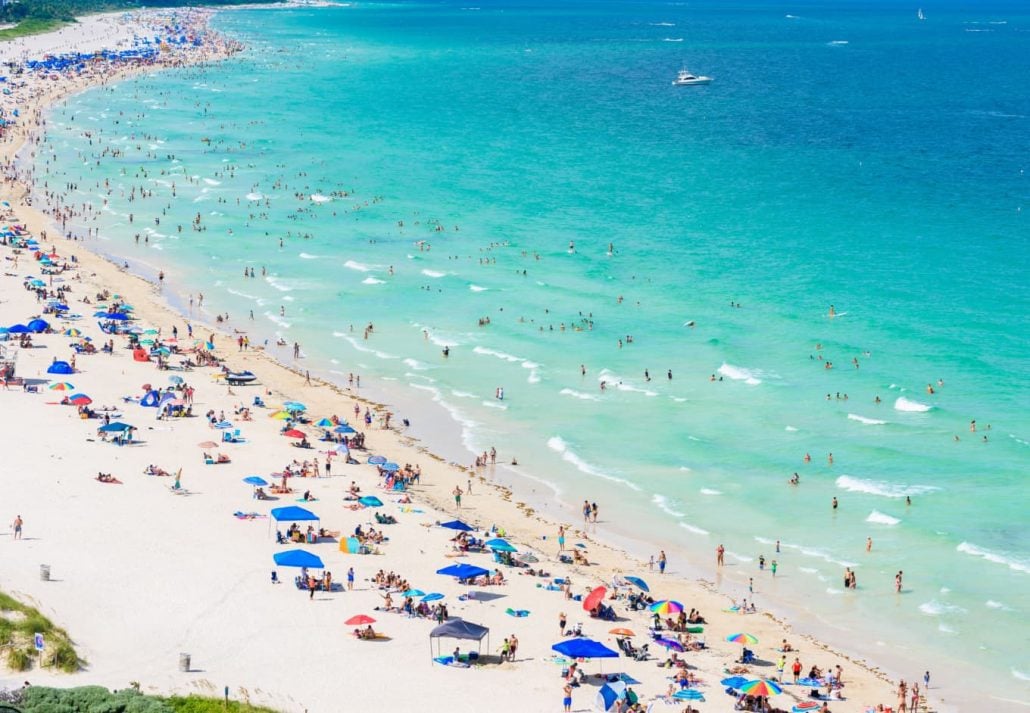 Spiked in southeastern Florida, Miami is a magical city brimming with beautiful beaches, year-round pleasant weather, delicious seafood restaurants, and some of the best shopping experiences in the country.
Here you'll also be treated to beautiful beaches ( Bal Harbour Beach, Sunny Isles Beach, and the Bill Baggs Cape Florida State Park are must-visits), as well as sleek cocktail venues, and glam dining areas.
Visitors can experience Miami by exploring the city's diverse collection of neighborhoods.
Downtown Miami is a bustling district home to the picture-perfect Bayfront Park, while the up-and-coming Brickell neighborhood houses famed institutions like the Pérez Art Museum Miami and The Phillip and Patricia Frost Museum of Science.
For art lovers, the Wynwood district is a must-visit. Here, visitors can catch a glimpse of several open-air murals brought to life by world-class urban artists like OS Gemeos.
Shopaholics will love visiting the designer boutiques on Lincoln Road or perusing the luxury stores at Bal Harbour Shops. Looking for a unique shopping experience? Then, head to the Wynwood Marketplace, a sprawling open-air market filled with vendors selling everything from handmade jewelry to gourmet snacks.
Before your trip, make sure to read our curated guides to the best Hotels in Miami, Florida, and the Things To Do In Miami, Florida.
Find Places To Stay in Miami, Florida
Recommended Read:
The Ultimate Guide To Miami Florida
The 5 Best Beaches In Miami, Florida
The Ultimate Guide To The Miami Design District
The Best Time to Visit Miami, Florida
Miami Beach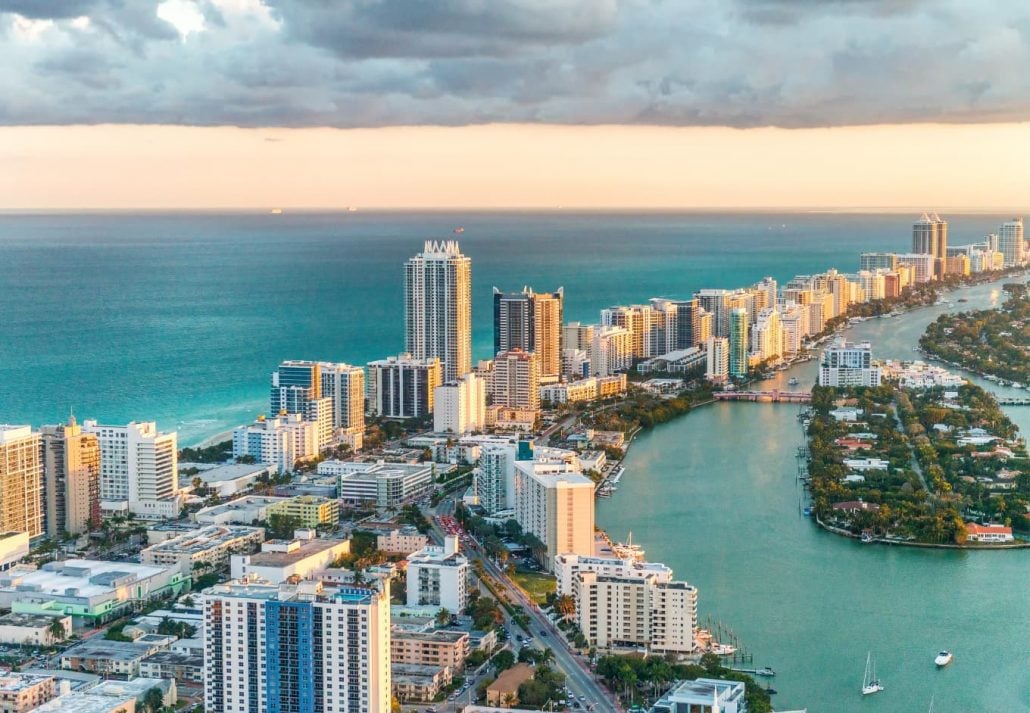 Miami Beach is a gem located in South Florida. This vibrant island city, connected to mainland Miami by a bridge, is known for its stunning white sandy beaches framed by swaying palm trees, luxurious hotels, and oceanfront bars that are perfect for people-watching.
Here you'll also be treated to a glorious range of amazing restaurants. Stop by Coyo Taco, famous for its delicious Mexican dishes made with fresh, locally sourced ingredients, and visit Versailles Restaurant, in Little Havana, for an authentic Cuban meal. Their most popular dish is "Vaca Frita", a succulent shredded beef served with rice and plantains.
Tried-and-true activities in Miami Beach include taking a stroll through the pastel-hued buildings of the Art Deco District and visiting the Miami Beach Botanical Garden, home to lowering trees, orchids, and edible plant species. Lummus Park Beach is another popular spot, with its 74-acre public park offering stunning ocean views.
Take a peaceful stroll along the scenic Miami Beach Boardwalk, a lovely outdoor path that spans several miles, and head to the North Beach Oceanside Park, an idyllic beachfront park with plenty of space for running, walking, and sunbathing.
For a truly unforgettable experience, go to Jungle Island, a newly refurbished eco-adventure park where you can interact with animals such as kangaroos and flamingos, enjoy aerial zipline trails, and more.
Find Places To Stay in Miami Beach, Florida
Orlando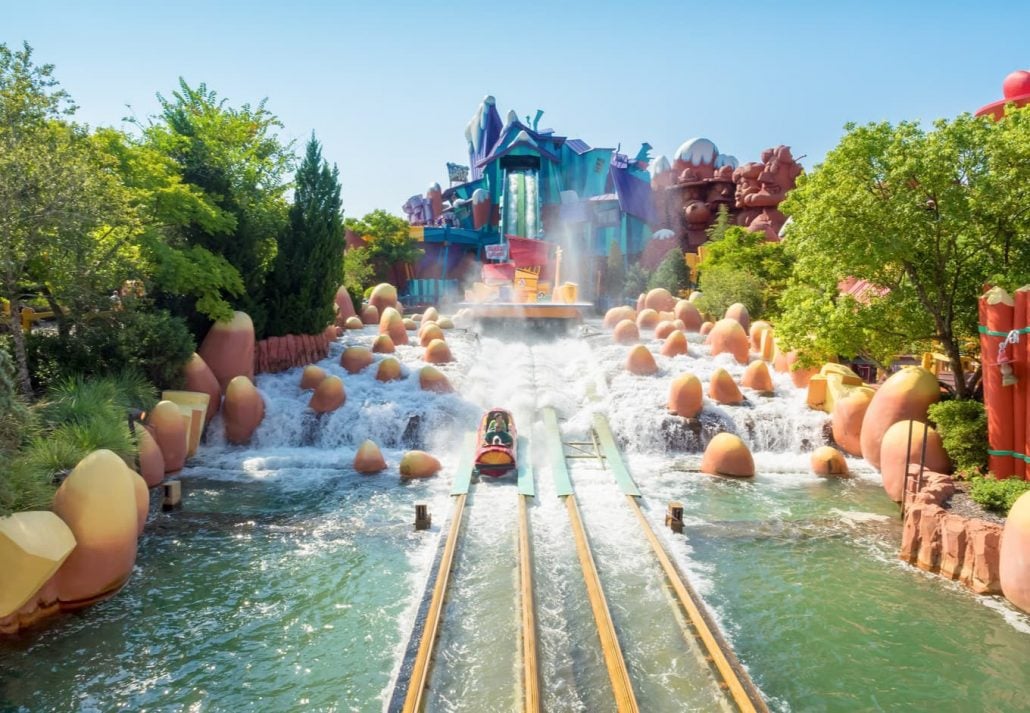 Orlando is the ultimate Florida destination for a memorable family vacation. The city is home to world-class theme parks like Universal Studios and Walt Disney World, each with its unique rides and attractions.
Thrill seekers can't pass the chance to visit Universal's Islands, home to some of the most daring roller coasters in the country.
During the summer, head over to Volcano Bay, at Universal Orlando Resort. Considered one of the best water parks in Orlando, it features over 20 rides, including the tallest body slide in the United States.
Families will also love visiting SEA Life Orlando Aquarium, home to Florida's only 360° ocean tunnel. Gatorland is another unique attraction, spanning over 110 acres and home to the world's largest collection of extremely rare white leucistic alligators.
NASA'S Kennedy Space Center is another must-visit attraction that offers kids a chance to experience something truly out-of-this-world. It provides little ones with the chance to meet a real astronaut, access the restricted areas of NASA, and see the real Lunar Module 9.
Orlando is also a shopper's paradise, with something for every budget and style. Be sure to check out the Florida Mall, Central Florida's largest shopping center, and home to over 250 stores, including Macy's, Dillard's, Apple, H&M, and Zara, making it the ultimate retail therapy destination.
Our ultimate guide to holidays in Orlando has plenty of useful tips and information that'll help you plan your dream trip to the city.
Find Places To Stay in Orlando, Florida
Recommended Read:
Best Hotels Near The Wizarding World of Harry Potter, Orlando, FL
Unique Things To Do In Orlando
The Best Restaurants In Orlando
The Ultimate Guide To Shopping In Downtown Orlando
12 Amazing Day Trips From Orlando, Florida
Panama City Beach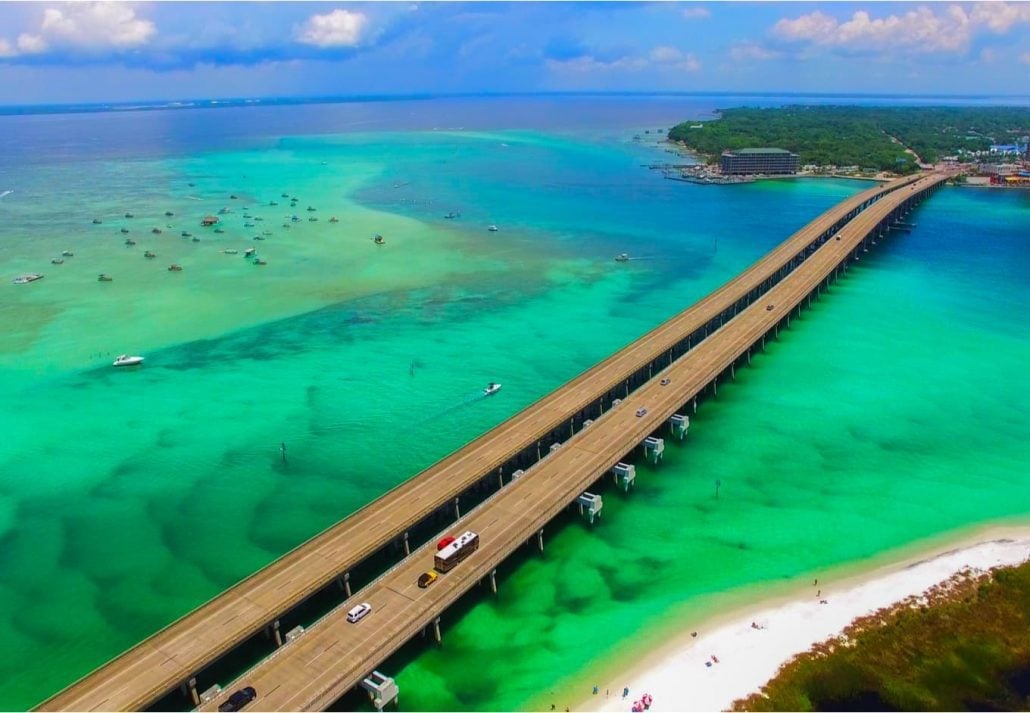 Seeking to experience some of the best beaches in Florida's Gulf Coast? Then, Panama City Beach is the place to go. Located in an area known as the Florida Panhandle, in the northwest part of the state, the city is praised for its pristine white sand beaches with emerald green waters.
One of the top attractions in the city is St. Andrews State Park, where you can enjoy outdoor activities like swimming, snorkeling, kayaking, and paddleboarding. The park also features nature trails for hiking, bird-watching, and a playground for kids.
Another worth-seeing attraction in Panama City Beach the Gulf World Marine Park, where you can see thousands of marine creatures such as dolphins, sea lions, and even sharks.
Panama City Beach also offers some of the best fishing in the United States. The city has a wide range of fishing charters that can take you out to the Gulf of Mexico for an unforgettable fishing adventure. You can catch a variety of fish, including snapper, grouper, and even sharks.
Whenever you need a break from the beach, you can feast on jet-fresh seafood at some of the city's top seafood restaurants or indulge in delicious Southern-style dishes at the local eateries.
Find Places To Stay in Panama City Beach, Florida
Everglades National Park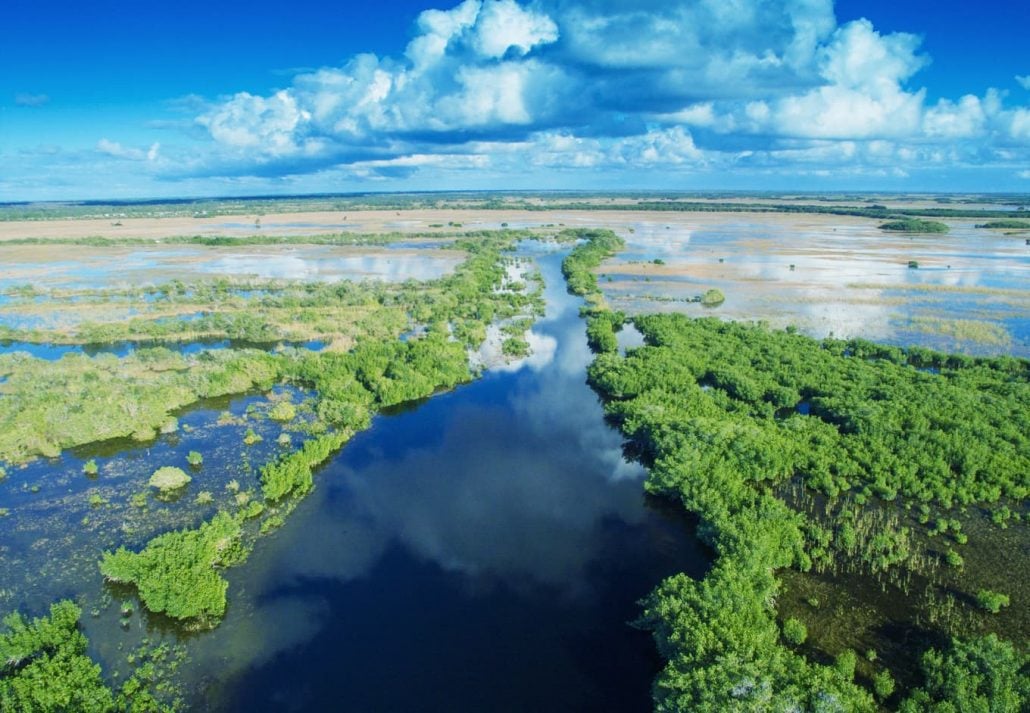 The Everglades National Park offers adventure seekers the opportunity to experience nature at its finest. This sprawling preserve protects the southern 20% of the Florida Everglades, a region comprising tropical wetlands and a rich ecosystem not found anywhere else on Earth.
Considered the largest subtropical wilderness in the United States, this national park is inhabited by rare and endangered species, such as the American crocodile, Florida panther, and West Indian manatee.
One of the best ways to explore this 1.5 million-acre wetland preserve is on a boat cruise. While winding through coastal mangroves, sawgrass marshes, and pine Flatwoods, expect to come across a dazzling wealth of Florida wildlife, including alligators, crocodiles, turtles, several bird species, and other fascinating creatures.
The park is located on the southern tip of Florida, making it a prime day trip from Orlando.
Clearwater Beach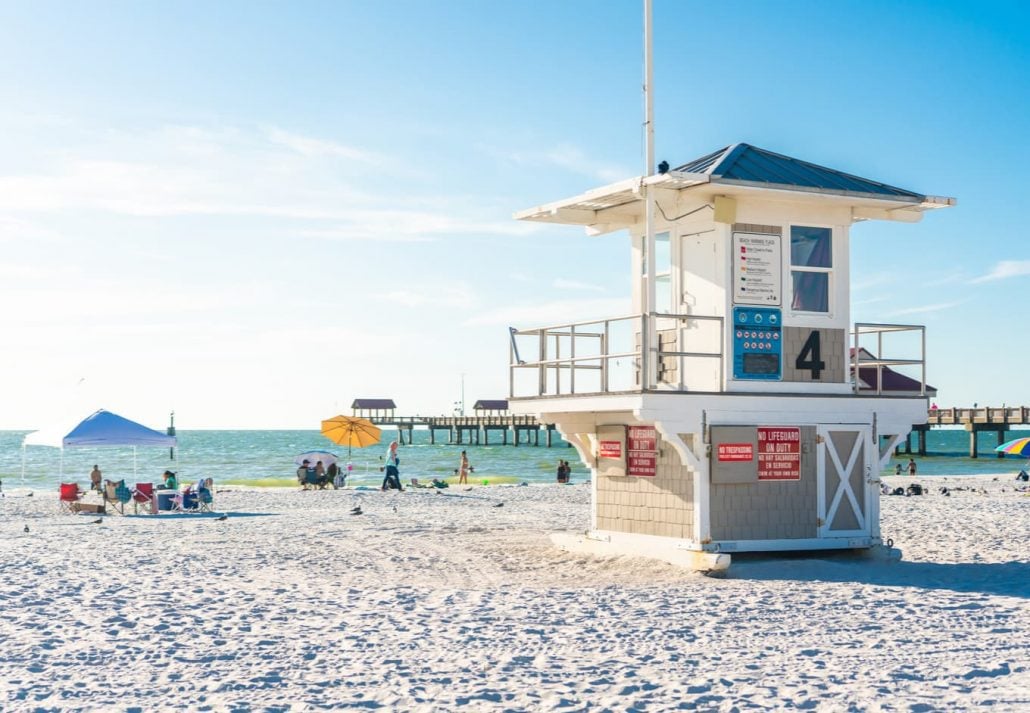 Sandwiched between Tampa Bay and the Gulf of Mexico, Clearwater Beach is often referred to as one of the best beaches in the United States thanks to its sugar-white sand and gentle turquoise waters that are perfect for swimming.
When not enjoying a line-up of exciting beach activities, like boat rides, parasailing, kayaking, and paddleboarding, you'll find that the beach is the perfect spot to relax under the sun.
And while the beach is the crown jewel of Clearwater, there's plenty more to see and do in this inviting coastal town. Families will love visiting Pier 60, home to one of the largest beach playgrounds on the Gulf Coast, and the Clearwater Marine Aquarium, home to an array of rescued animals like sea turtles and dolphins.
Visiting Clearwater with your loved one? Then, make sure you go for a stroll on the Beach Walk Promenade, a scenic pathway framed by towering palm trees and offering heart-warming views of the pier.
Find Places To Stay In Clearwater Beach, Florida
Recommended Read:
8 Most Amazing Things To Do In Clearwater Beach, FL
Fort Lauderdale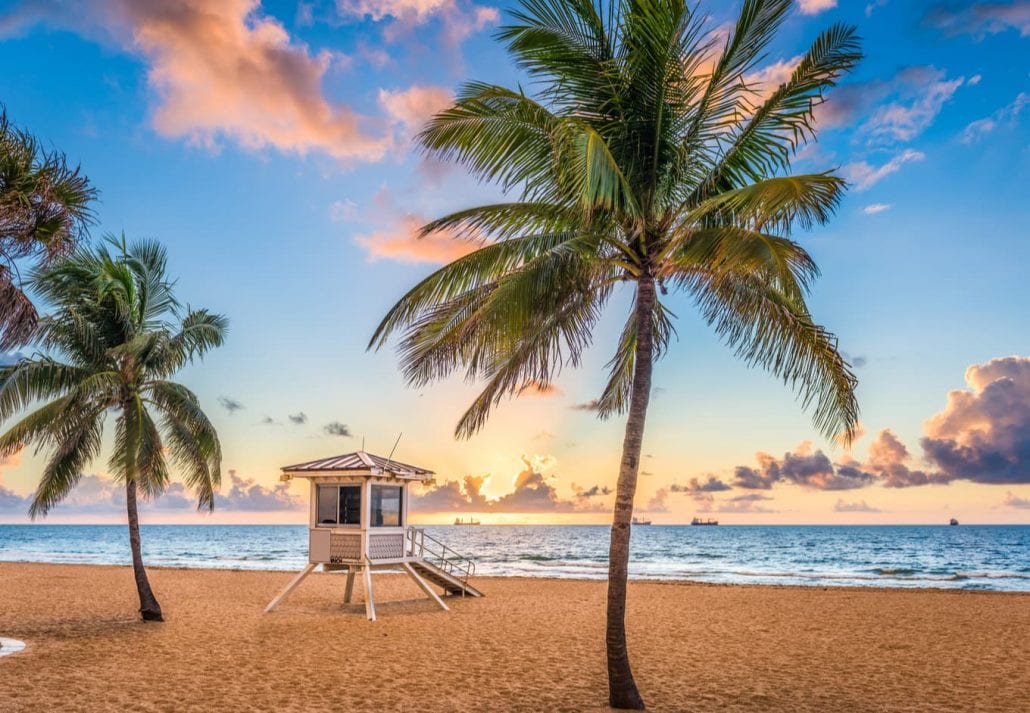 If a romantic Florida trip is what you're searching for, head over to Fort Lauderdale. Situated on Florida's southeastern coast, this coastal city dazzles and enchants couples with its idyllic beaches, and gorgeous lush gardens that are simply perfect for a romantic picnic.
Enjoy a romantic trip to Fort Lauderdale by visiting the Hugh Taylor Birch State Park, a 180-acre lush oasis nestled between the Intracoastal Waterway and the Atlantic Ocean. This spot is filled with nature trails perfect for jogging and biking, offering lovebirds a superb experience around nature.
Nature lovers can also visit Bonnet House Museum & Gardens, a 20th-century historic home that comprises one of the last examples of a native barrier island habitat in South Florida. The house is also home to a hibiscus garden, bright tropical vegetation, and several orchids.
While in Fort Lauderdale, couples will also have a great time exploring the Flamingo Gardens, an Everglades Wildlife Sanctuary that harbors the largest collection of Florida native wildlife, including over 3000 species of plants, from alligators to eye-popping flamingos.
Aside from top-notch attractions, Fort Lauderdale also boasts a dazzling collection of romantic hotels. For the ultimate indulgent experience, book a room at the Conrad Fort Lauderdale, an oceanfront hotel home to majestic swimming pools, and a luxurious spa where you couples can enjoy body wraps, facials, massages, and exfoliation sessions.
Find Places To Stay in Fort Lauderdale, Florida
Recommended Read:
The Best Things To Do In Lauderdale-By-The-Sea, Florida
Naples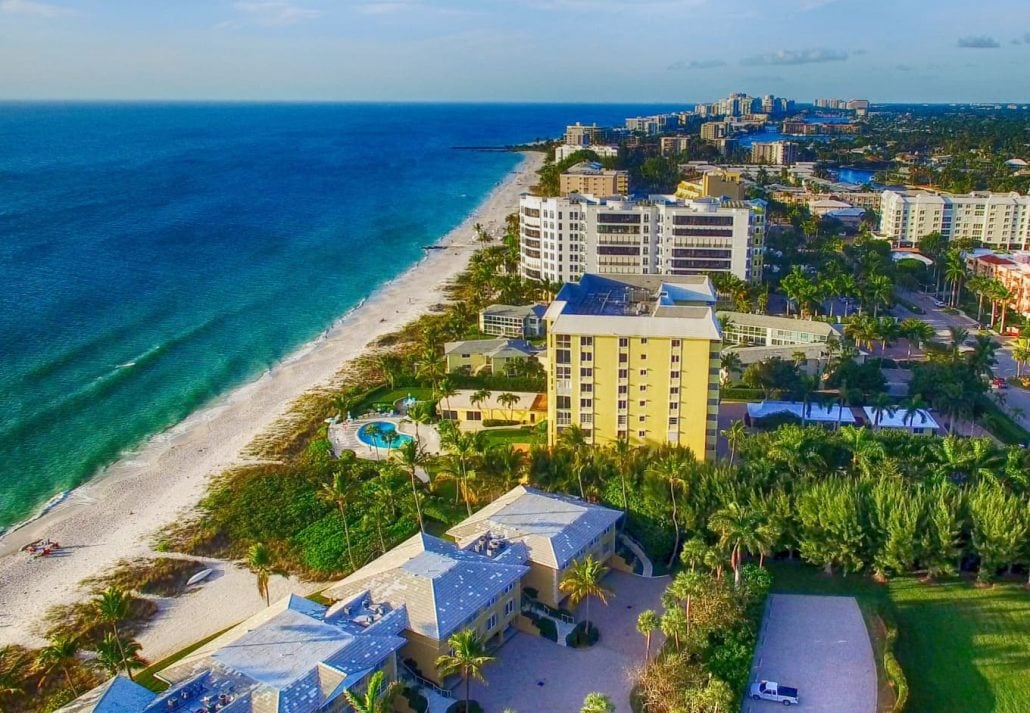 Located on the southwestern coast of Florida, Naples is a charming city that boasts a rich culture, stunning beaches, and world-class dining and shopping experiences.
One of the top attractions in Naples is its beaches. The city is home to several pristine beaches, including Vanderbilt Beach, Delnor-Wiggins Pass State Park, and Clam Pass Beach Park. They all provide the perfect opportunities for swimming, sunbathing, and taking long walks along the shore.
Another must-visit attraction in Naples is the 170-acre Naples Botanical Garden, home to a diverse collection of flora from around the world.
For those interested in history and culture, a visit to the Naples Museum of Art is a must. This museum showcases an impressive collection of contemporary and modern art, as well as ancient art from Europe and Asia.
Finally, no visit to Naples is complete without a shopping spree on Fifth Avenue South. This charming street is lined with boutique shops, art galleries, and fine dining establishments, making it the perfect place to spend an afternoon browsing and indulging.
Find Places To Stay in Naples, Florida
Recommended Read:
10 Best Day Trips From Naples, Florida
Key West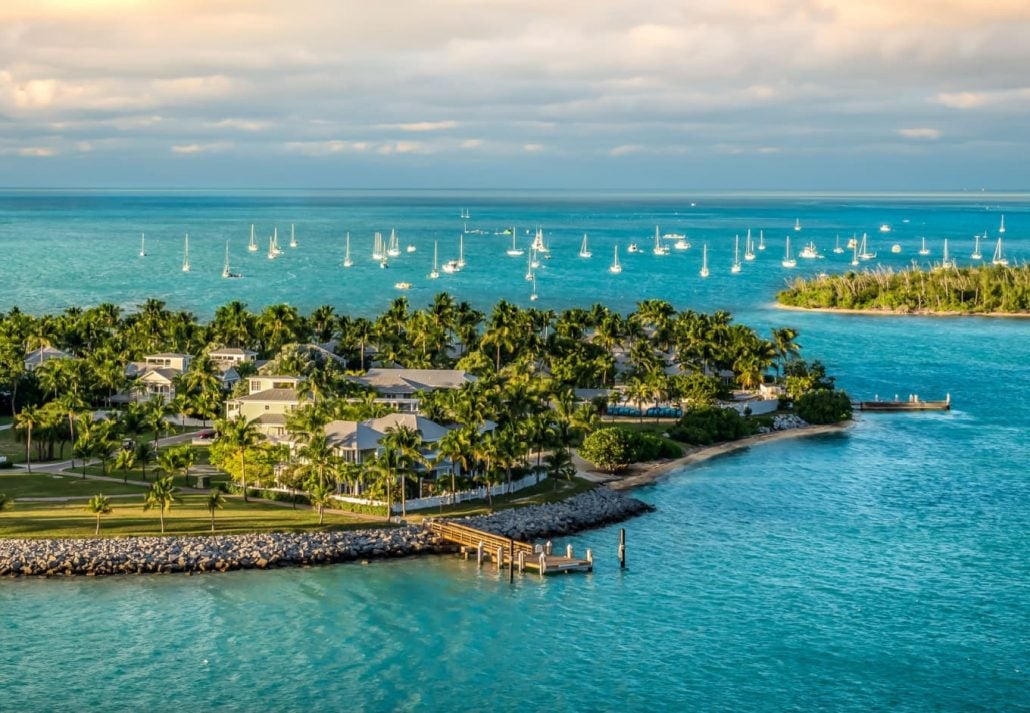 Key West is the go-to place for a tropical vacation. Part of the Florida Keys archipelago, this luscious island of immense natural beauty harbors a medley of idyllic beaches, lush tropical gardens, and achingly beautiful national parks.
The magnetic charisma of Key West is crowned by consistently warm, sunny weather, making it a fantastic destination year-round.
Must-try activities in Key West include enjoying scenic sunset cruises, dolphin watching, and snorkeling (the island is home to North America's only living coral barrier reef!).
Key West also houses a treasure trove of historical sites. These include the historic mansion where Ernest Hemingway lived in the 1930s, and the iconic Key West Lighthouse, which offers show-stopping views of the Atlantic Ocean.
Are you traveling with kids? Then, the Key West Aquarium is one of the best places to visit in the city. Located in the vibrant Mallory Square, the aquarium is home to moray eels, barracudas, sharks, jellyfish, and sea cucumbers, among other fascinating creatures.
Don't leave Key West without visiting the Key West Butterfly and Nature Conservatory, where you'll come across hundreds of colorful butterflies of over 50 species, exotic birds, an alluring collection of flowering plants, and cascading waterfalls.
Find Places To Stay In Key West, Florida
Recommended Read:
Best Things to Do in Key West, Florida
Dry Tortugas National Park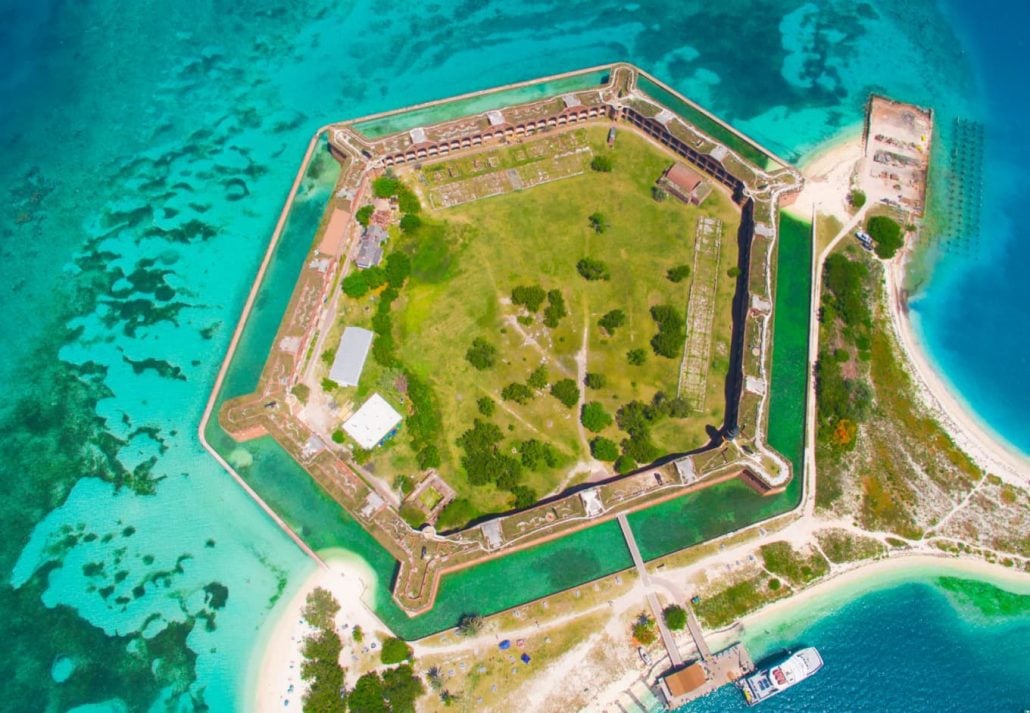 Dry Tortugas National Park is a feast for sore eyes. Positioned about 70 miles west of Key West, and accessible only by boat or seaplane, this beautiful remote island encompasses 100 square miles of azure waters, dreamy coral reefs, and lush gardens.
Fun activities in the Dry Tortugas National Park include snorkeling (you'll get the chance to see the Florida Keys reef system, the third largest in the world), swimming, and sunbathing in idyllic beaches of sugar white sand.
Known for its bountiful wildlife, the park also harbors rare birds not found elsewhere in the continental United States, making it a prime spot for birdwatching.
Dry Tortugas's centerpiece is the massive Fort Jefferson, an unfinished coastal fortress composed of more than 16 million bricks. While exploring this century-old structure, you'll get the chance to dive deep into the history of the Civil War era.
St. Augustine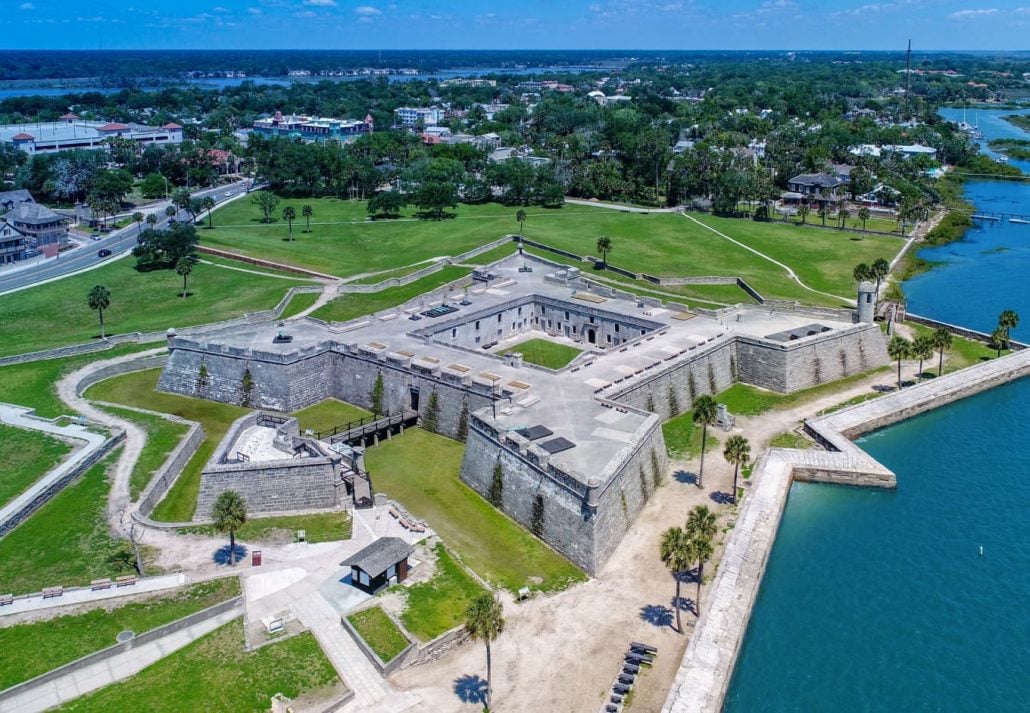 Saint Augustine is a charming coastal charm that perfectly combines historical sights with spectacular beaches.
Founded in 1565 by Spanish admiral Pedro Menéndez de Avilés, this Florida city claims to be the oldest continuously occupied European settlement in the United States. While walking through the city, visitors can take explore an array of history-filled sites, including century-old churches, and precious samples of Spanish colonial architecture.
Visit Castillo de San Marcos, a massive Spanish stone fortress built over 300 years ago, and the Cathedral Basilica of St. Augustine, beautifully built in the Spanish Mission style.
Exploring St.George Street on foot is a great way to take in St.Augustine's energy. The street makes up the Historic District of this ancient city and is home to an array of cafes, bars, restaurants, and bakeries, as well as must-visit attractions.
Nestled poignantly on Florida's Historic Coast, St. Augustine is also a gateway to majestic nature-based locations. We strongly recommend that you visit the Anastasia State Park, a 1,600-acre preserve that comprises endless miles of unspoiled beaches, tidal marshes, maritime hammocks, and ancient sand dunes.
Find Places To Stay in St.Augustine, Florida
West Palm Beach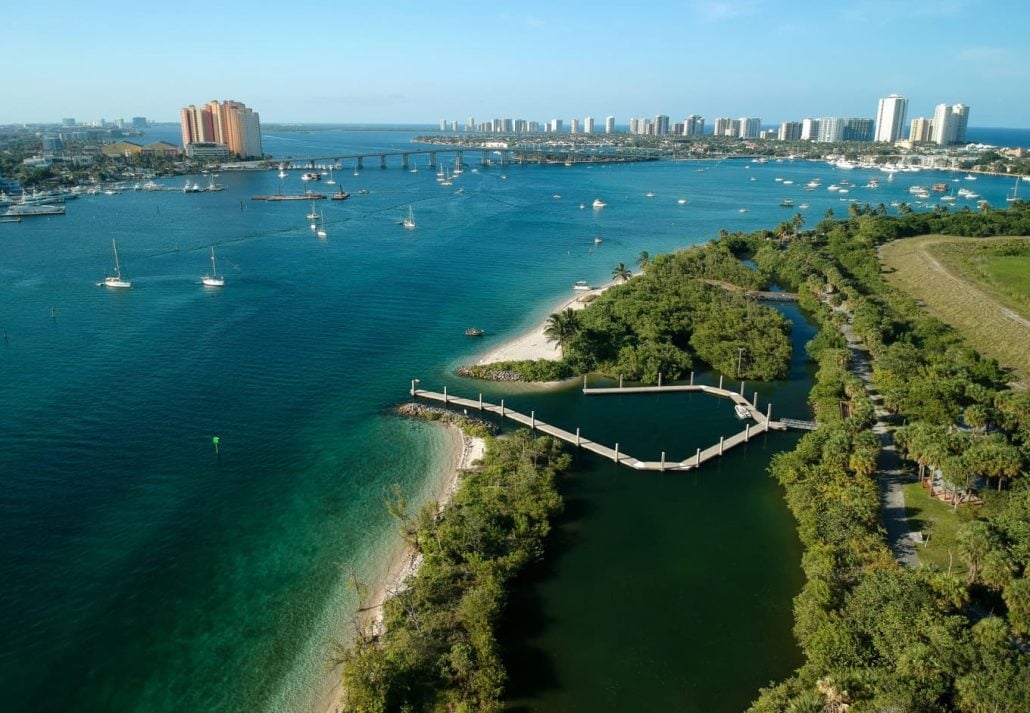 West Palm Beach is a lively city located along the Atlantic Ocean coast, in South Florida. Separated from Palm Beach by the Lake Worth Lagoon, this charming city draws visitors from all over the country thanks to its warm year-round weather, laid-back atmosphere, and a wide array of things to do.
Nature lovers visiting West Palm Beach should pay a visit to the Macarthur Beach State Park, which preserves 1.6 miles of pristine beaches, dunes of barrier islands, maritime hammocks, and a limestone rock reef community that was formed more than 125,000 years ago.
Shopaholics will love exploring the Antique Row Art & Design, dotted with over 40 antique shops selling 17th to 20th-century antiques, fine and decorative arts, and period deco.
West Palm Beach also features a plethora of cultural attractions, including stellar art galleries and museums.
Experiences for the whole family are also on offer. Make sure to take the kids to the Palm Beach Zoo, home to hundreds of endangered animals, and to the Cox Science Center & Aquarium, where you'll see a 10,000-gallon fresh and saltwater aquarium, an 18-hole Mini Golf Course, and a quarter-mile-long science trail.
Find Places To Stay in West Palm Beach, Florida
Recommended Read:
Best Things to Do in West Palm Beach, Florida
Daytona Beach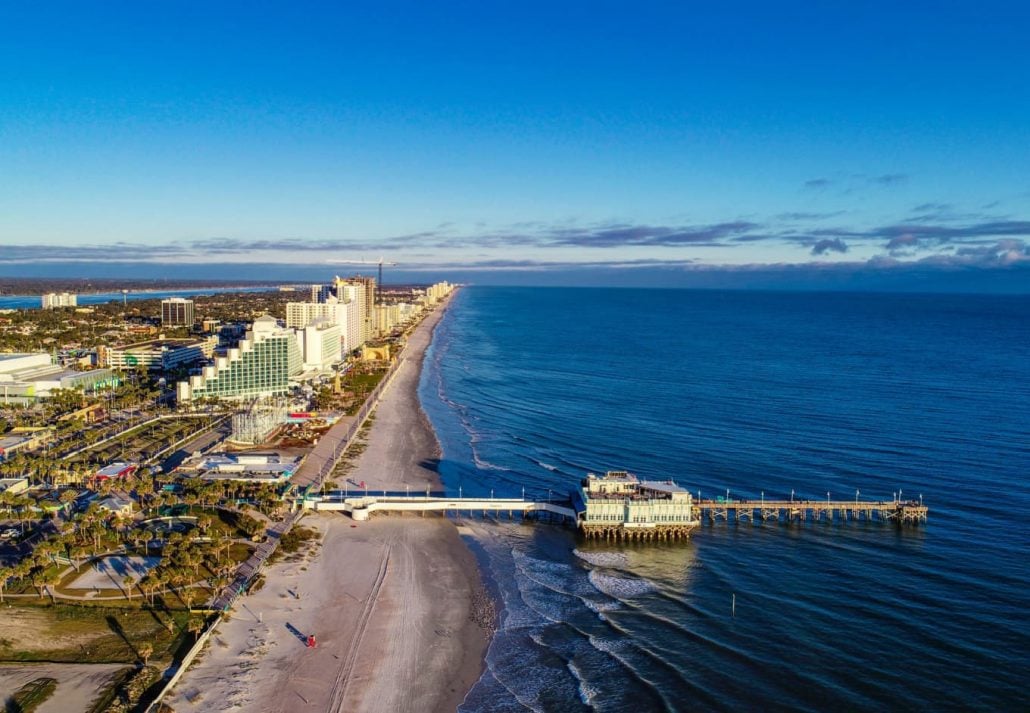 Positioned on Florida's Atlantic Coast, Daytona Beach boasts 23 miles of glittering coastline, which offers fun and excitement for all ages. This lively city is coveted especially by water sports lovers seeking to enjoy a variety of activities like surfing, kayaking, and parasailing.
Seeking gentler options? No worries! The inviting coastline of Daytona Beach is also a prime spot for tanning and walking.
This coastal city also boasts an array of fun-filled attractions for families. There's the iconic Daytona Beach Boardwalk, a scenic location featuring two arcades, snack bars, and even rides (only during the summer), and the thrilling water rides at Daytona Lagoon Premier Waterpark.
Another must-visit in Daytona, especially if you're a thrill-seeker, is the Daytona International Speedway, where you'll get the one-of-a-kind chance to drive a NASCAR race car!
Recommended Read:
Great Things To Do In Daytona Beach, Florida
A Guide To Daytona Beach Boardwalk & Pier
The Best Restaurants In Daytona Beach, FL
Biscayne National Park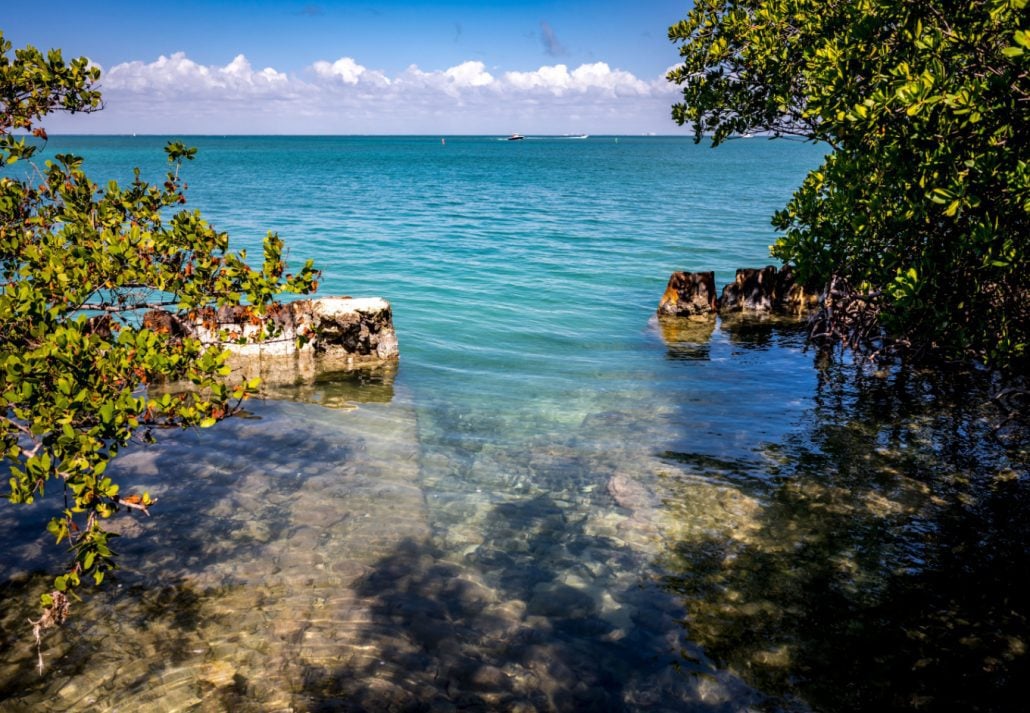 The Biscayne National Park is an earthly paradise for anyone seeking to reconnect with nature. Situated in southern Florida, this achingly beautiful park encompasses more than 170,000 acres of marine and coastal environments, including mangrove forests, coral reefs, and seagrass beds.
One of the top experiences available in the Biscayne National Park is snorkeling or scuba diving in crystal-clear waters, where you can spot a variety of marine life, including colorful fish, sea turtles, and even dolphins.
The park also offers boating and kayaking opportunities, which allow visitors to explore the park's many islands and waterways.
For those who prefer to stay on land, there are numerous hiking trails that offer scenic views of the park's unique landscapes. The Dante Fascell Visitor Center is a great place to start your exploration, with exhibits and educational programs that highlight the park's rich history and ecology.
Another highlight of the Biscayne National Park is the Stiltsville, a group of historic homes built on stilts in the middle of Biscayne Bay. These homes have been preserved as a reminder of Miami's past and are a unique sight to see.
Henderson Beach State Park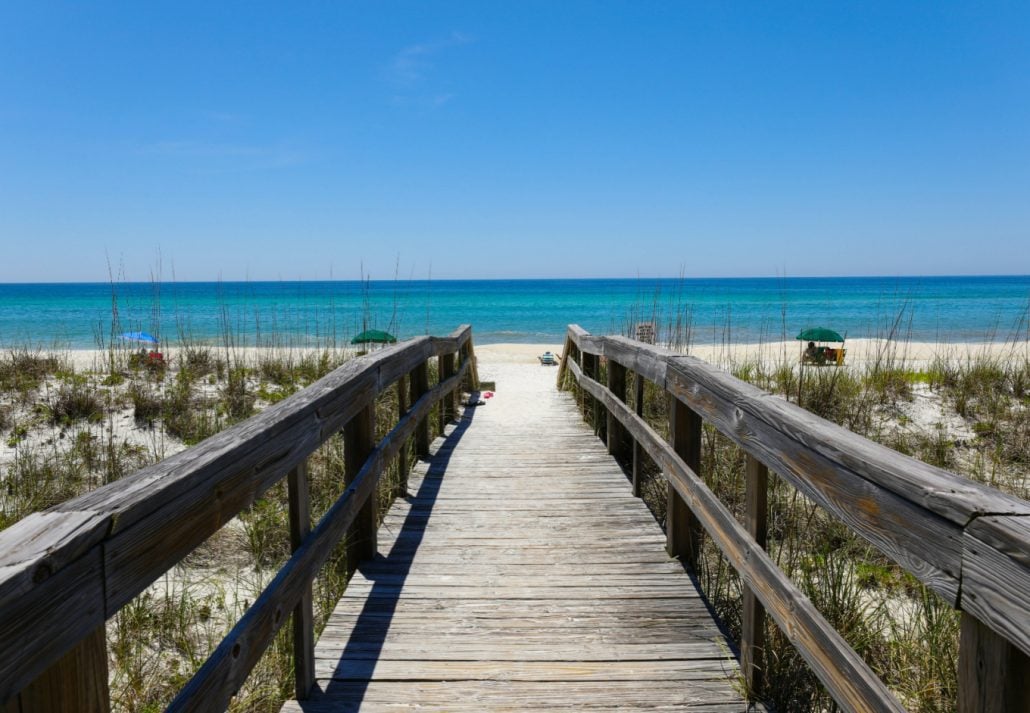 Nestled along Florida's Emerald Coast, Henderson Beach State Park is a hidden gem that's worth the visit. The park is a veritable wonderland that flaunts over 6,000 feet of sugar-white sand beaches and crystal-clear waters, providing the perfect backdrop for a relaxing day in the sun.
The park has plenty of attractions that make it a must-visit destination, including its stunning coastal dune lakes, which are a rare natural phenomenon found only in a few places around the world. These unique bodies of water are home to a diverse array of wildlife and are perfect for kayaking, fishing, and swimming.
Visitors will love exploring the nature trails that wind through the park's sand dunes and coastal forests, where they can spot local wildlife like turtles, deer, and a variety of bird species. There are also scenic picnic areas that provide the perfect spot for a beachside lunch or dinner.
Anna Maria Island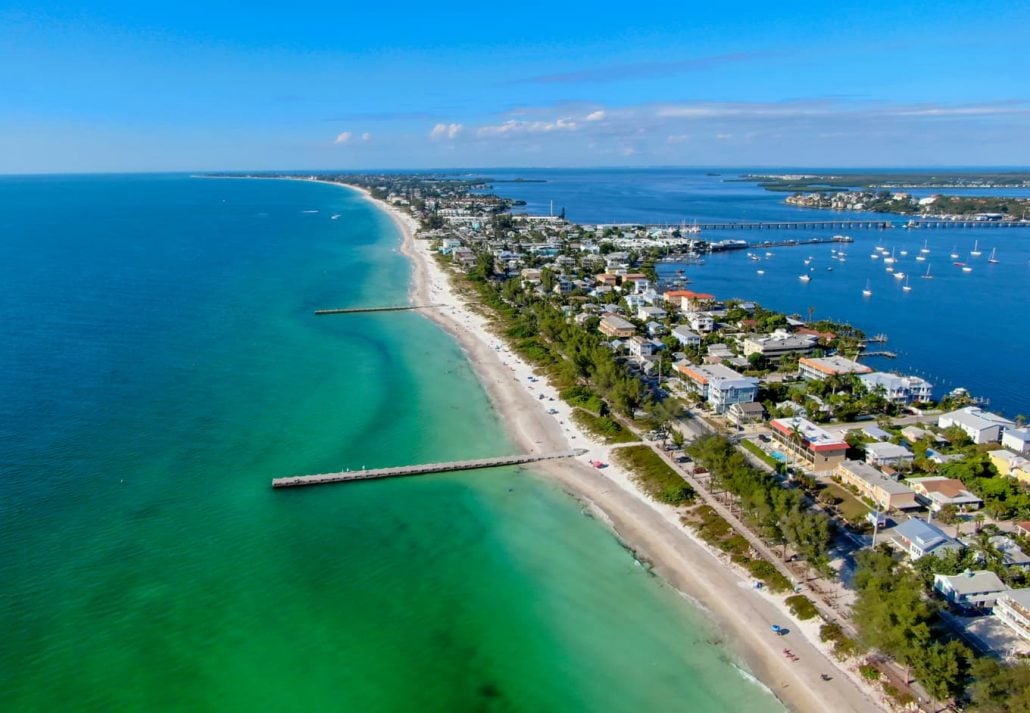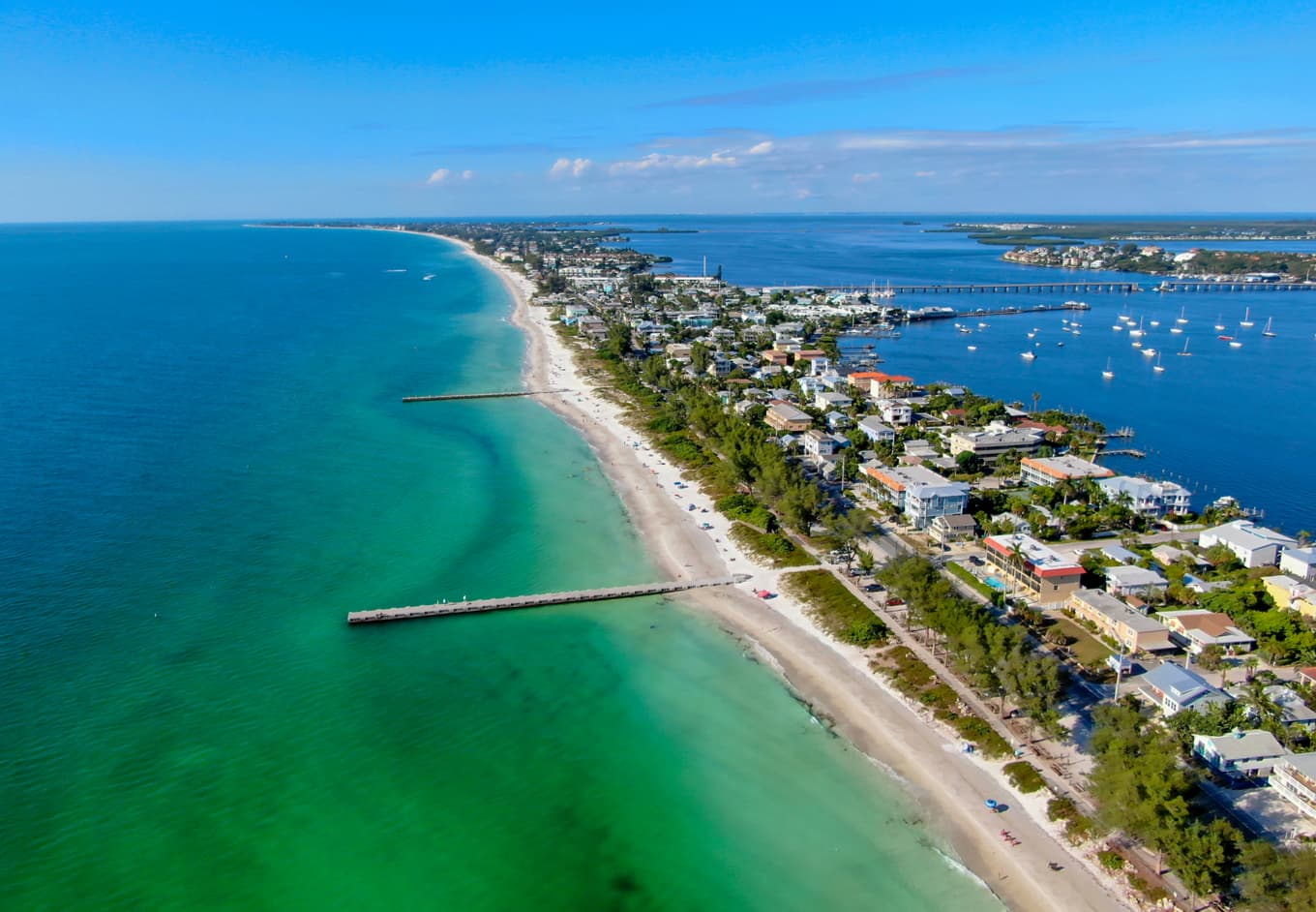 Anna Maria is a barrier island on the coast of Manatee County, Florida. Named one of the most beautiful islands in Florida, Anna Maria has pristine beaches, turquoise waters, and a relaxed atmosphere that makes it a perfect destination for those looking to escape the hustle and bustle of city life.
One of the top attractions on Anna Maria Island is, obviously, its beaches. Bean Point Beach, at the northern tip of the island, is a secluded beach known for its picturesque sunsets, while Holmes Beach, in the center of Anna Maria, is a popular spot for swimming and sunbathing.
Anna Maria is also known for its laid-back atmosphere, local art galleries, and eclectic boutiques. The island is home to a variety of restaurants, ranging from casual seafood shacks to fine dining establishments. Visitors can also rent a bike or a golf cart to explore the island at their leisure.
One unique activity to do on Anna Maria Island is to take a sunset sail or dolphin-watching tour. These tours provide stunning views of the island's coastline and give visitors a chance to see dolphins up close in their natural habitat.
Find Places To Stay in Anna Maria Island, Florida
Fort Myers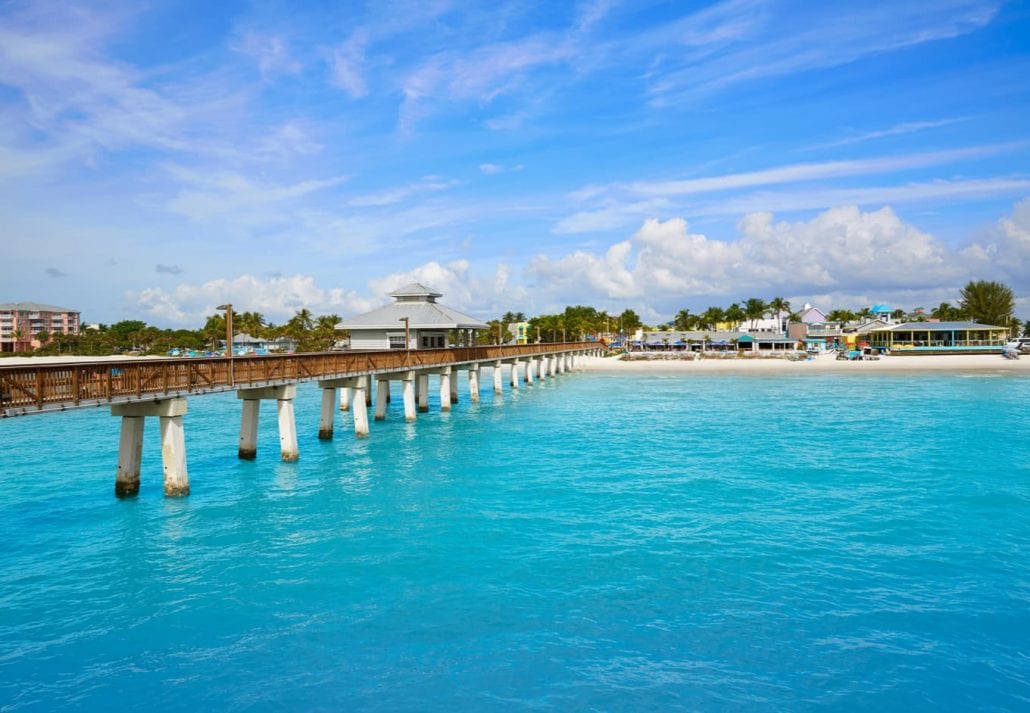 Fort Myers is a fantastic Florida destination for anyone seeking a mix of culture, nature, and beachside fun. Nestled in southwest Florida, just a few miles away from the Gulf of Mexico, this charming city is ideal for anyone who wants to enjoy both city life and the beautiful beaches.
One of the top attractions in Fort Myers is the Edison and Ford Winter Estates, the former winter homes of inventors Thomas Edison and Henry Ford. Visitors can explore the estates and gardens, and learn about the fascinating history of these two famous figures.
For nature lovers, the Six Mile Cypress Slough Preserve is an amazing spot. This natural preserve covers over 3,500 acres of wetland and is home to a diverse range of wildlife, including alligators, turtles, and a variety of bird species.
Another popular attraction is the historic downtown River District, which offers a vibrant mix of shops, restaurants, and art galleries. Visitors can stroll along the palm-lined streets and take in the city's colorful architecture, or catch a show at the Sidney & Berne Davis Art Center.
If you're looking to soak up some sun, Fort Myers Beach is just a short drive away. The white sandy beaches and clear blue waters of the Gulf of Mexico provide the perfect backdrop for a day of relaxation and beach activities.
No visit to Fort Myers would be complete without indulging in some delicious seafood. From classic fish and chips to fresh-caught shrimp and crab, there are plenty of seafood restaurants to choose from here.
Find Places To Stay in Fort Myers, Florida
St George Island State Park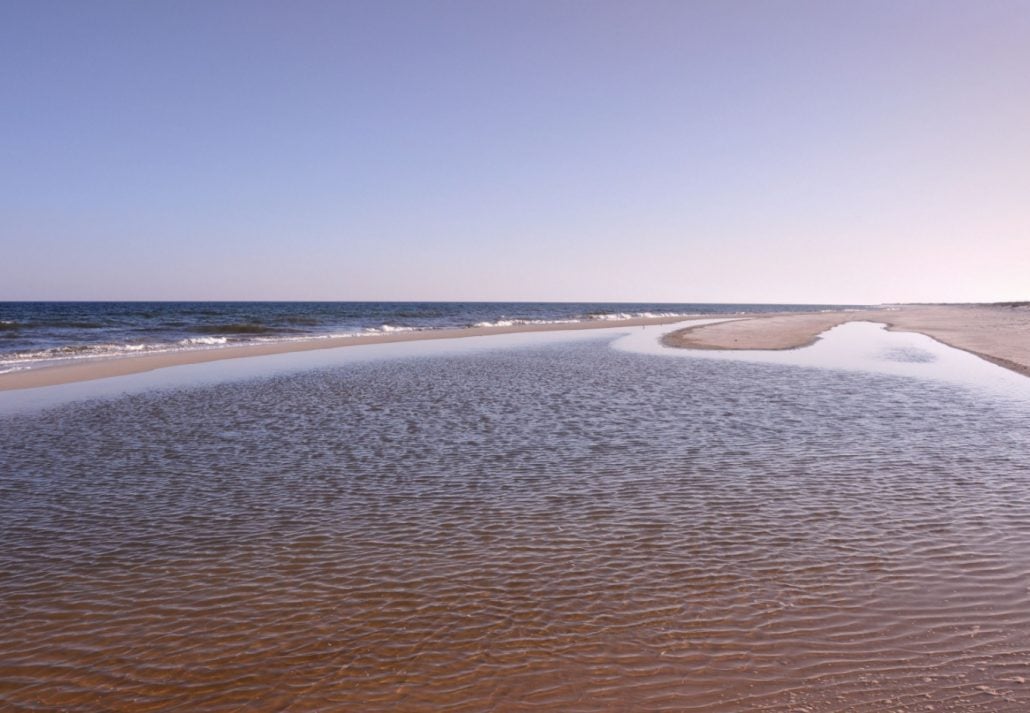 The St George Island State Park is situated on St George Island, a barrier island that is home to some of the most beautiful beaches in Florida. With miles of sugar-white sand and crystal-clear water, the park is an ideal destination for beach lovers and outdoor enthusiasts alike.
One of the most popular activities at St George Island State Park is exploring the local pristine beaches. Visitors can enjoy swimming, sunbathing, and beachcombing, as well as fishing and birdwatching. The park is also a popular spot for kayaking and paddleboarding, with rentals available nearby.
For those who prefer to stay on land, St George Island State Park has plenty of hiking and biking trails that wind through the park's pristine wilderness. During the journey, expect to come across a variety of wildlife, including deer, raccoons, and a variety of birds.
Cocoa Beach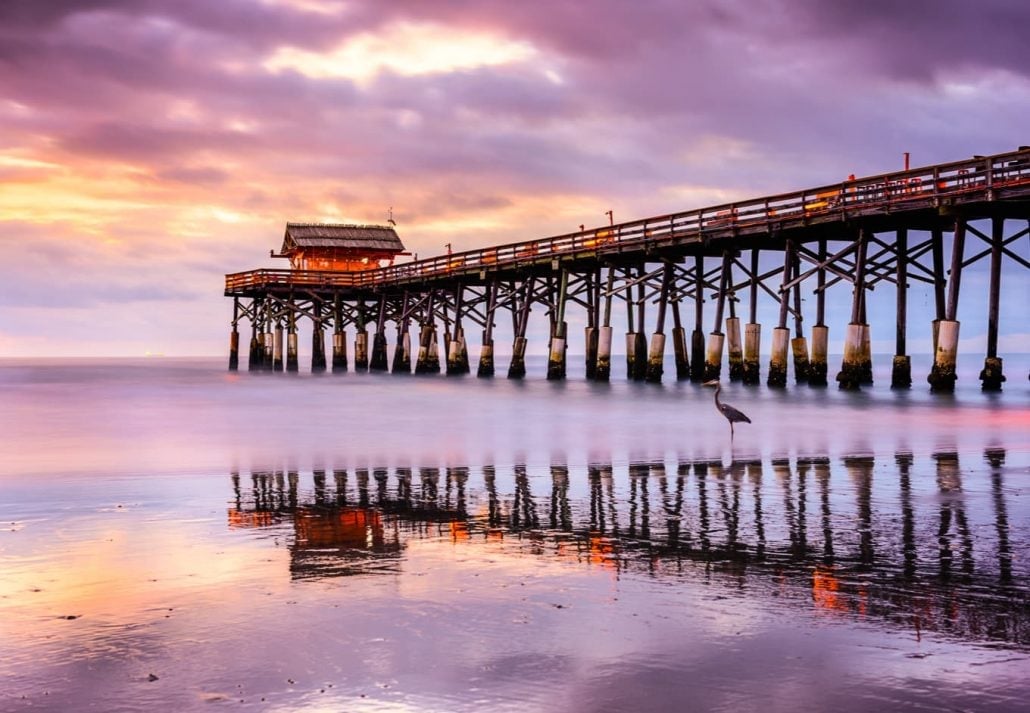 Cocoa Beach is a spellbinding destination known for its clean, wide beach with golden-hued sand. Located just an hour's drive from Orlando, Cocoa Beach is a popular day-trip destination for tourists who want to escape the city and soak up some sun.
Also known as "the quintessential beach town", Cocoa boasts an inviting atmosphere and a variety of family-friendly attractions. One of the city's most iconic spots is the Cocoa Beach Pier, which offers stunning views of the Atlantic Ocean and is lined with restaurants, bars, and shops.
Families visiting Cocoa Beach can also enjoy fun segway tours, breezy outdoor restaurants with gorgeous Ocean views, and visit the Cocoa Beach Skate Park, which is perfect for skateboarders and BMX riders.
Thanks to its calm, consistent waves, and shallow waters, Cocoa Beach is a coveted surfing destination. There, you'll find the iconic Ron Jon Surf Shop, the world's largest surf shop, and the Florida Surf Museum, where visitors can learn more about the unique history and culture of surfing on the East Coast.
Find Places To Stay In Cocoa Beach, Florida
Siesta Key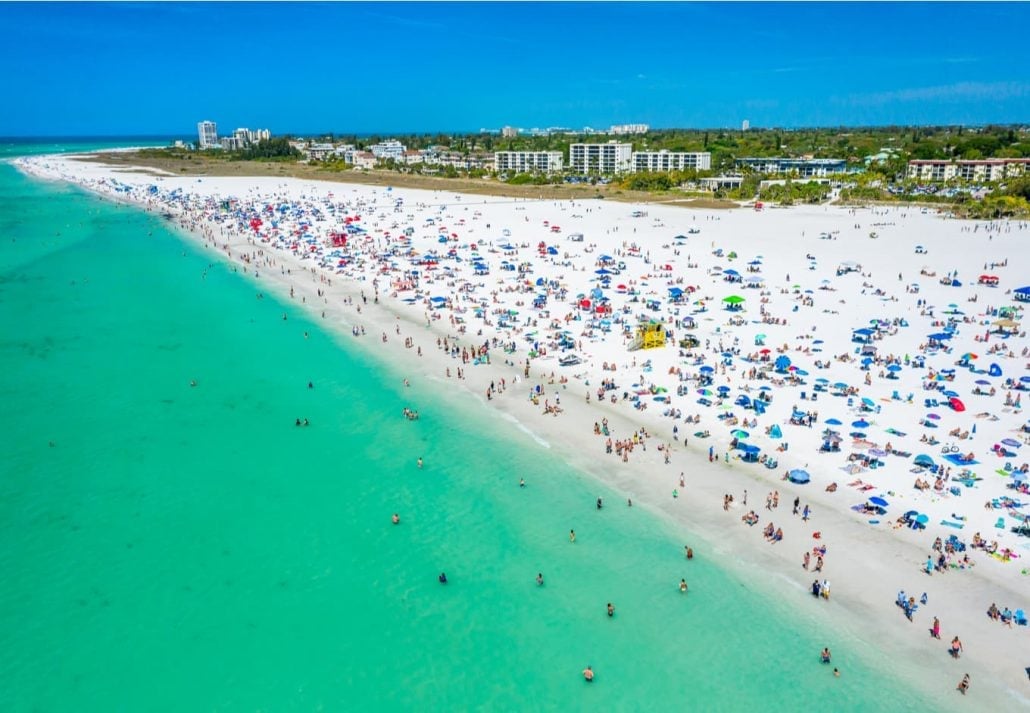 Siesta Key is a picturesque barrier island in the Gulf of Mexico. Known for its crystal-clear turquoise waters, powdery white sand beaches, and laid-back atmosphere, the island is a must-visit destination for those seeking a luscious tropical escape.
One of the top attractions on Siesta Key is, of course, the beach. Siesta Beach consistently ranks as one of the best beaches in the United States, with its soft, cool sand and clear, shallow waters perfect for swimming, sunbathing, and a variety of water sports.
Additionally, visitors can explore the shops and restaurants in Siesta Village, where they can sample fresh seafood and other local cuisine.
For those seeking adventure, Siesta Key offers plenty of opportunities for outdoor activities, including kayaking, paddle boarding, fishing, and sailing.
The island is also home to several nature preserves and parks, such as Turtle Beach Park and the Siesta Key Beach Park, where visitors can explore the island's unique ecosystems and observe local wildlife.
Find Places To Stay in Siesta Key, Florida
Recommended Read:
5 Most Fun Things To Do In Siesta Key, FL
Sanibel Island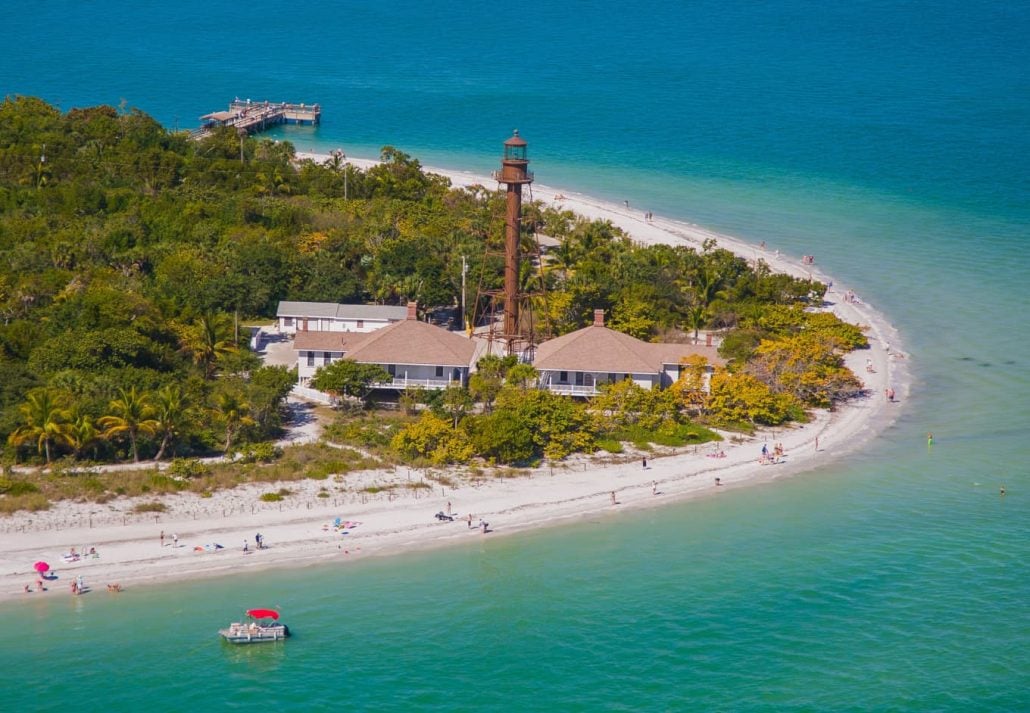 Sanibel is a well-protected Gulf Coast barrier island. Long and narrow in shape, this otherworldly destination is one of the larger islands of West Florida and features 15 miles of sun-kissed sandy beaches.
Aside from exploring endless miles of gorgeous beaches, visitors to Sanibel Island can discover wildlife reserves like Ding Darling National Wildlife Refuge, which is filled with hiking trails that provide a glimpse into the local nature.
There's also the Sanibel Moorings Botanical Gardens, which encompasses 6 acres of tropical trees and plants, including orchids, hibiscus, palm and citrus trees, bamboo, and native Florida plants.
Don't forget to drive through the Sanibel Causeway Bridge, a nearly 3-mile road along the west coast. Connecting the Florida mainland to Sanibel Island, this majestic roadway rises 70 feet over beautiful San Carlos Bay and offers show-stopping views over the aquamarine waters. Definitely worth it!
Find Places To Stay In Sanibel Island, Florida
Key Largo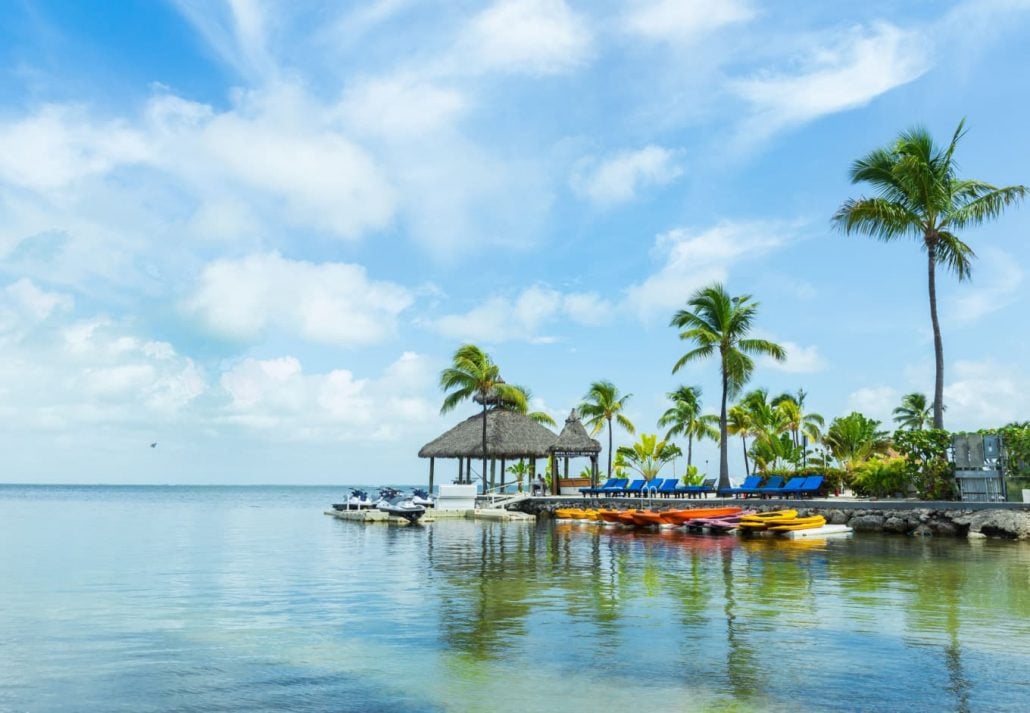 The first and northernmost of the Florida Keys, Key Largo is a beautiful island filled with beautiful beaches and tropical hardwoods. Here, travelers will also find two state parks, a national park, and a portion of a national marine sanctuary, making it a top destination for nature lovers.
Explore the John Pennekamp Coral Reef State Park, which encompasses an impressive 70 nautical square miles and is home to eye-popping coral reefs. The park can be discovered through diving, snorkeling, glass-bottom boating, and kayaking excursions.
Visit the Dagny Johnson Key Largo Hammock Botanical State Park, a nature sanctuary that plays host to 84 protected species of plants and animals, or take a dolphin-watching tour to see these adorable creatures swimming in their natural habitat.
Between one adventure and the other, make sure to stop by Mrs. Mac's Kitchen to sample some jet-fresh seafood and have a slice of the Key Lime Pie, a Florida Key's specialty!
Delray Beach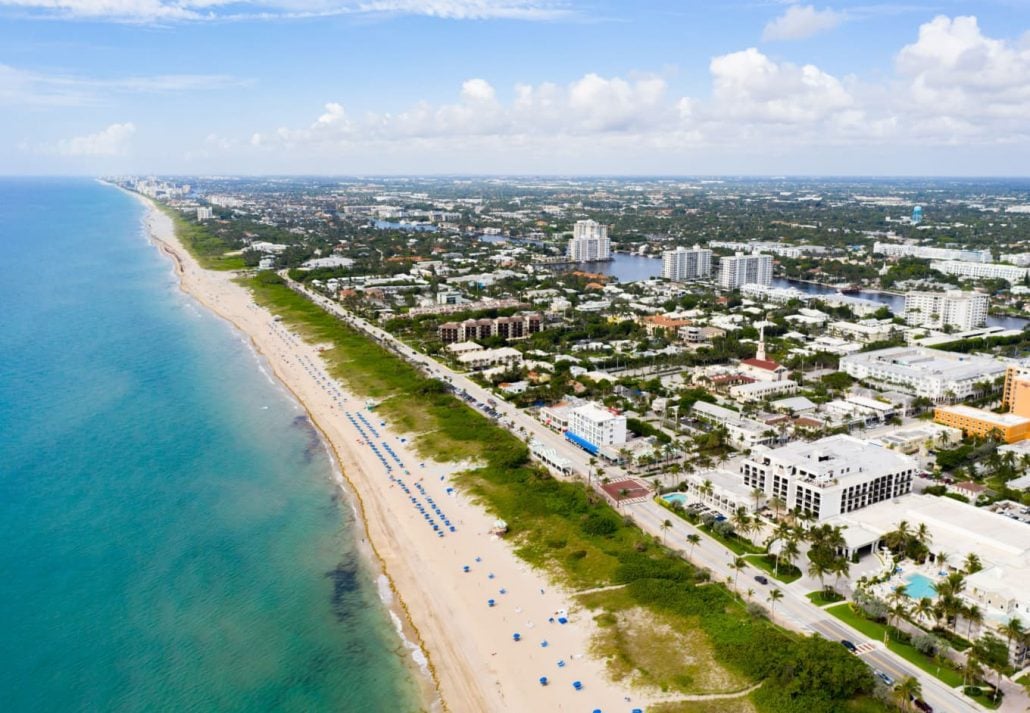 Delray Beach is a charming coastal city with an alluring mix of art, culture, and natural beauty. Nestled in Palm Beach County, the city is famous for its two miles of beautiful shoreline, dotted with stunning beaches, including Delray Municipal Beach, which has been named one of the best in Florida. The crystal-clear waters and soft white sand make it an ideal spot for sunbathing, swimming, and surfing.
Beyond the beach, Delray Beach has a thriving cultural scene. Visitors can explore the city's many art galleries and studios, or catch a show at the historic Crest Theatre. For history buffs, the Spady Cultural Heritage Museum offers a glimpse into the city's rich African-American history.
Foodies will be in heaven in Delray Beach, with a diverse array of dining options to choose from. The city's Atlantic Avenue is lined with a mix of casual and upscale restaurants, offering everything from fresh seafood to international cuisine.
And if you're looking for a night out, Delray Beach won't disappoint. The city is home to a vibrant nightlife scene, with a variety of bars, clubs, and live music venues to choose from.
St. Pete Beach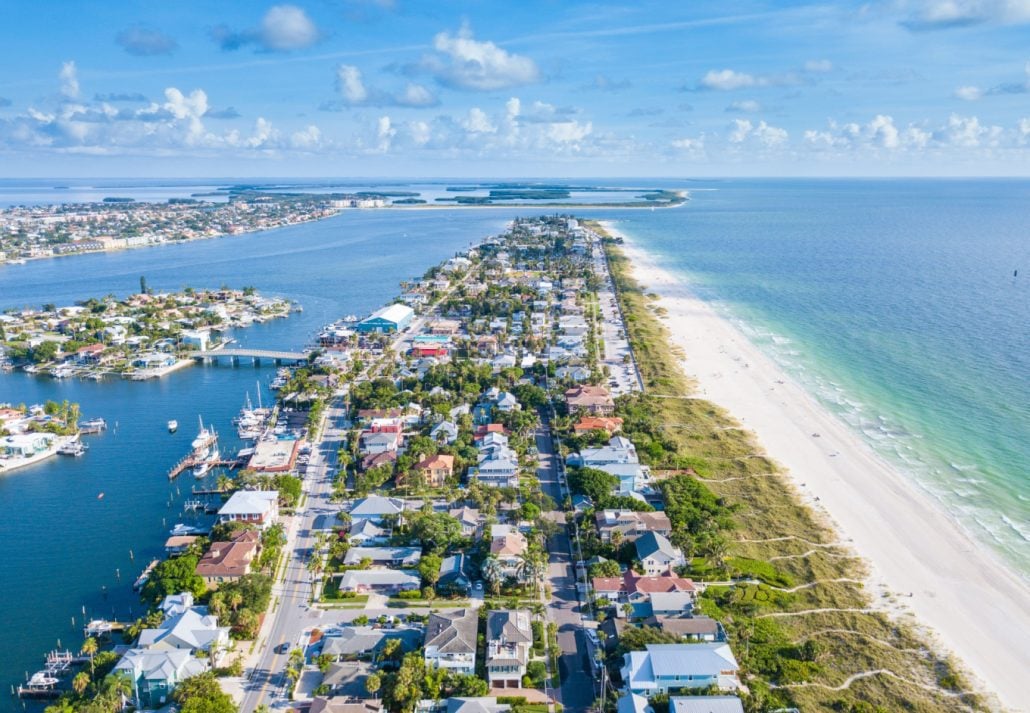 St. Pete Beach, located in Pinellas County on the west coast of Florida, is a charming coastal city that is definitely worth a visit. With its crystal clear turquoise waters, white sandy beaches, and a pleasant year-round climate, St. Pete Beach is the perfect place to relax, unwind, and soak up some sun.
The soft, white sand and gentle surf on the main beach make it a perfect spot for sunbathing, swimming, and watersports. Visitors can also stroll along the boardwalk, take a boat tour, or go fishing. Head over to the nearby Corey Avenue district to explore unique shops and restaurants that cater to all tastes.
For art enthusiasts, the Salvador Dali Museum in St. Petersburg, just a short drive away, is a must-see attraction. It houses the largest collection of Dali's works outside of Spain, including paintings, sculptures, and drawings.
Another attraction worth visiting here is Fort De Soto Park, which boasts miles of pristine beaches, biking trails, fishing piers, and even a historic fort.
Other top activities in St. Pete Beach include kayaking in the serene mangrove tunnels of nearby Weedon Island Preserve, visiting the Tampa Bay Watch Discovery Center, and enjoying a round of golf at one of the nearby courses.
FAQ
What part of Florida is the most beautiful?
The paradisiac Florida Keys, a string of tropical islands located between the sparkling waters of the Atlantic Ocean and the Gulf of Mexico, are often regarded as one of the most beautiful places in Florida.
Is Hawaii or Florida better for vacation?
Depends on what you're looking for. If you're seeking to mainly visit big-name theme parks and tourist attractions, then Florida is a good choice. If you want a more intimate, and nature-based experience, then Hawaii is the place for you.
What is the most visited place in Florida?
Walt Disney World, in Orlando, is the most visited place in Florida.
Is Key West Florida worth visiting?
Famous for its beautiful beaches framed by palm trees, lush tropical gardens, historical sites, and incredible national parks, Key West is definitely worth a visit.
CuddlyNest provides all accommodations to all travelers at the best price. Find unlimited travel inspiration on our blog and social media channels.
You Might Also Like:
10 Best Weekend Getaways in New York State
The 8 Best Natural Springs Near Orlando
Next Long Weekends 2022: Plan a Short Vacation
12 Amazing Day Trips From Orlando, Florida
The Ultimate Guide To Holidays In Orlando, Florida
Valentine's Weekend – Places To Go For Valentine's Day in 2022
18 Romantic Weekend Getaways in Arizona
7 Amazing Hotels in Miami, Florida
The Best Long Weekend Getaways In The US
9 Incredible Things To Do In Key Largo, Florida
A Guide To The 7 Best Pensacola Florida Beaches
Best Things To Do In Lauderdale-By-The-Sea, Florida
The 6 Best Beach Hotels In Orlando, Florida
The 10 Best Beaches Near Orlando, Florida
11 Amazing Weekend Getaways in Florida
A Guide To The Most Romantic Places In Florida