Are you still looking for ways to fill your wanderlust? Every day, traveling again seems closer and closer. However, there are still many ways and possibilities to take advantage of international travel from home, today. Re-visit some of your past trips through photos and videos, discover new places through movies, plan future getaways with bucket lists. There are so many options and ways to continue exploring.
1. Make A Photo Album of Your Travels
It's hard to go on vacation without taking a million photos. However, it is more often than not that those pictures live only on your phone or on your social media channels. Take advantage and relive your international travel by making a photo album or scrapbook. Not only does this make a great memento for you, but it is something you can share from generation to generation to come. You may just need to make more than one. There are also many tools including Canva or Shutterfly that can help you.
2. Listen to an Audiobook or Read a Book About Travel
There are numerous books by writers all over the world, who can simply whisk you away on an unforgettable adventure just using their words. From Ernest Hemingway's fictional escapades to Jedidiah Jenkin's brave accomplishment of biking from Oregon to Patagonia, be inspired by reading and listening to international travel books. Find one that you can't get enough of and be sure to pack it with for your own future trip.
3. Have a Movie Marathon with Films from Around the World
Is there a movie that made you think, wow I want to go there now? With movies from Eat, Pray Love, to Out of Africa to Midnight in Paris, there are hundreds of films that can transport you to another place in just a few minutes. Pro tip: turn your backyard into a "home theater" by setting up pillows, Christmas lights, and a projector. Your movie experience will be so elevated, that you'll forget you are even at home.
4. Take a Virtual Tour
The international community banded together to offer global travelers an opportunity to explore museums, world monuments, national parks, and more. Whether you are interested in learning more about the intriguing artwork of Van Gogh or are curious about the history of the U.S. National Parks, virtual tours and experiences can be your unofficial tour guides right from home. Discover endless opportunities to explore without moving from your sofa, by embarking on a journey through virtual reality.
5. Make a Fort in Your House
Especially with little ones in the house, making a fort is an excellent way to show them a brand new place. Whether you build a castle out of couch cushions and pillows and call it Buckingham Palace or layout all your towels, umbrellas, and boogie boards in the backyard to create the beaches of California, your kids will love going on an adventure you plan for them. It may just be their best yet!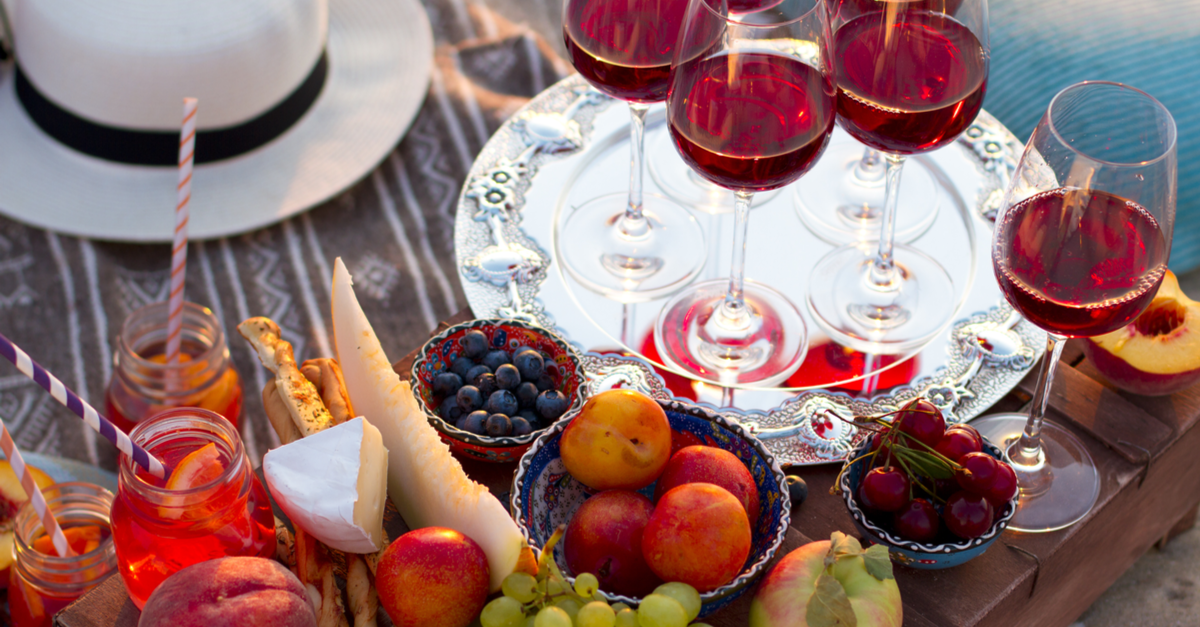 6. Plan a Themed Dinner
From celebrating Cinco de Mayo to learning how to make homemade pasta, what will make meals at home even more fun? Planning a themed dinner! You can even include your friends and have a virtual party. Ask your pals to bring their favorite dish so you can celebrate together, eat yummy food, and enjoy your at-home restaurant.
7. Listen to a Travel Podcast
Last week we created a list of the best travel podcasts to listen to in 2020. Not only will podcasts give you helpful information when planning your future stay, but they will also give you great ideas on where to go, and what to do and see there. Check out our list to find your new favorite show.
8. Re-Purpose Your Old Postcards
Do you have dozens of postcards sitting in a shoebox under your bed? If so, there are a few different ways to re-purpose them! Do a DIY (do it yourself) project. All you need is a couple of pieces of string and some clothespins to turn your wall into a global paradise.
You can also make photocopies and mail them to friends and family. Your loved ones will be so thrilled to receive mail from you during this time, and it's a great way to share your past experiences with them too.
9. Make a Bucket List Pinterest Board
We have given you dozens of ideas for bucket list adventures, and now it's your turn to make them a reality. A good place to start is by organizing your adventures using Pinterest Boards. From surfing vacations to mountain getaways, when planning your future trip your trusty board will help you organize and plan based on your interests. You can check out our CuddlyNest Pinterest page for inspiration.
10. Make a CuddlyNest Wishlist
Travel is nothing without finding the perfect place to stay, and we are here to provide you with incredible accommodations at the best price. Use our CuddlyNest "Save to Wishlist" tool to plan your future getaway now, and stay later. To save to the wishlist, all you need to do is log in to your CuddlyNest profile, press the save button on the right-hand side of the listing, and it will appear in your wishlist under your profile, waiting for you to book and visit. It's that easy. Your domestic or international travel plans can be done in seconds.
We would love to join your international travel from home. Let us know what journeys you embark on. Check out our blog for more inspiration to fill your wanderlust.
Browse. Book. Stay.
CuddlyNest provides all accommodations to all travelers at the best price. Find unlimited travel inspiration on our blog and social media channels. 
https://www.cuddlynest.com/blog/wp-content/uploads/2020/05/shutterstock_1222963030.png
627
1200
2020-05-15 09:37:55
2020-06-25 15:15:28
10 Ways to Internationally Travel from Home