Filled with big department stores, luxury designer boutiques, offbeat flea markets, and vibrant retail streets, New York is one of the world's top shopping destinations.
No matter your style or budget, you're guaranteed to find an array of places to splurge in New York City.
If you want to splash out on luxury brands, the prestigious Fifth Avenue is the place to go.
Want to find stylish vintage items? Then, head to Greenwich Village, a trendy neighborhood jam-packed with thrift stores.
For an unlimited variety of mid-range stores, go to Westfield Garden State Plaza, a massive shopping mall in the nearby city of New Jersey.
To help you enjoy some well-deserved retail therapy, we've created a guide to the best 12 places to go shopping in New York. Have a look below to learn more!
Find Places To Stay in New York City, New York
The Ultimate Guide To New York City Shopping
Saks Fifth Avenue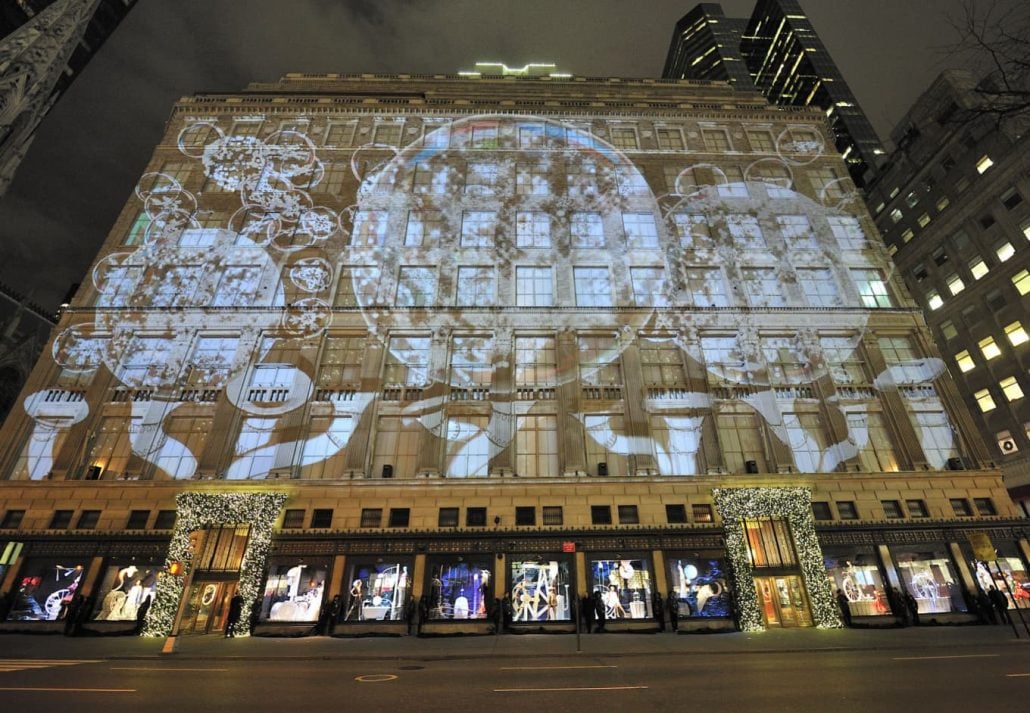 The Saks Fifth Avenue flagship store is one of the most iconic shopping destinations in New York.
Located on the iconic 5th Avenue (the city's best-known commercial stretch), this lavish department store is home to retailers selling luxury handbags, shoes, jewelry, and cosmetics.
Some of the high-end brands you'll find in Saks Fifth Avenue include Bottega Veneta, Loewe, Burberry, Saint Laurent, Valentino, and Christian Louboutin, to name a few.
Address: 611 5th Ave, New York, NY
Recommended Read 8 Top-Rated Beaches In The Hamptons, NY
Canal Street Market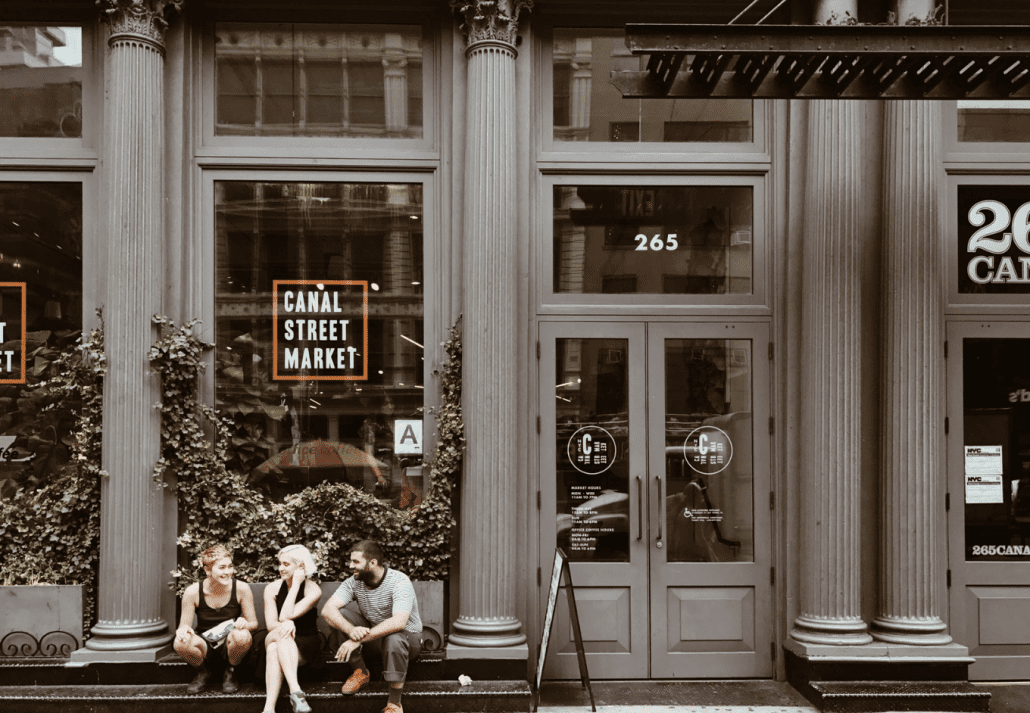 Looking for a unique shopping experience? Then, head over to Canal Street Market.
Located in the heart of Chinatown, the market gathers a rich mix of independent boutiques selling Insta-worthy items like handmade ceramics, jewelry, sunglasses, and clothing.
Canal Street Market also has a food hall filled with pop-up restaurants serving Asian dishes, artisanal pizzas, and desserts.
Address: 265 Canal St, New York, NY
South Street Seaport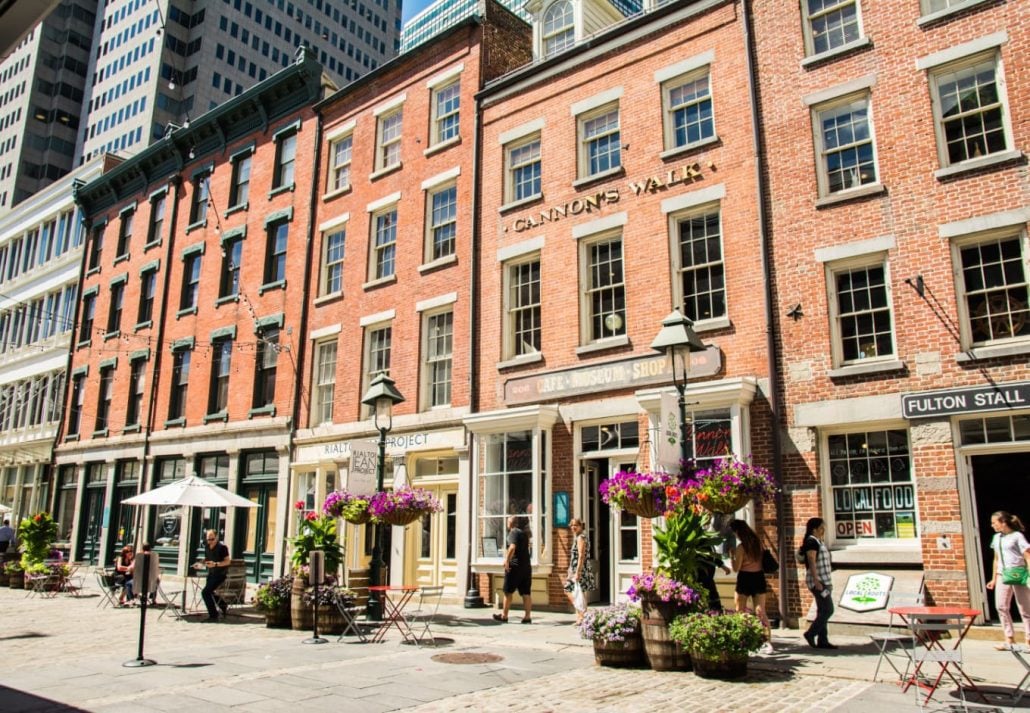 Just under the Brooklyn Bridge, on the East River, South Street Seaport is a historic area filled with shopping opportunities. You'll find a great selection of independent boutiques selling clothing, shoes, and artisanal wine here.
Stop by McNally Jackson to browse through thousands of books spanning 200 years and to Club Vintage to find stylish vintage clothing, furniture, and home décor.
South Street Seaport's hip boutique stores are intertwined with modern eateries where you can sample everything from açai to French-inspired bistro food.
Brooklyn Flea Market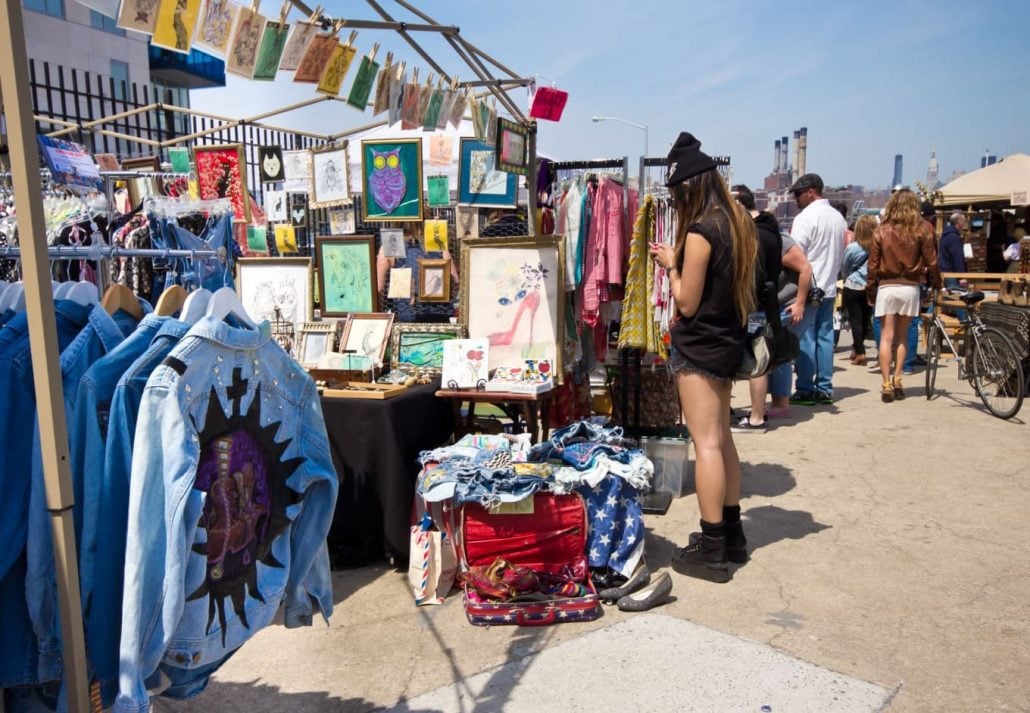 Located in DUMBO, a charming neighborhood in the Brooklyn borough of NYC, the Brooklyn Flea Market is one of the world's top outdoor markets.
This vibrant location gathers over 200 vendors selling a precious selection of rare vintage records, which you wouldn't find in any store in the city. You can also find clothing, jewelry, artwork, and other precious antiques here.
Address: 80 Pearl St, Brooklyn
Recommended Read 10 Amazing Free Things To Do In NYC
Madison Avenue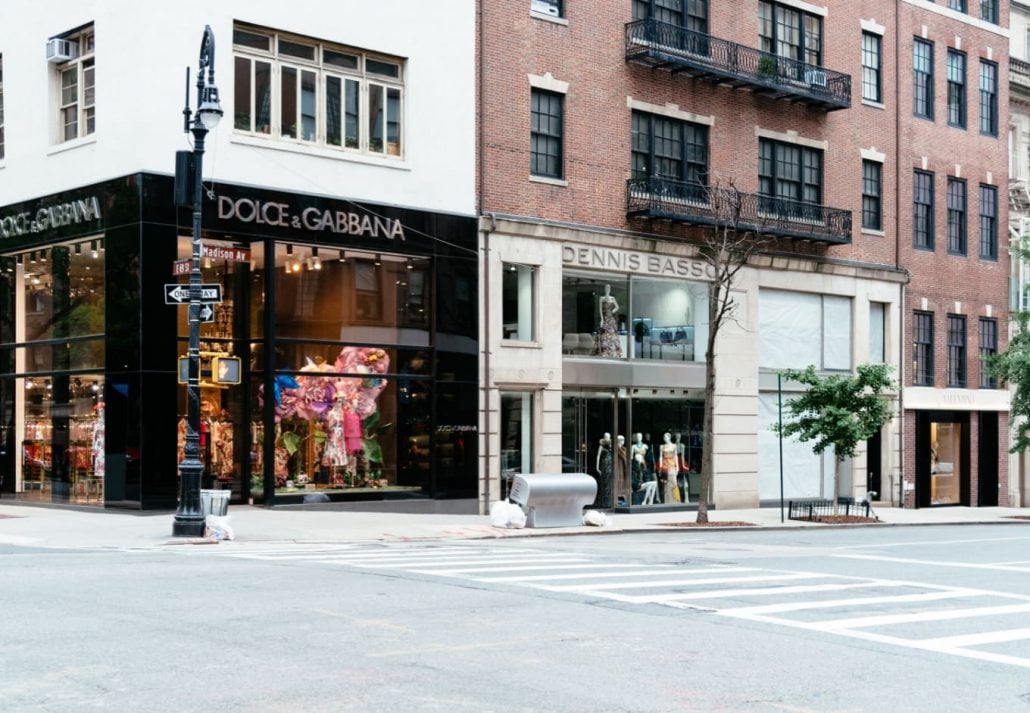 Madison Avenue is one of the most desirable shopping destinations in New York. Located in the upscale Upper East Side neighborhood, this street has over 100 luxury stores selling high-end jewelry, handbags, watches, shoes, and clothing.
Some of the brands you'll find while window shopping on Madison Avenue include Tom Ford, Giorgio Armani, Calvin Klein, Hermès, Carolina Herrera, and Louis Vuitton, to name a few.
Union Square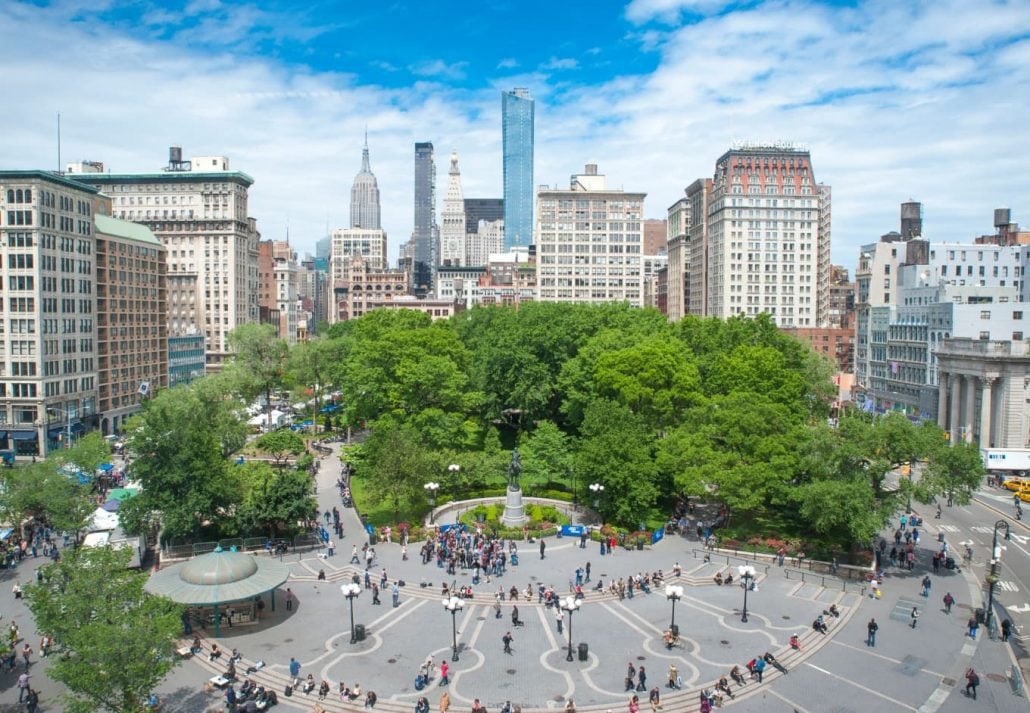 Anchored by its namesake pedestrian plaza and green park, the vibrant Union Square neighborhood has something for every shopper. In this lively area, you'll come across a rich mix of mid-range stores like Zara, Nordstrom Rack, Muji, Barnes & Noble, Free People, Vans, and Staples.
Woodbury Common Premium Outlets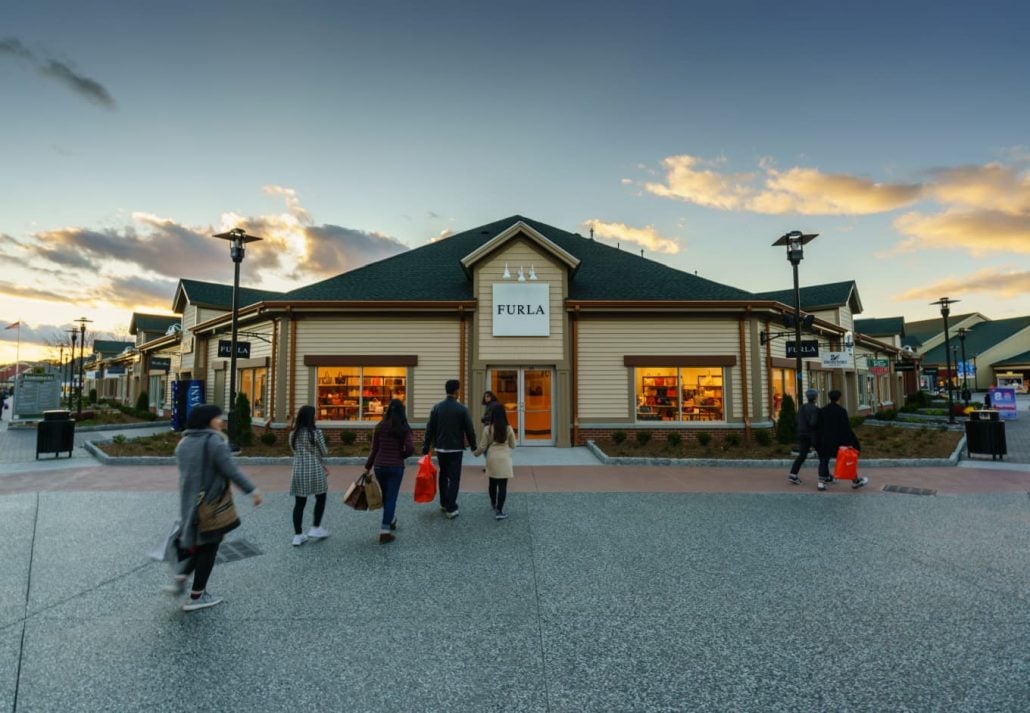 If you want a budget-friendly shopping experience, head to Woodbury Common Premium Outlets.
Located a 50-minute drive from Manhattan, this outlet mall is home to over 200 stores of big-name brands like Levi's Diesel, Forever 21, Gap, Old Navy, Lululemon, Adidas, J.Crew, Nike, and Ralph Lauren, among others.
Westfield Garden State Plaza also features a dazzling array of stores where you find discounted luxury items.
Some of the high-end boutiques you'll find here are Jimmy Choo, Givenchy, Isabel Marant, Chloé, Gucci, Burberry, Marc Jacobs, Celine, Dior, and Versace.
Address: Address: 498 Red Apple Ct, Central Valley, NY
The East Village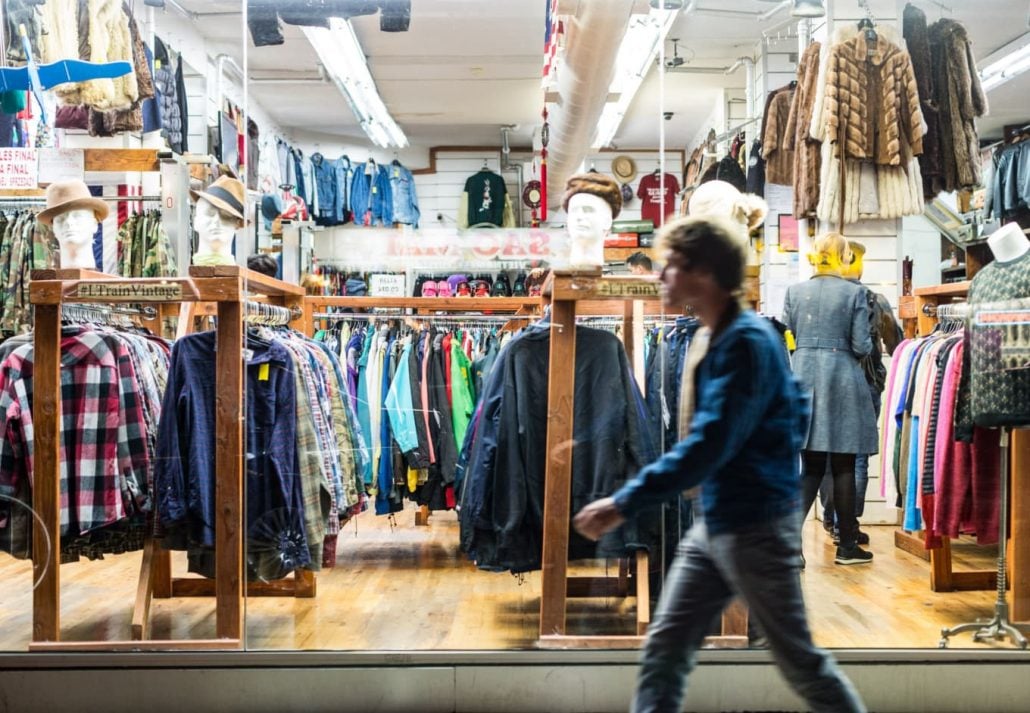 The East Village is a bohemian neighborhood filled with trendy thrift shops, vintage boutiques, and record stores, making it a prime destination for those seeking a unique shopping experience.
Pillow Cat Books is a quirky shop selling exclusively animal-themed books, while Fabulous Fanny's specializes in original vintage glass frames.
Stop by Tea Drunk for some high-quality loose-leaf tea, and visit Il Buco Vita to find handmade tabletop and antique décor handmade in Italy.
Another mus-visit shop in the East Village is Metropolis, which boasts the best selection of vintage t-shirts in New York City, and it's a favorite shopping destination for celebrities like Sky Ferreira, Julian Casablancas, and Iggy Pop.
Recommended Read New York In 2 Days: Everything You Need To See
Bloomingdale's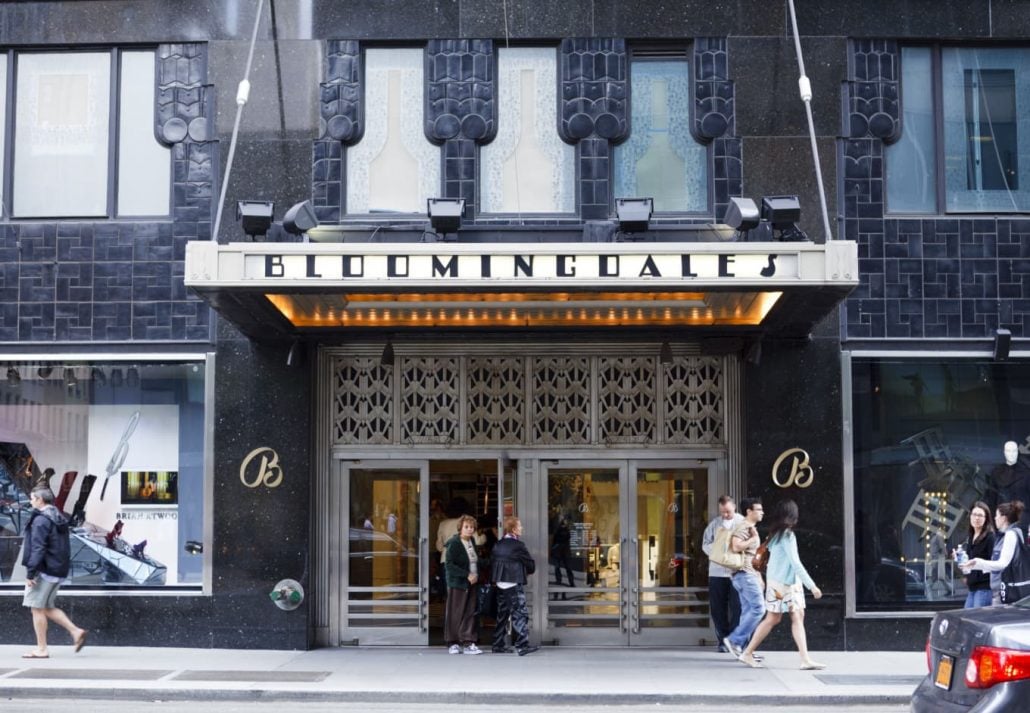 Bloomingdale's will provide you with the ultimate shopping experience. An icon in New York City for nearly 150 years, this major department store now has over 50 locations in the United States, including its 815,000-square-foot flagship on 59th Street in the Upper East Side.
While browsing Bloomingdale's flagship, you'll stumble across luxury stores selling high-end eyewear, jewelry, handbags, shoes, hats, and lingerie.
Bloomingdale's also treats shoppers to personalized services such as personal shopping assistance and tailoring.
Address: 1000 Third Avenue 59th Street and, Lexington Ave, New York
Macy's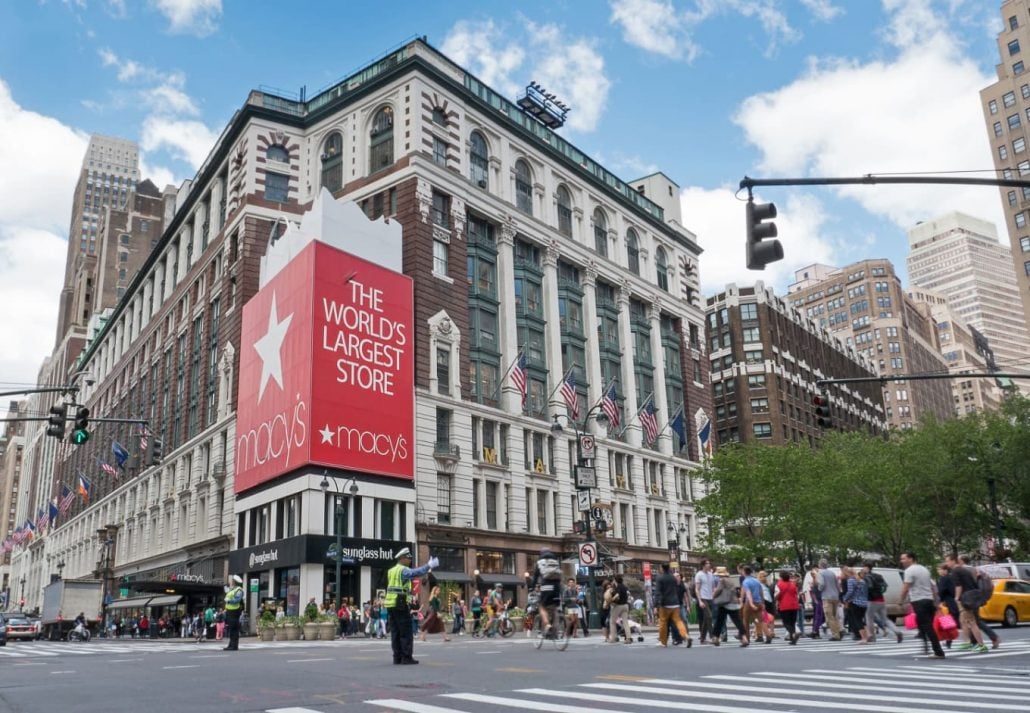 Macy's Herald Square is another worth-visiting department store in New York. Built in 1902, the store boasts a stellar selection of top fashion brands, including Ralph Lauren, Calvin Klein, Clinique, Estée Lauder & Levi's®.
Aside from shoes and clothing items, Macy's flagship store has a wide range of housewares, gifts, and furniture.
Address: 151 W 34th St., New York
Westfield Shopping Mall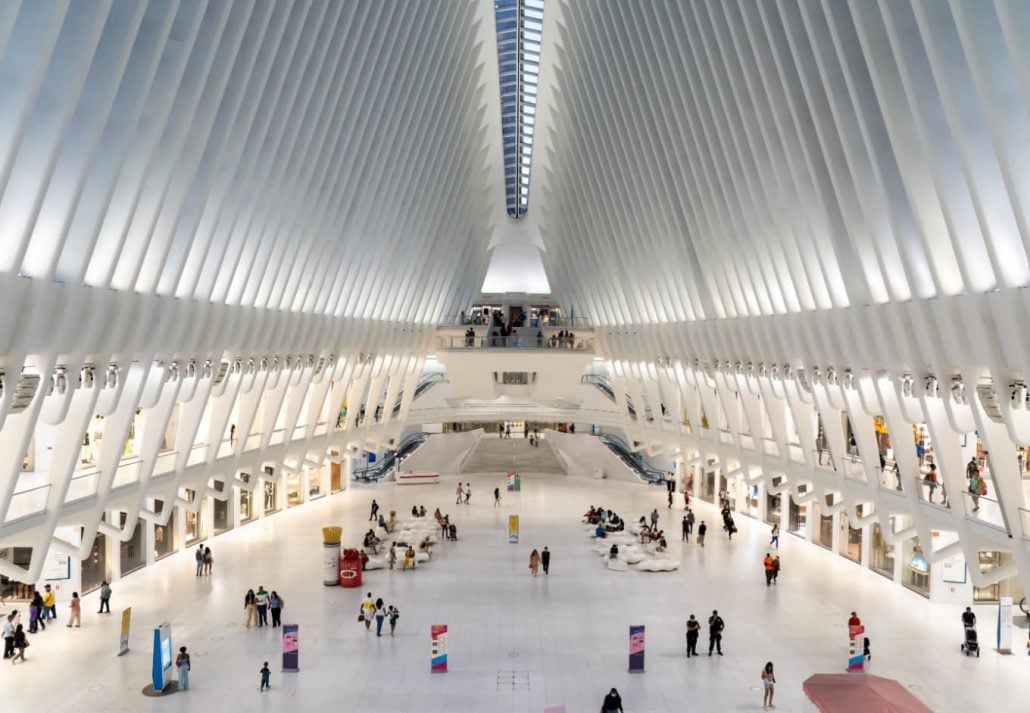 Located inside the Oculus Head, the Westfield Shopping Mall is the largest shopping complex in Manhattan.
The mall has a first-class selection of over 120 stores, including retail spaces by worldwide known brands like Apple, H&M, UGG, and Walgreens.
Address: 185 Greenwich St, New York
Recommended Read The Ultimate Guide To Hudson Valley, New York
Chelsea Market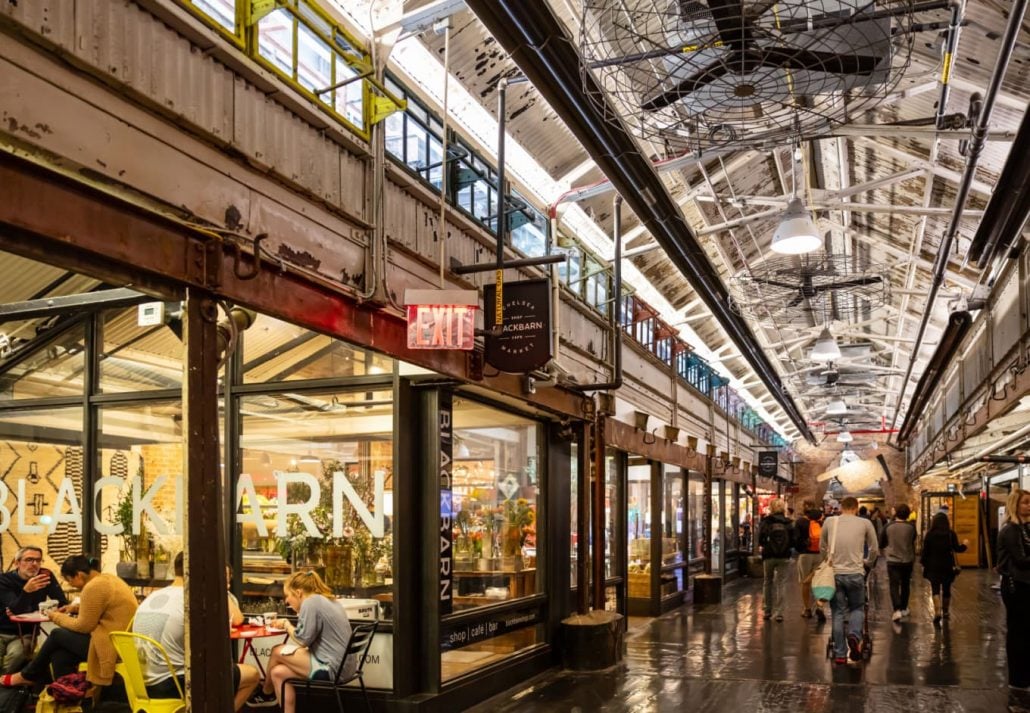 Chelsea Market is a wonderland for shopaholics and foodies alike. Set in the heart of New York City's Meatpacking District, this vibrant marketplace gathers stores specializing in everything from clothing and books to flowers and even imported items from Morrocco.
Whenever you need a break from all the shopping, stop by one of the market's lip-smacking food stalls.
Bar Suzzette is famous for making one of the best French-style crepes in NYC, Los Mariscos serves a mouthwatering ceviche, and Mök Bar specializes in comforting Korean grub.
Address: 75 9th Ave, New York, NY
FAQ
Is New York City good for shopping?
New York City shopping is a real treat. NYC has many amazing shopping spots (department stores, outlet malls, thrift shops, flea markets, etc.) catering to every taste and budget.
What are the best shopping destinations in New York City?
The best places to go shopping in New York are:
Saks Fifth Avenue;
Canal Street Market;
South Street Seaport;
Brooklyn Flea Market;
Madison Avenue;
Union Square;
Woodbury Common Premium Outlets;
The East Village;
Bloomingdale's;
Macy's;
Westfield Shopping Mall;
Chelsea Market.
What are the best shopping areas in NYC?
Some of the best areas to go shopping in NYC are SoHo, Greenwich Village, and The East Village.
Where to stay in NYC?
When it comes to experiencing the vibrant heart of New York City, choosing the right place to stay is crucial. Have a look at some fantastic options listed in these guides:
Best New York City Neighborhoods: Where To Stay
5 Overall Best New York City Hotels
The Best Hotels In Manhattan, NYC
Whether you're planning a romantic getaway, a family adventure, or a solo trip, we've got you covered. Our inviting platform is designed to make your booking process a breeze, ensuring that your travel planning is as enjoyable as the trip itself!
Browse. Book. Stay.
CuddlyNest provides all accommodations to all travelers at the best price. Find unlimited travel inspiration on our blog and social media channels:
Facebook, Instagram, Pinterest, and X.
You May Also Like:
8 Best Things To Do In New York City
Where To See The Best Christmas Lights In New York City
10 Best Weekend Getaways in New York State
Berlin vs. New York: How Does It Compare?
The Best Things To Do In New York During Christmas
Best New Year City – New Year's Eve In NYC
Fun Facts About Mexico: 50 Things You May Not Know
The Best Time To Visit New York
The 9 Most Amazing Hidden Gems in New York
Top 12 Places To Have The Best Pizza In New York City
51 Fun Facts About New York That Will Surprise You
The 13 Most Amazing New York Attractions