One of the best ways of exploring Spain — especially if you're an adventure seeker—is by car. From meandering through the country's mountainous countryside to exploring charming medieval cities and uncovering the Mediterranean coast, Spain offers a fascinating concoction of options for road tripping.
If you're dreaming of getting off the beaten path and exploring Spain by your own means, read on to discover the 5 most scenic road trips in the country.
Things You Should Know Before Your Spain Road Trip
Driving In Spain
Speed limits:
| | |
| --- | --- |
| WITHIN CITY LIMITS: | 50 km/hr (30 mph) |
| OUTSIDE CITY LIMITS: | 70-100 km/hr (43-62 mph) |
| HIGHWAY/FREEWAY: | 90-120 km/hr (56-75 mph) |
Using, operating, or holding mobile phones is prohibited while the engine is running and/or a vehicle is moving;
If you are driving with children up to 12 years old and less than 4 foot 4 inches (135 cm), you must put them in a specific child seat;
In order to be eligible to drive in Spain, you must always have a valid driver's license and passport;
All European Union driving licenses and international driving licenses are valid in Spain;
If you are coming to Spain in your own car, you will have to ask for a temporary circulation permit for the vehicle at Customs;
It is absolutely necessary to have valid international insurance;
To rent a vehicle in Spain, you must be at least 21 years old and have a valid driving license;
The majority of roads in the national network are free to use, but there is a series of roads that may require the payment of a toll.
The Best Time For Visiting Spain
There isn't one best time to visit Spain, and it all depends on the destination you're going to. But, overall, late spring (April-May) and early fall (September-October) are great times for visiting the country.

Recommended Read : Best Places to visit in Spain
5 Best Spanish Road Trips
Andalusia: Discovering The Beauty Of Southern Spain
It is quite possible to get an overview of Spain's history and culture by taking a road trip to Andalusia. Famous for its heavenly Moorish architecture, eye-popping medieval castles, bustling traditional festivals, and vibrant culture, this historic region is home to some of the best cities to visit in Spain.
Start your Andalucia road trip in Malaga, a charm-filled destination located in southern Spain's Costa del Sol. Aside from being one of the oldest cities in the world, the city is also known for being the birthplace of Pablo Picasso, housing a fabulous museum dedicated to the Spanish painter.
After feasting on jet-fresh seafood, visiting sun-drenched beaches, and exploring local landmarks like the Renaissance-style Catedral de la Encarnación de Málaga, head over to your next destination: Marbella.
Gloriously located in Costa del Sol and framed by the mighty Sierra Blanca Mountains, the city is praised for its golden Mediterranean beaches, tempting night clubs and luxury resorts.
Next stop of this southern Spain road trip? The fascinating mountaintop city of Ronda. Once inhabited by the Romans and Moors, the city is beautifully dotted with rolling hills, spectacular bridges, whitewashed buildings, orange trees, and olive groves.
Then, venture further out to Cadiz, an ancient port city where gorgeous beaches live side by side with leafy plazas, narrow cobblestone streets, and precious landmarks like the waterfront 18th-century Cádiz Cathedral.
Stop by Jerez de la Frontera, the world capital of sherry wine, for a few days of drinking in Spain's most amazing bodegas before moving on to Seville. Boasting a rich cultural heritage, this charismatic city will soon entice you with its orange blossom scent, otherworldly Moorish constructions, stunning plazas, and captivating Flamenco concerts.
The next destination is Cordoba, an intriguing city that will take you on a journey back in time. Once an important Roman city and major Islamic center, this destination is home to fine examples of Moorish architecture. A must-visit? The gorgeous Mezquita-Catedral, which was built in 785 CE and is now a cathedral (and UNESCO World Heritage site)
End your road trip by visiting the dreamy Granada, which is framed by the gorgeous Sierra Nevada Mountains. Explore the city on foot and get lost in the wiggly narrow streets, and don't pass up the chance to visit the Alhambra Palace, a precious complex filled with palaces, gardens, and patios.
Itinerary: Malaga – Marbella – Ronda – Cadiz – Jerez de la Frontera – Seville – Cordoba – Granada
Highlights: Beach-hopping in Costa del Sol; visiting the precious Mezquita-Catedral (Cádiz); drinking sherry in Tio Pepe (Jerez de la Frontera); watching flamenco concerts in Seville, and exploring the Alhambra Palace in Granada.
Duration: 7 to 10 days
When To Go: Spring months (March, April, May) and autumn months (September, October, November)
Find Places To Stay In Andalusia
Galicia: A Rugged Jewel In Northern Spain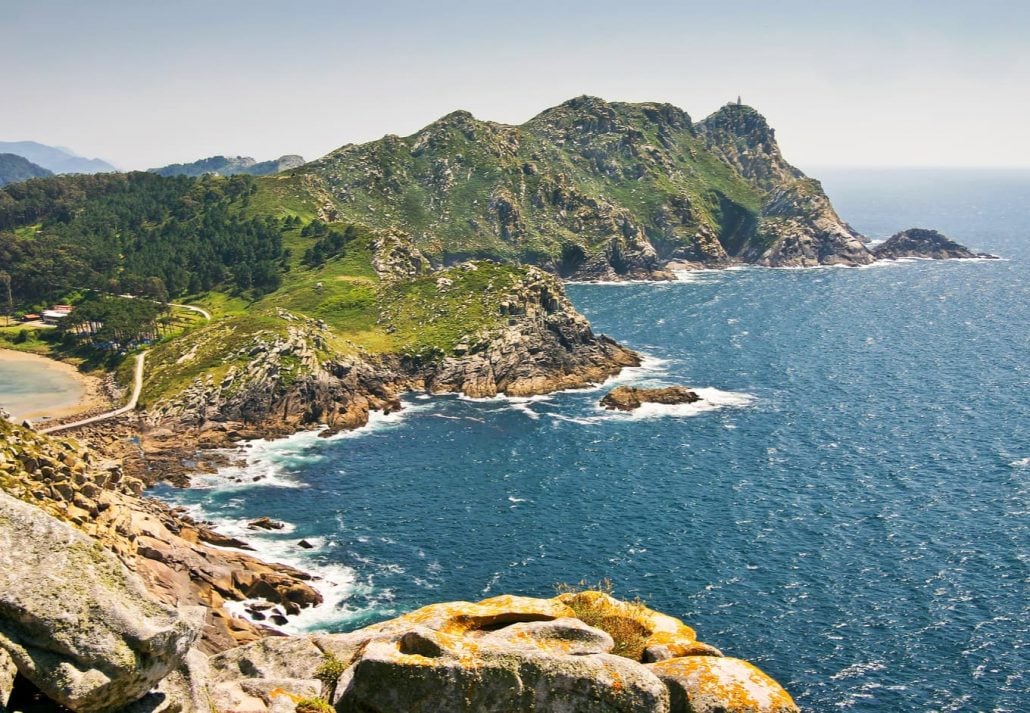 A verdant region located in Northern Spain, Galicia is graced by wooded valleys, mountain ranges, and over 1,030 mi of coastline. This means that there's plenty of beauty to be explored in this scenic destination.
Start-off in La Coruña, Galicia's most populated city. Yoking past and future, this port town is famous for housing the Tower of Hercules, the oldest extant lighthouse known, offering the most sweeping views of the North Atlantic coast of Spain. Explore the city's most charming attractions, including the charming Maria Pita Square, and La Coruna's medieval Old Town, before you continue your Galicia road trip.
The next stop is Santiago de Compostela, the capital of Galicia. Best known as the culmination of the Camino de Santiago pilgrimage route, the city is home to the famous Catedral de Santiago de Compostela, the alleged burial site of Biblical apostle St. James.
Move further with your Northern Spain road trip by driving from Santiago de Compostela to Pontevedra. Perfectly placed along the Atlantic coast, this atmospheric city is surrounded by hills and is known for its rich collection of monumental buildings. For a journey back in time, visit Pontevedra's old town, the Gothic Santa María la Mayor Basilica, and The Ruínas de San Domingos, which are dreamy remains of a 14th-century convent.
Sheltered by the Cíes Islands, the city of Vigo is the next destination. Aside from feasting on oysters, scallops, and other seafood delicacies, be sure to explore Vigo's historical gems — from the 17th-century Castro Fortress to the charming old town.
End your trip on a high note by the lovely Ourense. Split in half by the Miño River, the city has a fascinating history that dates back to more than 2,000 years, and it's known for its hot springs, and gorgeous constructions like churches, palaces, and bridges.
Itinerary: La Coruña – Santiago de Compostela – Pontevedra – Vigo- Ourense
Highlights: The Tower of Hercules Roman Lighthouse; the gorgeous Ciés Islands (Vigo); feasting on seafood in Vigo; As Burgas hot springs (Ourense)
Duration: 5 days
When To Go: June to September
Find Places To Stay in Galicia
Castilla y León: A Glimpse Of Medieval Spain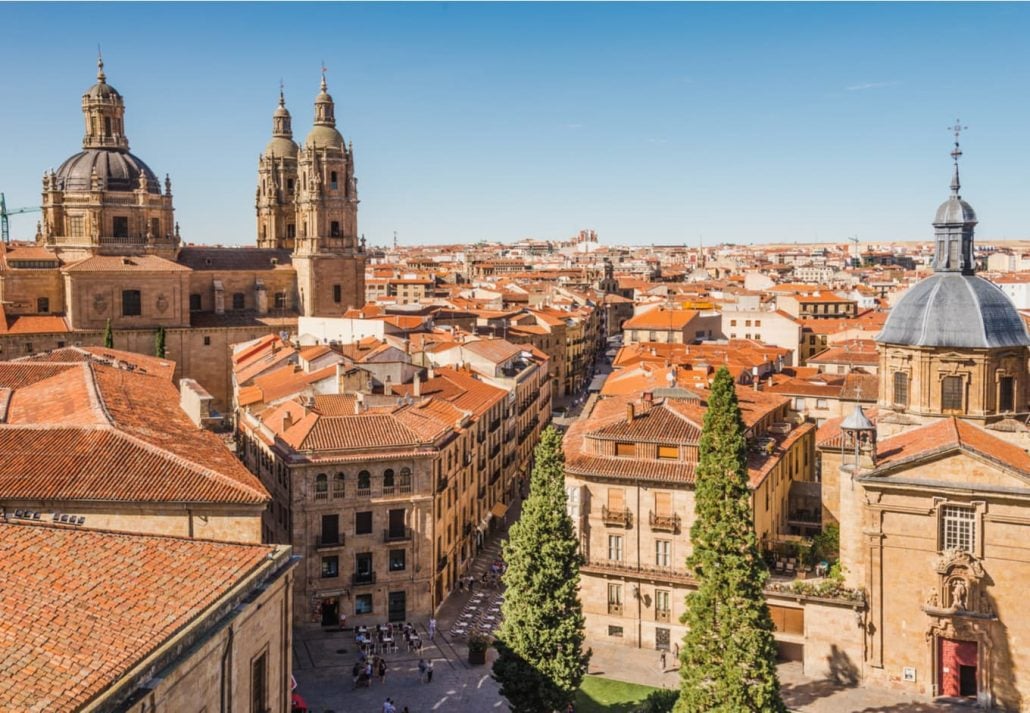 Spain's history spans literal centuries, and one of the best places to delve into it is in the Castilla y León (Castile and León) province. Located northwest of the country, the region is filled with UNESCO World Heritage Sites, many protected natural sites, and lovely historic cities that are worth exploring.
A great idea is to start your road trip in Madrid before you delve into the marvels of Castilla y León. If you're coming from abroad, pick up your hire car at Madrid airport and spend a day or two in Spain's capital city.
In Madrid, don't miss the chance to visit Museo del Prado, Museo Reina Sofía, and the Thyssen-Bornemisza Museum, which are three of the most famous art museums in Spain, explore the Buen Retiro Park and the Crystal Palace and spend endless hours in the local tapas bars.
After getting a taste of central Spain, drive north until you reach Segovia, where you will be marveled by Romanesque churches, royal palaces, gothic cathedrals, and an ancient Roman aqueduct with more than 160 arches.
The World Heritage city of Ávila is the next stop on this Spanish road trip. Located on the right bank of the Adaja river, the city claims to have the thickest concentration of Romanesque and Gothic churches per capita in Spain. Must-visit attractions in Ávila include the UNESCO-listed medieval town walls, the iron-grey granite Gothic Cathedral of Ávila, and Basílica de San Vicente.
From Ávila, drive for approximately an hour until you reach Salamanca, a picture-perfect city nestled on the banks of the Tormes River. This lovely destination is regarded as being home to the University of Salamanca, which is the oldest university in Spain and the third oldest western university.
Salamanca is also praised for hosting one of the most important Holy Week processions in Spain, and for its gorgeous Plaza Mayor
Spend a few days learning about Salamanca's fascinating Roman past, and then head over to Zamora, where you'll be instantly mesmerized by the beauty of the Zamora Cathedral and its dreamy Byzantine dome. Explore the city's 24 Romanesque-style churches of the 12th and 13th centuries, and visit the Medieval Castle of Zamora before driving to your next destination: Valladolid.
In every corner, this university city is filled with historic gems waiting to be discovered. Marvel at the 16th Cathedral of Valladolid, snoop around the galleries of the Museo Nacional de Escultura and visit Casa Museo de Colón, which features a comprehensive collection of relics related to Christopher Columbus.
The best place to end the road trip is in Burgos, which is home to a dazzling array of ancient churches and convents. A true heaven for foodies, the city was named "City of Gastronomy" by UNESCO and is a prime place for sampling the soulful Castilian cuisine.
Itinerary: Madrid – Segovia – Ávila – Salamanca – Zamora – Valladolid- Burgos
Highlights: Royal Palace of Madrid; Salamanca University; the Zamora Cathedral; experience the Holy Week processions in March/April
Duration: 5 to 7 days
When To Go: Spring (during the Holy Week) and Autumn
Find Places To Stay in Castille and Leon
Basque Country and the Pyrenees: A Wonderland For Adventure-Enthusiasts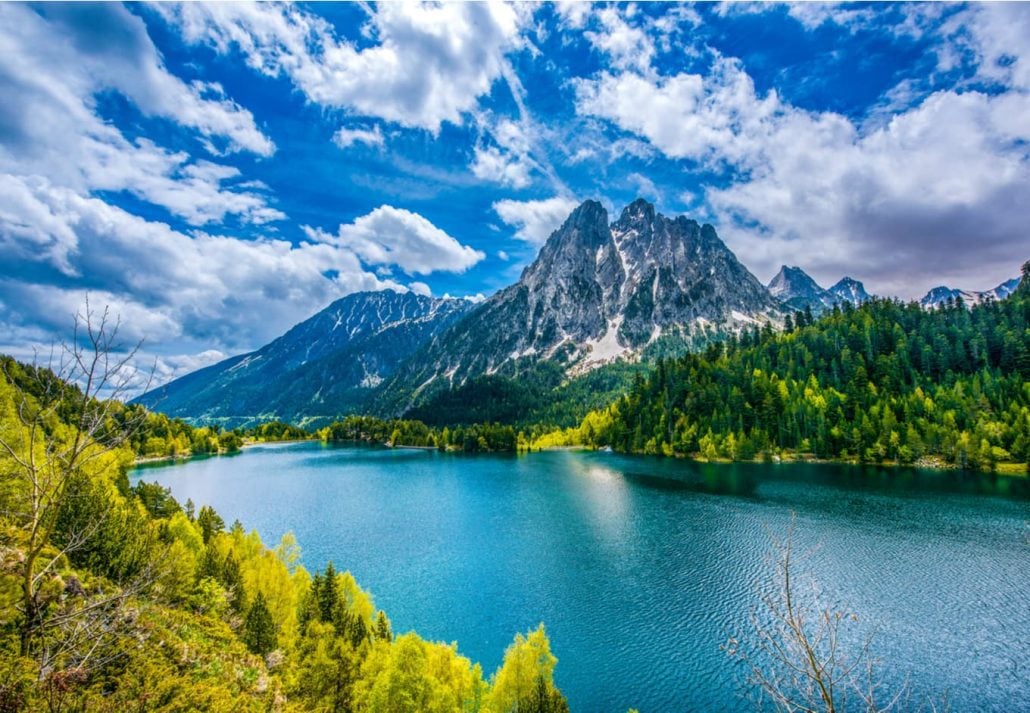 The drive from the Basque Country to the Pyrenees is the ultimate Spain road trip for adventure lovers.
A great idea is to begin your journey on a gentler note and then drive through the North coast of Spain in search of some thrill and adrenaline. The starting point of the road trip route is Bilbao, the largest city in the province of Biscay.
Home to stellar museums, such as the Frank Gehry–designed Guggenheim Museum Bilbao, Bilbao invites you to indulge in a myriad of cosmopolitan activities, such as dining in lip-smacking pintxo bars, exploring gorgeous squares, and marveling at stunning city views.
From there, head over to the coastal city of San Sebastian, which is frequently ranked as one of the top surfing destinations in Europe. After enjoying the stellar waves on beaches like Mundaka, Zarautz, La Salvaje, and La Zurriola, go to the worldwide known Playa de La Concha — one of the best beaches in Spain —for some well-deserved rest.
To dial up the thrill factor to a ten, flock to the Spanish Pyrenees, which offers visitors some of the best opportunities for adventure travel in Spain. Extending for more than 250 miles between Navarre, Aragon, and Catalonia, the mountain range is a great destination for pulse-pounding activities such as hiking, hot air balloon rides, canyoning, and skiing.
Itinerary: Bilbao – San Sebastián – Pyrenees
Highlights: Guggenheim Museum Bilbao; La Concha Beach; Aigüestortes i Estany de Sant Maurici National Park
Duration: 8 days
When To Go: Summer months ( from June to September)
Find Places To Stay in the Basque Country
Costa Brava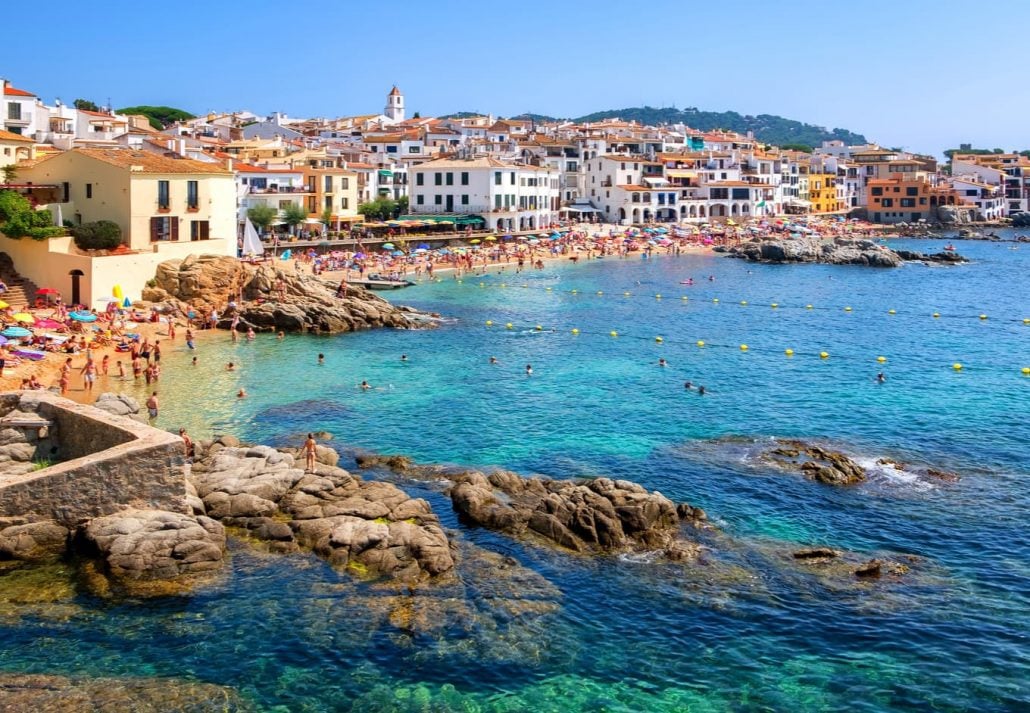 The spectacular Costa brava road trip itinerary will lead you through the varying landscapes of picturesque small towns and villages, pristine beaches, rugged coastlines, mountainous peaks, and even major cities in Spain.
Making up a large part of the Spanish region of Catalonia, Costa brava runs all the way from the French border down to the province of Barcelona, and it's a great summer destination in Spain.
One of the top road trip routes in Costa Brava starts in Barcelona, the capital city of Catalonia. Spend a day or two exploring the city's top attractions — from the picturesque Gothic quarter to the magnificent Sagrada Familia basilica — before you drive north to Blanes, aka "Gateway to the Costa Brava".
Blanes is a vibrant seaside destination known not only for its long sandy beaches but for its idyllic Marimurtra Gardens, which design the perfect scenario for some relaxation and inner peace.
Approximately 3 miles north from Blanes lies Lloret De Mar, a Mediterranean coastal town that entices visitors with its Blue Flag beaches, stunning coves, and heavenly gardens like the 20th-century Santa Clotilde Gardens.
From Lloret De Mar, venture out to Girona, which is unarguably one of the most fascinating cities in Spain. Turn famous after for being one of the filming locations of Game of Thrones in Spain, the city is also home to an extremely well preserved Jewish Quarter, majestic medieval walls (Passeig de la Muralla), and a picturesque historic city center.
Next destination? The quaint village of Cadaqués, on the Cap de Creus peninsula. This offbeat destination is placed just south of the French border where the Pyrenees run into the Mediterranean Sea, Cadaqués is a postcard-worthy destination where whitewashed buildings coexist with pebble beaches, and fabulous art museums such as Casa Museu Dalí (the city was a favorite spot of the Spanish painter).
And talking about Salvador Dalí, make sure you end your Costa Brava trip in the picturesque town of Figueres, where the artist was born. In there, don't miss the chance to visit the fantastic Teatre-Museu Gala Salvador Dalí, a large museum designed by Dalí himself!
Itinerary: Barcelona – Blanes – Lloret de Mar – Girona – Cadaqués – Figueres
Highlights: Visit the top attractions in Barcelona (read: Barcelona travel guide); Cap de Creus Natural Park; Teatre-Museu Gala Salvador Dalí
Duration: 9 days
When To Go: Summertime

Recommended Reads:
Spain Travel Apps
Tourist Attractions in Barcelona
Best Places to visit in Spain
La Tomatina Spain
Eating Tapas In Granada, Spain
Vegan Restaurants in Alicante, Spain
Spanish Festivals
Best Spanish Cheese
Things to do in Lobos Island, Spain
Honeymoons Spain
Adventure in Spain
Things to do in Madrid Spain